Jean Maurice Isn't Home Yet is a 45 minute 16mm black and white film written and directed by Phillipe Demontaut with Beth Lewis and Phillipe Demontaut as M. and Mme. Robinet and the voices of Annette Messager and Christian Boltanski. Produced by Georgia Marsh and Phillipe Demontaut. Director of Photography: Klaude Keruen. Gaffer: John Foster. Music by Gerard Barreaux.
Marie-Guy Baron Jean Maurice Isn't Home Yet is your first movie. You were a painter over ten years ago. What itinerary has brought you from painting to film?
Philippe Demontaut A long time ago I made paintings, then collages, the sculptures. Then sequential drawings in perspective. When I got to the US I realized that I was no longer interested in the form in which I made these things. In making this film I had the feeling that I was reconsidering my old work although it reappeared transformed. For example, the sets are painted in a painterly way, and the sequential drawings reappear in the diagrams for the camera movement.
MGB Can we go so far as to talk about a new joy in painting?
PD To work freely, yes, in the sense that at a time when I felt "the anxiety of the empty canvas" I had a critical point of view of painting; I tried to situate the work in relation to what others were doing, to a point where I no longer dared to do anything for the simple reason that I felt like doing it. I cut myself off from the pleasure of doing things under the pretext that it was High Art.
MGB And have you recovered your spontaneity with this film?
PD In the sense that I didn't imagine this film ahead of time, on the contrary, each step on the way progressively gave the film its form, that is, a succession of spontaneous ideas rather than a preconceived idea. It started from a picture in a newspaper in the sensational journalism style. The picture was of a couple waiting, listening to the radio for news of their kidnapped baby. It clicked. So then I started to write, not a script, or even a continuity of dialogue, but groups of dialogues, and notes. I wasn't looking to situate myself in what is called "Le Cinema Parallele," where I might have gotten some help, but I wasn't trying to mark a difference either, I just didn't have the intention of proceeding like these filmmakers do. I preferred using fabricated sets rather than a natural setting.
MGB Using a more classic approach?
PD I had no experience of what the classic approach is. My approach was very personal. I didn't know how to write a script either, and I didn't try to find out. All I had was a little idea and that was enough for me.
MGB In your use of different genres, acted scenes, animation, images from the media, the television, etc., one almost feels a jubilation in the passage from one to another. Did you feel that in working on it?
PD In the beginning I wanted to make a fiction film about a very banal subject without any real dramatic progression, even though it was very schematic, it was still fiction and I wanted to be able to tell with distinct sections and different styles, thinking that a continuity and liason would be created by the characters and the black and white film stock. The sets also give it unity. I could have used a more fabricated documentary style with several natural settings. The other elements are constituted from very distinct parts. The film starts like a Walt Disney: aerial view of a village, slow zoom to a particular house, approach through a backlit window, etc. Some passages are in a TV ad style, some parts are animated—play around the animation—and within that sequence there are different genres: pseudo-scientific programs, children's drawing, illustrations of school manuals, drawing methods or methods for teaching "living languages," educational books and explications of patterns for embroidery, knitting or crocheting with their grids and points.
The same kinds of clichés are used for the camera treatments, trite expressions that are used in French to describe certain filming ideas: plans fixes (still shots), mouvements de camera a l'epaule (moving the camera around on the shoulder), le plan americain (frame of the head and shoulders), plan sequence (fixed camera follows actors movements in a given scene),camera subjective (when shot reveals a character's thoughts rather than actions). The sound is treated in a similar way, sound effects cut abruptly into dialogue rather than being mixed in a natural way.
In the beginning I didn't think of using all that, it happened in quite another way, for instance the needlepoint idea came from a walk I took one day when I started thumbing through magazines in a bookstall. I was leafing through a crochet magazine when I started thinking about the grid pattern being like computer drawings on a television screen and I thought that Madame Robinet, the mother character, could very well read that kind of magazine in the evening. I was also struck by the ads on American television, by their different styles, by the various kinds of graphic treatment found within one hourly section of television—the cut-up quality of the programs.
MGB By using a cinematographic means of expression, do you feel, more than before, confronted by the difficult accord between art and technique?
PD I began to approach this problem by being interested in the origins of cinema, more precisely by the optical processes of the mechanical projection of an image, which preceded the birth of cinema. For example, the camera obscura which didn't use a lens but used a hole in a black box to project a drawing onto a canvas, and which was used by painters. We have forgotten but painters used this mechanical process because at that time there was a rapport established between painting and projection; a perspective drawing is in itself a projection. On that level I was particularly attracted to the personality of Émile Reynaud whose difficulties in reconciling his technical discoveries and his artistic intentions are evident in his biography.
I am interested in certain techniques which in relation to traditional cinema could be called makeshift, and in the film they are imposed as such. I didn't make the sets, for example, like one makes real movie sets. They were made in concession to the few means at my disposal, and are used in just that way, makeshift. In this respect, I think Émile Reynaud could have presented his apparati as art in and of itself. His cinematographic installations created a projection in space, and for me, therein lies his art. More than in his figures and landscapes which are quite charming but obsolete in relation to the pictoral art of his era.
MGB The different techniques used in your film make one think of a reverberation of mirrors or echoes.
PD When the lines of sight of two eyes join, the superimposition gives a new dimension, depth. The frame of this superimposition is the field of vision. The two characters in the film are like two eyes, their lines of sight become projections, and the child would be the frame or screen for the two projections which are superimposed on him. A new dimension is given by the two points of view of the parents.
MGB Isn't the use of media, which is very important in the film, the real subject of the film?
PD The parents' lives, thoughts, and dreams are traversed by the various media that they receive. The films traces this influence. The film itself is an assemblage of different categories of media and the various forms that they take. The fiction moves through these categories and forms.
MGB Is there a criticism intended?
PD Most important for me were my encounters with these media. This was perhaps facilitated by the fact that I could "read" a magazine or a TV program without understanding the content, as often I simply didn't understand the English. Since all of them and all of their appearances interested me, the choices that I had to make for the film gave them a critical sense.
MGB This film gives off several different kinds of cinematographic atmospheres, that of an archaic era with its cardboard flats a la Méliès, that of a silent movie by certain mimics of the actors, when they face the camera to address the audience, that of a banal kind of situational theatre, the atmosphere of a French school illustrated by the poetic universe of Jean Vigo. There are abundant French references in this film which are more precise than diffused, even stylized. Has living in the US helped you to bring them out, to present them with more clarity?
PD By plunging into the American culture, being overrun by it, things specifically or typically French have come back to me, by contrast. When you live in France they act upon you without your perceiving their contour. Without a standpoint to see them from you are a prisoner of them, you can't ply them. The confrontation with another universe of references made me more conscious of what is specifically French in all its aspects, architectural, cultural, behavioral. That allowed me to accept them and from there to play with them, to caricature them without judging or rejecting them.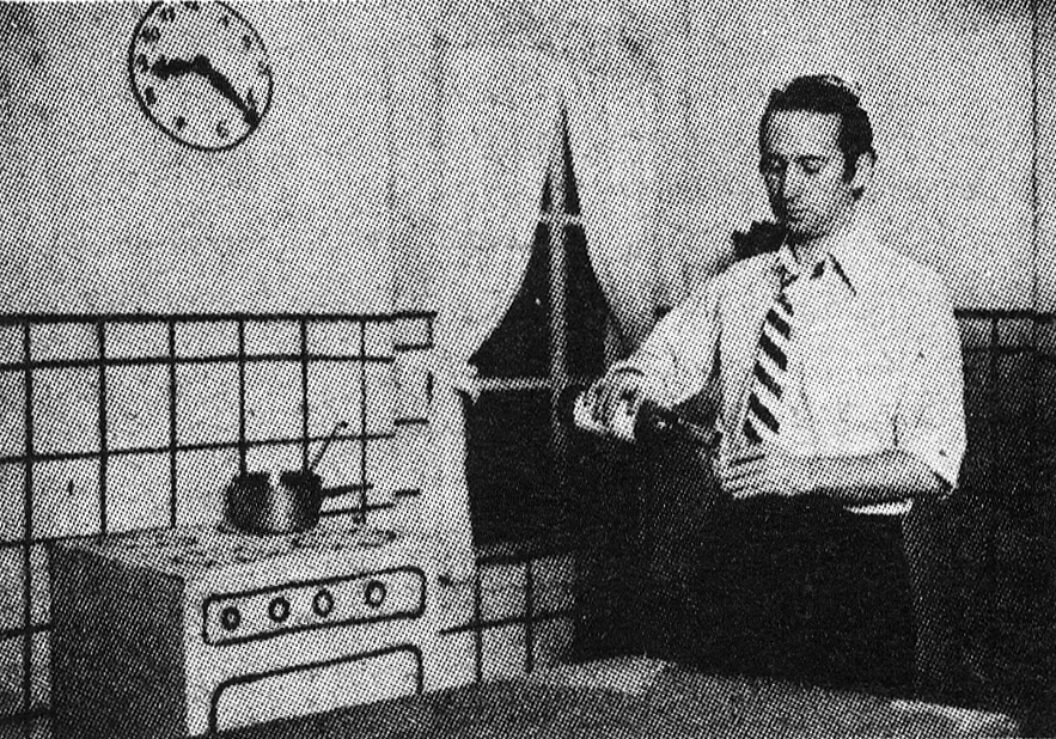 MGB And inversely, what is the part of an American influence?
PD It can't really be called an influence, it's more in the confrontation that I just spoke of, at least insofar as it is visible in the film. On the level of a personal vision, or of one's own identity, the fact of not feeling oneself as a center but as a point from which one perceives things to be closer or farther away, a little like space in perspective. To use the image of a mode of perception I would say a place from where one would have a view in plan, everything visible, like an isometric perspective, where one can see the circulation between things. In the United States everything is mobile, there are routes everywhere and everywhere events are produced along those routes, one has encounters.
MGB More than in the development of a story or an intrigue, your characters seem to serve as transmitters of perpetual movements between the real and the imaginary.
PD When the characters speak you often think that you are going to witness a conversation or a real event, then you realize that they express themselves like magazines, react and function as media, as mediums. Then at the end when the sets collapse you don't really know whether they are walls of a house or a set. In addition to that the man and the woman have different structures. He thinks of one category of things, she of another, because they hear different things, they listen to different things. Inside of that are their projected fantasies of what the other is interested in. The dialogues point to the ambiguity that exists in their liberty to act since they are encompassed, manipulated by the media, determined by the education they have received and by their ideological environment.
MGB The Robinets differ not only in the attention they pay to what is diffused by the media, underlining the male/female archetypes, they also appear to pursue a monologue in their common preoccupation, which is their son's absence.
PD My intention was to have two characters projecting themselves onto a third, their absent son, who would be the central character. What is essential is that this third person only exists by virtue of the projections of the other two. The nature of the two projections was different in my initial idea, the difference was reinforced in many ways by the fabrication of the film. The absence of communication was obviously aggravated. Globally the scheme is this: the media influences two characters differently. They are joined by their respective projections onto a third ?(imaginary) character who constitutes the only point of encounter, yet this point is never reached because one wonders if the son really exists.
The Robinets are therefore only a mirror in an immense play of projections, which brings us back to Reynaud. Because basically, movies are mental tricks.
Originally published in
Tim Burns & Jim Jarmusch, ABC No Rio, Charles Ludlam & Christopher Scott, Jacki Ochs, Michael Smith, Mirielle Cervenka, Gary Indiana, Sonia Delauney, and Phillipe Demontaut.