Peter Brook and Marie-Hélène Estienne's Why? by Maria Litvan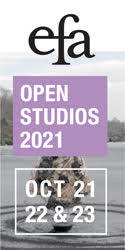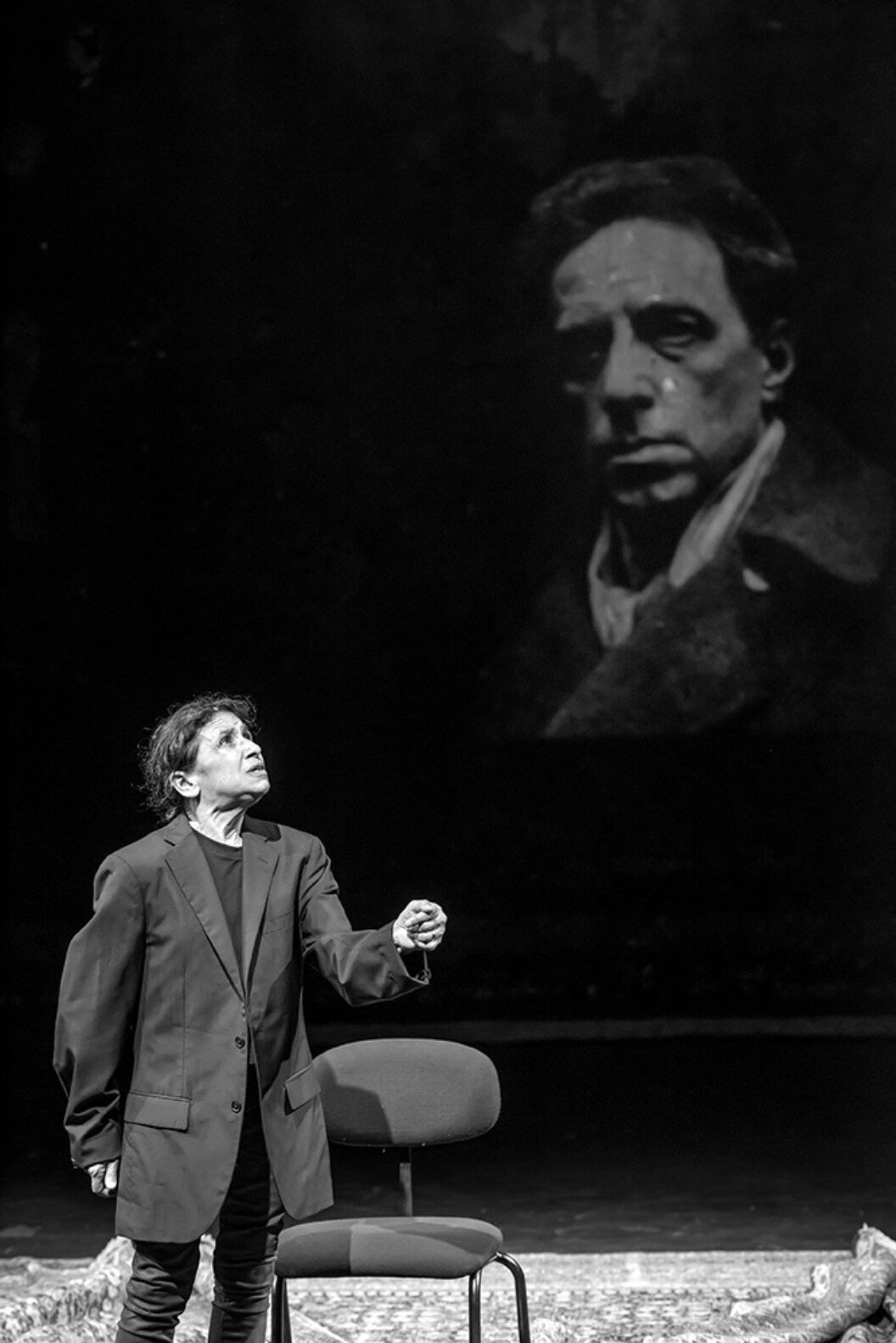 (Theatre for a New Audience, 2019)
"I can take any empty space and call it a bare stage. A man walks across this empty space whilst someone else is watching him, and this is all that is needed for an act of theatre to be engaged," writes Peter Brook in The Empty Space, his seminal book "about the theatre: deadly, holy, rough, immediate." The ninety-four-year-old director has been true to this assertion for his entire career.
Why?, the latest production from codirectors Brook and Estienne, is a kind of master class, a quest, and an homage to a theater giant of the 1930s: the Russian director Vsevolod Meyerhold. Three actors (Hayley Carmichael, Kathryn Hunter, and Marcello Magni) enter a bare stage and begin asking, "What is theater? Why?" Words alone kill it, theater's not literature. "It must be alive in front of you," we hear them say. Yet, in between two actions there needs to be space, emptiness, because life appears "in the very centre of this emptiness […] It rises like a thought in a dream."
It doesn't matter whether the actor works from the inside out, as Konstantin Stanislavski proposed, awakening inner feelings and emotions that then transpire outward; or as Meyerhold contested, from the outside in, with emotions and feelings appearing as the result of the physical gesture. What matters is allowing life to appear.
All the actor needs to do is evoke the image of a drunk in the mind of the spectator—and the drunk appears. The drunk isn't the actor but rather resides within the actor and the spectator. Hence theater necessitates the actor's body and the spectator's mind (along with the actor's mind and the spectator's body). Not by chance, Magni demonstrates the actor's craft by evoking a drunk. Dionysus, God of wine and patron of the theater, inebriates our senses so that we can lift the curtain and peek beyond the immediacy of matter. Sometimes at illusions; other times, at the dream.
"Theatre is dynamite!" Meyerhold knew. "More dangerous than bombs!" Meyerhold, like Brook, was an optimist. Starting as an actor in Stanislavski's Russian company, he eventually became a director himself, instigating a new approach to acting and staging. Above everything, Meyerhold loved people and celebrated being alive. Thus, he eliminated the proscenium, the frame that separates actor from spectator. The audience would be allowed to eat and smoke, and after the play, they would even be invited to come onstage. Why? tells us how a shared story establishes connection.
The hazard is a person's ego taking over—the dictator, who might arise like a thought in a dream but makes so much noise that it interferes with all evocation. The dictator, like a bad actor, gets carried away by an immature ego, which blocks life's flow. An actor's inflated ego casts a visible shadow over everything. Instead of allowing life to appear, the dictator suffocates life. Stalin could not contain Meyerhold. He condemned him to solitary confinement before having him killed. Yet life is stronger, and Meyerhold lives on.
In theater, actors die many times over. "I've probably died about five hundred times," reports Hunter. "I've been stabbed, I've been hung, I've died of a broken heart. Dying is relatively easy, but, how do you make your soul leave your body?"
A theater is an echo chamber, say Brook and Estienne. In it reverberates every lived moment on stage, which is multiplied within each spectator. The multiplicity of stories awoken results in a bundling of transmitted life. Transmission, like love, ensures continuity. Meyerhold's soul appears in Why? and in all the questions the play poses.
At the Théâtre des Bouffes du Nord, Brook's home playhouse in Paris—where he purposely leaves visible something from each production he stages—Why? felt even more like a personal declaration of love to the theater as the traces of a life's commitment were so palpable. Paradoxically it is through materiality that we can capture the immaterial (but hold it a second too long, and you lose it). It is form that allows us to transcend all form. It is through the staging of the dream that the soul can leave the body and appear again. And no dictator can kill the soul that has managed to transcend its body.
Meyerhold literally gave his life to theater and so did his wife, Zinaida Raikh, who was also murdered by Stalin's regime. The messengers sacrificed, why? Why do we need martyrs? asks Why?. Why do people inflict pain? Why?
There are three truths, the play concludes: your truth, my truth, and truth. The three are necessary for the play to be alive. If only my or your truth exists, the dream becomes a nightmare. If only truth were to exist… well, then, maybe there would be no dream at all.
As Magni guides the audience to perform some moves in their seats, he suddenly asks a spectator: "Why are you not doing anything, madam? From here to the moon is your responsibility."
Maria Litvan, born in Uruguay and raised in Barcelona, is a theater director based in New York City. She is currently pursuing doctoral studies in Theatre and Performance at the Graduate Center, CUNY. Her latest production, Prologue (2018), is a tribute to the French philosopher, mystic, and social activist Simone Weil.
Originally published in
For our 150th issue, we have redesigned our flagship print magazine. This design reaffirms our mandate to deliver the artist's voice, supporting the vital discourse that appears in BOMB with vivid imagery and innovative juxtapositions that encourage dialogue across the arts—from conversations between artists, writers, and performers to exciting literature. We present exchanges in their formative state: revelatory, fluid, and iconoclastic.

---
This issue features interviews with Bruce Pearson, Anthony Roth Costanzo, Jacolby Satterwhite, Cathy Park Hong, Christiane Jatahy, and Seth Price, as well as fiction from Amelia Gray, Deb Olin Unferth, and Jenny Wu, and poetry from Sawako Nakayasu, Andrei Monastyrski, and Bob Holman.