Perverted by Language: Fiction Inspired by The Fall by Nick Stillman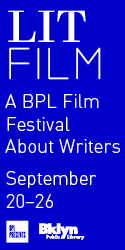 Like the Velvet Underground, the Beach Boys, or the Stooges, The Fall is one of those pop bands that inspires breathless devotion and oceans of superlatives. The brainchild of Manchester's acerbic poet-prattler Mark E. Smith, The Fall's music since 1977 stands as the most intelligent, funny, consistent, and mean of their Brit-punk peers. Smith writes what he knows—faded British factory doldrums, heavy drinking—and talks (no singing!) his nasty poetry in a Cockney accent thick enough to make it occasionally unintelligible.
The band's musical approach has reformed many times over in the past 30 years, but Smith's snarled lyrics are the essence of The Fall's identity. Fittingly, the book Perverted by Languagecollects short stories inspired in tone and title by Smith's lyrics. With each piece taking the title of a Fall song—including classics like "A New Face in Hell" and "God-Box"—23 writers evoke Smith's bleak yet manic hemisphere of withering industrial labor ("Industrial Estate"), relationship misery ("I Can Hear the Grass Grow"), mass slaughter of game ("Fortress/Deer Park"), and getting your drink spiked and spending the night hallucinating in Corporation Park ("Totally Wired"). The self-crowned slang king mumbled, "The crap in the air will fuck up your face" in the great 1979 song "Industrial Estate;" somewhere, these writers were furiously taking notes.
Nick Stillman is managing editor of BOMB.
Perverted by Language: Fiction Inspired by The Fall was published in March by Serpent's Tail and is the first collection in a new series featuring writing inspired by cult music.
Originally published in
Featuring interviews with Meg Stuart, Karen Kelley and Barbara Schroder, Kalup Linzy, Peter Saul, Mike Davis, Boredoms, Will Eno, and James Timberlake.