Persistence of Vision: After Herakleitos by Sidney Wade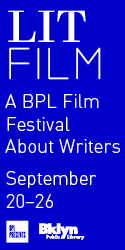 The first metamorphosis of fire is to become the sea,
                and half of the sea becomes the earth,
                half the flash of lightning
1. I'm numb and not so hot and not so lucky any more
2. I used to hold ice in my hand till it melted my fingers so cold I couldn't let go I couldn't keep on holding on it burned
3. I want to speak of bones and of love and luck and possibly of fire
4. When my mother was dying her bones filled up with water not fire
                The life of fire comes from the death of the earth
5. My husband is a lucky man the husbands of his lovers are blind
6. When I was a teenager and couldn't be killed the muscles in my thighs ached like salt on iron
7. Wanting rises from things that are wet
8. I have had many lovers my French lover writes he thinks always of death he always did that's why I left him
9. There is a dark side to this
10. Once I saw a column of air clothe itself in ashes
                The life of air comes from the death of fire
11. The Turk was a long tall drink of water when I was lucky he prepared a steaming bowl of rice for me and me alone
12. The sun is burning air you know the moon is more optimistic
13. My Italian lover was a boy a dark Sardinian mouthful
14. When my body is cold and it so often is I run hot water over my hands
15. My memory reflects like sheets of ice
16. When my husband left me for his first other woman my body shattered in on itself I have been cold a long time
                The life of water comes from the death of air
17. The thing about earth is it swallows particulars like the ashen bodies of mothers
18. Do I speak of death too lightly? forgive me I am unused to this kind of darkness and am shaken by the bones of it
19. The thing about ice is it lives precariously
20. When my husband fucks his lovers they don't cry out they are silent but they remember it like lightning
21. I suppose you think we're even we're not we're opposites
22. Perhaps you won't believe me when I say I used to burn with earnest passion for the light of understanding
                The life of earth comes from the death of water
23. The thing about luck is it is hot
24. How can you cooperate with your opposite easy you just close your eyes and make sure your insides don't fall out
25. Perhaps my mother's bones are pleased after all we handled them gently
26. Lightning in the eye lives on as its own dark shadow briefly
                          —Fire catches up with everything in time
Quotations of Herakleitos and Anakreon from Guy Davenport's translations, Seven Greeks, published by New Directions.
Sidney Wade lives in Gainesville, Florida and teaches at the University of Florida. Her second collection of poems, Green, will be published in the James Dickey Contemporary Poetry Series by the University of South Carolina Press.
Originally published in
Featuring interviews with Michael Ondaatje, Billy Bob Thornton, Hilton Als, Oumou Sangare, Emmet Gowin, Donald Antrim, Stuart Hall, Marjetica Portč, Miloš Foreman, and David Rabinowitch.