Permeable Containers: Leeza Meksin Interviewed by Wayne Koestenbaum
An outdoor sculpture project weathers the seasons.

Discover MFA Programs in Art and Writing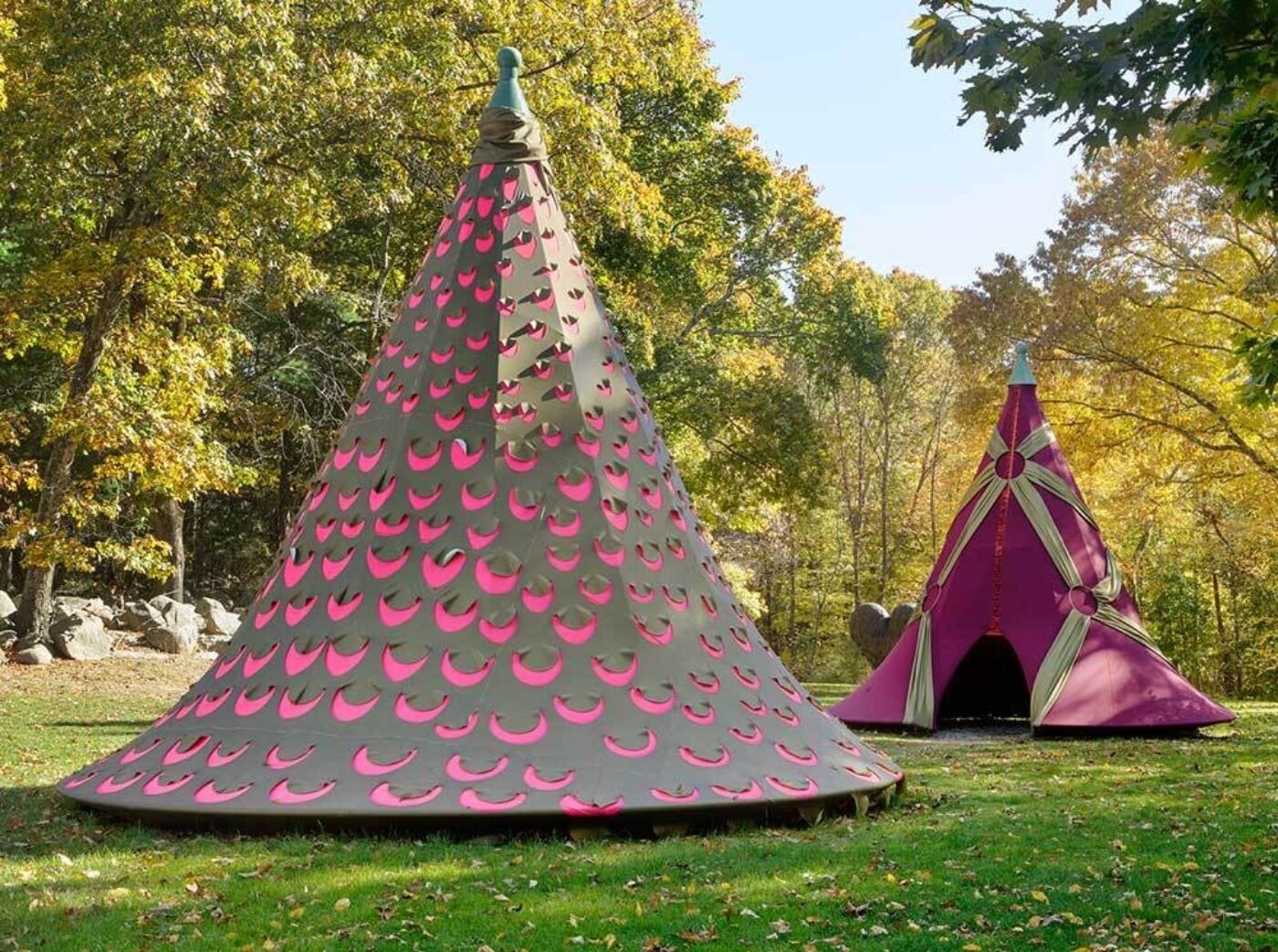 Leeza Meksin, who makes large-scale art out of spandex, glideskin, neoprene, zip ties, and other untoward materials, has more energy, generosity, and sparkle than anyone else on the block. She wraps buildings, she queers architecture; she knows her way around a sewing machine and a paintbrush. Her subject is the gaiety we can concoct from our own nomadic placelessness. She portrays bodies not at home, bodies devising home from scratch. Her work gives us the saga of a self making-do—squatting, improvising—with craft, guile, and rapture. Meksin specializes in forms of public art and installation that turn given architectural situatedness into quicksilver dance; with veils and other hardware, she plays the role of transformer, disrupter, and couturier by seizing the means of display and positing that a building can be a body or that a wall can float elsewhere and stop being an impediment. With her theatrical toolkit of fastenings and fabrics, she entwines buildings, bodies, and environments in a haptic skein of interconnectedness that replaces hardness with softness, stricture with proliferation.
Her newest project, Turret Tops, has camped out for a year on the lawn of the deCordova Museum's Sculpture Park, in Lincoln, Massachusetts. How trickster-like and wily of Meksin to mimic the turret tops of the deCordova Museum and transport these pointy rotundities to the lawn where she reproduced their embonpoint in neoprene and glideskin guise! Meksin and I could talk for hours about anything, but we gladly disciplined ourselves to focus on her chimerical Turret Tops, which are the architectural fairies we need to spread some glitter on our 2020-weary brow.
—Wayne Koestenbaum
Wayne Koestenbaum Did you have tents to play in when you were growing up? Did you go to summer camp? Were there forms of "outdoor living" that you enjoyed or that terrified you?
Leeza Meksin I was often sent to overnight summer camps during my Soviet childhood; and although I came to associate these experiences with adventure and discovery, they also brought up feelings of loneliness, homesickness, and fear.
When I was in first or maybe second grade, there was a city-wide competition for children's drawings. Participating children went to assigned classrooms at the House of Pioneers where an adult read to us Pushkin's fairy tale "The Tale of the Golden Cockerel." Then we were given a sheet of thick paper and asked to make a painting inspired by the story. (I used gouache.) I didn't get to keep the picture. The entries were collected at the end of the timed competition, and I have no idea what happened to them after they were judged. But I vividly remember that I painted the scene in which the Shamakhan Princess stands on the battlefield next to her lavish tent. The princess in her wide, flowing, embroidered robes, with Tsar Dadon's two sons lying dead in front of her, looked like another tent: the woman and her tent, formal doubles, framed the dead sons. I remember how terrified I felt at the thought that the two brothers killed each other in their blinded competition for the foreign princess. And yet, I also felt drawn to her and her elaborate clothes and matching tent.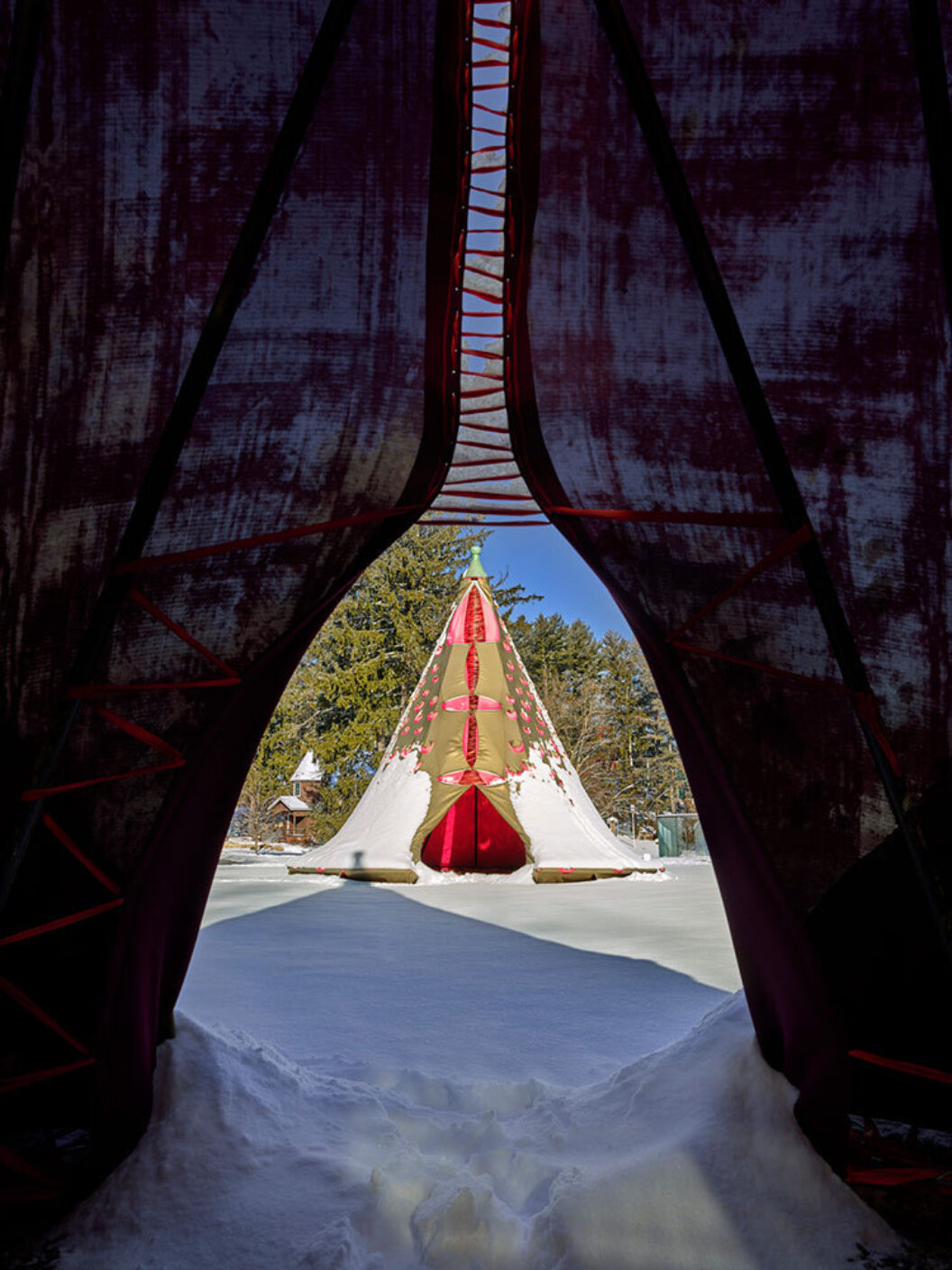 WK To make these turret tops, you needed to work with collaborators. Is the artwork a pretext—an alibi—to allow you the fun (call it the transport) of working with other people?
LM Yes! For this installation I got to work with a safety engineer to make sure the structures would be stable, not buckle under their own weight, and have enough wind pass through them to not take off like a sail. I also worked with Columbia University's Carleton Strength of Materials Laboratory to test the tensile strength of the fabrics (neoprene for the underlayer and glideskin for the outer layer). Lastly, I got to work with a wonderful pair of fabricators: Becki and Richard Grey of Bent Productions. Becki specializes in fabrication of soft materials, and Richard in hard materials. I got to live in a little apartment inside their big warehouse for two weeks so we could fabricate everything together. I got to meet their children too.
WK I love that each turret top is elevated from the ground—but not too elevated. How wide is this interval of separation between turret and lawn? Are you as excited as I am by this tiny interstice of air, as if the turret top were levitating? I can almost hear that interval—like a whoosh of air.
LM That separation—between the turret's lip and the lawn—ranges between two and four inches due to slight variation in elevation (even after the ground was leveled). This gap served the utilitarian function of leaving enough space for us to corset the garment layers onto the steel armatures; but on a formal level I wanted the turrets to hover above ground to allude to the fact that the tower's body does not join the turret top at its outer edge but nestles in the center, like the stalk supporting a mushroom cap. I also wanted this hovering or levitating to induce associations of UFOs, magic tricks, and a style of Russian folk-dancing movement—when a female, wearing a floor-length triangular gown, executes tiny, quick steps that make her seem to glide or float on air.
WK You've submitted your turret tops to seasonal indignities and ravages. The materials and colors of the tents mutate, degrade, and begin to describe new, unforeseen moods. Were there moments of distress or pleasure when you saw how your sculpture responded to the incursions of time, storm, and sun?
LM I was pleased to see fuzzy lines of sun-bleaching on the neoprene from prolonged exposure and the fabric's slight movements. The way the glideskin aged, on the other hand, with cracks and stretch marks caused distress, but those changes were exactly what I was hoping for. Turret Tops are about fearing but embracing aging. This past year, as I've thought about my sculptures weathering the elements, I've felt anxious. Will their aging be unsightly? Will I ever see them again? Will anyone try to protect them? Do we feel uncomfortable looking at a sculpture left outdoors but not made of materials that withstand aging? Did the artist intend this damage? Are we witnessing an embarrassing underside that shouldn't be shown? What does it mean to feel compassion or empathy for an inanimate object?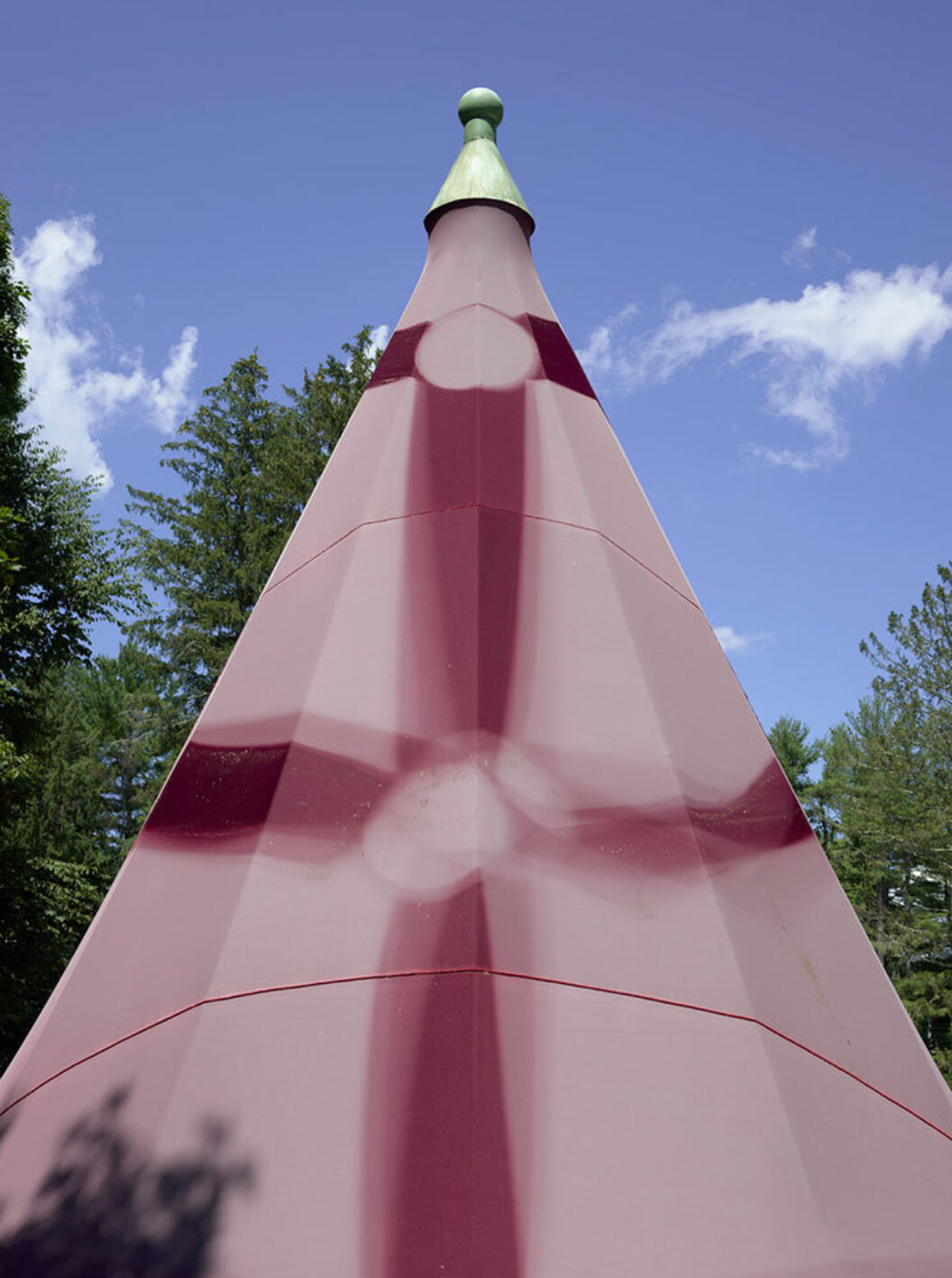 WK Your sun-bleached neoprene paintings convert the three-dimensionality of the turret tops into fixed flatness. Were you surprised by what you discovered as you created delimited wall-oriented objects to be hung indoors? Because they preceded the sculptures, the paintings are foreshadowings, not remainders: harbingers, not echoes.
LM The paintings and the sculptures are more alike than different. Both have a hard-material armature/stretcher, and both have a soft material—neoprene—stretched over these supports. Both rely on time and weather. The paintings are site-specific while being made (strapped to a table in a backyard in Marfa, Texas, or to a fire escape in NYC). But once they are finished, they can live at any site; whereas Turret Tops, once deinstalled, erase themselves. I wanted an indexical imprint of the project in addition to photographic documentation. The paintings are both a reduction of the original piece to a schematic shorthand and art objects in themselves—physical relics that survive after Turret Tops are gone. After weathering these paintings on my fire escape in NYC in preparation for install, I made more of them in the fall of 2019 while I was in Marfa. The second batch had its own conceit—discovering the effects of our sun in a different region. The Texan sun did its work three times faster; after only five weeks I had the same contrast of sun-bleaching as achieved in three NYC months.
WK I've gleefully followed your career ever since we showed together in Hot Rubber, that sweltering summer of 2013, at Primetime Gallery in Brooklyn's Donut District. How has your work—or your attitude toward your work—changed since then?
LM I used to rely on the frenetic excitement of late-night occupations of institutional spaces: I was attracted to being in buildings during their off hours because something forbidden or hidden was revealed to me through my nighttime activity. But there was also a PTSD aspect. Being a refugee and going through immigration with my family when I was twelve was a formative experience. We had to leave not just most of our possessions, but also our home, culture, and language. The process of saying goodbye to friends, relatives, and teachers, and leaving our Moscow apartment and then occupying strange new places (a motel in Vienna, a Catholic monastery in Rome, a basement apartment in a tiny seaside village in Italy, and finally arriving in NYC, and then in Columbus, Ohio), left a stressed and hectic trace on how I interact with buildings and institutions. Packing and unpacking have become synonymous with adjusting, reinventing, and assimilating. My site-specific work started as a way to heal myself from the traumatic experiences of dispossession and loss. I don't think this process is finished yet, but maybe my site-specific work will cease if/when I feel healed—so probably never.
WK What work can you imagine yourself making in the future—no matter how far-fetched, no matter how impractical, expensive, weird, non-visual, unpopular, remote?
LM Looking ahead, I would love to make an intervention on an architecturally well-known institutional structure. Two museums that I've been thinking about lately as inspiring sites are the deconstructed fortress of the Wexner Center for the Arts at Ohio State University designed by Peter Eisenman, and the brutalist cantilever of the Johnson Museum of Art at Cornell, designed by I. M. Pei and criticized for looking like a giant sewing machine. Of course, this criticism sounds like praise to me. The two buildings appeal for different reasons, but both are bold architectural statements that already feel like interventions. What would it mean to intervene further? How can the foreboding masculinity of these buildings be tweaked and queered?
I would also be interested in collaborating with material engineers and energy efficiency specialists to work on building outfits that would actually help buildings conserve energy or protect them from seasonal weathering.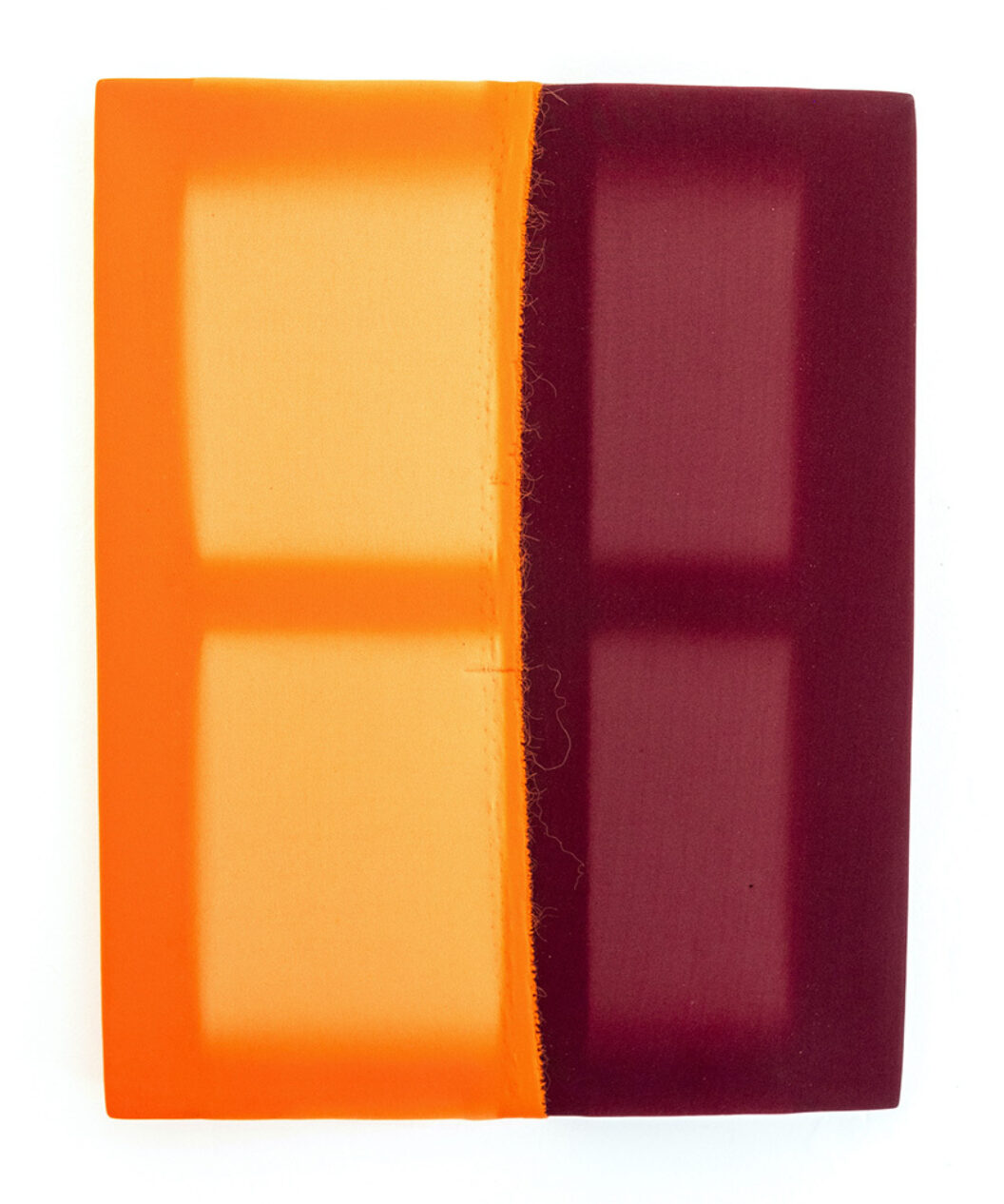 WK Your installation projects often gesture toward dystopian or utopian ways of envisioning how, where, and why we live. In Camp Turret Top, are we at home? Are we beholding a maquette for a new style of sociality, of dwelling, of being-together?
LM I hope that there is a way for us to rethink what architecture can be—reinventing or returning to dwellings more in touch with land, environment, and the human body. Our conception of our own bodies could benefit from envisioning ourselves as dwellings. Like buildings, we are permeable containers; but shame and insecurity about simple biological functions—and about our own impermanence—cloud our relationship to ourselves and our environment. No wonder brutalism was such a popular style! I would love to see more playful, campy, and body-affirming attitudes expressed in our social structure and in the buildings we occupy.
PLATFORM 25: Leeza Meksin, Turret Tops is on view at the deCordova Museum and Sculpture Park in Lincoln, MA, until October 26.
Wayne Koestenbaum—poet, critic, artist, performer—has published twenty books, most recently Figure It Out (Soft Skull, 2020) and Camp Marmalade (Nightboat, 2018). This year, he received an Arts and Letters Award in Literature from the American Academy of Arts and Letters. His first collection of short fiction, The Cheerful Scapegoat, will be published in April 2021 by Semiotext(e).