Channeling New York's most notorious divas, Penny Arcade reveals the inspiration and connection she finds from her subjects.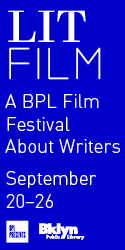 Penny Arcade has performed her own comic monologue—characterizations drawn from real life, closely observed and interpreted—like portraiture. Her acting career goes back to her teenaged beginnings in the late '60s with John Vaccaro's Playhouse of the Ridiculous and La MaMa E.T.C.
Since 1985, Penny Arcade has been doing solo work. Her approach to portraiture recalls Diane Arbus—the same attraction to the extreme, the sensational, and the dispossessed. Recently, she performed as Nancy Spungen at the Chelsea Hotel in a site-specific performance presented by En Garde Arts. She was scheduled to perform as Edie Sedgewick also, but the fire department read in the publicity material that she planned to recreate Edie's hotel room fire and they forced the production out of the hotel—postponing the reappearance of Edie to another date and venue.
Allen Frame When you performed at the Chelsea Hotel, how did you choose your characters—Nancy Spungen and Edie Sedgwick?
Penny Arcade It was site-specific work. I thought of the environment as a set. Normally, I don't work with a set. I got really excited about that because I dream about sets the way other people think about moving into a larger apartment.
They were two really strong images of women who had lived there. The way these two women looked in their environments was what they had to say. It was a challenge because I'mnot what I look like. I remember Ethyl Eichelberger told me years ago—I was wearing a rather low cut dress, and with my tits, anything even slightly low cut looks really low cut—Ethyl said to me, "If I had those tits, I would rule the world." And I said, "It hadn't occurred to me." I'm 38 years old and I realize that most of my life I've avoided being what I look like. I never wanted to use that. And I'm not unaware that I like to hide behind my characters.
Part of the reason I chose Nancy was because I've been around a lot of junkies and I thought to create a junkie environment would be a fabulous thing, that whole mood and that incredible space. And for Edie, I thought of the time she started a fire in her hotel room—that image of her room on fire—putting on her make-up and throwing her fur coats out the window. Somebody stole them and she never got them back. I thought she would be fabulous to recreate, all her jewelery and her bills from charging all over town, all her clothes. I have to be careful myself because I get carried away. Edie would buy all these expensive gowns and make them into miniskirts. And I started thinking, "I'll take my white beaded gown and I'll cut it into a miniskirt."
I talked to a lot of people who knew Nancy and I read her mother's book, I Don't Want to Live This Life. Well, I was a "problem child" myself so I really started understanding something about her, something that I had to say through her. She was 20 when she died. I came to New York when I was 16, and lived on the street for a year. If I grew up anywhere, I grew up on the Lower East Side. I'm always seeing the ghost of myself as a kid. I'm still walking the same streets. My life hasn't changed that much. I'm still doing theater on the Lower East Side. I still often have no money in my pockets. The whole key to Nancy's character came from watching her, in a documentary, make this one gesture with her hand. It told me that she was emphatic very intelligent, very pragmatic, and practical. And she never thought she was a star. She always wanted to be the one that helped. She was a midwife. That's how she saw herself.
I used an actual interview I found, so I brought in Mitch (Markowitiz) as the interviewer at the beginning. Otherwise, I worked on this in my usual way, which is—I don't rehearse, and it's all in my head. No script. I don't know if it's because I'm dyslexic. Anyway, Steve (Wastell) and Mitch kept saying to me, "When are we going to work on the piece? And I'd say, "Don't worry about it, the piece is fermenting, it's cooking, it's happening, and it's going to be fabulous. We'll do an improvisation." It's very nervewracking for me to work that way, it was absolutely excruciating for me to work that way with them. Two nights before the opening, we got together for about an hour and sort of ran through it. And the next night. we did tech and everything that could go wrong did. Then Giorgio (Deus) came by to see Steve and I asked him to be the Pizza Delivery Boy. He said, "I've never done anything like this before. And I said, "Doesn't matter. Just deliver pizza." And then we opened and there it was. Pressure is tremendously focusing. I get into an altered state.
AF You were all so convincing.
PA The kind of acting I'm interested in is not acting, but being. You take things out of people's way. I'm not precious about my work. If you're not precious, things don't get broken.
AF When did you start performing your own characters?
PA When I did Andrea Whips in 1981. I came back to New York that year, and Jackie Curtis asked me to be in a play that Hibiscus had written—a kind of '70s version of a "Warhol Superstar." I went ahead and rehearsed the lines he gave me. Then we'd take a break and, to amuse Jackie, I'd start doing Andrea Whips—her parallel take on what Hibiscus had written. So I asked if I could write my own part, and Jackie said I should get credit for it. I used to imitate Andrea for Andrea herself, and it would amuse her.
A lot of people in the Warhol scene pretended to be crazy, but Andrea really was. She had endless money for everything but mental health. When she had nervous breakdowns, her parents would send her to state hospitals. Just before Heat came out and she knew—she was about to be a star she had a nervous breakdown, and her physician told her parents that what she needed was a job. I remember her saying "What am I supposed to do? Be a waitress?!" When she died, she left a note that said, "I'm headed for the big time. I'm on my way up there with James Dean and Marilyn Monroe." She jumped out a window holding a Coke bottle and a little prayer book.
She was very obsessed with Catholicism, even though she was Jewish. "You don't believe in Jesus Christ?! You don't believe in the Virgin Mary?!," she would say. She was a star before Warhol met her. She used to do Showtime at Max's. She'd stand up on a table and say, "Show time, darlings!" and usually expose some part of her body and monopolize everyone's attention for about 20 minutes.
AF Why do you do real-life characters, bizarre as they may be, and not invented ones?
When I was young, people collected me, and as I get older. I have started to collect them. I'm interested in people's stories. And what I want is to give my characters a chance to speak directly to the audience and say their piece. Because for 80 percent of the people in the world, nobody listens.
And the thing is, I'm a precision mimic. But I can only mimic people who I really feel something for. Sometimes, I meet the characters and they won't give me anything. They're just not willing. I met this woman in front of St. Patrick's Cathedral. Hunchbacked and dressed in this kind of 1800s way. Nobody noticed her, people were streaming by. She smoked her cigarettes down to her fingers. Her shoes were extraordinary. This woman is out of a time warp. This woman is between air. She's not real. I was galvanized. I sat‭ on the step next to her and I said, "‬Do you mind if I smoke a cigarette with ‭you?" ‬She had this big lump on her chest where she keeps everything. Maybe she doesn't have a hunchback at all, maybe it's all storage. She has this pronounced Mary McFadden brow. Her hairline starts back here somewhere. (Penny's face‭ and expression change as she becomes‭ this woman and gazes mysteriously at me‭.)‬‬‬
AF I saw her.
PA God, I'm getting her. But I couldn't get a story out of her. She wouldn't talk to me. I asked her if she wanted anything and bought her a Coke and a pack of cigarettes. She just didn't have anything to say to me. All she'd do was give me her essence and smile.
Once I talked to a woman under the arches of St. Peter's Basilica. She spoke French to me, a very archaic form. She had this extraordinary nose. I said, "What are you doing here?"
"Oh, I'm waiting for the Pope to come out."
"Oh, the Pope's going to come out. That'll be great."
She said, "Yes. I'm waiting for the Pope to come out because I want to kill him."
"You're going to kill the Pope?"
"Because I'm Marie Antoinette, and in my former life the Pope was the executioner with the guillotine." Then she said. "There's a train with 40 cars, and as soon as I kill the Pope, we'll leave on the train and go home."
"Where's home?"
"Versailles, of course."
"Oh, and what will we do there?"
"We'll have a Grand Fete. There'll be a big ball. You'll come."
"And then what?"
"And the next day, we'll cut off your head."
And I got very angry‭. "Why do you want to do that to me?" I said.‬
She said, "I must! It must be!"
Then I noticed that there were no pigeons around us. And then, I noticed she didn't smell very good.
AF What was it like doing Margo Howard-Howard while she was alive?
PA The first time I did her was in a play by Jackie Curtis about Frances Farmer called I Died Yesterday. I played three roles. One was the hairdresser. One day, Jackie said, "I'm really not happy with the way the hairdresser is being played." I was doing it just as me, and it was very boring. So I was walking up 3rd Street and there was this doll with half the hair pulled out, very dirty, in a garbage can. I picked it up and all of a sudden, I started imagining Margo. And I thought, "My God. I'll do the hairdresser as Margo."
I borrowed glasses from somebody and I used a wig and ran after Jackie with this brush saying, like Margo, "Your hair is like spaghetti! It doesn't need to be brushed, it needs to be tossed!" And I started ranting, things I'd heard Margo say.
I did Margo shooting up—and Margo cried when she saw it because I channel the characters as a mimic so much that it's very staggering for them to see themselves. I know that my doing Margo contributed to how she began to see herself, as a grand doyenne drag queen and as a personage.
Margo and I performed together several times at the St. Marks Poetry Project where I played Margo and Margo played the other characters of her memoir. I Was a White Slave in Harlem.
Towards the end, when Margo started suffering from Grand Mal Meglomania, as she would call it herself, we did a performance on our mutual birthday, July 15, during‭ which Margo refused to give me the script we were supposed to read from. Out of self-preservation, ‬I just started doing what ‭Margo‭ would do when Margo was on stage with anyone else—because Margo couldn't bear not to he the center of attention for one second—which was to start making all these faces, calling attention to myself. Margo glanced over and I could see the look of recognition, like Margo thought‭, "Oh my God, she's going to go that far!" ‬And then Margo turned to me and said "Penny Arcade, cut that out!‬‬
I looked at Margo and said, "What is my function?"
Margo said, "I'll give you something to say when I'm ready!
I said. "Am I here for the hearing impaired?"
Margo got really mad and crazy‭ yelling, "Penny Arcade, cut that out! Susanna Ventura, cut it out!" She had a drink in her hand and she threw the drink at me and it went over my head because I'm short.‬
I leaned into the audience and said, "She's many things, but she's never been athletic." And the audience went wild. It was just too much for Margo to get the Margo treatment, and she didn't know what to do next so she threw the glass. And it shattered all around me. Just before she threw the glass‭, she said, "Penny Arcade, if you don't stop. I'm going to give you a blow to the head."‬
And I took off my shoe and said—one of Margo's famous claims from her book—"And I will do to you what I did to‭ Truman Capote in 1958‭ when I hit him with my shoe." When I had my shoe in the air, Margo took the glass and shattered it at my feet. ‬So I'm standing there, one foot in the air, ‬glass all over the floor, thinking, "Oh my God, I managed to get out of it. I said, "That's enough! Where's my coat?"
Margo used to create scenes at other people's performances, before she ever performed onstage, and usually she would do it by asking for her coat. And she would not have a coat. "Where's my coat? Where is my coat? I've had enough! Enough and we'll leave! Goddammit where's my coat?" And she would effectively destroy whoever was performing.
AF I wish I'd been there. We haven't been talking about your work as comedy, and it's often hilarious—when it's not the psychodrama you just described.
PA I think the strongest element of my work is pathos. It was so funny when I did my aunt Lucy for the first time at La MaMa. The things Lucy says are things I've heard my whole life: "We worked hard. We all worked. Not like today! We worked and how! And how! Oh boy, I worked! Never you mind, I worked!"
The part of Italy I come from is Lucania. The people there live under‭ La Miseria. The basic tenet in life is that life is misery. So that's something that's very easy for me to show. I realize that if I listen to myself doing Lucy, then I'm listening to my mother, listening to my grandmother, listening to my grandfather. I'm projecting it out very sad because it was very sad for me to grow up under that. And if I just do the character, then it's wildly, funny.‬
Originally published in
Salman Rushdie, Polly Apfelbaum, Dennis Cooper, James Nares, Penny Arcade, Mats, Alexander Kluge, Robert Greene, Nancy Shaver, Abbijane, Terry Kinney, Michael Tetherow, Bill Barrette, and Carmelo Pomodoro.