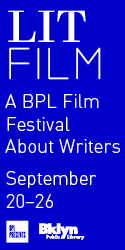 Mother saw it first, over by the teepee. "See," she said, regarding us: sisters, offspring, preeners for love.
"Believe me," she said, but our gaze had gone yonder, in search of diversion, north, east.
We were travelers here. We had come for the air, for the view, for the natural impact, Mother had said.
"The air will do you good," she said. "Careful your feet."
Regarding ourselves: There were dozens of us. Our hair was scented, piney, impeccably rinsed; our bodies bejeweled, beribboned, bedecked, in an affront to practicality.
The cold did not occur to us, the spewing of ash. We ran without shoes. Our toes were plump and painted. We sang through the trees, and our breath spun steam. "Can you hear us?" we trilled, one to another. "Here! Here!"
The teepee was strictly forbidden to us, Mother had said. We found our way in, in a crouch, on a lark; allowed our eyes to adjust. It was a skin with no one in it. Only us.
* * *
Mother was always nourishing something, wasn't she? Palms up, hands full, calling us—"Come, come"—bidding us, urging us, sizing us up.
She knew what we'd do.
* * *
We reproduced. Of course we did. Of course there were men, there were loves, there were sons, there were daughters we bore. Would you think there were not?
Our cries flew out throughout the hills in bliss and distress. The trees, grown heavy with snow, flung limbs.
We sang to our offspring songs we remembered, skipping the words.
There were hundreds of us.
We lost our adornments, tore our bright garments, emptied our breasts. Swelled, drooped. Chipped, shed. Grew sweet and slack and fierce again. We shifted our shapes. We boiled our voices. Our bellies were vacant, our nettled sex drawn.
The earth crackled under us; our feet left prints. And still the wind blew.
Our babies, not children, nor listeners they—grown tall and lithe or sinewy, grown cheeky and willful—our babies created new uses for us.
Sitters, squatters, sibilant stewers—"Ssshhh!" we said.
The land was stripped.
The teepee was folded and carried away when we were not present.
A cup fell and broke.
"No wonder," we said: Our hands were as birds'; no grip was left.
We held our own council.
* * *
Stars fell at night. The sky emerged brilliant. "Aurora," we said; we had anticipated this, though we saw only black and white.
* * *
And still the world was underfoot. And still the breeze carried a call we remembered, or thought we did. Long after Mother was so long gone, when most of what remained of us was longing, our bones, we embarked upon a stroll. "Careful," we said, distrusting our hips. Our brittled feet moved us. Breath rose burned. Wood was what awaited us. And still we persisted: Siblings, squinters, walkers in shadow, bundled recallers, benevolent—mostly benevolent—crones.
* * *
The thing was iridescent, fanning itself. Nobody said, "See." It was impossible not to, caught in light: the eyes, the eyes, the crest, the beak, uncelebrated body—earthbound home to the avian heart.
Dawn Raffel's most recent book is a story collection, Further Adventures in the Restless Universe. An illustrated memoir, The Secret Life of Objects, is forthcoming from Jaded Ibis Press.
This issue of First Proof is sponsored in part by the Bertha and Isaac Liberman Foundation and the Thanksgiving Fund.
Additional funding is provided by the New York City Department of Cultural Affairs, The New York State Council on the Arts, and readers like you.
Originally published in
Featuring interviews with Clifford Owens, Eve Sussman, Lisa Yuskavage, Sanford Biggers, Geoff Dyer, Kenneth Goldsmith, Neil Michael Hagerty, and Peter Eisenman.