Paulina Ołowska: Between the titles, in some third language by Elka Krajewska

Discover MFA Programs in Art and Writing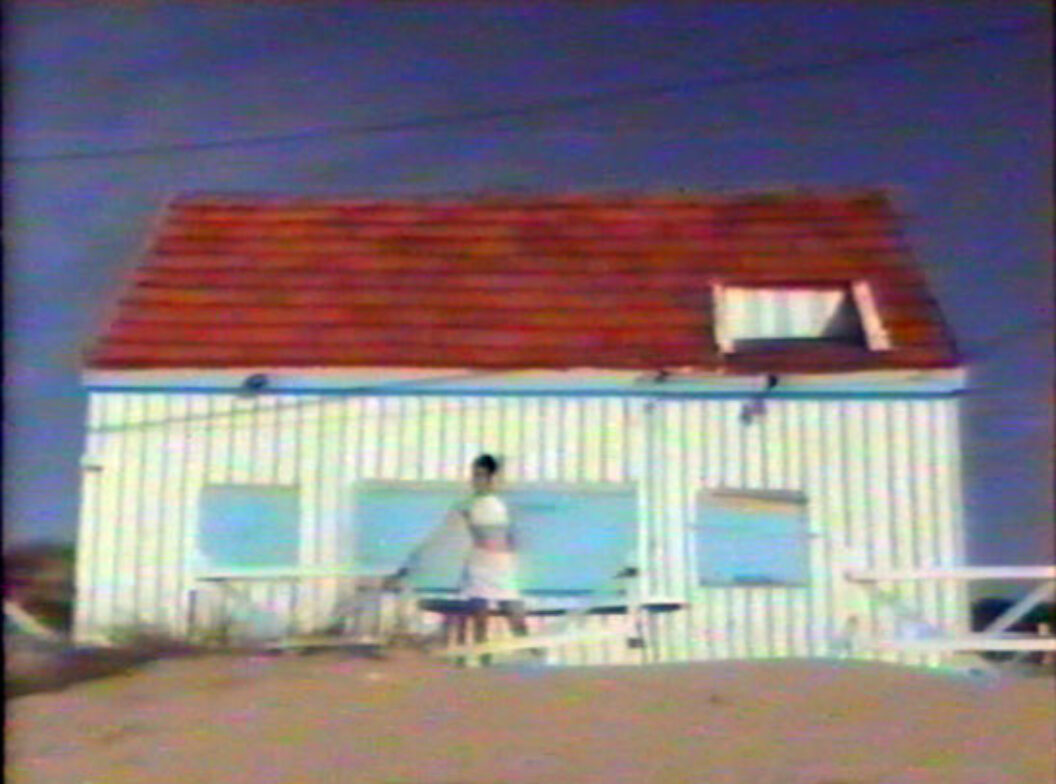 Refrain: About Her (2006)
My first encounter with Paulina Ołowska's work was through a selection of roughly finished, rebellious, not-so-available-on-the-market early videos. I thus bypassed the collages, paintings, installations, and public interventions that so ingeniously negotiate the artist's Eastern-European roots with her international itinerary and for which she has become visible on the contemporary art radar. Ołowska, born and living in Poland, has been shuttling through the West since her teens.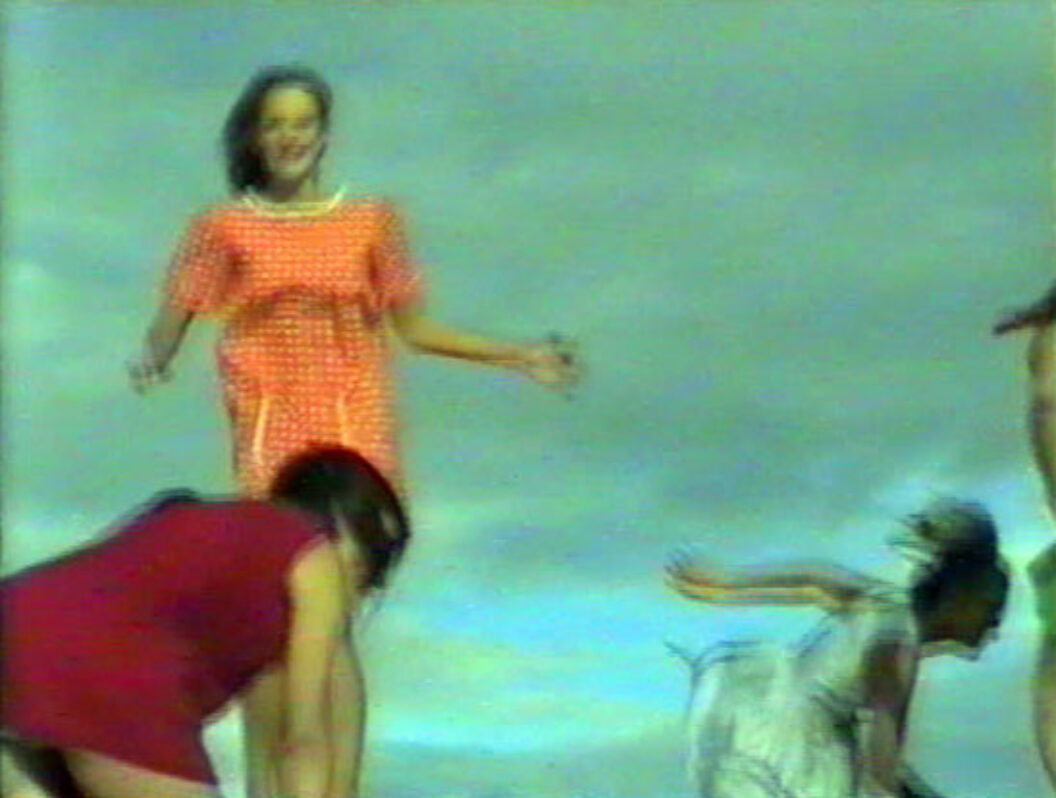 Refrain: Breezy, Light and Colorful (2000)
In the collaborative video Female Gardeners Unite! (2001), three brightly dressed beauties ramble through a derelict nuclear power plant somewhere in East Germany, plotting out flowerbeds as cacophony pours out from a generic German radio station.

New Hobby—Summer House (1999) is a sequence of stylized video vignettes shot during one session: a single female posing defiantly against a décor of colorful beach bungalows in the shifting afternoon light. Its title was lifted from Ołowska's most cherished resource: Ty i Ja (You and Me), a uniquely Westward Polish women's style magazine from the '60s and '70s.
An unsettling sense of weightlessness (ironic given that Ołowska's last name derives from ołów, the Polish word for lead) emits from the work. It is an effect not only of her youthful energy, the trait of a generation maturing in post–1989 Poland, but of a deliberately insubordinate stance in an increasingly buoyant East-West scenario.
Refrain: A Like Akarova (2006)
With a mix of mischievousness and rigor, Ołowska sketches a precursory contour of her future heroine. A resolute female optimist outfitted for change navigates through sets composed of perplexing past/present landscapes—evocative photo and poster collages confronting the current moment with local history. The heroine soon engages a supporting cast including Bella Akhmadulina, Pauline Boty, Charlotte Perriand, Alina Szapocznikow, and Elsa Schiaparelli—forgotten women poets, artists, architects, dancers and designers—as her strategic international comrades. Like Nancy in A Nightmare on Elm Street, a shrewd gatekeeper surfacing relics from another world, Ołowska traffics in vintage signage and pop icons. She reinserts them into labyrinths of ambush, determined to stake out a space for her protagonist as well as other contemporary women artists.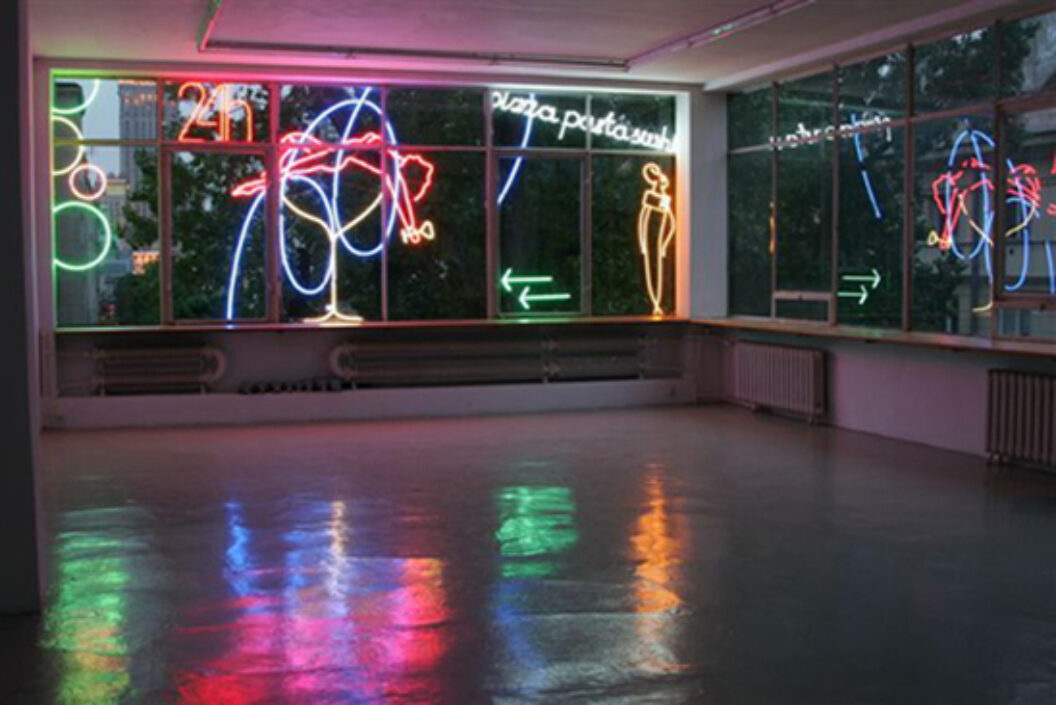 Refrain: Looking up not down (2005)
I still get horizontal vertigo whenever I look East. That my own teen enthusiasm in a 1980s Warsaw was alternately lulled and devoured by the lunacies of a failed socialist state demanded compulsory pull-out in 1989. For me, Bruce Nauman's One Hundred Live and Die (1984) still blinks evenly with the threatening live and die alternatives, while a brand new youth-cum-art scene seems to levitate on the LIVE LIVE LIVE option, glowing with permanent adolescence.

Ołowska's Painting-Exchange-Neon (2006), her own window-wide neon construction shown at the Foksal Gallery Foundation in Warsaw, reassembled local designs loaded with sentiment and thus turned nocturnal-city nostalgia into a playful urban panorama. The exhibition coincided with the artist's restoration of "Volleyball Girl," one of the city's most eminent defunct neon-signs. Ołowska's utopian spirit, which she describes as "tempered to 85 percent," would make one think that she'd have the sense to paint the Nauman's die section mute. And that she would choose the right color.
lka Krajewska is a film artist based in New York. Her Plany Mela for Dome, a pioneering hybrid of a 90-second Imax-format animation and live-assembled video, premiered at the Bristol IMAX Omnitheater of the Milton J. Rubenstein Museum of Science & Technology in Syracuse in 2007. Ołowska hand-painted 1000 ticket stubs for the screening.
Originally published in
Featuring interviews with Joseph Bartscherer, Steve DiBenedetto, Jonathan Lethem and Lydia Millet, Zachary Lazar, Harmony Korine, Tav Falco, and Philip Seymour Hoffman.