Paulina Olowska's Slavic Goddesses—A Wreath of Ceremonies by Charity Coleman
A feminist paean from one Polish artist to another

Discover MFA Programs in Art and Writing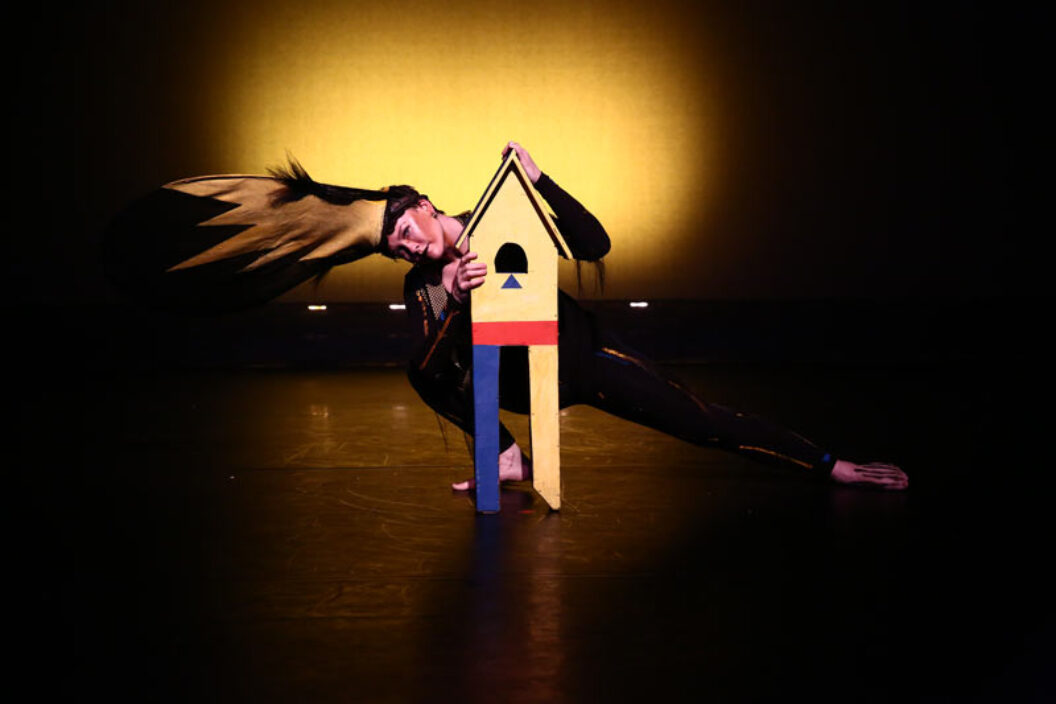 What purpose does mythology serve for a people? Besides being picturesque, it has the capacity to invigorate a culture, honor life's rituals, and promote unity. Without myth, perhaps we'd be lost in a CVS doomscape, dying from too much sarcasm. In the days leading up to the January performance of artist Paulina Olowska's Slavic Goddesses—A Wreath of Ceremonies, turmoil blighted daily discourse. It was a relief to enter the black box of The Kitchen on a cold night and hear a voice reciting the words of acclaimed Polish artist Zofia Stryjeńska, drawing our attention to primeval deities: "Their hair in sadness becomes a weave of dry thorns and thistles. In gladness, on the contrary, they blossom into green leaves, colorful flower, and even fruit. And the fragrant wreath of a god's head is not worn, but it is a self-generated halo of their wondrous, dew-covered figure." The text, published in 1938, was read as an introduction to this work of dance theatre.
Six goddesses based on Stryjeńska's exuberant illustrations from 1918, "Bożki słowiańskie" (Slavic Idols), individually told their stories through dance and gesture on an unadorned stage. Ballez founder Katy Pyle's choreography combined Polish folk dance articulations and ballet: the clean lines and flourishes were comfortable, thoughtful. An initial "Is that all there is to the circus?" feeling gave way to appreciation of the exclusivity of each discrete segment. There was no dialogue; narrative was conveyed via costume, movement, sound, and lighting. Madeline Best's lighting direction skillfully transformed each scene—it seemed like a magic wand was being waved from above. Sergei Tcherepnin's music lent suspense. Tucked in the wings he was Dydek, the guardian of the artists, occasionally summoning a ruckus with sheets of copper and mysterious implements.
Emerging from all the collaboration and shared labor of the production was a refreshing simplicity and absorption. The dancers who portrayed the Slavic deities were Madison Krekel (Morena / winter and death), Jules Skloot (Lelum / mischief), Charles Gowin (Wolas / magic), Deborah Lohse (Dzydzilelya / spring), Mei Ymanaka (Perkun / the skies), and Lindsay Reuter (Pepperuga / prosperity). Each goddess presented human characteristics, just as humans personify the divine, but it was all harnessed wildness; the outside brought indoors. The mighty headdresses and exquisite costumes were mesmerizing, enlivened by the dancers' unflinching grace and fortitude. Gender was kept ambiguous, the dancers animating various archetypes—the coquette, the firebrand, the imp, etc.—with levity and spark. They cackled, preened, yelped, blinked, and grimaced. Expressivity was coming from weird places, ones you probably don't often visit. Slavic Goddesses was so well-cast that it didn't feel cast at all.
The real (ghostly) presence, though, was Stryjeńska, who died in 1976 yet hovered regally over Olowska's production as a kind of honorary phantom-director. The six Slavic goddesses were brought to life through a feminist paean to one Polish artist from another, against invisibility and erasure and war. Like rituals around death/birth, winter/spring, and like a self-generated halo, Slavic Goddesses—A Wreath of Ceremonies was a commemoration of the "great reverence for mysteries and gifts of nature." It was a bright reminder to cultivate that reverence while we can, share it when possible, and be grateful when it is shown to us.
Paulina Olowska's Slavic Goddesses—A Wreath of Ceremonies was performed at The Kitchen, New York, from January 26–28, 2017.
Charity Coleman is the author of Julyiary (O'clock Press, 2015), and Tinctures (a forthcoming collection of prose). A 2014 NYFA Poetry Fellow, her work has appeared in Prelude, Dolce Stil Criollo, Joans Digest, Fanzine, Entropy, and elsewhere. She lives in Brooklyn.