Parallel Lines: Dany Johnson Interviewed by Richard Boch
Club 57: Film, Performance, and Art in the East Village, 1978–1983 at the Museum of Modern Art and The Mudd Club book.

Discover MFA Programs in Art and Writing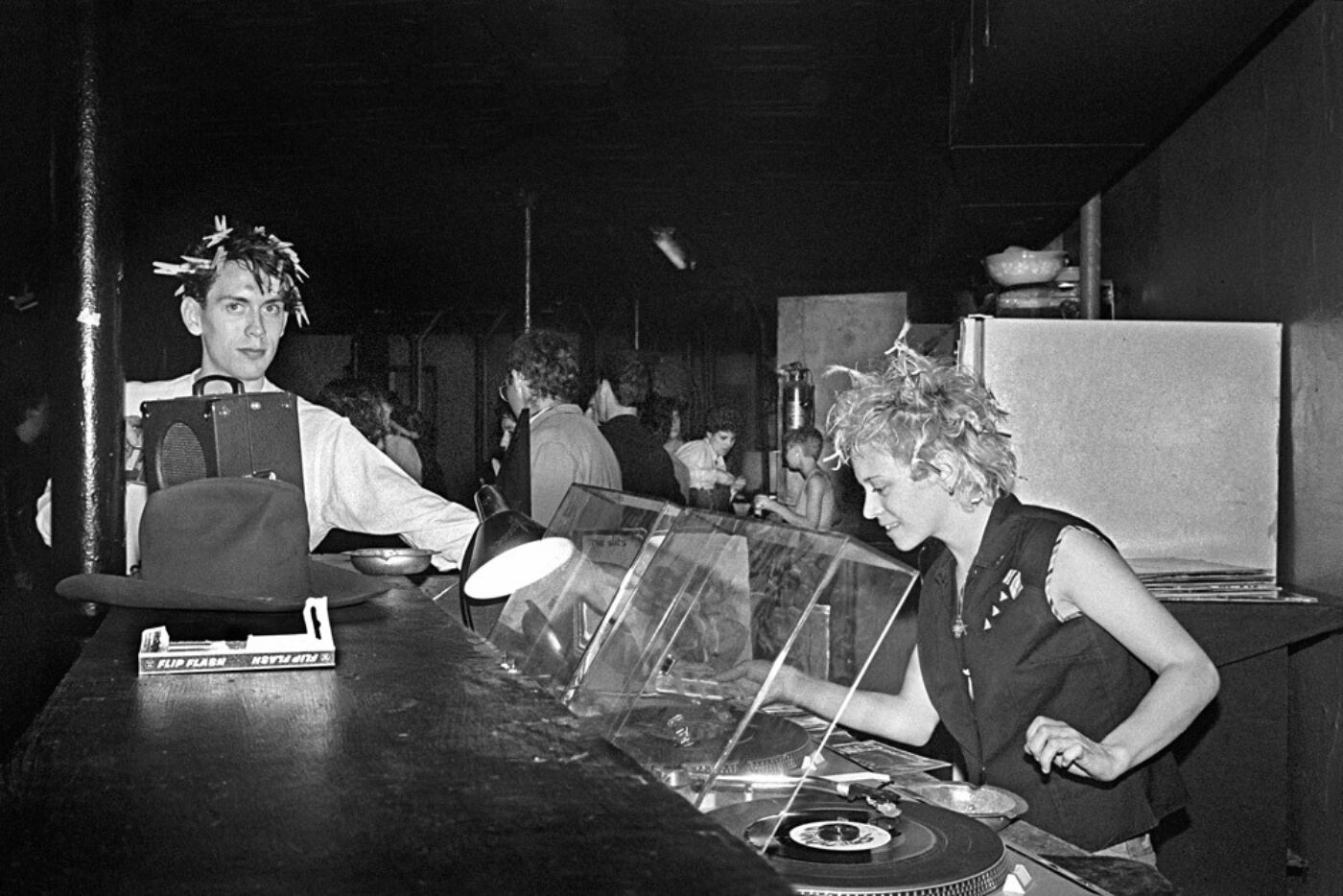 Club 57 was tucked away on St. Marks Place, the mainline of a crumbling East Village. Twenty blocks south the Mudd Club stood in desolation at the corner of White Street and Cortlandt Alley, a neighborhood void of identity. Dany Johnson was the resident DJ at "57," and I stood watching the door at Mudd. Daytime started at midnight, and four, five, or six hours later we walked out into our own version of morning light. Crashing into that nighttime day we were headed somewhere—maybe home, maybe breakfast, maybe not. The years—late 1978 thru early 1983—everyone was young, and pretty, and living on the cheap. Everyone was out every night. None of us knew where anyone, including ourselves, was headed, let alone what was next, but we were working hard to get there. 
Forty years passed, and Dany's spinning records at MoMA. My book, The Mudd Club, is for sale in the museum's store. We smile and ask ourselves, "How did we get here?" Let's talk about it.
—Richard Boch
Richard Boch We were both kids from suburbia, you from Connecticut and myself from Long Island. Funny how we wound up where we did.
Dany Johnson I lived in Cheshire, Connecticut, and I hated it. Legs McNeil and John Holmstrom of Punk magazine are also from the same town. I used to come down to CBGB to visit Legs and see shows while I was still in high school. I knew I'd be moving to New York as soon as I could.
RB I moved to Bleecker Street when I got out of college. Two years later I saw this flyer and heard the B-52's were playing at the Mudd Club. I was working in SoHo at the time. That was Halloween '78. Ironically the "57" show at MoMA opened on Halloween thirty-nine years later! Coincidence, I guess. 
DJ I loved the B-52's and saw them multiple times at CBGB, Hurrah, Mudd Club, and Irving Plaza. The MoMA show is running from Halloween to April Fools' Day. What could be more perfect?
RB You were living pretty far downtown on Washington Street, and I was living just south of Chambers Street. I started wandering into Mudd Club regularly on my way home from wherever. What was it that brought you to Club 57 way up on St. Marks Place? 
DJ I had been going to Mudd Club and TR3 often. I also went to the East Village for shopping. It was at Manic Panic that I saw a flyer for the Monster Movie Club at Club 57. I went that first time and pretty much stayed. It was like I found my home. 
RB So did you ever DJ before that? How did you get that job? I know they had a jukebox. Did you have to audition? I know my job happened when Steve Mass—the owner, mastermind, and co-founder of Mudd Club along with his early partners Diego Cortez and Anya Phillips—called me one night out of the blue. My in-person interview lasted ten seconds. Really! How did yours go?
DJ I was a record collector. I spent all my spare money, not much, but whatever I had, on records. Naomi Regelson had been DJing at Irving Plaza and Club 57. One night she didn't feel like doing it, and I brought my records and played them. It's hard to remember the exact circumstances all these years later. I ended up being a DJ from 1979 to the mid-90s. 
RB Both of these places were incubators of a sort, or maybe even Petri dishes sprouting god knows what. Between Jean-Michel Basquiat, Keith Haring, Fab 5, and David Wojnarowicz, to name just a few, we were surrounded by so much raw talent—ours included, of course! 
DJ Within a week of my first visit to Club 57, I had met Wendy Wild, John Sex, Kenny Scharf, Ann Magnuson, Susan Hannaford, Alexa Hunter, Peter Kwaloff, Gerard Little. So many talented people hung out there. Marc Shaiman and Scott Wittman, who wrote the songs for Hairspray, got their start at Club 57 producing no-budget musicals.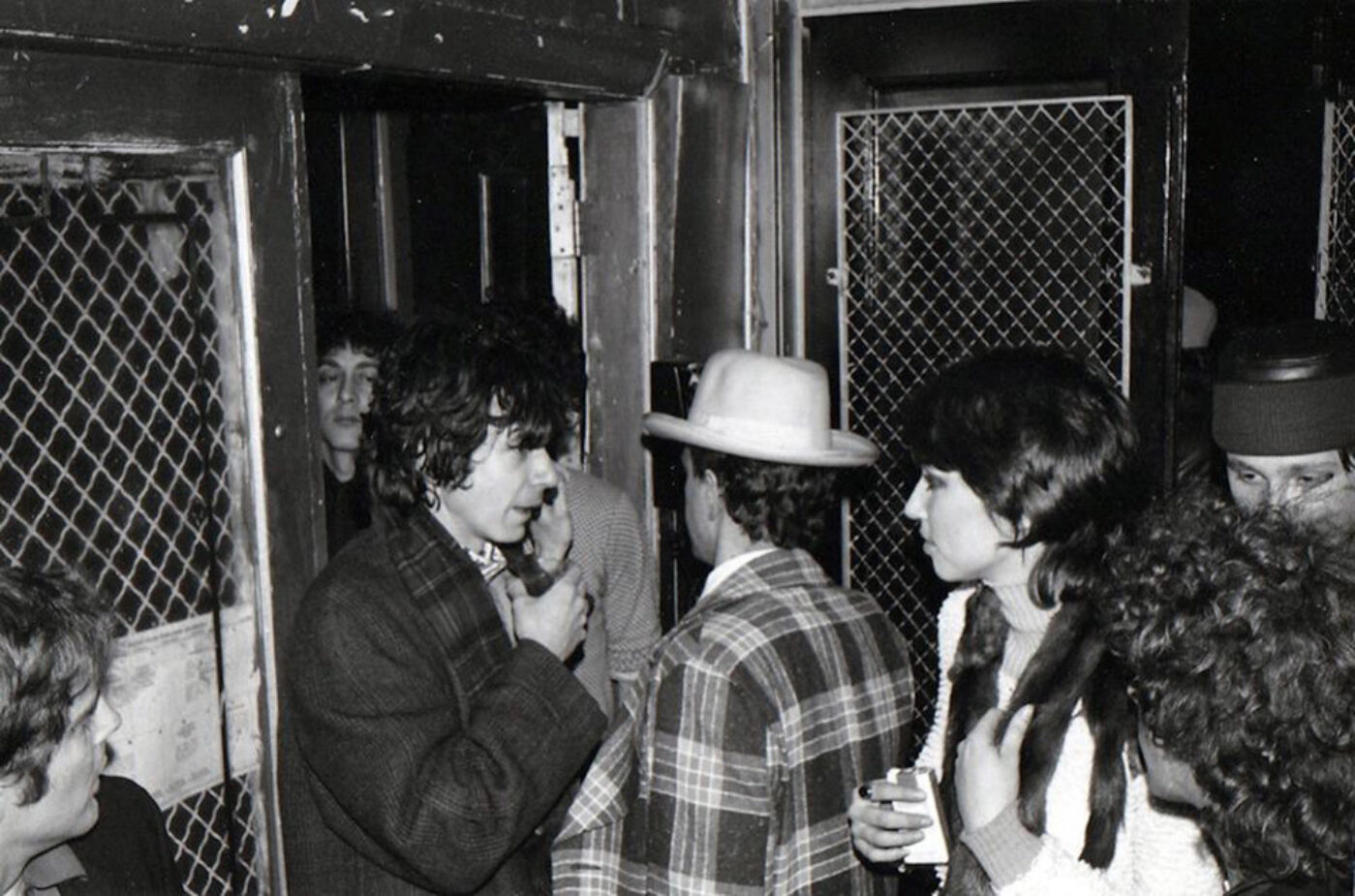 RB Both places liked to traffic in wild theme parties and theme nights. There was a sense of nearly anything goes and no fear of being what's now considered politically incorrect. Club 57 and the Mudd Club gave us the room to breathe, act out, and let it all happen. Thankfully someone was there taking notes, or at least photos and videos. 
DJ To tell you the truth, I prefer the photos to the videos. Videos don't capture the feeling of magic—just the embarrassment of drunken shenanigans. I have enjoyed some of the videos, though. Thankfully, MoMA left my "performances" on the cutting-room floor.
RB I like to refer to the Mudd Club as "the scene of the crime." It was such a madhouse. Club 57 had that same free spirit with their own spin on anything goes. Strange and funny how it all translates on a higher plane forty years later.
DJ Since Keith Haring and Jean-Michel Basquiat both came to the club, I can see why a museum might be interested in it. I always thought the collection of talented people who passed through there was impressive. Mudd Club and Club 57 were both anything goes. I'm surprised by how much we all got away with.
RB You and I only knew one another in passing back then. Walking home in those after-hour mornings did you ever say to yourself, "One day I'll be spinning records celebrating a show called Club 57: Film, Performance, and Art in the East Village, 1978–1983 at MoMA" or anything even close to that?
DJ I could never have imagined this MoMA retrospective. My goal in those days was to own a record store and to be a music producer. I've done a lot of things since then, and much of it has been club related. At this time of life it's fun to revisit those early days and to reconnect with the friends who are still alive. I think the Mudd Club was wilder than Club 57, and the scene at the door was always entertaining. Did you think that one day you'd publish a memoir about your time working there? Did you imagine yourself being this age and doing readings about the Mudd Club at bookstores, galleries, and universities? 
RB Ha! Never thought I'd write this book, and here we are. Club 57 at MoMA and The Mudd Club at a bookstore near you! It's either in the wildest dreams or careful what you ask for category. 
Club 57: Film, Performance, and Art in the East Village, 1978–1983 is on view at the Museum of Modern Art until April 1.
Richard Boch's The Mudd Club is available for purchase.