Composer Paola Prestini is the creative director of the soon-to-open Original Music Workshop. With vocalist Helga Davis, she elaborates on her Italian and Mexican background and her collaborations with artists of other disciplines.
Composer, visionary, and mentor Paola Prestini not only fills all of the aforementioned roles but is also founder of her own production company, VisionIntoArt (VIA), which provides opportunities to young composers as well as established performers in the new music world. Prestini also serves as the creative director of the soon-to-open Original Music Workshop (OMW) in Williamsburg, Brooklyn.
On the heels of launching her new record label, VIA Records, I sat down with my colleague and friend and asked her some of the questions that have been on my mind since 2007, when I first became immersed in her work.
— Helga Davis
Helga Davis Recently you said something to me that made me giggle: "Once I get to sit down, I write very fast." I know everyone who writes music has some particular inspiration, but when I listen to what you write, I can't imagine that it's fast.
Paola Prestini There's a gestation period and that's a slow process of getting to know whatever material I'm about to dive into—whether it's extra-musical or musical. The flow that occurs when I am finally sitting at the piano and then putting the piece into the computer for refining is a result of years and years of work, of understanding my own language, and yet being open to surprises, which is what music and life are all about. That flow happens quickly and then, depending on the length of the piece or on what I'm trying to accomplish, there is a feeling of urgency that drives the process.
HD Your own language. What is that?
PP Well, I think that it's deeply colored by the collaborative process, and that's something I've always been interested in. In purely musical terms, my language is inspired by folk music. It definitely holds a strong sense of melody, and melody gets threaded throughout the work with counterpoint. In the sense of what's important musically, what needs to be said—there's this element of hierarchy that happens. So it's a combination of those things, and, of course, in the last eight years, there's been a deep dive into electronics. So many of my works now deal with electronics, whether it be live or on backing tracks. We can enhance our musical voice through that realm. And then, by meeting you, it became about how to bring in improvisation—and that was a huge unlocking of a door for me. When I met you, it opened this really interesting interplay between writing for a muse—which you inspired me to do—and the unique skill that you brought. Most of my subsequent works were about making your voice integral to my music—to sound like there's nothing else that could happen in that moment but you taking my material and making it your own.
HD I know that Philip Glass has been a big mentor for you. Talk to me about that relationship, and in what way he was important to you personally and musically.
PP I would say that Philip Glass and John Zorn are the two mentors that I admire the most. Philip was really important, because his reaction to my work sparked a completely different phase in my life. First there was my distant admiration—I admired his music, his collaborative process, his tenacity, his sense of business, his rigor.
HD Right.
PP And then I finally got to meet him—the person I'd idolized. 
When I was in my early twenties, I had started a company called VisionIntoArt, and that company defined me in many ways, and I defined it in other ways. The initial intent was to serve a group of artists as a collective and to help incubate and foster contemporary collaborative work. That became my life after graduating from Juilliard. It became a bridge and a vehicle for the kind of work I wanted to do. Years later we were struggling—collectives rarely work, and this was no exception—and I was learning a lot; but I was also aware that the collective was probably not the end of what VisionIntoArt needed to be. 
Philip Glass came to see a performance of ours, at PS122, and he came up to me afterward and said, "I want to meet you for lunch tomorrow." I thought, "Oh my God, this is it. He's gonna tell me that I'm amazing." (laughter) "It's happening to me!" I couldn't believe it. So I got ready the next day, and I was super excited, and he treated me to this great meal, and at the end he said, "So you know it's not working, right?" And I said, "What do you mean?"
HD Ooo! Ouch.
PP He said, "You need to focus on you before you focus on everybody else." That was a huge wake-up call. So what happened then, was—I had a baby. I took the time to just be away and I did a lot of thinking. I came back to VisionIntoArt with a newly spun idea of it as a production company that would serve my work and that of others, but that would not be a collective. This was the gift that Philip Glass gave me, almost eight years ago, through really harsh criticism. I probably wouldn't have heard it from anyone else.
HD It's incredible how that works, huh? Someone seeing you, seeing who you are. That was my experience with Robert Wilson. I'd been in bands, I'd been trying to write music on my own— I don't think I really understood what I was supposed to be doing. I knew that the only times I was really happy and my life on this planet made sense were when I was making music. But so many things about me were puzzling for people—the way I'm female, the way I'm black, the way I'm black and female.
PP The way you write, the way you improvise—
HD —like, what voice is that? I was at an audition, recently, and the person said, "How many octaves are in you?" 
But when I met Robert Wilson, I just felt that he could see who I was in the first ten seconds. He looked at my feet, and asked, "What are you wearing?" This was in the middle of an audition. (laughter) I said, "These are my leather socks. Aren't they cool?" And then I sang the rest of the thing. He was the one who told me that everything that has been a contradiction for others, is actually my gift. 
I felt similarly when I first met you. I sensed that you would write for the person in front of you, not someone else. That is such an important model, particularly for a performer like me, who isn't necessarily looking to be in a straight opera, or to only sing contemporary classical music, or jazz, or to be in a rock band—I actually would love to do all of those things! But how do we say yes to it all? The way you describe VisionIntoArt as being a vehicle for your work and for the work of others interests me in the sense of "If I can't do this here, where can I do it?"
PP One really important thing is, I believe, this sense of finding a community. When you think or see the world a little differently than others, sometimes it's harder to find a community—and then you just have to create it yourself. That's what I'm trying to do.
HD You are doing it!
PP I also believe that the beauty of life is in the surprises it hands you. Our meeting was a surprise and a great opportunity for me—not just personally, in terms of our friendship—but to learn something profound, something that only you could teach me. Probably all artists who are questioning their art-form think, "What could I learn from this particular person?" And then, that changes form, and that changes technique. This is a very exciting and unique quality the musicians that I choose and have the honor of collaborating with bring to my work.
HD So here's what I want to ask you: How many productions have you done this last year?
PP Oh my goodness …
HD Just name them.
PP Well, we recorded Oceanic Verses—
HD That we did! 
PP And we launched our label at VIA Records. Aging Magician at the Park Avenue Armory. The Labyrinth installation concertos at the Krannert Center. The Hubble Cantata, with the astrophysicist Mario Livio. We launched a new festival with VisionIntoArt, called Ferus, where we incubate new work. Let's see, what else? I'm getting ready for Epiphany, which is a 3D installation at BAM.
HD It's insane, the amount of work! What about The Colorado?
PP I'm actually going rafting on the Colorado River in a few weeks. No, excuse me, in a few days! See, that's how scared I am of being in nature.
HD Oh! (laughter)
PP I'm joking; I'm really excited. The rafting trip is part of the project. The Colorado is a music-based documentary, exploring water, land, and survival in the Colorado River Basin across centuries. It's also a live performance. I am one of the composers scoring the film, along with Terry Riley, John Luther Adams, and others.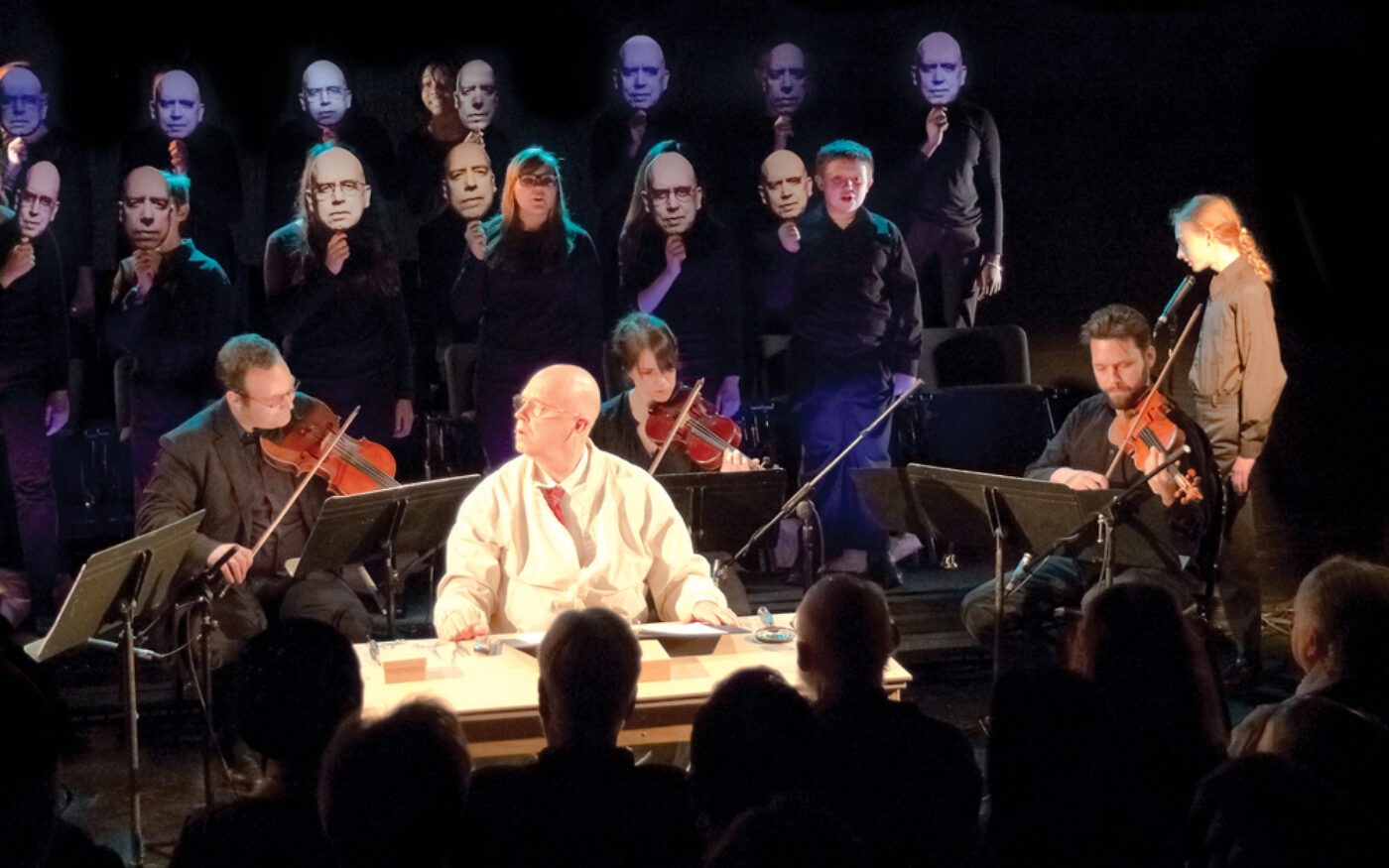 HD Tell me about Aging Magician.
PP Aging Magician, like most of my works, has been in development for a long time. I really enjoy this extended collaborative process—again, work that could only happen because of the artists in the picture. The libretto is by Rinde Eckert, who also sings it. I wrote the music for Rinde's voice, string quartet, and the Brooklyn Youth Chorus, with direction and co-design by Julian Crouch and Amy Rubin, and instrument design by Mark Stewart. We're developing the work at the Park Avenue Armory but will eventually perform it at the Krannert Center and at the Walker Art Center. 
It's a piece that meditates on a magician on his deathbed; the choir is made of the children who loved, and were affected by, his magic. When Harold was ten, he experienced great magic in Coney Island with his father, met a magician, had the most beautiful time, and then on his way back, riding the F train, he had a life-defining experience: his father, who fixed clocks and watches, died on that train. 
HD Really?!
PP His father's death changed things for Harold. What you learn, and what we've learned, is that there are deep connections to time and to magic—the idea of appearance and disappearance—and all these things are critical to Harold's transformation. I can't say anything more, but it's been a beautiful journey. 
I've lately been really interested in aging, and how, at times, you look back on your life, and you think of the things you haven't done instead of what you have done. And how much is still possible.
HD It's hard to reflect on what you've done when you're still doing it. It's not as if we do a thing, and then we have a month off to think about what we've done. We just keep going.
PP People ask me often, "How do you write more than one work at a time?" It's like asking, "Can you imagine having more than one friend?" (laughter) I mean, some people may have only one friend, but I don't. These pieces aren't just works of art, they're my life and the people I'm working with become my friends—I care about them, I want to learn from them. 
I tend to find myself with several of these long-process works, each being at a different stage of development, because you can't precisely predict funding, or your collaborators' schedules—you just don't know. I prefer to have several conversations going on at the same time; I find that they're very distinct languages. For instance, the compositions for the Labyrinthinstallation concertos—which are heavily based in electronics, interactivity, and involve stunning artworks by Erika Harrsch and by Carmen Kordas—couldn't be more different from those for Oceanic Verses, which couldn't be more different from the work I'm doing for Aging Magician, which is primarily acoustic and needs to be—because it's this pulsing heart of a man who's dying to be freed and transformed. So all of these pieces call for a different part of me, and though, of course, stylistically they remain me, they're radically different journeys. I've found that I've learned just as much from astrophysicists and conservationists as I have learned from composers, writers, and musicians. Their skills have made me think of my art in a different way, and that is really exciting.
HD In addition to everything you've written and are writing, you're also embarking on the adventure of Original Music Workshop. Will you talk about that?
PP Absolutely. About two years ago, my friend Limor Tomer at the Metropolitan Museum said, "You're gonna get a strange but interesting call." (laughter)
HD That's our girl!
PP I was living in San Francisco, because Jeff, my husband, was with the Kronos Quartet at the time. I was traveling back and forth to New York several times a month because I needed to get my company back on its feet. So I got this phone call and I met this gentleman, Kevin Dolan, who's a retired tax attorney. His idea was to create a platform for up-and-coming musicians in less commercialized genres and, unique to New York, a performance space that could also be used as rehearsal and recording space on a 24/7 basis. In Kevin's own words: "I understand that, for many, music is fundamental to their being, and to some it represents a salvation of sorts. So the basic purpose of this endeavor is to help composers and performing artists—particularly younger folks and future artists—and their listeners, nurture whatever fundamental essence is inside of them and to help them, and their art, survive. It's that simple." 
Over the last couple of years Kevin and I have put a team together and we have this incredible space in Williamsburg that is nearing completion. Original Music Workshop will open in the fall of 2015. As the creative director, I've curated two years of programs that show the philosophy behind the space. That, to me, is one of the ways in which I can contribute back to my field—by helping to nurture talent and supporting young artists' steps into professional life. As a composer, it's not enough to just worry about yourself. We live in a continuum, and if we don't care about the health of our industry, then we're going to suffer for that. 
We will have a performing space doubling as a recording studio—it was designed by Arup, an acoustic consulting firm that did an impeccable job. It's called a box-in-box construction, which essentially means that it's acoustically completely isolated and pristine. 
The space is set up as a hybrid model, so it's got the venue itself and on the other side it's got a restaurant. I'm designing residencies for about twelve groups that will be able to rehearse in the space, have subsidized recording rates, and in turn, will curate their own programs and discover artists that they love and want to help support. Everyone can benefit from the network of partnerships that we're developing. Those partnerships provide festival-like programming with young artists, or emerging artists, from across different styles of music. We're also working with a community center, El Puente, through one of our residents, Found Sound Nation, which will be mentoring kids through music production and technology.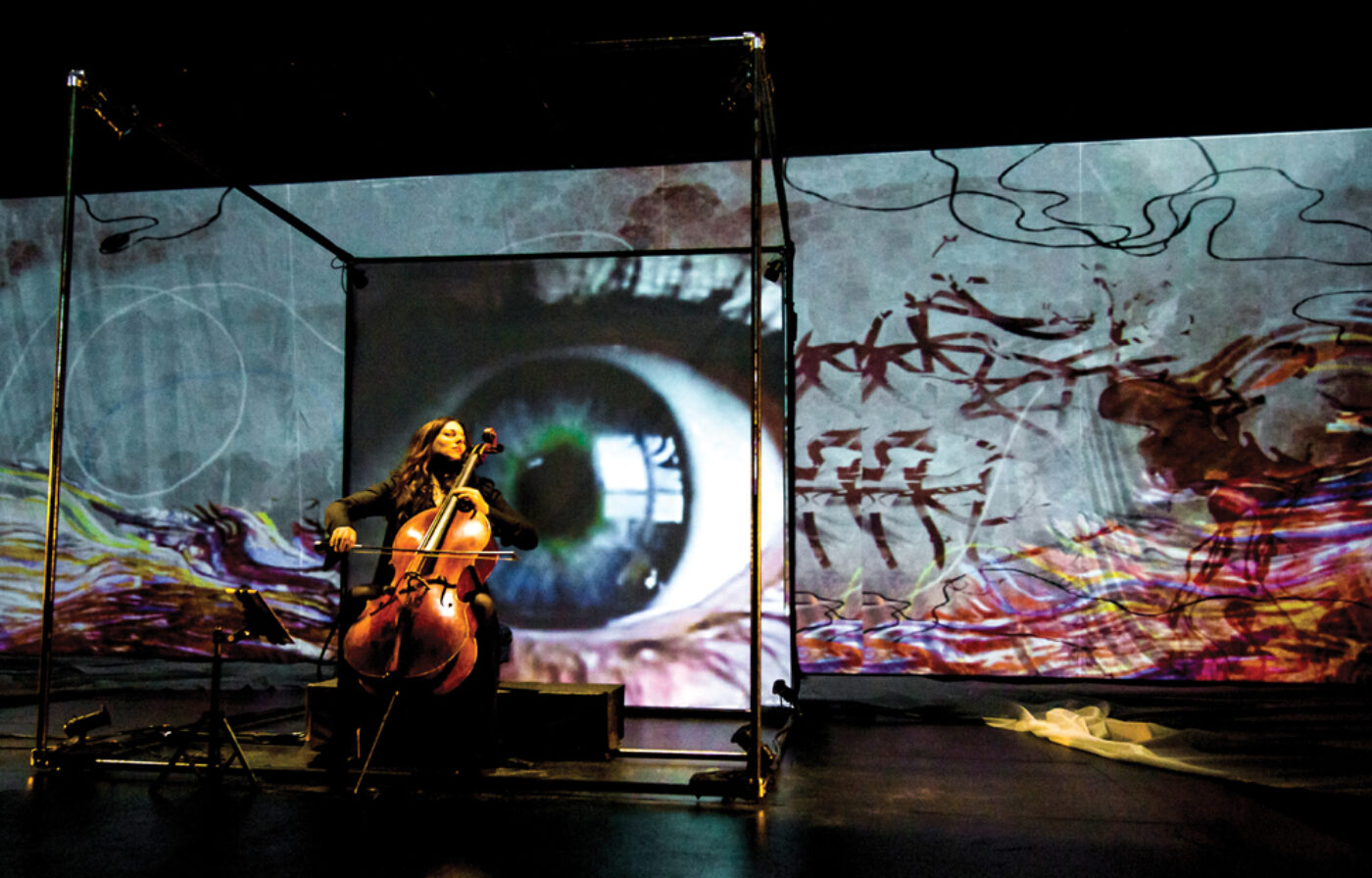 HD You grew up on the border. I feel that this experience informs not just who you are as a person, but affects your music as well.
PP Yeah, my family moved from Italy, when I was just an infant, to Nogales, which is a border town in between Sonora, Mexico, and Arizona. We later moved to Tucson. I remember Nogales and the Southwest of the United States very fondly. It's a very complex existence—the cultural and socio-economic differences are slammed right up against each other and you're aware of them every day. And those kind of disparate synergies formed very much who I am. I was raised by a powerful single mother, and she sacrificed a lot in order for me to be able to do what I do, and did so since I was very young. I also had a nanny, and our family unit, which was the three of us, gave me the stability and pretty much all the tools that I still use today in order to function as a human being. My nanny was an extraordinary Mexican lady named María. She taught me so many things, some without even knowing it. She had five children of her own across the border, and she would watch me in order to send money home so they could survive. That sense of sacrifice was palpable in our relationship, yet it didn't mean that she loved me less. The notion of sacrifice is deeply ingrained in the way I function and in my sense of duty. 
One day I finally convinced María to let us come and visit her and her children in Mexico. Seeing where she lived, seeing that there was no running water, and understanding how sharply her reality rubbed against ours, never left me. Once I asked her how she celebrated Christmas, and she said that her kids wrote notes and put them into balloons, which they released at dusk, so their wishes would color the barrio. I remember asking, "How do they know they're gonna get what they want?" She said, "They don't. That's not the point." It was a beautiful lesson, and the lessons continued, and to this day she's in my life. 
Growing up in this house in Nogales, which was filled with Mexican songs, definitely affected my music and the way I choose to live as an artist. Songs are still very much part of how I write—I'm a melodic writer, but that writing is mixed with counterpoint and with folkloric colors from different experiences and cultures that have affected me. The desire to bring disparate threads together and to make sense out of the different artistic impulses that run in our society today is the reason why I started VisionIntoArt. 
In terms of my own interdisciplinary work, I love putting people together who from the outside might not connect, but then, when you see the synergy, there is an intrinsically exciting new language that emerges, and that is very much mana for me.
HD People always ask me about singers who inspire me, but they never ask me about the books that I read. I feel that the books I read, the art that I look at, all inform in some way how I sing and what I do with my voice. My absolute favorite author is James Baldwin. From the first time I was allowed to read one of his books, he became a guardian, almost. The way he uses words, the things that he talks about, and what they touch in me deeply inspire me and that is important for singing. What role does literature play for you? 
PP I like to say that literature was my first collaborator. My first big love in high school was James Joyce. I abstractly set Dubliners as the source material for my first string quartet. And then I fell in love with Octavio Paz, both with his political writings—Labyrinth of Solitude—and his poetry. I set his poetry pretty immediately to voice, harp, and flute, and years later I created an installation concerto, which is a form that I like to work in at the moment. Labyrinthis basically a concerto for a solo instrumentalist with a backing track made of infinite recorded lines that forms an orchestra of sorts, and live electronics. This was also my diving point into collaborating with Erika Harrsch, a visual artist from Mexico who's based in New York. We wanted to make a work that was essentially a labyrinth of the mind and we then combined this initial idea with moments from the House of Incest by Anaïs Nin. It turned into a commission by the Krannert Center and Erika created an LED cello, for which I wrote this abstract music where the cellist also sings. 
Now I'm deeply immersed in the Epic of Gilgamesh as I'm writing that opera. This piece was commissioned by its librettist, Cerise Jacobs, and is produced by my dear friend and producer Beth Morrison, and it brings together the story of Gilgamesh with the Chinese legend of Madame White Snake. Themes of everlasting life permeate the work, and it is part of three commissioned operas that will be performed on the same day. The trilogy is called Ouroborosand will be presented by the Boston Celebrity Series at the Emerson Cutler Majestic in 2016. I'm also deeply immersed in The Old Man and the Sea—it's another opera that I have coming up for the Sydney Opera and the Commonwealth Games in 2018. 
Poetry has always been a driving force in my music. My very first operatic tableau was called Oceanic Verses, and that was culled from Italian poets throughout time, from Dante Alighieri to Ungaretti to Aleardo Aleardi. That was then spun into a loose narrative about four archetypes by the librettist Donna Di Novelli. Right now I'm in love with the poet Brenda Shaughnessy, and together we are reimagining a mass for a Trinity Choir commission. The mass is told from the perspective of many different women through Brenda's words and my music. 
So I would say that literature has played a huge role in my artistic direction, in everything from treating words as abstract inspiration to using word locution to help dictate rhythm in my music—which happened with one of my first cello solos. It was called Oceano, based on a Pablo Neruda poem. The poem is simple, but the rhythm is very strong, and that became the base for some of the rhythmic cells of the cello line. So, yes, literature is absolutely one of my big, big passions.
HD Let's talk about Oceanic Verses, since it is the work that brought you and I together. That piece still feels very alive—
PP —and raw—
HD —in me. The challenge is that there isn't a place to hide in it. I've never, ever been that scared—about anything in my life. I remember sitting in the City Opera dressing room with Hila Plitmann, the soprano, and she was so completely relaxed, curling her hair and putting on lipstick. I had never sung with an orchestra before; I didn't even understand what that meant. I knew that there would be some microphones out there—I'm always looking for a mic and a stand—but when I got out on stage I saw that they were all hanging, and I leaned over to Hila and said, "No one is going to hear me!" I was totally freaked out. My legs started to shake so badly that I walked offstage right before the performance started. I tried to pull myself together, and went back and sat down. What was so scary was that I wasn't doing anything that seemed to belong to the world I was in. How often do you hear improvisation in opera? Did I belong there? And you said this brilliant thing to me: "Invisibility is not an option." I wrote that down on a piece of paper, and pinned it up on my wall. I look at it every day. 
It also connects to what you said earlier about being an advocate and an entrepreneur, but not from a place of ego. You, we, don't actually have a right to be invisible, because there's a lot of work to do, there are many voices that need to be heard, that need to come through us, that need to come through me and my voice—
PP —and your lens and how you see the world. It's not an option. You owe it to yourself.
HD I always feel grateful for that day, when I shook in that way and could do this improvisation about the terror that many women all over this planet experience—from invisibility brought on by socio-economic harshness to the realities of rape and general injustice. I'm grateful that I could bring it to the stage of the City Opera in New York.
PP And that people gave you a standing ovation.
HD People leapt to their feet after. I can't tell you how many came up to me and said thank you.
PP Oceanic Verses is, and probably will remain, one of those pieces that I'm happy I wrote but that are hard to come back to. Interestingly, we've now finally recorded it—and even the recording process was tough. (laughter) But it's actually launched our new label, VIA Records. 
But going back to how that piece came about: I wanted to discover my Italian side and find its resonance in who I am today. As a child, I had, of course, a deep relationship with Italy—we went back every year, I felt culturally Italian—but I didn't really understand how that identity fit into the side that was also genuinely American and also influenced by Mexico. The best thing to do, I decided, was to go and discover the music that affected me the most. I went to a residency in Lecce, in the southern part of Italy. I had been to the Italian South before and really loved it, because that's where I saw waves of immigration and a cross section of music styles, but also a cross section of cultures. 
The improvisation you speak about was based on a field recording that I made. Just on the side, I had studied Alan Lomax's sound and music recordings and used a few of them as inspiration points. But my intent was to record my own field samples. Being part of the Sound Res residency program allowed me to do a bit of work in a foster care home. I used my phone—just really simple technology—to create soundscapes. I asked the children to sing for me the song they loved the most, which was: (singing) "Fimmene fimmene ca sciati allu tabaccu ne sciati doi e ne turnati quattru." These were girls that ranged from eight to twelve years old; they sang in a dialect called Griko, and they jangled their bracelets and laughed. I asked, "What does that song mean?" They said, "Well, it means that it's hot in the tobacco fields, and the women were very hot, and it's beautiful here—" They were confused. I, of course, knew the meaning of the words; it's a song about rape. It means: women of the tobacco field, you go in two and return in four. 
In the opera, I juxtapose that field recording of those young girls singing with the plight of the women in the chorus, and you get a dark juxtaposition of innocence and depth that you, Helga, introduce in your amazing improvisation. I have to say that one of the things I love about this piece, but that many people found challenging, is that it really does bring together all different kinds of styles of singing. There is you, with your four-octave range, and your ability to bend the voice and color it with your life experiences, and improvise—which then became a tool for my language. Then, there is Claudio Prima, the folksinger who's from the area—I'd heard him one night in a bar and knew that one day I would write a piece for him. And there are Hila Plitmann and Chris Burchett, whom I've been writing for, for years, and who inspire me greatly with their range and their lack of fear. I think that lack of fear in performance is what binds the four of you. Oceanic Verses brings four people on stage that don't seem to belong together, but to me that made perfect sense. Both female characters struggle with trying to find their internal geography: the Peasant feels invisible because she is part of a system where she does not exist; and the Scholar—who is essentially a melding of you, Helga, and me—is searching for artifacts, things that are forgotten across oceans, across time. Part of her internal geography is invisible, and she has to unearth that. So this piece maps and tracks their transformation and pits that against a global struggle with borders and immigration, and comes together with one's search for one's identity. Perhaps that is why this piece is so special but also so difficult for me—it hits all of these deep issues that have been with me since childhood. 
Invisibility not being an option—it is something I profoundly believe in.
Helga Davis is a New York-based artist and vocalist. For the past two years she has starred in the 25th-anniversary restaging of Einstein on the Beach by Robert Wilson and Philip Glass. In 2014, Davis presented Casandra at BRIC House, and You Us We All by Shara Worden and Andrew Ondrejcak. She can be heard on the new VisionIntoArt Records release of Oceanic Verses and will perform in her own creation, The Love Show, at Symphony Space in February 2015. Davis serves as a host of Q2 Music on WQXR.
Originally published in
Featuring interviews with Adam Broomberg and Oliver Chanarin, Theaster Gates, Martin Wilner, Paola Prestini, A.G. Porta, Pierre Guyotat, Paweł Althamer, and Eugéne Green.