Painted into a (Beautiful) Corner: Malevich at the Gagosian by Kevin Kinsella
Kevin Kinsella takes issue with the Gagosian Gallery's framing, both literal and figurative, of Russian Supremacist Kazimir Malevich.

Discover MFA Programs in Art and Writing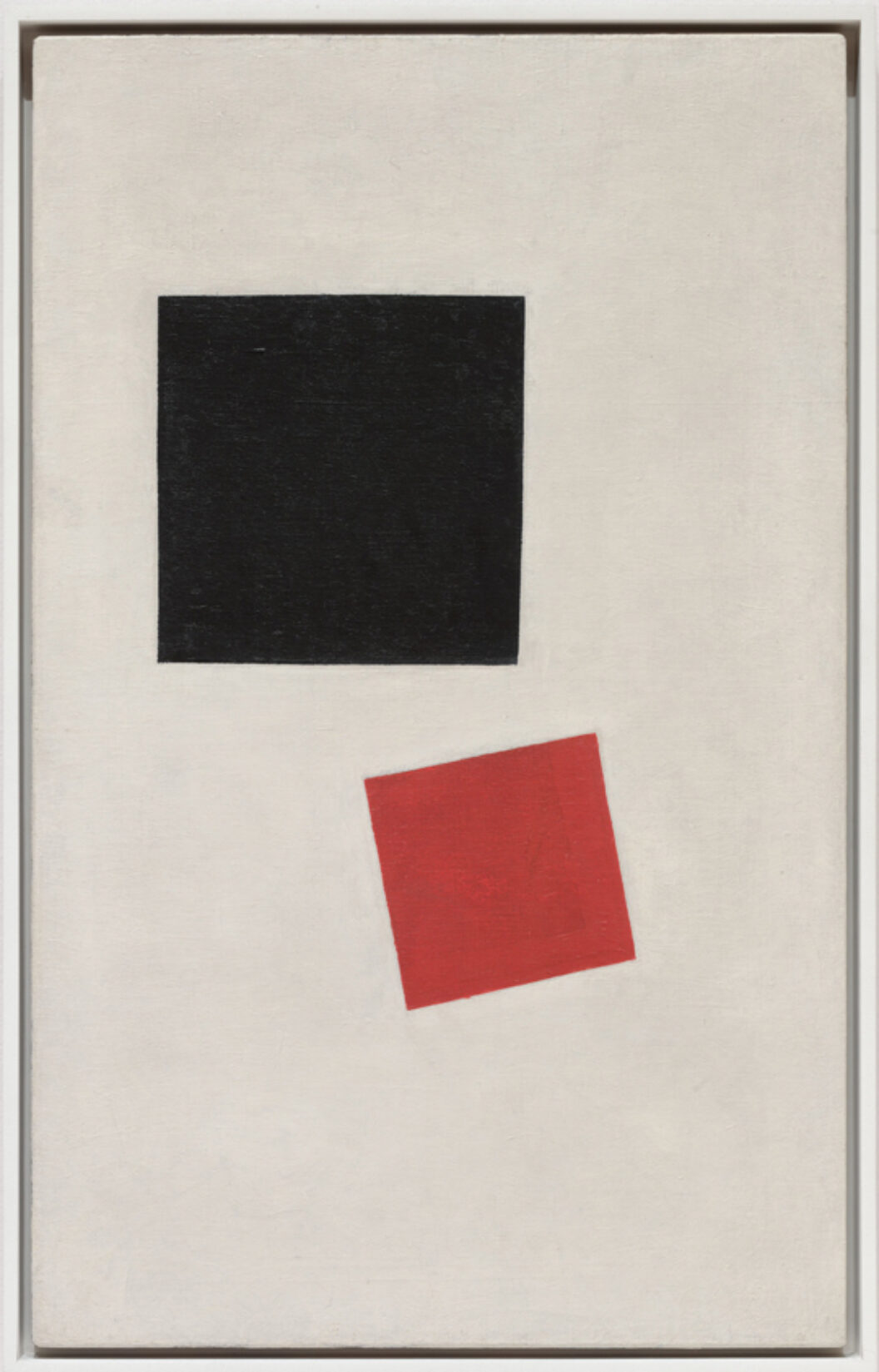 Just before the 1915 opening in St. Petersburg of 0,10: The Last Futurist Painting Exhibition, the main exhibitors came to blows. Kazimir Malevich, whose new Suprematist school of painting was to have its debut at the show, and Vladimir Tatlin, a founder of Constructivism, were in violent disagreement over the validity of abstract art.
Malevich and his followers conceived of art as a spiritual activity whose purpose was to give man a new vision of the world; their nonobjective paintings were intended to free man from the shackles of natural forms. But Tatlin and the other Constructivists dismissed abstract art as amateurish and useless, advocating instead that art be integrated with the material world and that it serve society.
But while both movements were utopian in nature, their ends and methods were far too different, and their practitioners far too intolerant of one another's position to exhibit in the same space. When the fisticuffs between Malevich and Tatlin were broken up and both artists had retreated to their respective ideological corners, Tatlin and his crew moved their works to another room, posting a sign over its door: "Exhibition of Professional Painters." Ouch.
It is not by chance that Malevich himself called his Black Quadrilateral (often referred to as "the Black Square") "the icon of my time." Nor was it an accident the way in which the Quadrilateral was hung at the 0,10 exhibition: high in the so-called "Beautiful Corner," that prime real estate in Orthodox homes located in the main room in which the principal icon—usually reproductions of the Christ Blessing, or the Mother of God—was placed, facing east with a candle burning before it and with lesser icons hanging on the two adjacent walls. There could be no better way to express the profoundly iconic character of Suprematism of Painting, the name Malevich gave his pictorial iconostasis in the 0,10 exhibition.
Malevich recalled the installation of that seminal show thusly:
"I remember that cold and snowy winter in Petrograd in 1915 as if it were yesterday. Everything was in motion. It was a time of great hopes, enthusiasm, optimism, Futurism and, of course, Revolution. You could even smell it in the cold Russian air. The end of the great century … the new age … huge and cold building at Marsovo Pole (Champ de mars) no. 7 … The Last Futurist Exhibition 0,10 … no heating …, Puni running around always asking for nails … Kliun quite nervous, like a bridegroom before the wedding. I must admit I didn't have any previous plan for my, as you now say, "installation." It was purely accidental. I only knew that Black Quadrilateral must be in the top corner. Everything else was irrelevant."
Alas, Black Quadrilateral is not included in the Gagosian's Malevich and the American Legacy exhibition, which runs until April 30 at its Madison Avenue galleries, but the no less iconic Mystic Suprematism (1920-27) and Suprematism, 18th Construction (1915) are. Curated by Andrea Crane and Ealan Wingate and conceived in collaboration with the heirs of Kazimir Malevich, the show features six rare Malevich paintings, in the company of works by modern and contemporary American artists, including Carle Andre, John Baldessari, Alexander Calder, Dan Flavin, Donald Judd, Ellsworth Kelly, Agnes Martin, Barnett Newman, Ad Reinhardt, Ed Ruscha, Robert Ryman, Richard Serra, Frank Stella, James Turrell, and Cy Twombly.
The problem is, the curators' definition of "legacy" is so broad that many of the works share only a small degree of formal or conceptual relation to Malevich's paintings. It's a strategy that may increase the number of possible Malevich associations, but one that sorely taxes the credibility of those connections. And just as the icons deemed not worthy enough to be hung in the "Beautiful Corner" of an Orthodox home pale in significance to the Mother of God icon, the works hung adjacent to the Malevich compositions lose something in the comparison. For instance, Frank Stella's painting Ouray II(1964), all but disappears into the walls in the presence of Malevich's Suprematist Composition: Airplane Flying (1915). Simply, there's just too much going on over the three floors of the Gagosian galleries that the sprawling exhibition presides over to identify a credible connection to the art and ideas of Malevich, let alone to establish a meaningful artistic genealogical line between most of these American artists to the Russian visionary.
Nonetheless there is a standout: Donald Judd's Untitled (1992), which hangs opposite Malevich's paintings. Through this piece, with each of its six stacked steel boxes framing a different colored Plexiglas sheet, Judd boldly declares himself a descendant to Suprematist ideas of pure form. And it's hard to argue with him. Judd himself recognized Malevich's primacy in an reprinted essay from the exhibition catalogue: "It's obvious now that the forms and colors in the paintings that Malevich began painting in 1915 are the first instances of form and color."
For the 0,10 exhibit, Malevich created paintings that completely obliterated all references to the recognizable world and focused instead on the inherent relationships of geometric shapes of various colors that seem to float against their white background—floating so free, it would seem, that the paintings did not warrant a frame. And like Orthodox icons, none of Malevich's Suprematist compositions were framed.
Unbelievably, this is a point the Gagosian seemed not to have recognized, as they have affixed frames around all of Malevich's works in the show, a move that, in some circumstances, quite literally casts shadows upon the Beautiful Corner that Malevich's Suprematist compositions have occupied for nearly a century.
Kevin Kinsella is a writer and translator (from Russian) living in Brooklyn. His latest book, a translation of Sasha Chernyi's Poems from Children's Island, is now available through Lightful Press.