Discover MFA Programs in Art and Writing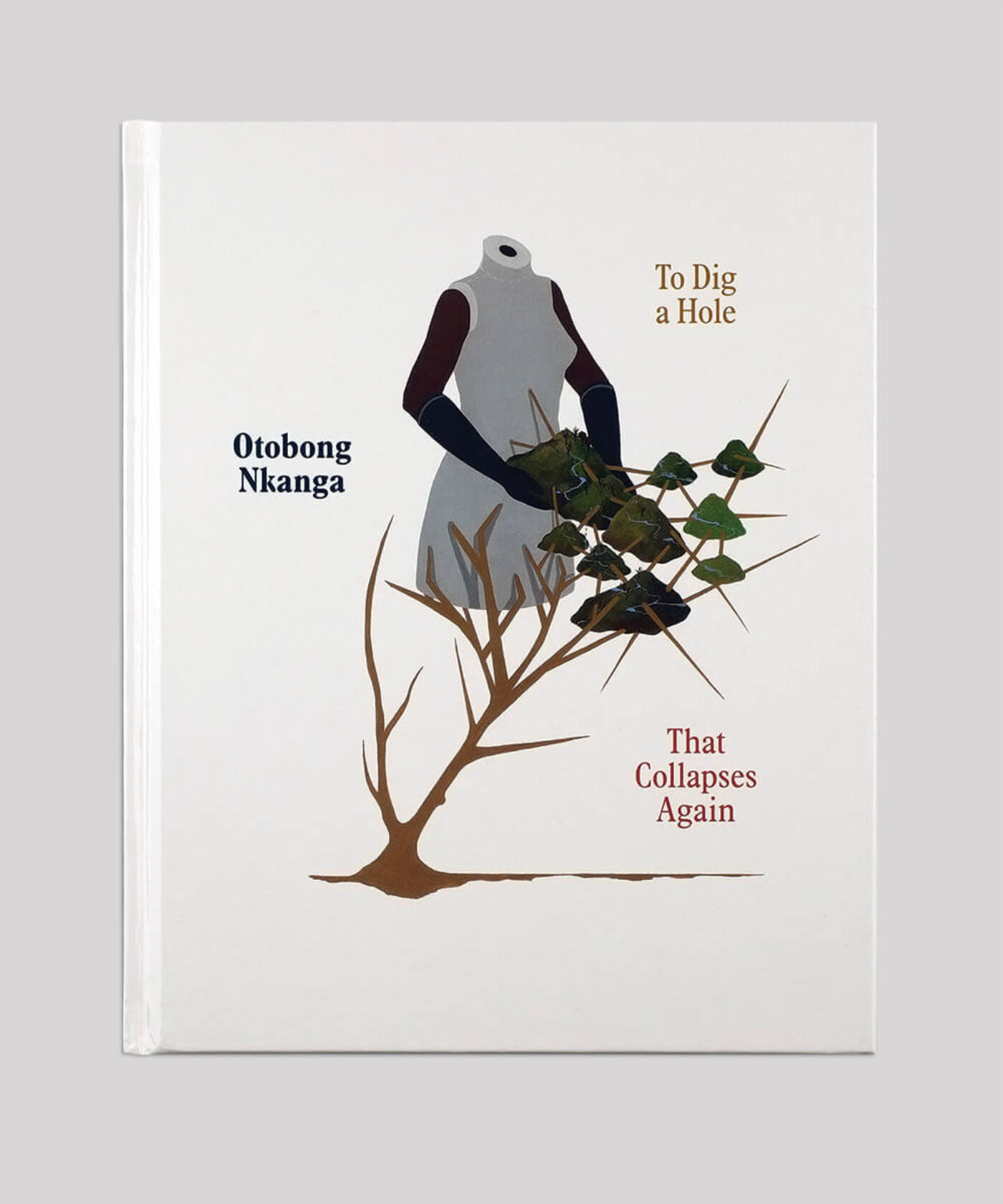 Through layered symbolism—such as sticks and roots threading and pricking interconnecting bodies and mounds of earth—the Kano, Nigeria–born, Paris-trained, Antwerp-residing artist Otobong Nkanga works through the trauma of decolonization by probing links between Europe's economic growth and the exploitation of African lands. Her first US survey show, on view at the Museum of Contemporary Art Chicago, is a maze of floor-bound sculpture, piled and branching like a garden, the walls painted sky blue. Amid the airy scenography, the long perimeter walls display woven tapestries and framed pages of acrylic painting installed in cluster-like chapters.
The art book accompanying the exhibition, designed by James Goggin and edited by curator Omar Kholeif, amounts to a second exhibition in print: a compendium of Nkanga's drawings and poetry, with a reflective essay by Teju Cole, it comprises what Joseph Grigely calls an "exhibition prosthetic" that extends the show's reach into private space. Its pages reveal Nkanga as an image maker, at heart a draughtsperson, working out a network of throbbing, entangled symbols. The book collects her drawing practice in chronological procession, illuminating its evolving complexity across nineteen years. A certain iconography emerges, including headless, armless female figures pierced by their landscapes or sprouting from them. Who are they? These women conjure Max Ernst's provocative homonym: La femme 100 têtes—a woman with a hundred heads, or a woman without a head. Sliding into Ernst's double entendre and his 1929 novel of collages titled with thatbit of word play, Nkanga draws and writes her own story of the headless and many-limbed body, bloodless amputations from which bloom a thousand intersecting modes of being. These bodies are monstrously doubled, as good metaphors ought to be, performing a symphony of phantom gestures. Depicted with illustrational clarity, the mechanical torsos dig through space to cultivate place—the way a hole is both empty and full.
The Buddhist Eightfold Path rounds out the book's multi-limbed metaphor in Teju Cole's essay "Eight Turns." His poetic octet is lovingly shaped in honor of the artist: "Otobong, whom we also call Oto, is to my ear eight-dimensional, by musical adjacency to the Latin octo and Greek okto. Otobong, the octagon, the one who tirelessly examines the multifaceted earth." Each of Cole's eight meditations is a mine of personal memory, an independent tentacle. "Only a prejudice could make us think the earth beneath our feet was not alive," he writes, weighing his rock collection in hand. The textures of each place create "a map of the world" from Lagos to Brooklyn. Only upon reflection years later does the trauma of displacement mineralize into meaning, an epiphany that soil, like text, is alive with story. 
Jason Foumberg is a curator at the Carl & Marilynn Thoma Art Foundation in Chicago.
Originally published in
Featuring interviews with Chris Martin, Cy Gavin, Tauba Auerbach, Sam Hillmer, Amy Jenkins, Florian Meisenberg, John Akomfrah, Simone Forti, Ottessa Moshfegh, and Anna Moschovakis