Oral History Live! Featuring Odili Donald Odita & Ugochukwu-Smooth C. Nzewi
Join us in celebration of Odili Donald Odita's forthcoming Oral History interview.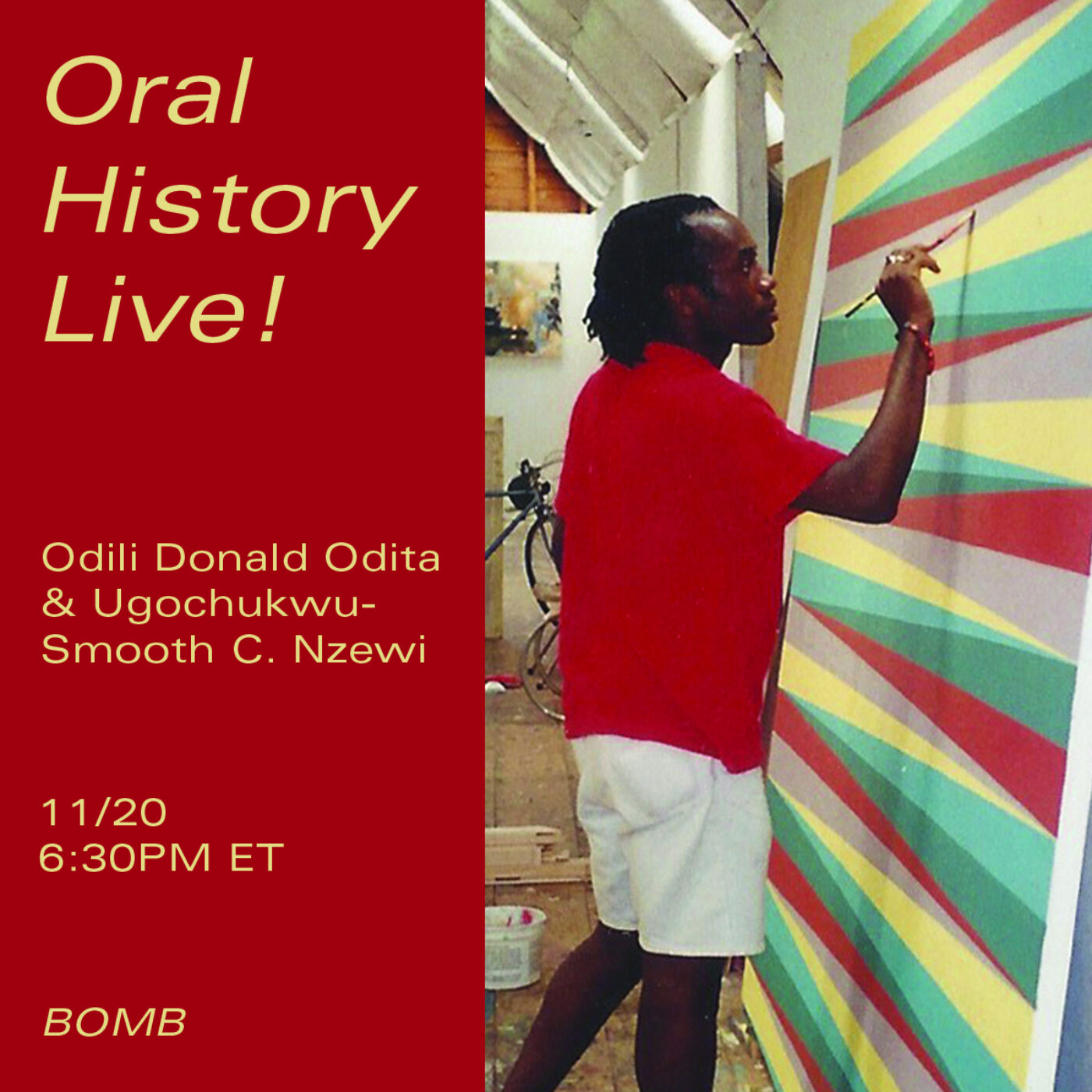 Join us for an evening with visual artist Odili Donald Odita and curator Ugochukwu-Smooth C. Nzewi in celebration of Odita's forthcoming Oral History interview.
The interview will be available online as a part of BOMB's Oral History Project. Smooth will lead a virtual tour of Odita's iconic work and chart his life, process, and artistic career. Their conversation will be followed by a Q&A.
Read an excerpt of Odita's Oral History here.

In the excerpt, Odita recounts his migration with his parents from Nigeria at the start of the Biafran War, and the deep influence his father, a professor of African art, had on his growth as an artist. Both Odita and Nzewi are Igbo, and they use this cultural background, alongside their American experience, to decipher and articulate a unique position in the West.
—Stephanie E. Goodalle, Oral History Fellow, BOMB
______________________________________________________________
Since 2014, BOMB's Oral History Project has staged one-on-one interviews with New York City-based visual artists of African descent, conducted by curators, scholars, and visual artists.
Visit the Oral History page here.
The Oral History Project is dedicated to collecting, developing, and preserving the stories of distinguished visual artists of the African Diaspora. The Oral History Project has organized interviews including: Wangechi Mutu by Deborah Willis, Kara Walker & Larry Walker, Edward Clark by Jack Whitten, Adger Cowans by Carrie Mae Weems, Jeanne Moutoussamy-Ashe by Kalia Brooks, Melvin Edwards by Michael Brenson, Terry Adkins by Calvin Reid, Stanley Whitney by Alteronce Gumby, Gerald Jackson by Stanley Whitney, Eldzier Cortor by Terry Carbone, Peter Bradley by Steve Cannon, Quincy Troupe & Cannon Hersey, James Little by LeRonn P. Brooks, William T. Williams by Mona Hadler, Maren Hassinger by Lowery Stokes Sims, and Linda Goode Bryant by Rujeko Hockley.
The Oral History Project is supported by the Seth Sprague Educational and Charitable Foundation, the Dedalus Foundation, Humanities New York with support from the National Endowment for the Humanities, and with public funds from the New York City Department of Cultural Affairs in partnership with the City Council.

Any views, findings, conclusions or recommendations expressed in this digital publication do not necessarily represent those of the National Endowment for the Humanities.
The Oral History Project Fellowship is made possible by the Stavros Niarchos Foundation, Cary Brown and Steven Epstein, Beatrice Caracciolo, John Coumantaros, Sally Ann Page, and Toni Ross.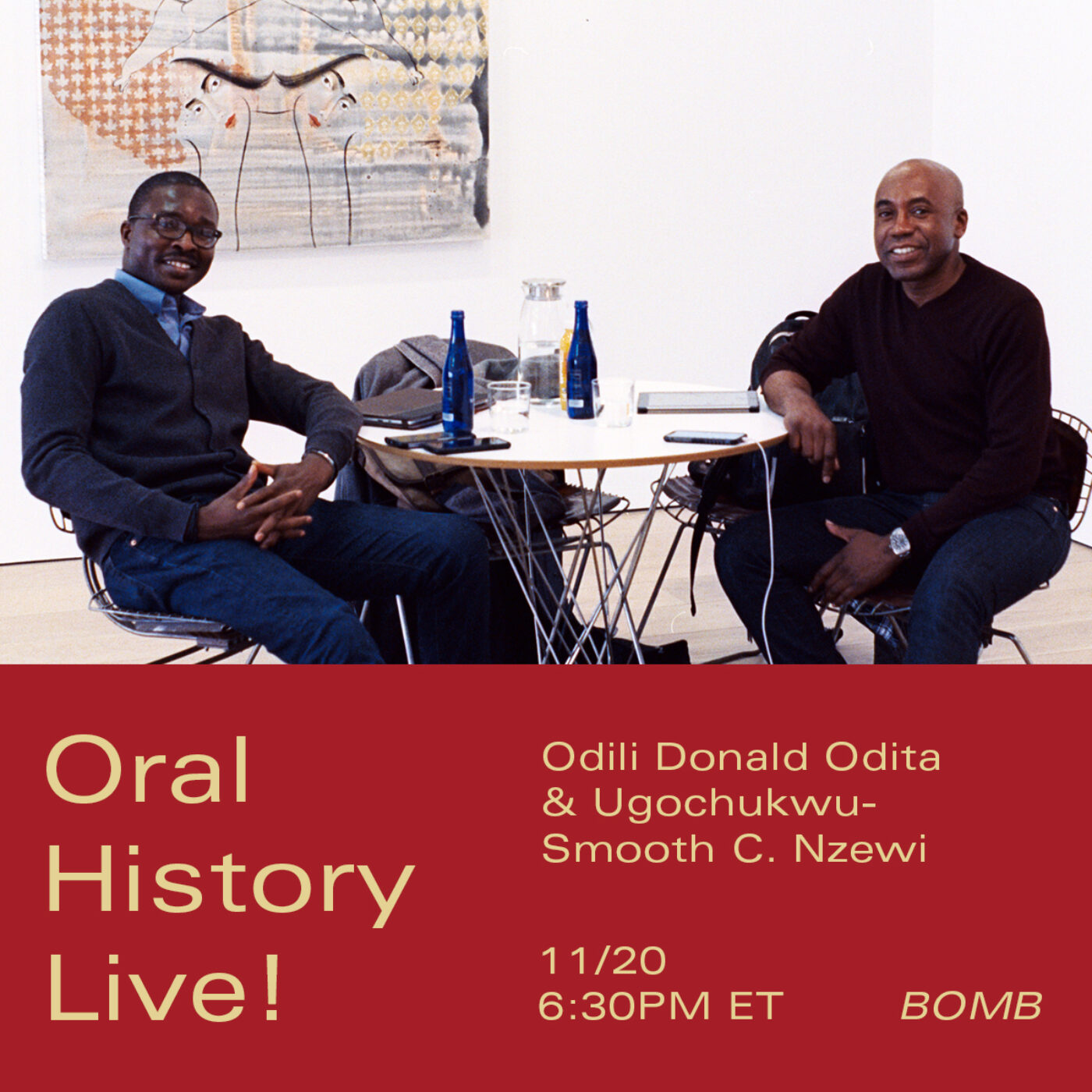 Odili Donald Odita (b. Engu, Nigeria in 1966; lives and works in Philadelphia, PA) is an abstract painter whose work explores color both in the figurative historical context and in the sociopolitical sense. He is best known for his large-scale canvases with kaleidoscopic patterns and vibrant hues, which he uses to reflect the human condition. For Odita, color in itself has the possibility of mirroring the complexity of the world as much as it has the potential for being distinct. In his paintings, we see color interwoven and mixed, becoming an active agent in representing the essential power that light has in identifying the entirety of our world. He thinks of his colors as agents to express thoughts, ideas, and transformational change. Much of his color selection is based on personal memories and created intuitively by hand-mixing, so that no two shades are ever repeated.
Born in Nigeria and raised in the American Midwest, Odita's work is also heavily inspired by a sense of dual identity, combining aspects of Western modernity with African culture. His practice speaks to a contrast of cultures and a desire to create something new from a set of distinct parts. In this sense, his paintings, like a stitched or quilted textile, are weavings from different spaces, times, and various temperaments, which convey the complexity of culture, identity, and being.
Ugochukwu-Smooth C. Nzewi is a Nigerian artist, art historian, and curator in the Department of Painting and Sculpture at the Museum of Modern Art. He has worked as the curator of African art at the Hood Museum, Dartmouth College, and the Cleveland Museum of Art. He curated the Nigerian Afrika Heritage Biennial three times, the Dak'Art biennial, and independent exhibitions at Atlanta's High Museum of Art and New York's Richard Taittinger Gallery.