The artist talks about how language documents stability and change across cultures.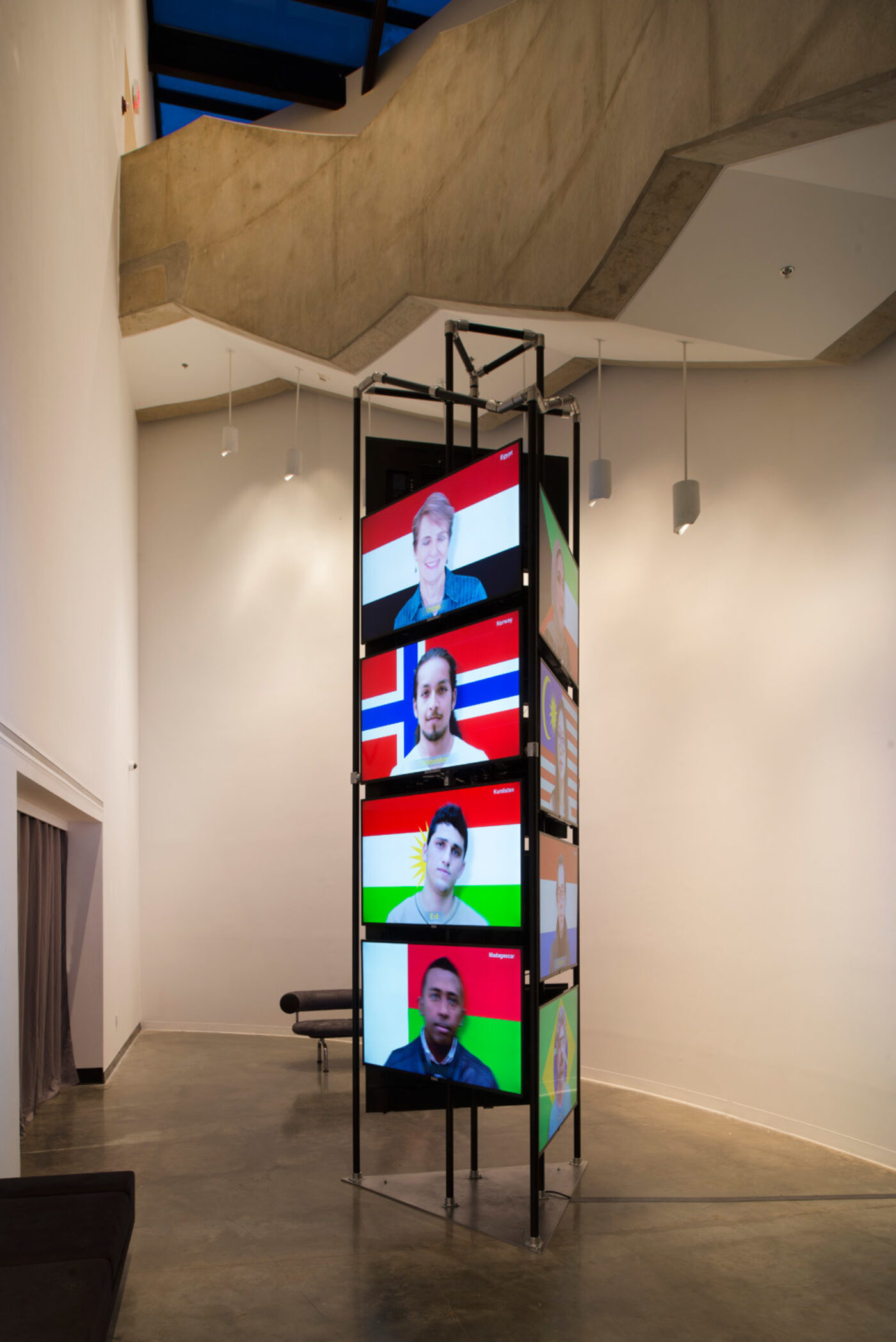 The video installation WORDS reflects my conviction that artists are explorers. Our curiosity ignites a passion for the exploration of contemporary society, its politics, and cultural trends. Discovery is what propels us to express our observations and thoughts through an effective medium. We are the chroniclers if not mirrors of our society, which challenges us to reflect upon and consider the dynamics of our times. The WORDS video project is one such exploration and discovery of the cultural, national, and global dimensions of language and the emotional meanings conveyed by individual words.
Words are powerful and kindle one's imagination, while defining who we are, what we believe, and that which we desire to pursue. To that end, we operate in a cultural system that has an important effect on how we perceive the world as well as how we use language. Like cultures, languages are built on an underlying structure. They develop meaning from the structure.
For the WORDS project, I decided not to use words in a sentence, which can have an infinite number of meanings and misunderstandings. By limiting that conceptual structure to thirteen single nouns, I hoped to evoke from the participants a more precise first impression or reaction to each of those words. These selected words all have some common meaning within any culture, nation, or region; hence, the question as to whether or not that commonality translates to shared understandings and/or evolved meaning, particularly in the context of globalization. Do these linguistic objects—nouns—as structures allow for a way to understand how the culture operates and maintains relations between its people? Secondly, as globalization has started to erode those traditional social structures, does it leave us with a less culturally diverse global community?
These are the underlying questions I explored during the six-year odyssey in the creation of WORDS. In the project's resultant manifestation—a poetic, cacophonous, and kaleidoscopic multi-video installation—the viewer can also explore and discover the multiplicity of answers to these questions.
Brian Dailey's WORDS is on view at the American University Museum in Washington, DC, until March 11.
Brian Dailey (MFA, Otis Art Institute, 1975; PhD, International Relations, University of Southern California, 1987) is an American artist noted for his careers in both art and international relations. His work in a variety of mediums—including photography, film, installations, and painting—engages with the social, political, and cultural issues of our times and is not easily categorized. Dailey's art reflects his unconventional evolution as an artist and multifaceted life experiences, which include national-level involvement in arms control, space policy, intelligence systems, and international security. Dailey has had solo exhibitions in Los Angeles, New York, Washington, DC, and Bulgaria, and he has participated in a number of group shows in the United States, Europe, and Russia. His mid-career retrospective, Declassified: Unraveling a Paradox, took place at Bulgaria's National Art Gallery in Sophia in 2014. His work is in private and public collections in the United States and Europe.  Dailey is based in the Washington, DC, metropolitan area and maintains studios in the District and Woodstock, Virginia. Website:http://www.briandaileyart.com/.