The artist talks about the genesis, composition, and execution of a recently completed work.

Discover MFA Programs in Art and Writing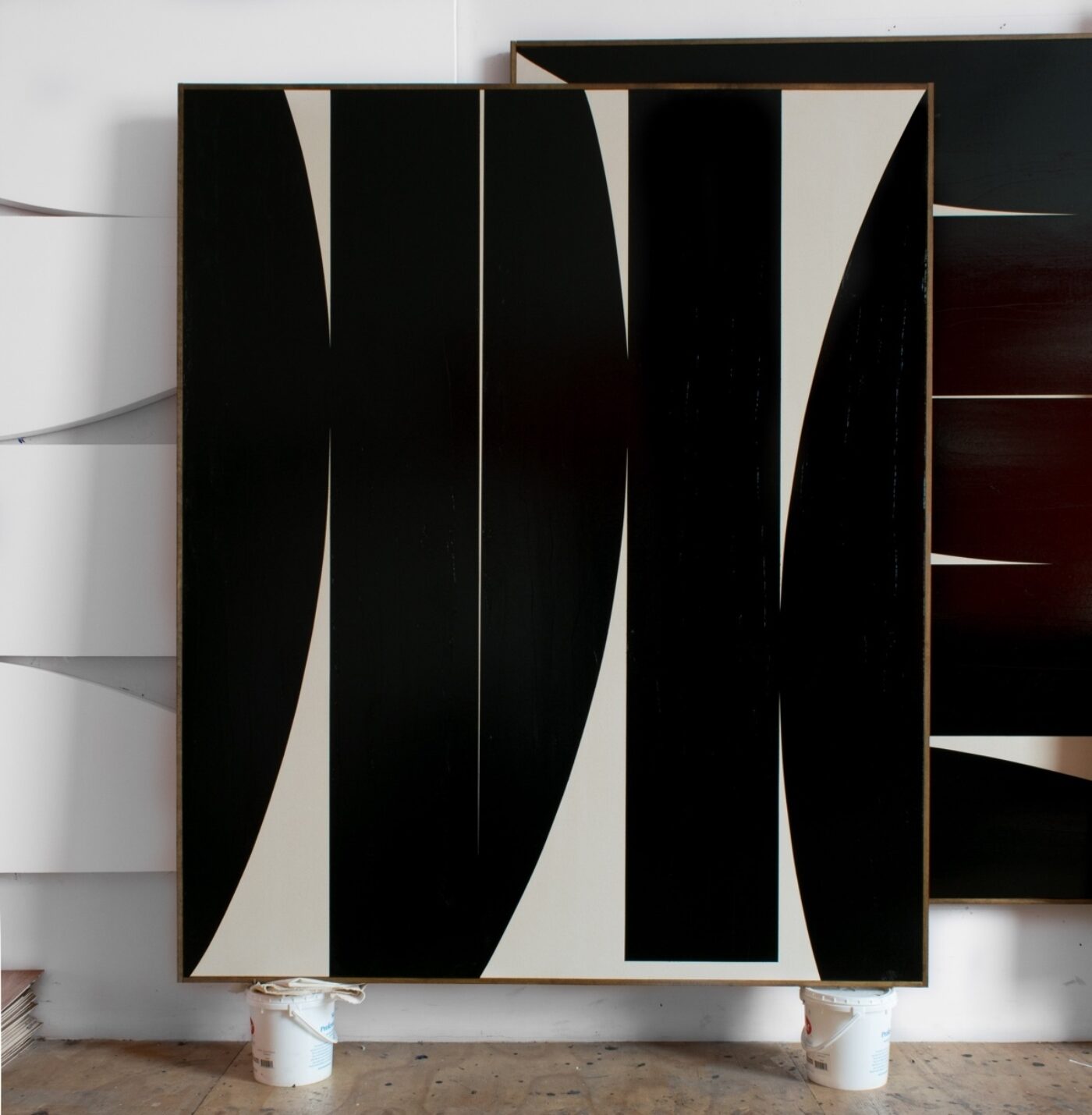 The starting point for this particular large-scale painting was to find a compelling moment within an earlier line-based painting of mine, something perhaps one inch by one inch or smaller, and magnify that portion into a large scale composition. When the tiny lines from an earlier work are scaled up and augmented into a three-meter-tall composition they end up reading as sculptural forms. In the case of this painting the drama is conveyed through the subtle interactions of the seemingly massive forms and the very delicate points of contact between these brutal objects resting on the raw canvas.
Ultimately, the formal works don't end up as exact transcriptions of the line-based paintings. They take their compositional relationships and formal interactions from them, and then I improvise, mining the commercial landscape for examples of iconic household or industrial design objects and abstracting them to fit the compositions.
Earlier this year I became fascinated with the Kikkoman Soy Sauce bottle after learning it had taken three years and over a hundred prototypes to design. I keep an eye out for similar functionalist objects that, because they are neither decorative nor works of art, might go unnoticed. In the case of this painting the curved form is an amalgamation of the Kikkoman Soy Sauce bottle, the Head & Shoulders shampoo bottle, and the red Solo cup: all objects that due to their ubiquity are taken for granted in spite of (and sometimes because of) their elegance and simplicity. The shapes in the painting certainly aren't meant to represent those objects. They are influenced by how, in the words of Dieter Rams, they "are not burdened with non-essentials."
Johnny Abrahams's solo show of new work is on view at The Hole through December 31.
Johnny Abrahams lives and works in New York. His work has appeared in solo exhibitions both nationally and internationally at The Hole and Jack Hanley in New York, Vigo Gallery in London, and Mediaforms in San Francisco. Recent group exhibitions include Two on Two at The Hole and What's Up New York, a traveling exhibition curated by Lawrence Van Hagen and presented in Brussels, London, and New York.