One Piece: The Great Salt by Jace Clayton
The artist talks about sound art and the historical record.

Discover MFA Programs in Art and Writing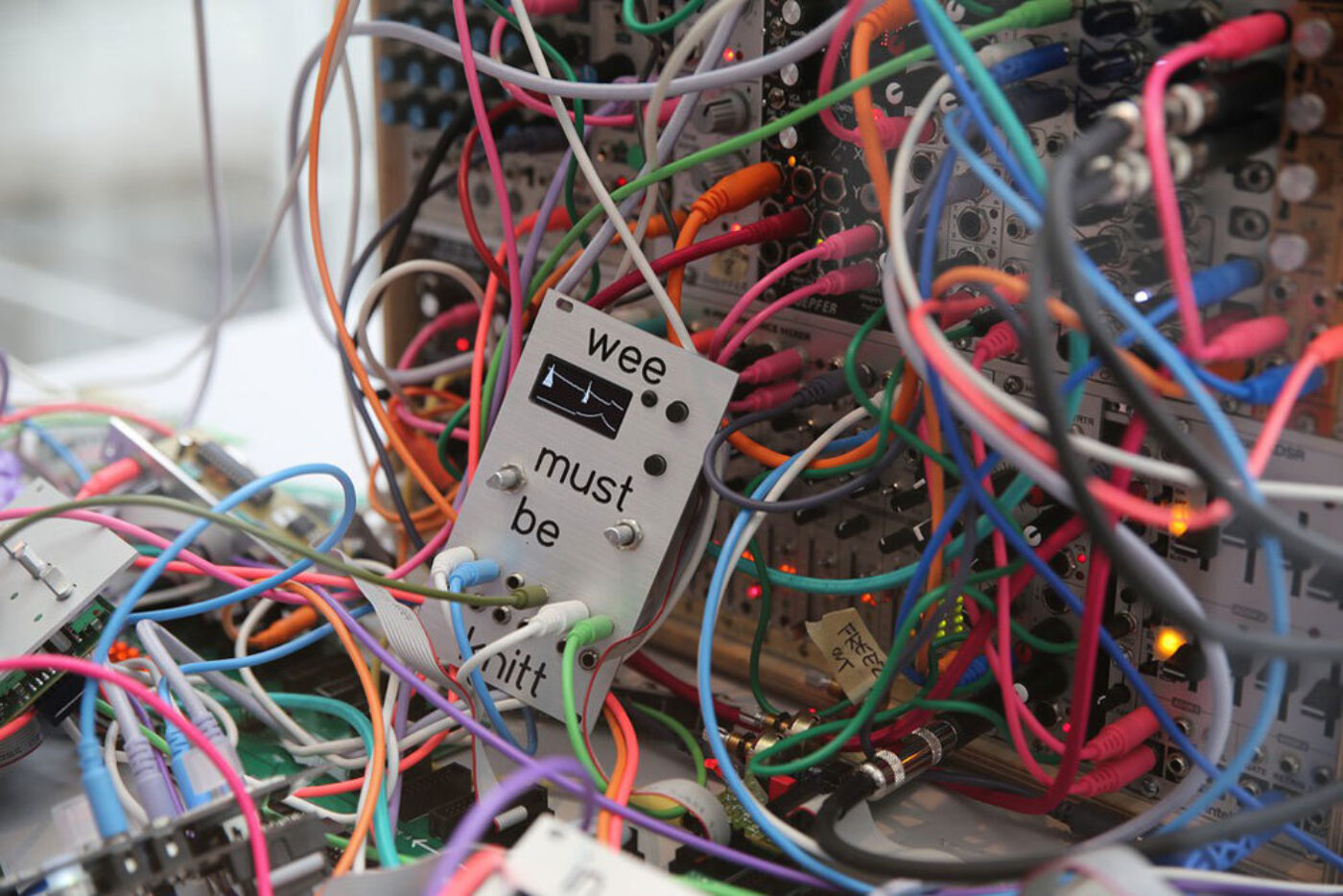 The Great Salt is an interactive installation with sound at its core. A vitrine holds several dozen modular synthesizers, which power a dynamic and self-modulating composition that changes as it cycles. The audience can play three marímbulas (Afro-Cuban bass thumb pianos) in the room. The instruments are unamplified, but I modified them to send electrical signals so that their acoustic playing alters the synthesizers' electronic sound.
Atop the vitrine sits a replica in salt of one of Harvard's oldest pieces of colonial silver (1638), also called The Great Salt and on display in the museum. I made aluminum faceplates for many of the synthesizers and engraved them with fragments from my favorite transatlantic sermon, John Winthrop's "City on a Hill," which he delivered while sailing toward the Massachusetts Bay Colony in 1630. This sermon is regularly referenced by mainstream politicians today, always in the context of American exceptionalism ("wee shall be as a Citty upon a Hill, the eies of all people are uppon us" ran the original), yet it contains within it an equally powerful call to interdependence ("wee must be knitt together in this worke as one"). I designed the audio composition to be nonlinear and fairly open-ended, and wanted the sermon fragments to be experienced in a similar way.
Throughout the creation of this exhibition I was thinking about how objects, ideas, and texts enter (or leave) the historical record. Museums freeze objects and narratives while music heats these things up and causes them to slip. I wired the synthesizers to create a series of connected, intermodulating clocks: there is no single timekeeper or pulse for the composition, so as it cycles the sense of timing and time-scales themselves change. A chronoheterotopia?
We're in an interesting moment culturally, as more museums and galleries begin to show sound art and think about what that might entail. With The Great Salt I wanted to design a listening environment that overcame the so-called technical difficulties of presenting sound in architectures long-optimized for the visual. These range from the way sound is almost always too public—You, please turn down your art; it's interfering with my view of the painting.—to questions regarding how various institutions are or aren't wired for sound. Equally important, I wanted the piece to create a space where some of the thinking-through-sound that means so much to me could flow into museum logic and bend it—hence all these intermodulating clocks and the playfulness of the marímbulas.
Jace Clayton: The Great Salt can be seen and heard at Lightbox Gallery, Harvard Art Museums, Cambridge, MA, until February 4.
Jace Clayton is an artist and writer based in New York City. Also known for his performances as DJ /rupture, Clayton creates interdisciplinary works that explore interactions among sound, memory, and public space. His sonic experiments have been exhibited at the Andy Warhol Museum and Barnes Foundation, and his works travel internationally in the form of music, writing, and frequent live performances. Clayton joined the faculty of Bard College's MFA program in 2013 and recently served as the Nannerl Keohane Distinguished Visiting Professor at the University of North Carolina at Chapel Hill and Duke University. He has been an artist-in-residence with the Lower Manhattan Cultural Council and the Eyebeam Art + Technology Atelier, as well as a USC Annenberg/Getty Arts Journalism Fellow. He is the author of Uproot: Travels in 21st-Century Music and Digital Culture (Farrar, Straus and Giroux, 2016).