Discover MFA Programs in Art and Writing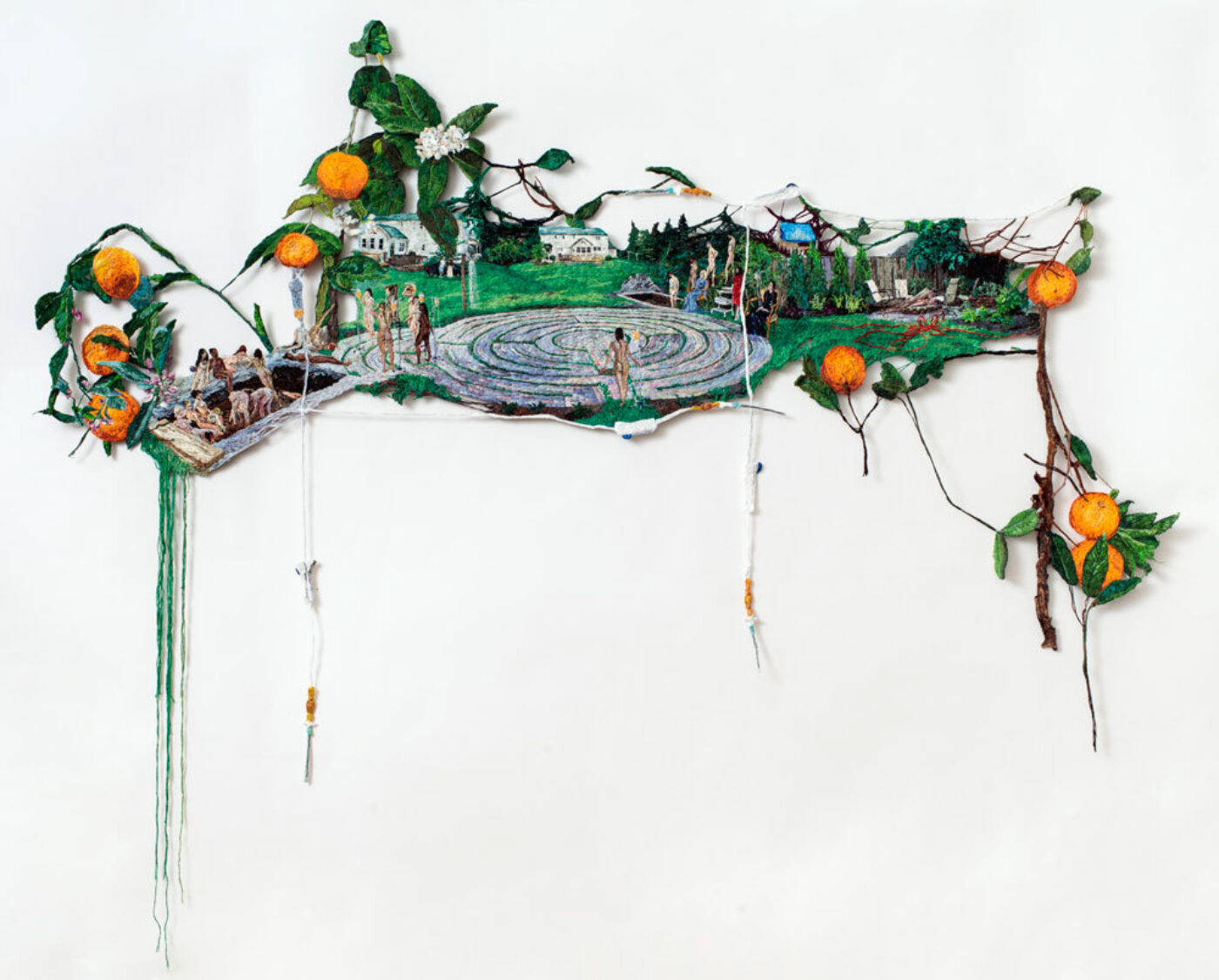 Labyrinths are supposed to be unicursal; there should be one path to the center that is then meant to be traced backwards. The entrance and exit are one. In this backyard, the labyrinth has mutated. Stepping stones have been added and rearranged to make a confusing area that leads to an empty pool. Without one clear path to follow, people congregate in this extension as they fantasize about a way out. The couple having sex on a fire pit surrounded by empty patio chairs is protected by a red ribbon. The couple leaning on their car in the background is debating whether to buy a house.
My work always begins with the narrative. In this piece I was looking for a way to visually describe an altered mind state—an attempt to practice self-care that somehow came up short, landing closer to numbness or denial. To a certain extent, each of my pieces is about one emotional experience. Together the figures, props, and scenery represent different aspects of one psychic state. The multiple figures, as well as the setting itself, are choreographed to express a search that is somehow thwarted, but not unsafe.
I sewed this piece for about seven months. This time spent with the narrative, and the physical process of embroidering, became a way for me to sublimate emotion and desire into the surface. The border elements framing the piece are part of this, too; the hanging threads and life-size IVs and orange branches enable me to let the work exist as an object instead of solely as a window into a scene. This objectness of the embroidery allows me to take the piece beyond narrative description and into a space where it becomes an artifact of an experience or a specific desire. Completing Stuck was cathartic. The slow nature of embroidery, and the material qualities of the thread, dictated its final shape and when it was complete.
Sophia Narrett's work is currently on view in SEED at Paul Kasmin Gallery in New York until August 10 and in NSFW: Female Gaze at the Museum of Sex in New York until October 14.
Sophia Narrett is a 2018 recipient of a Pollock-Krasner Foundation Grant. Her work has also been shown at the RISD Museum, Providence, RI; Hunterdon Art Museum, Clinton, NJ; Museum Rijswijk, Holland; BRIC and 315 Gallery in Brooklyn, NY; and Cindy Rucker Gallery, Freight + Volume, and Nancy Margolis Gallery in NY. She has participated in residencies at the Skowhegan School of Painting and Sculpture, Skowhegan, ME; Museum of Arts and Design, NY; and Lux Art Institute, Encinitas, CA. She holds a BA in Visual Arts from Brown University and a MFA in Painting from Rhode Island School of Design. Narrett's work was recently highlighted in a T: The New York Times Style Magazine article, "Some of the Most Provocative Political Art is Made With Fibers" by Leslie Camhi.