The artist talks about painting the interrelation between frogs, stars, trees, and apples.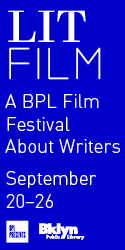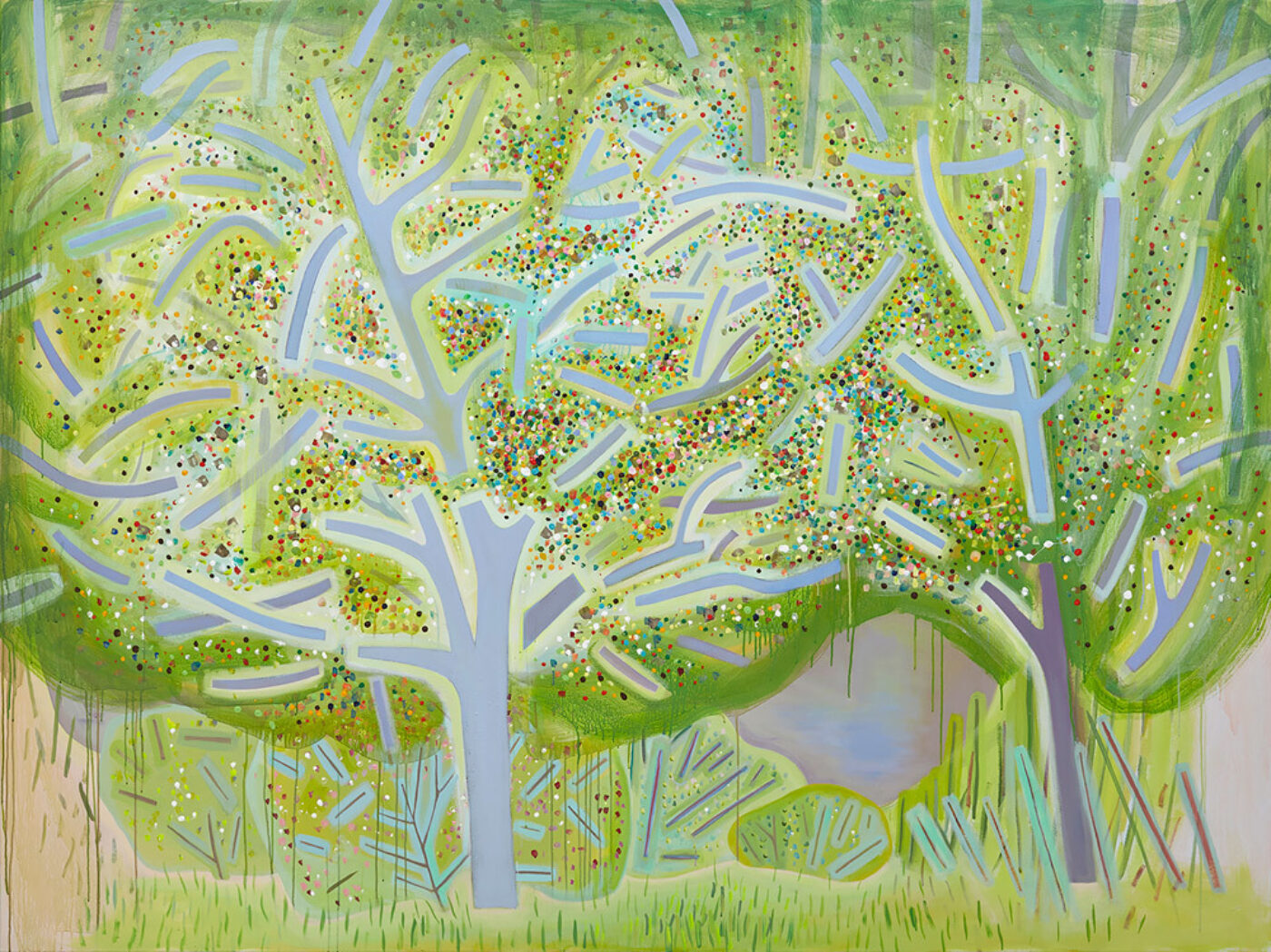 I am lucky enough to have a place to escape to—away from the city, away from most humans—in rural Pennsylvania, deep in the woods. There is a pond on the property that sparkles in the sun, frogs that croak in the pond, and apple trees that mostly provide misshapen, bumpy, ugly fruits that taste delicious—except for one, whose apples are as perfect and smooth as a non-heirloom, scrappy, unpruned tree could give. Last year I sat in front of this tree by the pond for weeks, trying to capture it in a colored-pencil drawing, which I used as the basis for this painting. When I painted the tree, I realized I love it so much I had to paint it twice—I gave it an imaginary sibling. In the late spring, it was blossoming white flowers; its branches would appear and disappear behind these cottony little explosions and green leaves. I was trying to understand the tree through its branches, their interruptions, the density of round shapes that punctuated the space in between, as if it was a secret code. In the evening the frogs talk more, in a hypnotic, interlocking rhythm. As evening absorbed the tree in darkness, the white blossoms seemed to glow. The night would come, I would go to sleep, then wake up in the middle of the night and go outside to look at the tree. The frogs were still croaking, the stars were out, echoing the blossoms' glow. The frogs were talking to the stars, which were talking to the tree, which was making apples that I will get to eat. That's what this painting is about. The white blossoms become a field of rainbow-hued dabs; the branches explode outward in their secret code. It's about the explosion of sugary fruit in the mouth that I both remember and anticipate, an explosion of life on the tree, in the landscape—and a desire to merge with the celestial and the vegetable.
Jennifer Coates: Correspondences is on view at Freight + Volume in New York City until April 15.
Jennifer Coates has exhibited her work widely, including an upcoming two-person show with Caroline Chandler in May 2018 at Crush Curatorial; a solo show, Carb Load, at the Pennsylvania Academy of Fine Arts (2016); and All U Can Eat at Freight + Volume (2017). She had a two-person show with David Humphrey at Arts + Leisure in 2015 and at Fiendish Plots in Lincoln, Nebraska, in April of 2017, along with a group show she co-curated, The Secret Life of Plants, at Freight + Volume (2017). She has written art reviews for Time Out New York, Art in America, and The Brooklyn Rail, and recently published her first article, "The Goo of Paint," for Modern Painters. She also plays violin, ukulele, and sings with various bands around New York City.