One Piece: Inversion Landscape no. 1 by Darren Waterston
The artist talks about mixing tradition and innovation.

Discover MFA Programs in Art and Writing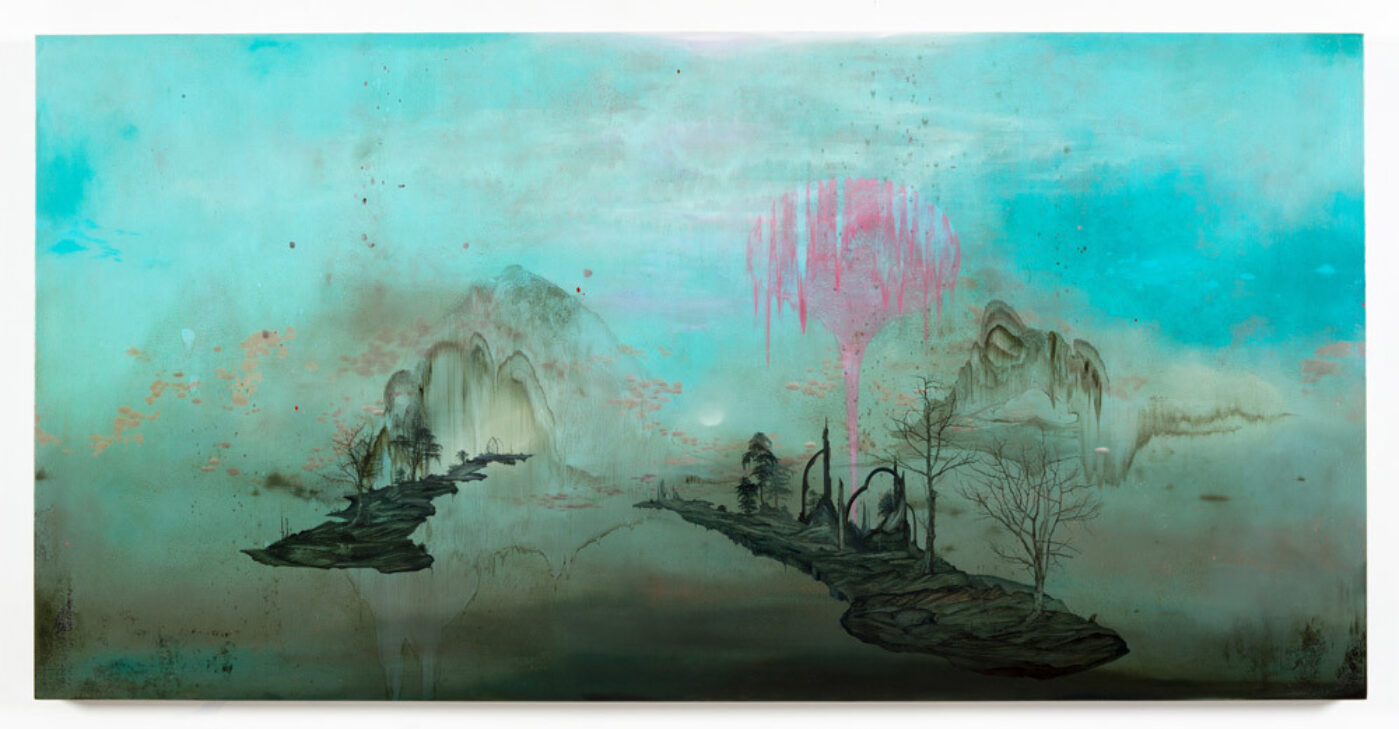 I've been thinking a lot about the origins of landscape as an independent genre, beginning with the German painter Albrecht Altdorfer and the early sixteenth-century Flemish Primitives. I've always loved the strangeness of their imagined spaces, both physical and psychological, which have very much inspired this new body of work. Inversion Landscape no. 1 plays with the motifs and constructions of these early Northern Renaissance paintings, but in this painting I wanted to destabilize the pictorial space, creating an unsteady, tenuous world, both beautiful and seemingly dangerous. The palette is saturated and seductive; azurite and teal shifts into a deep-green umber while a sickly pink form arises and falls from the darker foreground. There are plenty of playful mutations and art-historical references gone awry in this painting as well. A mountain range dissolves into sky while fantastical Gothic ruins and coniferous and barren trees all grow from rocky, untethered land masses. On the right edge of the largest floating form sits a bird-man, a nod to the retreating hermit contemplating the abyss. This painting juxtaposes fastidiously painted representation up against loose, viscous gestures, stains, and abrasions. I often use the physicality of the oil paint itself to assault the more refined surfaces. By using traditional materials such as rabbit-skin-glue gesso, boles, and beeswax, I have a lot to work with in terms of luminosity, glazing, and pushing and pulling the paint around. Oftentimes, I never quite know what the outcome will be, and with this painting, it was a slow reveal. Inversions are a reversal of the normal order of things, so the painting's title refers to the odd, liminal space it depicts as well as the way in which it was created. 
Darren Waterston: Ecstatic Landscape is on view at DC Moore Gallery until April 28.
Darren Waterston graduated with a BFA from the Otis Art Institute/Parsons in 1988, having previously studied at the Akademie der Künste and the Hochschule für Bildende Künste, both in Germany. His solo exhibition Uncertain Beauty at MASS MoCA, North Adams, Massachusetts (2014–15), ran concurrent with the exhibition that featured Waterston's immersive installation Filthy Lucre at Freer | Sackler Museum at the Smithsonian Institution, Washington, DC (2015–17). Waterston's paintings are included in numerous permanent collections including the Los Angeles County Museum of Art, Los Angeles; Fine Arts Museums of San Francisco; New York Public Library, New York City; The Getty Research Institute, Los Angeles; Seattle Art Museum, Seattle; and Museum of Fine Arts, Houston. He lives in New York City.