The artist talks about the genesis, composition, and execution of a recently completed work.

Discover MFA Programs in Art and Writing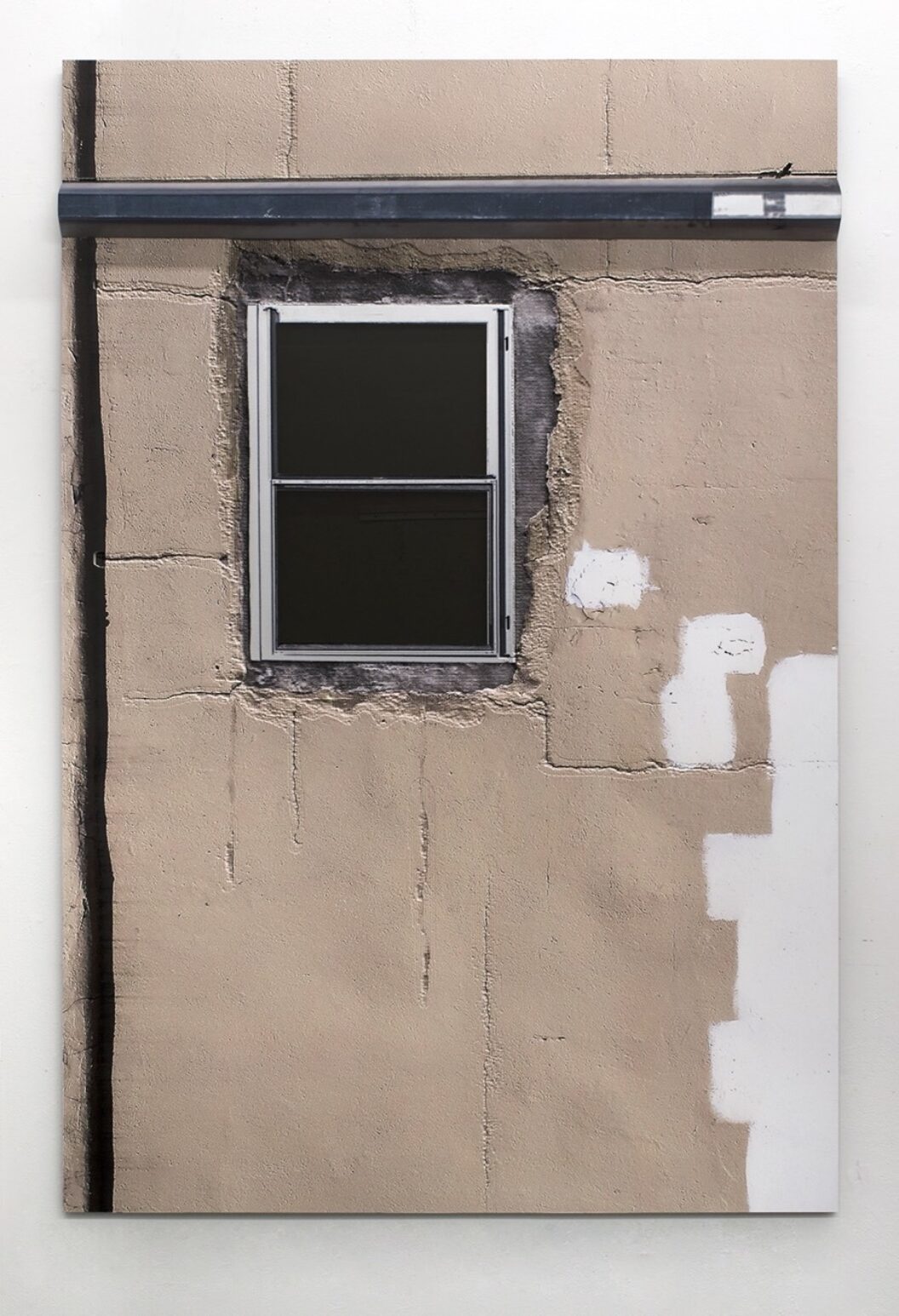 I took the picture for this work as I often do—en route to somewhere else. In this case, it was on my way to the studio. Often, I see something familiar with a new frame (maybe it's my mood, the lighting, proximity) that makes it exciting to me. This is the side of an industrial building punctuated by a window, paint, and a metal pole in the foreground. I was briefly considering renting out a floor in this building with some friends, but it was too expensive for us. Since then it's been repainted, but still looks empty. I liked how the painted-over graffiti on the wall turns the window into a thought bubble and the oddness of the cropped pole. I think image making is a way for me to internalize the world outside—Philip Guston talked painting as a way of possessing rather than picturing.
The final work was made by carving, painting, and printing onto a large sheet of translucent plexiglass. The dark brown plexi reminds me of sunglasses—a reflective barrier. Looking at the the piece in the studio, I wasn't happy with it at first. Maybe it was too static or too close to its source? It occurred to me to rotate it 90 degrees from its original orientation. I liked how a simple act of rotation—so effortless onscreen—became a sculptural situation, a gravity shifter. It changed the orientation, recognition, and scale—all qualities of photography that can easily become surreal. I'm not looking for realism in my work, I'm trying to regenerate the excitement or estrangement of that initial encounter.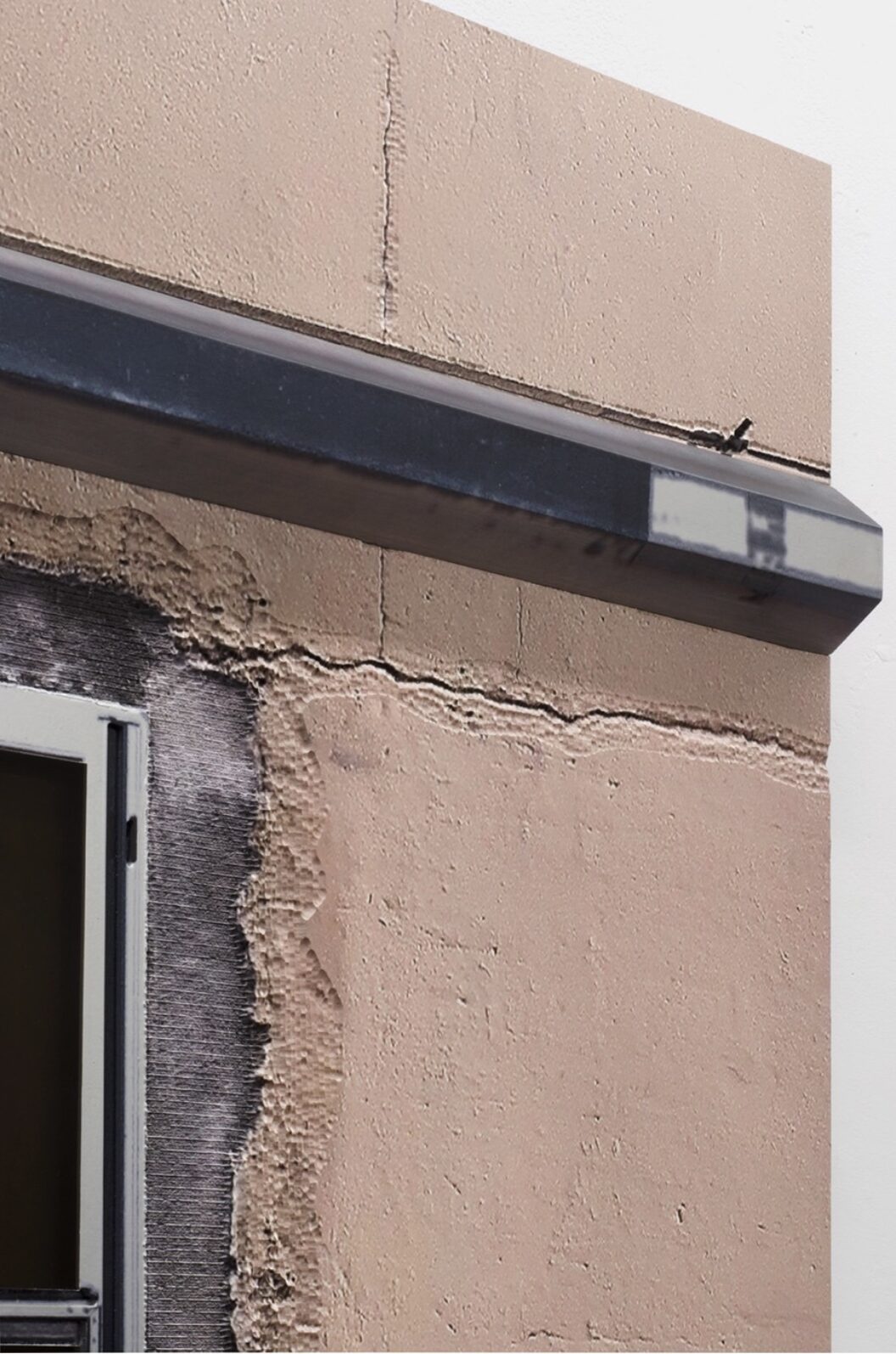 I recently sent this piece along with others for a show at Super Dakota. When the works arrived at the gallery, the staff all said, "They look so much DIFFERENT in person!" I get this response a lot and have mixed feelings about it. On one level, I've always believed in making images for the body—works that are both about presence and creators of it. I also know how Instagram works. My friends try to reassure me. Not being photographable is almost a badge of honor, Kevin Zucker recently wrote. I was reminded of my Grandpa's purple heart and how so often honors are consolations to the wounded. Still, I guess being pleasantly surprised in person is a much better response than the reverse.
Cardboard Landscapes is on view at Super Dakota in Brussels through December 16, 2017.
Ethan Greenbaum is a New York-based artist. Selected exhibition venues include KANSAS, Derek Eller Gallery, Hauser and Wirth, Marlborough Chelsea, Higher Pictures, and Marianne Boesky, all in New York; Circus Gallery and Steve Turner, Los Angeles; The Suburban, Chicago; Michael Jon & Alan, Miami; The Aldrich Museum, Connecticut; and Socrates Sculpture Park in Long Island City. His work has been discussed in The New York Times, Modern Painters, Artforum, BOMB, ArtReview and Interview, among others. Greenbaum is the recipient of Dieu Donne's Workspace Residency, LMCC's Workspace Program, The Robert Blackburn SIP Fellowship, The Socrates EAF Fellowship, The Edward Albee Foundation Residency, and The Barry Schactman Painting Prize. He received an MFA in Painting from Yale School of Art. Recent projects include a solo presentation with Lyles & King at the 2017 Armory Show and exhibitions at Stems Gallery, Brussels, and Galerie Pact, Paris. Forthcoming projects include a solo exhibition with Lyles & King, New York.