One Piece: Dead King 16 [10th Century Irish Lord] by Kate Glasheen
The artist talks about depicting imagined and real historical figures.

Discover MFA Programs in Art and Writing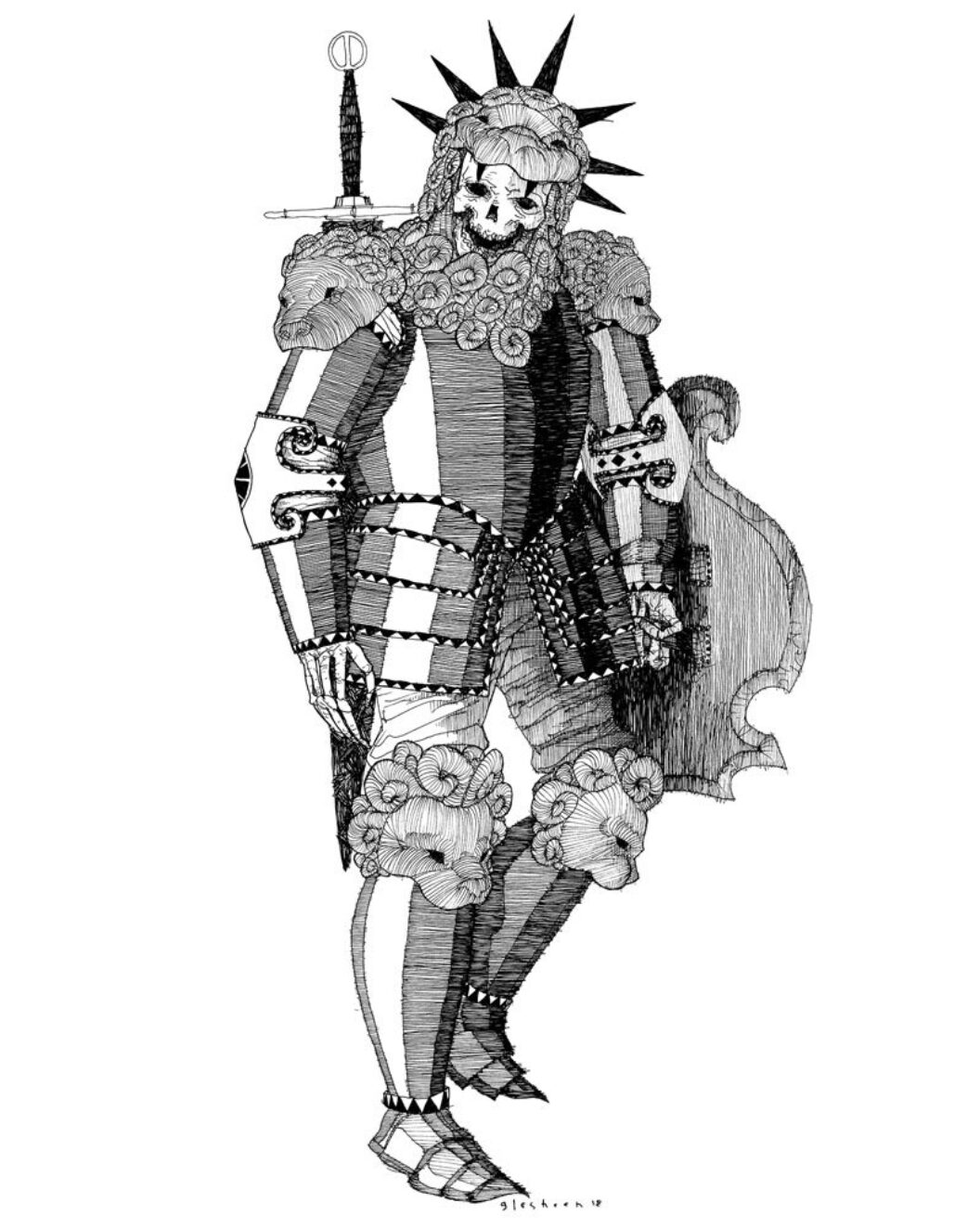 The Dead Kings are a collection of posthumous rulers from the annals of world history. Distant to them both in region and chronology, my practice was to watch them in the only way I could: from afar, detached on every level. My research carried me through the cultures they would have governed had these figures existed. I inspected the joinery in the thrones appropriate to their time and place. I investigated things as intimate as the clothes that would wrap their bodies. But I could never actually know them because they were never real. They were the culmination of my research; they were the sum of each part I unearthed. They were monsters most regal to myself as an archeological Frankenstein holding macabre coronations.
It then happened that I began work on my first Irish king. My initial research pushed me in such a direction that I started following one leader in particular named Brian Boru. I was compelled enough by my findings to draw the man himself for this piece rather than my previous (and further) conglomerates of history and projection, imagination and fact. I got caught up in his exploits, his boldness, and, for my purposes, the aesthetics of his armor set and the animalism behind it. My family is a few generations removed from Ireland, so that aspect, as well, held interest for me. My work continued in this fashion until I realized that, in a body of work whose main function is to mock ideas of superiority and the grandiose, my admiration of Brian Boru was genuine. I found myself "too much in the sun," as one famous, tragic—and also dead—prince would say.
My awe has subsided for anyone who may have been concerned. But I do wonder how many more instances of Brian Borus I'll stumble across as I research further pieces.
Kate Glasheen: Dead Kings is on view at Paradigm Gallery + Studio in Philadelphia until March 16.
Kate Glasheen graduated from Pratt Institute in Brooklyn, NY, with a Bachelor's Degree in Fine Arts. Glasheen has since been a creator, artist, and contributor to several critically acclaimed books, participated in exhibitions across the country, and worked on several of the biggest properties in entertainment. Her artistic interests find communion in fine and sequential art under the notion that there's something hilarious about something that's not funny at all.
Glasheen has exhibited her work in spaces such as LA's Gallery 1988, Philadelphia's Paradigm Gallery + Studio, and Brooklyn's Gristle Gallery. Published works include Top Shelf's upcoming A Radical Shift of Gravity (with collaborator Nick Tapalansky), contributions to the Adventure Time series (BOOM! Studios), Hybrid Bastards! (Archaia Entertainment), The Sakai Project (Dark Horse Comics), several entries in to the Graphic Canon series (Seven Stories Press), Resist! (Françoise Mouly, Nadja Speigleman, and Desert Island), as well as her own passion project, the Kickstarter-funded Bandage: A Diary of Sorts. An ongoing web comic entitled Varsity Noir launches spring 2019 through Line Webtoon. Commercial clients include Paramount Pictures, Cartoon Network, AMC, Topps, Inc., and many others with work spanning such properties as Star Wars, Indiana Jones, and The Walking Dead.