One Piece: Clearly Confused by Natalie Baxter
The artist talks about the genesis, composition, and execution of a recently completed work.

Discover MFA Programs in Art and Writing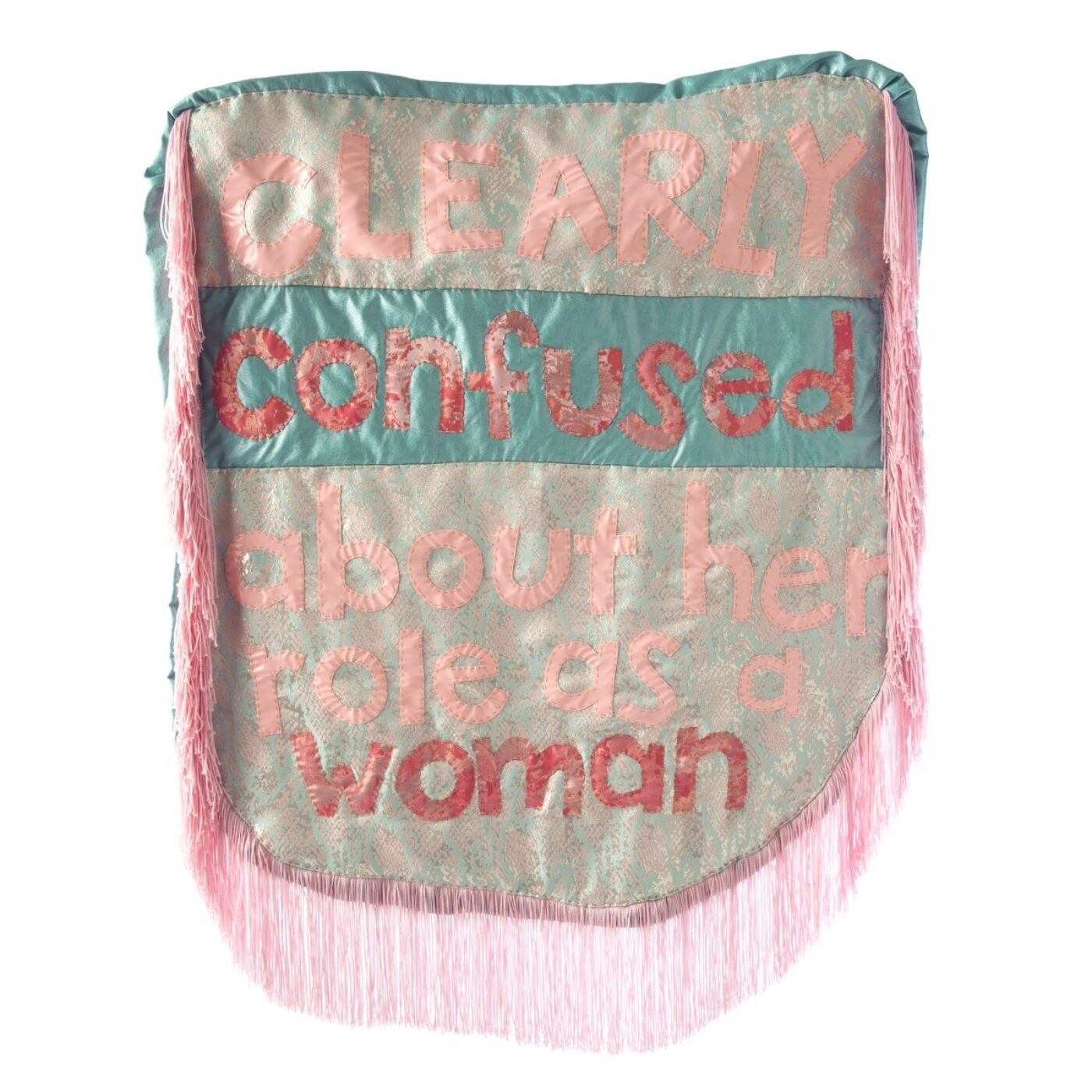 In December of 2016 a friend sent me a link to an article about my work that I wasn't aware existed. "Feminist artist takes on 'toxic masculinity' by making 'soft, impotent' sculptures of guns," was published on Glenn Beck's website, The Blaze. Through a hodgepodge of misquoted and out of context statements pulled from other articles, it was clear that the author was not a fan of my work—a series of soft sculpture guns I call Warm Gun—and neither were the readers.
A plethora of comments accompanied the article: "Just a man hating feminazi with no redeemable qualities (not to mention no brain)," "Demoncrats just wanna be sluts," "This Libtard is out of her freaking mind," and "This chick needs a good railing."
I'm interested in this angry (mostly) male energy that has surfaced lately. It's the same masculine aggression and identity that drew me to create colorfully quilted, limp assault weapons to begin with. When the internet provided more examples of this type of anger, I knew I needed to incorporate it into my work.
Using the same sewing and quilting techniques from my Warm Gun series, I have spent a good part of the past year using these comments to create wall hangings and banners, echoing those created in the late-1800s by suffragettes and similar to signs from the recent Women's Marches.
Clearly Confused is derived from the comment, "Clearly Natalie Baxter is confused about her role as a woman." What is my role as a women? Is it to sit at home and sew? Perhaps I am confused…
Natalie Baxter's solo exhibition TrollLoLol is on view at The Elijah Wheat Showroom in Brooklyn from March 3 to April 1, 2018.
Natalie Baxter (b.1985) learned to quilt from her Granny on Kingdom Come Creek in eastern Kentucky. She received a MFA from The University of Kentucky and a BA from the University of The South in Sewanee, TN. Her work has been exhibited recently at Sears-Peyton Gallery and Mulherin Gallery in New York, Purdue University, Yale University, Spring/Break art fair, Aa Collections in Vienna, Schaufenster Gallery in Berlin and has been featured in The New York Times, Vice, Hyperallergic, Huffington Post, and The Guardian. Baxter has been an artist in residence at The Wassaic Project, a fellowship recipient at the Vermont Studio Center, and a Queens Arts Fund grant recipient. She currently lives and works in New York City.