The artist talks about investigating the gender spectrum and the female gaze. 

Discover MFA Programs in Art and Writing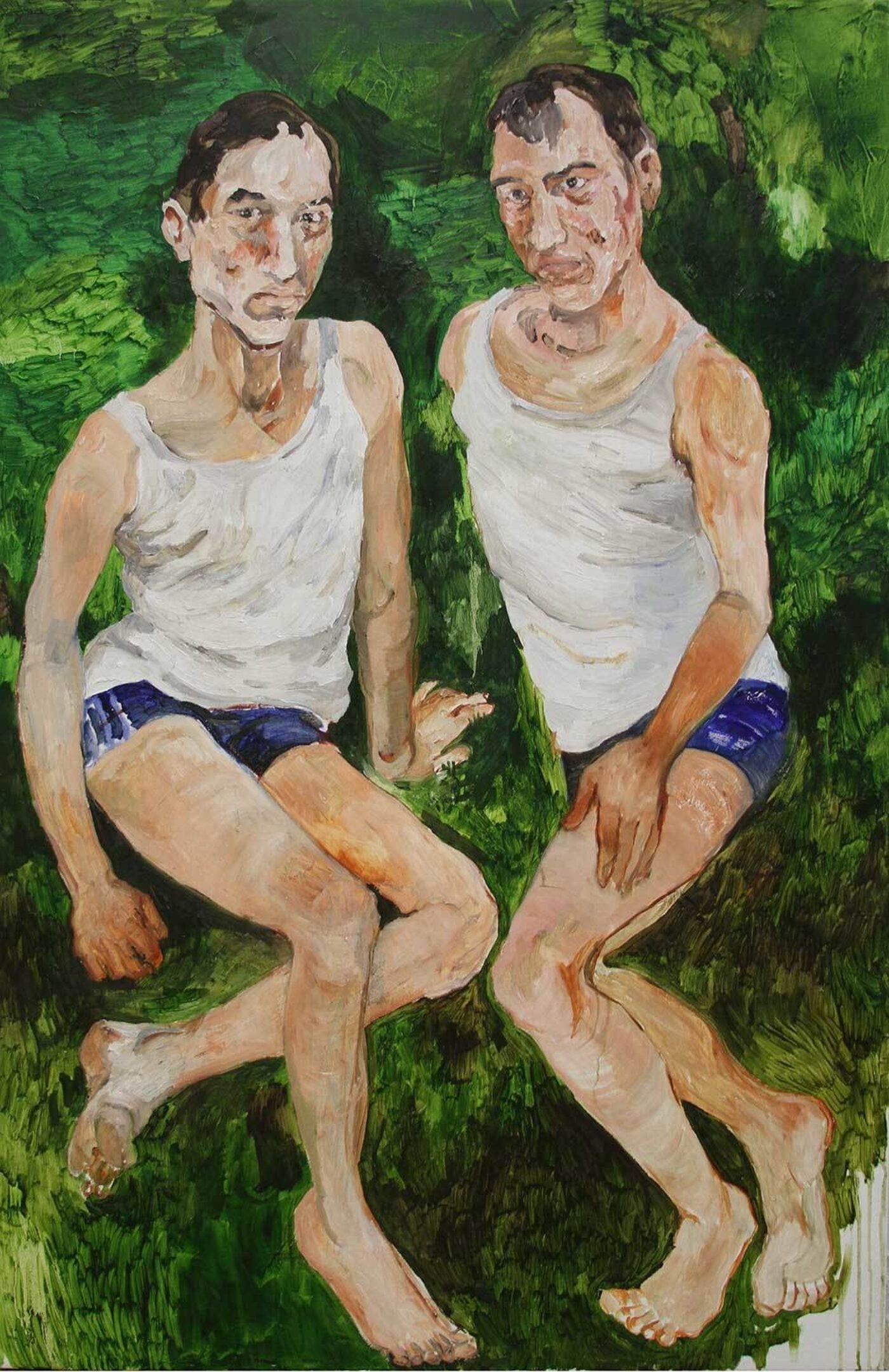 I work with a variety of diverse materials, scales, and strategies, intervening and assembling objects to produce paintings or large participatory sculptures. The combination of techniques and subject matter make up an acute body of work that questions gender and the perception of women by society and themselves. In this untitled painting, I wanted to explore the male as muse and the female as viewer. Through the two identical twins sitting on the grass, I open a conversation about the duality of gender, and how one oscillates between different identities.
Challenging the idea that our lives revolve around biological sex, my work examines many deeply ingrained cultural practices associated with attempts to define contemporary womanhood. One of the central tenets of my work is a desire to answer to the question of how a woman, by virtue of being a woman, makes others uncomfortable. By drifting from guilt to shame, sex to loneliness, innocence to complicity, I expose femininity and the concept of the feminine as something to be understood not just by all genders. My work references the body and its place in social and cultural constructs specific to women, and speaks to the opinions women have of themselves, by themselves, in conjunction with those of men and society at large. I activate common elements of self-perception—such as guilt, social expectations, sexual desire, and intimate bodily connections and thoughts—to explore the perception that womanhood is somehow always connected with a kind of guilt, and to draw a fine line between sardonic humor and sheer abjection.
Bernadette Despujols: Recent Works is on view at IK Projects in Lima, Peru, until November 3.
Bernadette Despujols was born in Barquisimeto, Venezuela. She studied Architecture at the Universidad Central de Venezuela (UCV), where she graduated with honors. Soon after, she continued her education at the École Nationale Supérieure des Beaux-Arts in Paris, where she took classes in architecture, cultural exchange, morphology, and anatomy before beginning her endeavors in art making. Despujols taught architectonic design at the School of Architecture at the Universidad Central de Venezuela before moving to the United States to pursue her MFA in Visual Arts at the California Institute of the Arts (CalArts).