The artist talks about an uninhabitable American Dream.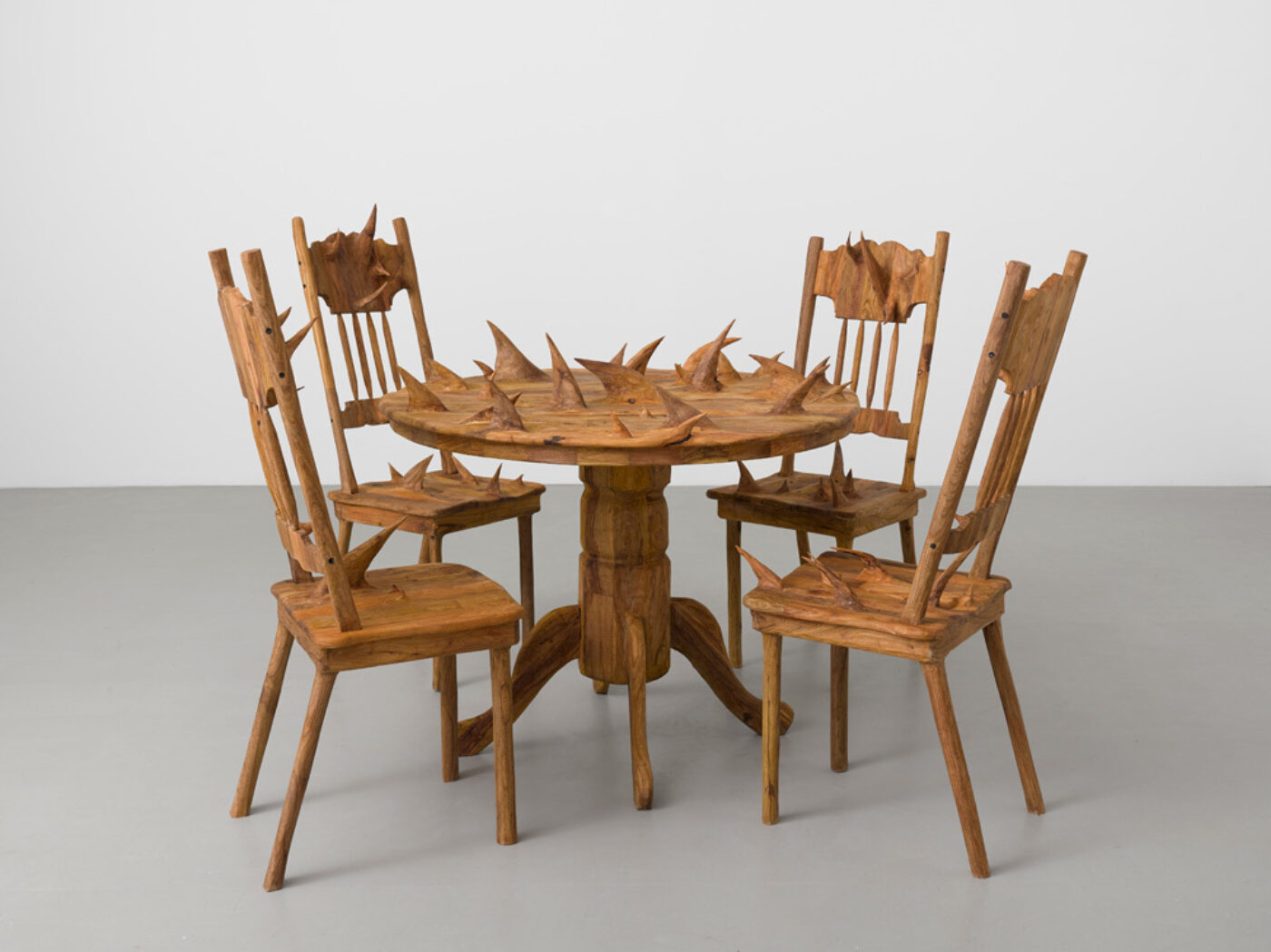 America is modeled after my childhood kitchen table set. The chair's aesthetic motif is based on a "pressed back" design that was developed in the late 1800s during a time of great industrialization. This type of chair was made by pressing a metal engraving into chair backs, which resulted in the appearance of a more expensive hand carving and in doing so became a democratic gesture at allowing the average consumer access to furniture that was not just utilitarian but also decorative. This design remained popular in American households up until the 1980s and 1990s.
For me the kitchen table functions as a symbol of the American Dream—the nuclear family sharing a meal together at a round table where everyone has equal access. Only with America this dining set is uninhabitable. Off-limits. The dream is now unattainable for a multitude of social and economic reasons.
The piece is fabricated from mesquite branches collected along the U.S./Mexico border at a ranch in Laredo, TX. At the state level mesquite is considered a "trash tree" and is often derided for its resilience and ability to thrive and proliferate in adverse conditions … a perseverance-like quality I consider admirable, and a likeness to many disparaged groups and peoples in their relationship with America.
Hugh Hayden: Border States is on view at Lisson Gallery in New York City until October 27.
Hugh Hayden was born in Dallas, Texas, in 1983, and lives and works in New York City. He holds an MFA from Columbia University and a Bachelor of Architecture from Cornell University. His work was the subject of a solo exhibition at White Columns in New York in 2018. His work has been included in numerous group exhibitions including JTT, New York (2018); Clearing, New York (2018); Tanya Bonakdar Gallery (2018); PPOW Gallery, New York (2017); Gavin Brown's enterprise, New York (2017); Postmasters Gallery, New York (2016); MoMA PS1, Rockaway Beach, New York (2014); Socrates Sculpture Park, New York (2014); and Abrons Art Center, New York (2013), among others. He is the recipient of residences at Glenfiddich in Dufftown, Scotland (2014); Abrons Art Center and Socrates Sculpture Park (both 2012); and Lower Manhattan Cultural Council (2011).