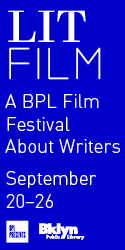 Had the white silk skin of her face been uncut, in-
Stead a red hem was ravenously unripped up
On the face she had to go through time with, made me
Wish God's hands could move again to make her not fail
In the flesh but be bodied forth all innocent
Of pain, riding under those flames at night, bright moon
And stars, not scarred.
                             First seemed a bulky, milky whore
Hurrying down the sun-shot aisle with her guitar.
Why a whore? A certain stationariness
They have, even when walking (the very genius
Of each dumb, deliberate gesture's simply to
Be there, somehow seeable before becoming
The thing it is an emblem of—so much so that
There sometimes seems to be one of them—the black girl
With the red dress on is a firebox floating up
On shadow, that lamppost one's leaning on is only
A lamppost:
                             Oh anything! Still and silent on
The city's floor at night, posed the original
Animal of our nakedness, desirable and dead.)
                                    And as
She slid into the seat opposite, facing me,
I thought I caught a look of crooked hardness that
Escaped the side of an eye, what seemed wild rouging. But
Who ever heard of a whore riding on the train
With a guitar? And there it lay upon her lap,
Her hands cradling the toy-sized thing, waking faint, voice-
Less strings burning gold on their box, sounding
Slow hope and comfort.
                                    Was not facing me at all.
Sat sort of sidesaddle, legs crossed, hidden behind
A great, fragile bush of fragile stuff wavering
As if underwater,
                                    Twilit landscape roaring,
Pouring past.
                 The train took a curve (I saw the first
Car going on: gleaming rails following the black,
Sliding river). Crouched forward in a kind of staunch
Animal pride she pulled summer-green cloth tighter
To her.
                 Wanted to touch bare bright knee next to mine,
A green vein writing something on, no! in it—
                                                         Making
That mandatory silent manipulation
Of limbs—the ramming jamming fucking sucking leap
Out of himself any man makes, momentous (in
His mind) whenever a woman's unexpected
Loveliness appears.
                 But still had not seen her face.
Only smiling-high cheekbone-line and nose-tip nub,
Soft-stiff stuff of hair brightening now that
The disc of fire was burning blood-
Color above dim, forgetful blue mountains,
Meeting dark, sleeping pines.
                 Hurrying cloud giants
Came and covered it: a serried fortress kept all
Radiance within; a fat white animal let
Its blood of light fall through a hole;
                 A great glass cane flashing
Broke, disappearing. We passed a river-
Town which has (virtually) no history. Old,
And mostly deserted, some worn barnacle stuck
On the rocks.
                 Cold and wild, too cold and wild to swim,
Beautiful now, the river, pines coming closer
On the other side.
                 So thick sky behind them niched
Bright gunsights.
                 Some were down, lay stripped of their bark: long,
Yellow inner bodies with round, revealed faces
Of suns.
                 But what is it one looks at in life: Clouds,
Trees, the river? Our bodies are the landscape,
And we are lost in them. Many, empty places,
Why did she come close, stay twisted away from me?
Asked where she was bound for, and after she answered,
Why? bawled back in obsequious condescension.
Because I want to see your face!
                                       I have no face.
This last, an eerie coo whose guarded pathos and
Appalling fulfillment, construing more than my
Pigeon heart could take, or make into meaning
Silenced me.
            The metal-voiced train sang: Let her hide,
And I fell asleep, looking at others inside.
                             Long, narrow rooms rolled
On wheeled waves of power, pressed up
On steel a clacking tempo carried the great weight
Of our lives, deaths. We kept the river on our right—
Things leapt close snagged by my sight: poles, signal boxes,
Flowers grown through the gravel–all falling behind
Her, as forms flung with an aimed, empty look, a
Moving precipice that passed … slowly smaller … gone.
Light-blinded window-glass filth streaked by rain from some
Other journey: is that the gold mask of her face,
Floating free there?
                    Rammed through another green zone, leaf
Shadows run marrying on her live green dress, she
Seemed a solid shadow herself, a tree-souled thing
Riding out dying light in darkening air.
                                                            We
Race through.
                     On our way faster than before, each
The other to the others.
 
                                        * * * 
 
                                     Will you play it?
                                                                 That
Got no surprised glance, only shoulders hunched as if
About to enter a cold shower. Then I laughed,
Added: May I?
                         An insane red antler of
Sunset-triggered light—what I took to be over-
Done makeup—was shown; while more to the point of truth,
         her
Brutal painter, she whipped it back behind her hair
With a wild No-motioning jerk—chin-tightening
Neck veins next—in an over-deliberate,
Tremulous No, intensely disciplined against
Showing more face, side-to-side, as if denying
(The greatest crime) a deep confidence to an
Old friend, slowly sunk, nodding little Yes-nods.
                                             (Or,
Was it only going with the iron tremor
Of the train?)
                    I'd missed merely everything!
                                             Listened,
As to something falling. Tiny tinny sounds, a
Bad drum over water—the train was playing it,
Not her—the guitar!
                                                  Hey! Where were they?
The thin, elderly conductor who said, I'm a fast train,
He's a slow train, of the other (the purplest man
I've ever seen—the sovereign dull eye of an
Alcoholic).
                              Why didn't they come and take her
Ticket?
 
                                        * * * 
 
                              The other passengers? No hope of help.
There the strange joys of the albino black who woke
Went to the toilet door and stood waiting there with
A sleepy smirk of self-triggered irony—hands
Holding salmon-pink insides up, as if thinking
Of a good joke on himself.
                       (Doesn't go in.)
                                            A
Shambling, sloppy walk back to his seat, sprawls down a-
Sleep next to his "white" woman. (If that's what he is,
That's what she is.) Breasts no bigger than badges, worn
Like soft medals given from time to time, taking
Their weightlessness in hand, searching for the toddler-
Blossom of her sex. Lonely lumps, stabs at matter.
Stabat Mater Dolorosa—doomed singleness
Of expression, the grateful intensity of
A playing card.
                         Behind them, a splotched bulb-face winked
Open puffed lids, his glassy lizard's smile an un-
Employed Devil's dense, receding tongue of hair
So low in front, insatiably growing, you'd
Have to say his big black bun was real, (or if not
Real, then a real fake!)
                          This toupee's no soufflé.
A beaver someone shot, cut in half, slapped
On his head the tiniest bit crooked.
                                     Hard to bag,
A narcissist! His fingers fiddle and fret, flaunt
Their unremitting care upon that fat colored
Cravat around his neck:
                                     There. No there! No, not quite.
Gotta get that thing just right.
                        Touching, retouching,
Translating it into treasure (of himself) holds
That frigidly pale limp little silken body
Up to the touch.
                        Is he finished? Not quite. That knot
Of unrequited selflove's still too tight. One dark
Arched eyebrow's thickly starting white makes the whole
    face
Seem cracked, bedeviled by the shifting light. They all
Wore wigs, one way or another.
                                                               An in-
Finity of illusion.
                    Like the one on those
Quaker Oats packages I grew up with: a
Quaker's pictured there holding up the strange,
Familiar round box: on it, the same Quaker
Smaller, smiling his smile with the same Quaker look,
Of calm knowhow, clear-eyed honesty, holds his self-
Contained, diminished replica-self on a box
Barely big enough to show him again, face-
Lessly smiling, lifting unseen Quakers into
Ad Infinitum toodle do!
                                   Swindling his
Dwindling verities down to the last modicum
Of oats. And I, afraid of going through all of
His changes never touched, only looked with all
The imagination of a mirror, a child's
Gee, that's neat! A game going on forever.
The wonder of it was not lost on me. But, gee,
As he grew smaller than himself, I seemed to, too,
And something else scary about all those
Restless little hostages: as they went on (in?)
They seemed to move on up a little higher, gain
In altitude until, Oh! that last feature-
Less face, black hat-halo, tiny white hair a fright-
Wig in an updraft, and I couldn't crash land on
That dot, that spot in my scared imagination
Signifying that that miniature man was
Still in there somewhere, saying: Step right into an-
Other, unrealer realm.
                                                      I also remember
Barbershop mirrors magic-mirroring themselves
Many times, and me while they, those smiling, sharp scissors
(Lord Tennyson's scissors: the one word he did not
Know the quantity of poetically) opened,
Closed on my black cloud of hair. I loved the smell, like
Carefully pissy peaches cloyed. But what to make of that
Boy getting smaller backwards five times fast in
A great, long line of shiny mirrors? Frontwards, too.
For as far as I could tell, a bald space in each
Center helped me to count my face.
                    Someone else's
Childhood (childhoods).
 
                                        * * * 
 
                          (Gliding through a dark heart of rock,
A tunnel) an aspiritual trick of the eye,
Accomplished by someone passing by wiping his
Eyeglasses, lifting them up to the light (the lights
Went on as we went through the roaring darkness) with
Just that look of precise, inquisitive trust you
Wished he'd use on you, when there he was! Inside
Those Ben Franklin spectacles, so tiny and tweaked
On top. They looked upside down, eyeglass-wand in hand,
    and
                          Reminding me of the infinitely smiling
Quakers, scissors, who must have bounced between his eye-
Glasses and the window glass where I was ghosted,
Jumbled too, my Big forehead-dope bubble-brow,
Garlic-shaped nose, wise, sad, paranoical eyes.
(As that lady across the way with her great,
Broken fugue of stories was to say, later.)
 
                                        * * * 
 
                                           You
Gonna play that thing, or just sit there making love
To it? (The eyeglasses talking to the guitar.)
No longer a wand, back on his broad, bumpy prize-
Fighter's nose over grey eyes almost as in-
Visible as the glass they were under,
Staring at her as if he'd invented sex.
                                           You
Could feel the protoplasm shrink in her, ready
For more "good-naturedly," sarcastically
Sexy words. But then, what an embryo does when it
Worms and warms, wriggling against entrails bearing it?
She turned that much and no more, but crossed him out.
                                           Eyed
Me with uneasy doubt, mistrust. Looked bluish, sour.
Went off, imitating God's rational laughter.
 
                                        * * * 
 
                                           And yet, all
This is the autobiography
Of feeling to intuit justice the soul
Can expect, coupled to a singing intellect
For life on tracks in a wilderness of dreaming
And the rush of reality!
 

By his early thirties, Raphael Rudnik was acknowledged as one of America's most promising young poets. He had been selected as a Guggenheim Fellow and was the first recipient of the Delmore Schwartz Memorial Award, whose judges, Robert Lowell, John Berryman, and M. L. Rosenthal, all showered praise on his work. John Cheever, who met Rudnik at Yaddo and became a lifelong friend, called Rudnik "one of the most brilliant poets of his generation." Some time after the publication of his first two books— A Lesson from the Cyclops (1969) and In the Heart of Our City (1973)—Rudnik began writing a long poem. Frank 207, another volume of poetry, appeared in 1982, but from then on his energies were focused on the poem he by then called On the Train. Over the last ten years of his life, Rudnik lived in subsidized housing in Brooklyn and subsisted on social security and occasional support from his friends. What's more, he suffered from emphysema and other ailments that severely restricted his activity. Nonetheless, he worked on his poem every morning.
By the spring of 2009, Rudnik knew his health was deteriorating rapidly, so he made an intensive effort to finish On the Train. Just days before his death, he told his friends he had completed his final revisions. However, he was utterly flummoxed by simple computer operations like cutting and pasting and naming and saving files. What's more, bizarre formatting errors found their way into his manuscript—sudden changes of font, font size, switches from boldface to italics to typographical symbols—a chaotic visual hodgepodge that would exasperate any editor. At Rudnik's death the question remained: did a finished version of On the Train exist? Fortunately, Paul Auster, one of Rudnik's oldest and dearest friends, stepped in to pull together the jumbled formatting and drafts that Rudnik had left in his computer. Auster selected the best version of redundant passages, but his interventions went no further—not a word has been added or changed in this poem of over 6,000 lines.
Rudnik lived with On the Train for the better part of three decades. It was so braided into his daily life, so life-giving to him, that it is unlikely that he would have ever allowed himself to complete it. In this sense, one can say that On the Train is unfinished, that it could never be finished.
Nevertheless, in his last days, Rudnik expressed satisfaction that his work was done. What follows are the opening pages of his remarkable poetic project.
— Robert Hamburger
Originally published in
Featuring interviews with Charles Long, Liz Deschenes, K8 Hardy, Heidi Julavits, Nicolás Pereda and Gerardo Naranjo, Mohsen Namjoo, Dean Moss, and Ingo Schulze.