On the Quest for Spiritual Spaces: zoe | juniper Interviewed by Ivan Talijancic
Dance as secular and sacred devotion.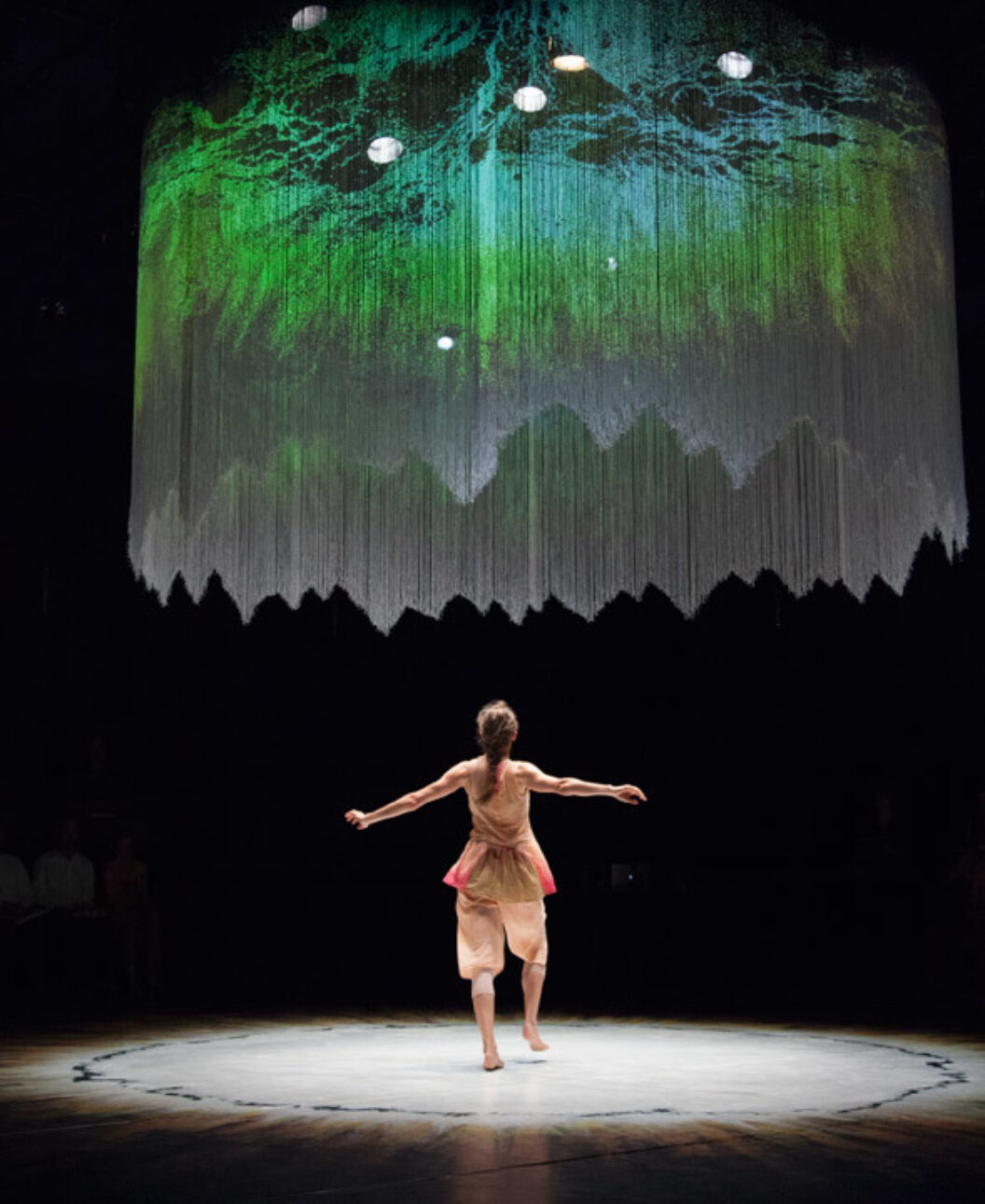 Dancer and choreographer Zoe Scofield and visual/media artist Juniper Shuey have been creating serious stage magic under the moniker zoe | juniper for the past thirteen years. Based in Seattle, they are familiar to New York audiences, thanks to regular performances at progressive venues. As they gear up for a return engagement at New York Live Arts with the New York premiere of their soulful, imagistic new work, Clear & Sweet, I caught up with them over Facebook Messenger.
 —Ivan Talijancic
Ivan TalijancicAs someone who makes work, I am always intrigued where fellow artists find the spark that makes a new piece happen. Can you talk a bit about what prompted you to begin working on Clear & Sweet?
Zoe ScofieldI'm from Georgia—I left when I was fourteen and never looked back. My mom still lives there. I went home to visit her a few years ago and saw a video of the Lee family singing Sacred Harp on this tiny old TV in the Okefenokee Heritage Center and was immediately struck by it. I started crying listening to it. It felt like something that was completely foreign and like something I have known my whole life. So that was the impetus to start looking further into the world of Sacred Harp singing. I started singing with groups in Seattle; met with the Lee family in Hoboken, GA; and it went from there.
Juniper ShueyAlong the same lines that Zoe talks about: for me, the drive to create work comes from the idea of having something new to learn and the questions that the unknown will provoke. The inspiration for making work comes from the desire to learn and ask questions of myself and the people around me. I am motivated by finding and grappling with an unknown.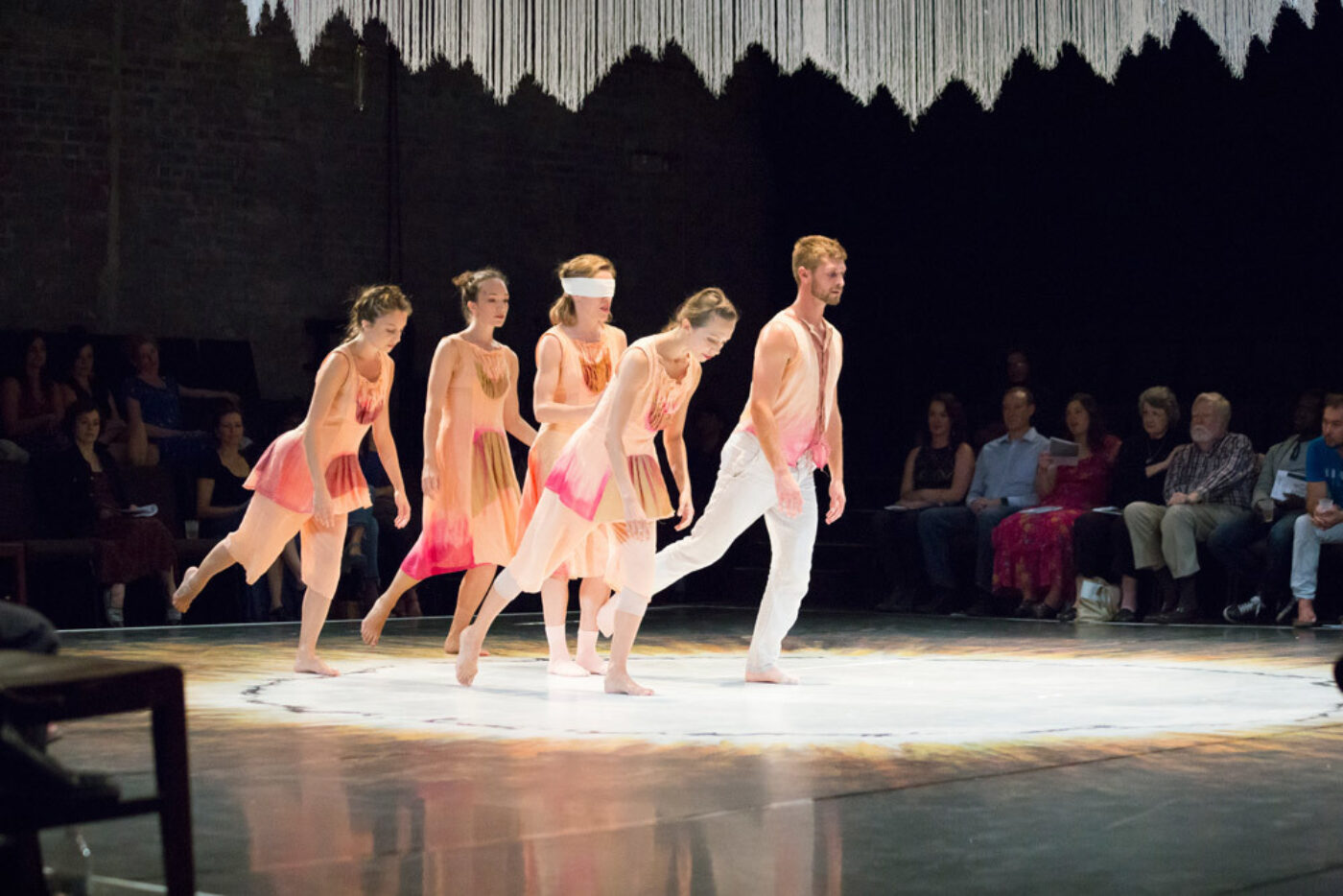 ITFascinating. So, with the music being the jumping-off point—how did you begin discovering how it would connect with or filter into the stage creation, both choreographically and visually?
ZSI was intrigued by a community that isn't based on a hierarchy of being good at something or not. You don't have to know anything about Sacred Harp singing, how to sing, or how to read music in order to sing. It's notated in shapes, and you are surrounded by the sound; basically, you just get absorbed into the music and sing.
JSIn Sacred Harp singing there is a raw, uncalculated beauty in the expression of the human group. Something that can only be found when it is not curated but rather allowed to be open and inviting to everyone. That question and the desire to understand it was a part of my inspiration to follow this line of artistic exploration with Zoe.
ZSI was really interested in how this is in direct opposition to the dance training I had. Basically, everything was about always striving to be better than others, and, ultimately, being good means that you are alone at the top. I never really liked that world and was so fascinated with the tension of putting highly technically trained dancers into the structure of something that is completely opposite.
JSThere is no judgment or audition to be able to participate, and that leads to a kind of amazing acceptance that often we are taught not to do, as artists. But then there was the dichotomy of the religious sounds and the questions that brings up. It is a world that holds duality and accepts that duality which becomes so interesting and exciting to be in.
ZSBut this form of singing has also really moved into the secular world as it is mainly practiced by non-religious people now.
JSYes, and the reasons for that become another amazing artistic question and inspiration for understanding something new about the human experience. ZSAnother element we were exploring with Clear & Sweet is the parallel between a rigorous artistic training like ballet, music, etc., and a religious practice. In my experience of growing up in the ballet world and going to church, there was a real parallel between them—the devotion, repetition—so that's another element we explore in the production.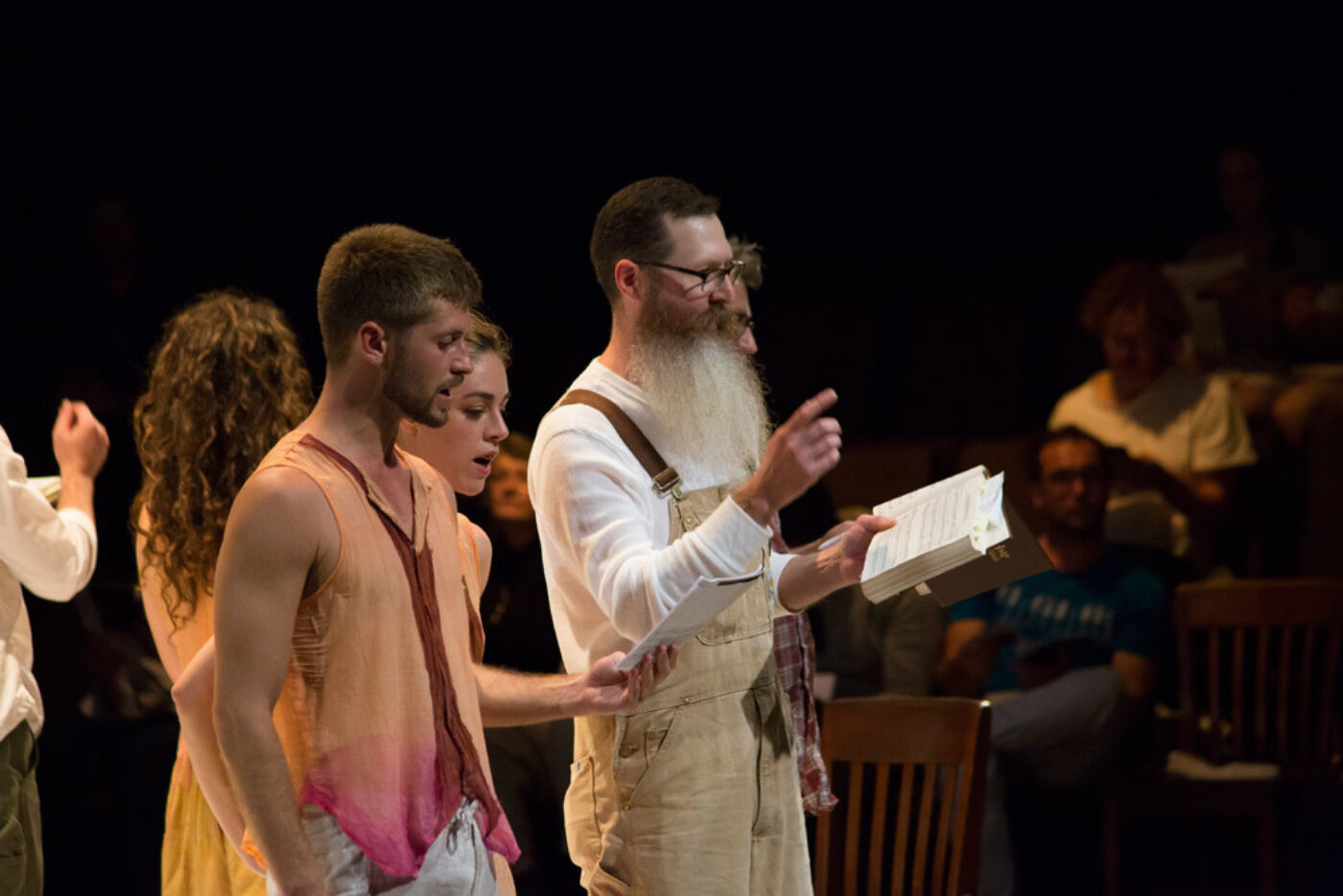 ITHow did that world of dualities inspire the visual design of the piece?
ZSWe did a lot of research on religious and spiritual spaces. I feel like I spent a long time trying to find a space that felt like it fit for us. Then, when we were at the Bellagio Center residency, another artist said: "Just make your own space, make the space you want to be in," which was such a beautiful and simple and obviously true thing to do.   
JSIt is in this sense of trying to find a place in our modern, secular world where we can find a place that asks us to grapple with life's questions. Religion has held this power of giving us the answers to the unknown and providing solace in hard times. These are things we still need today, even if we are not interested in participating in the established practice of going to "religious places." We still have a need to find solace and the opportunity to question these things, and this whole work is trying to give us a "sacred space" to do that—in the context of an artistic experience.
ZSI agree. The idea of relating my experience in the ballet world to rituals is something that we're investigating in this work and finding ways that we thought made sense to our life experiences. I love that we are saying very similar things while typing at the same time, from our own perspectives. Juniper and I work well together.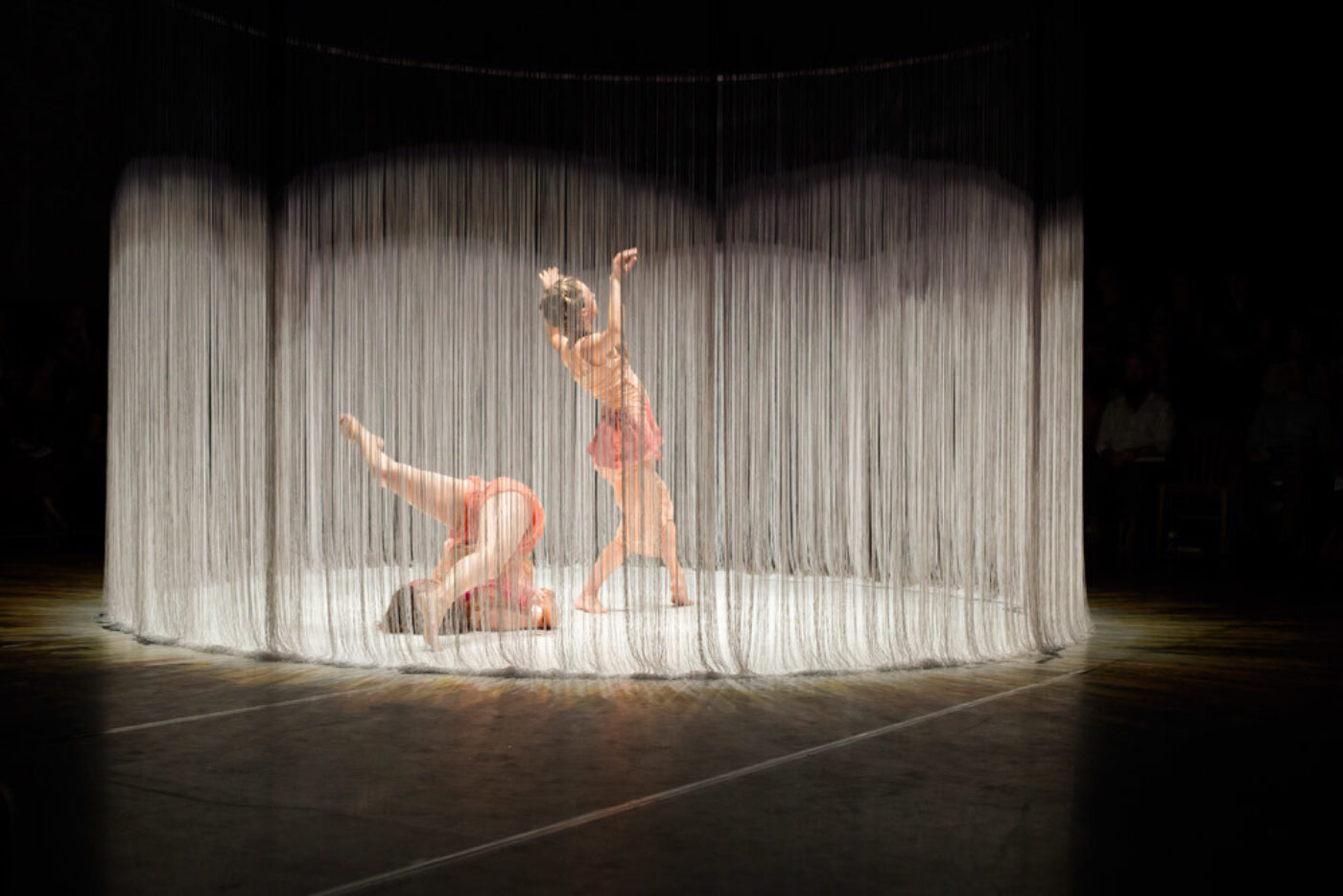 ITThat is clear! You two work well together with me too—you already anticipated my last question. Which is—based on other works of yours that I've seen, the movement and the visuals are pretty inextricably linked. Can you share a quick insight into how you collaborate?
ZSDon't get me wrong, it's not always wine and roses, but we really do respect and inspire each other. I feel very fortunate to work with him and to work with our other collaborators as well—they are all so unique and deeply generous.
JSI think it has to do with how we approach artistic questions. We have a curiosity, or something that we want to learn more about in our life, and we investigate this together in an open way, so that we can see things we would not see individually.
ZSJuniper has a real innate understanding of physical movement and bodies in space. I have always seen bodies in a dynamic relationship to the space they are in. How they are seen is as important as what is being seen. So we both already have an eye into the other's world from the beginning.

JSWe have learned to trust the other's process and, in the end, help each other refine it into something we are both interested in.
ZSThere isn't a lot of time spent having to explain or translate why something is important or how we are seeing or experiencing something. We both generally understand the other's way of seeing and experiencing from the get go. Which allows us to push each other and ourselves to go deeper and further. I agree with what Juniper said about learning to trust each other's process. But that definitely took time and experience.
JSIt's also an attention to the experience of the viewer. We are striving to create things that are less about us and more about how we can communicate something beyond our own ideas. Art, for me, is a communication with others, and so it's not about setting up a thing that you come and admire or "get" but rather the journey that happens in the experience of coming to the theater and seeing and learning your own questions and ideas.
zoe | juniper's Clear & Sweet will be performed at New York Live Arts in New York from Wednesday, December 13 to Saturday, December 16. Tickets are available here.
Ivan Talijancic is a founder and artistic co-director of WaxFactory, a New York-based interdisciplinary art group. He is currently completing his first feature film, 416 MINUTES, and, in addition to BOMB, writes on the arts for a range of publications, including London-based Bachtrack, The Brooklyn Rail, and HowlRound.