Discover MFA Programs in Art and Writing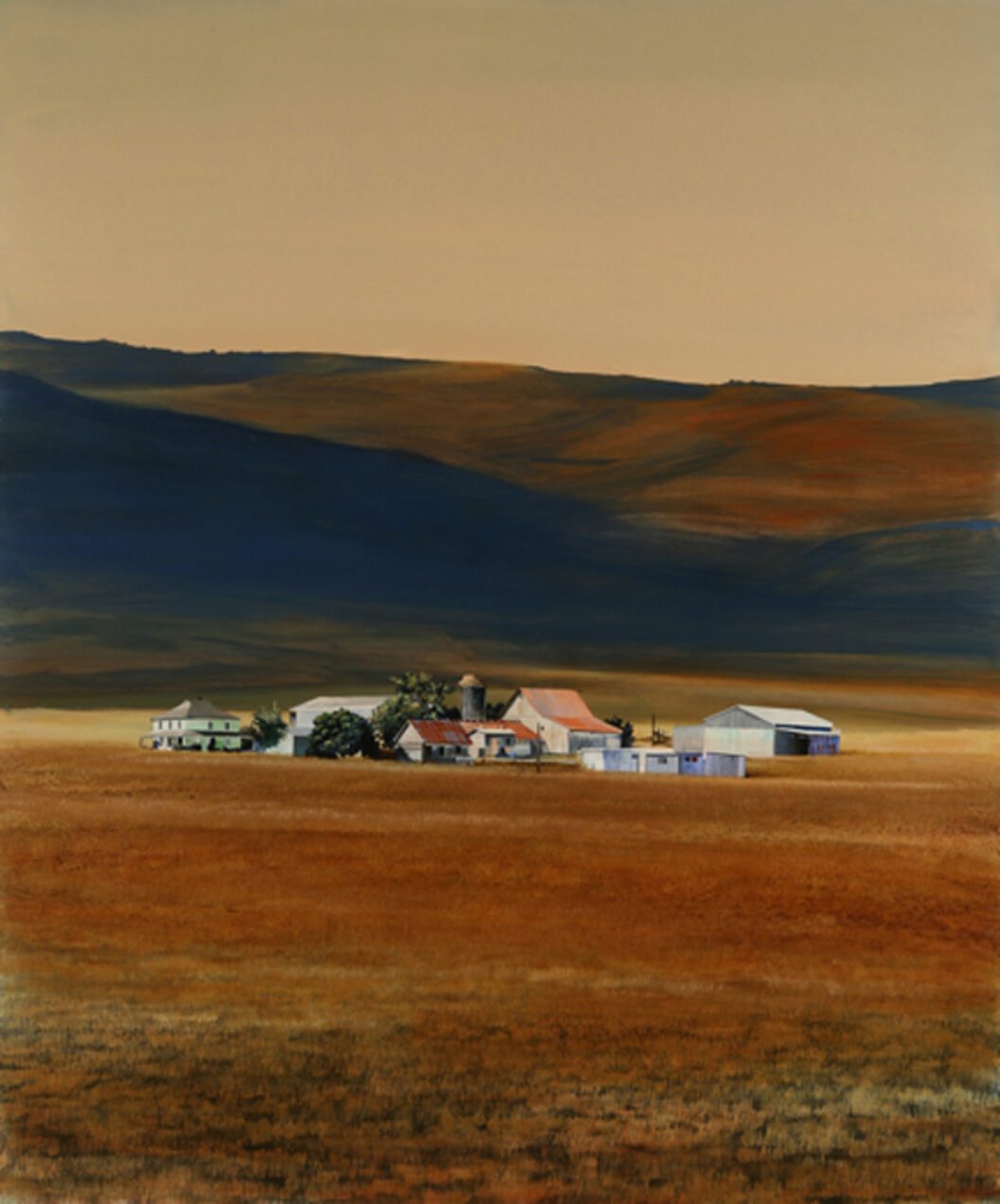 If, for instance, you were ordered to paint a particular shade of blue called "Prussian Blue", you might have to use a table to lead you from the word "Prussian Blue" to a sample of the colour, which would serve you as your copy.

- Ludwig Wittgenstein, The Blue Book

The titles of the paintings in Michael Gregory's Western Construct—Lander, Red Slate, Deep Springs, Saddle Butte, Bitterroot, South Pass, Medicine Ridge, Grangeville, Clearwater, Bodie—are the names of actual ('real') places in the world, places Michael Gregory has himself seen ('in person') when he travels from his home in Bolinas (on the coast of California, just north of San Francisco) to take photographs of things he finds in Idaho, Eastern Washington, the Palouse–pictures of places such as these, which he will use in the paintings he will make when he returns to his studio.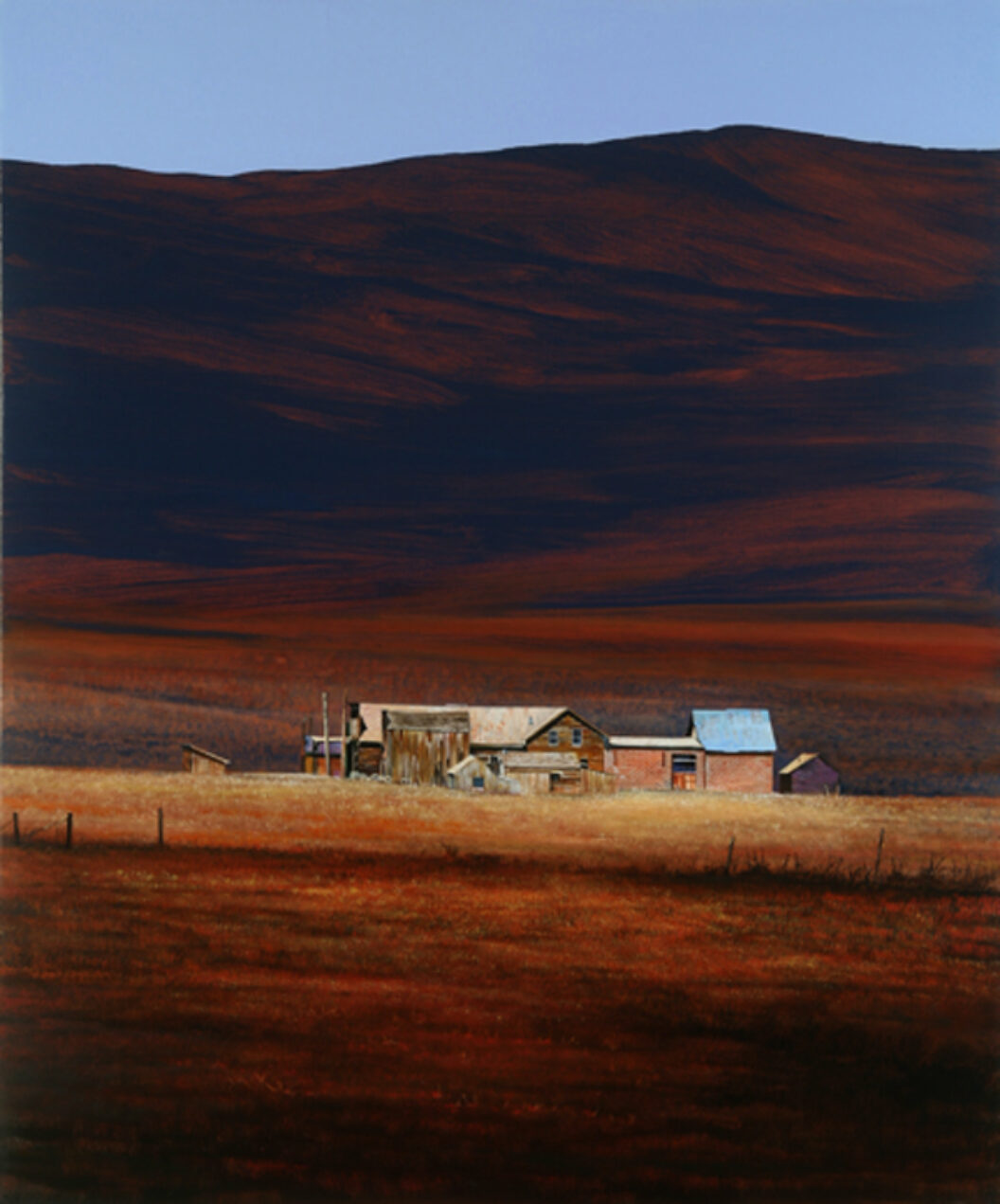 But while these titles are the names of real places, names on a map, Gregory's paintings don't show us those places (or any other places)—are not 'photorealism' in any usual sense of that word, although the barns and buildings in the middle ground of these paintings might (I say "might") actually exist in some time- and weather-worn form such as we see here.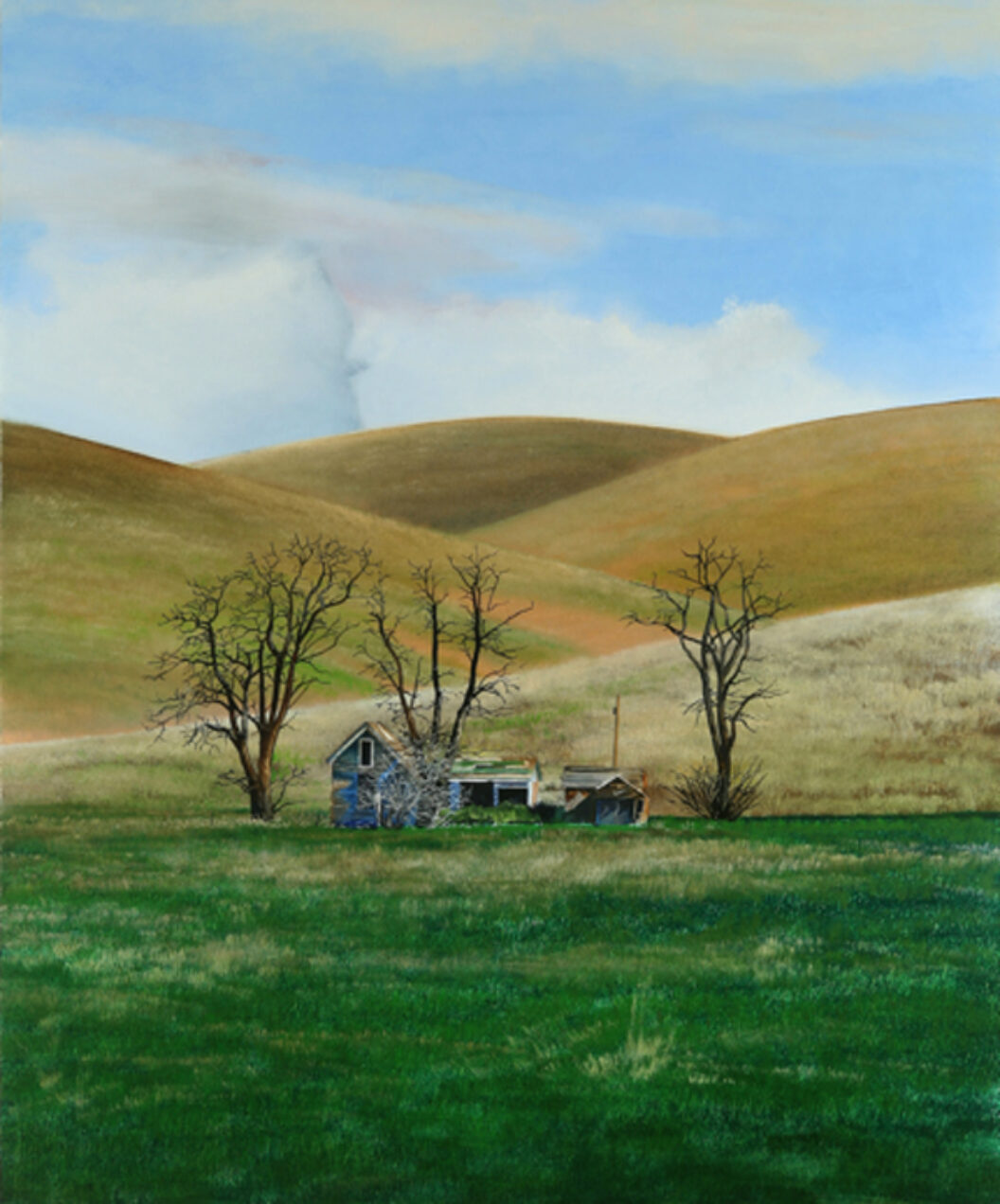 The 'here' in Gregory's painting takes place in paint, oil on canvas stretched on wooden panels, layer upon layer of (thousands of) brush strokes brushed on, sanded down, brushed on, sanded down, brushed on again (and finally varnished)—paint that comes from tubes of paint that are, along with his brushes, the so-called 'tools of his trade'—Alizarin Crimson, Cadmium Red, Rose Madder, Venetian Red; Raw Sienna, Burnt Sienna, Raw Umber, Burnt Umber; those yellows (Cadmium, Chrome, Lemon, Medieval, Naples, Nickel, Yellow Ochre) and greens (Permanent, Sap) and blues (Cerulean, Cobalt, Phthalo, Prussian), not to mention all that Black and White.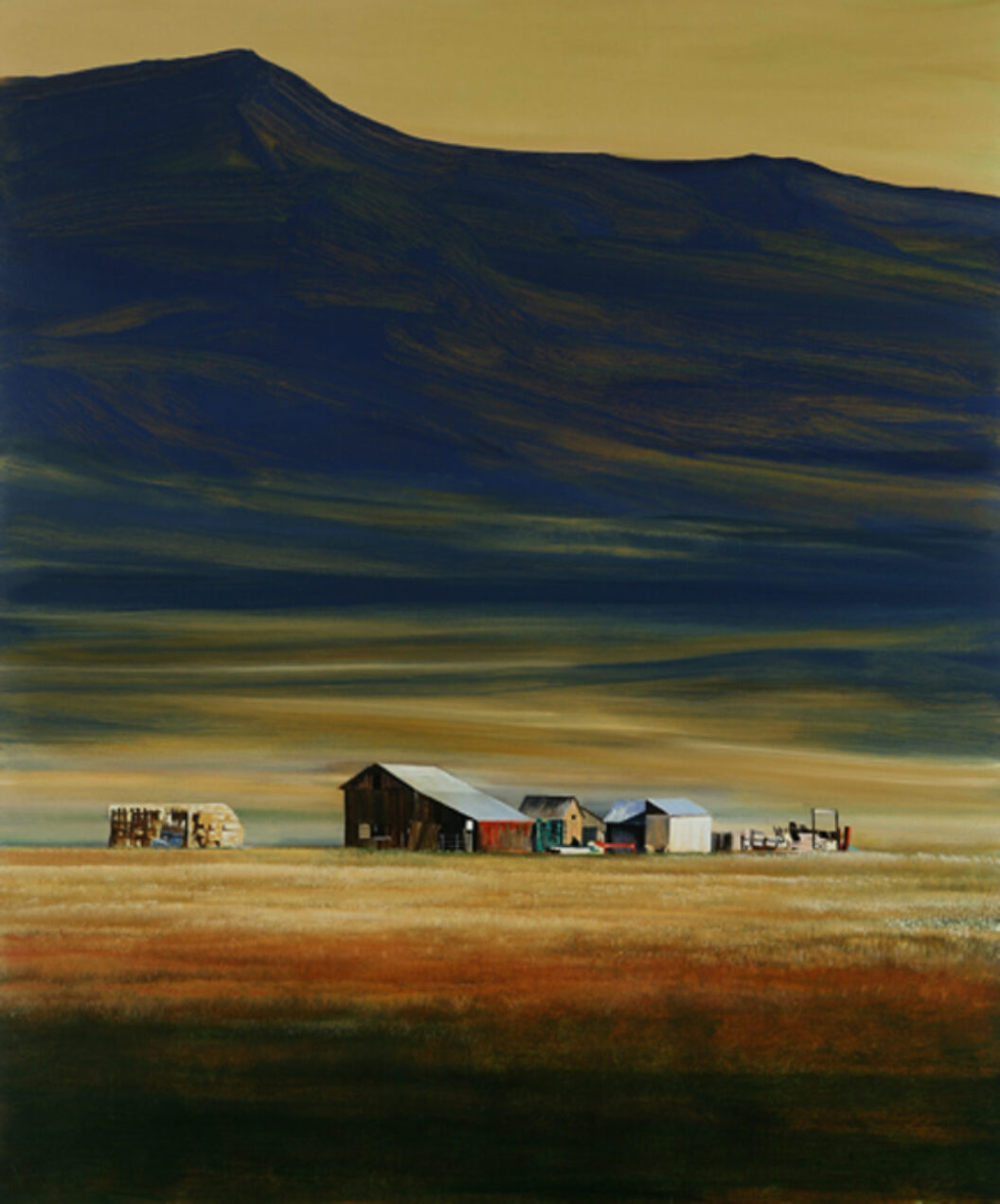 Western Construct, a perfect title for Gregory's paintings in that it suggests both his 'subject matter' ("The West") and the fact that this is made work—'made up' in the mind (studio of the imagination) where everything shown takes on its own reality, space, and presence of being (color and geometric shape on two-dimensional plane) itself—just as so much of what we know as "The West" did, after the fact of its own construction by humans.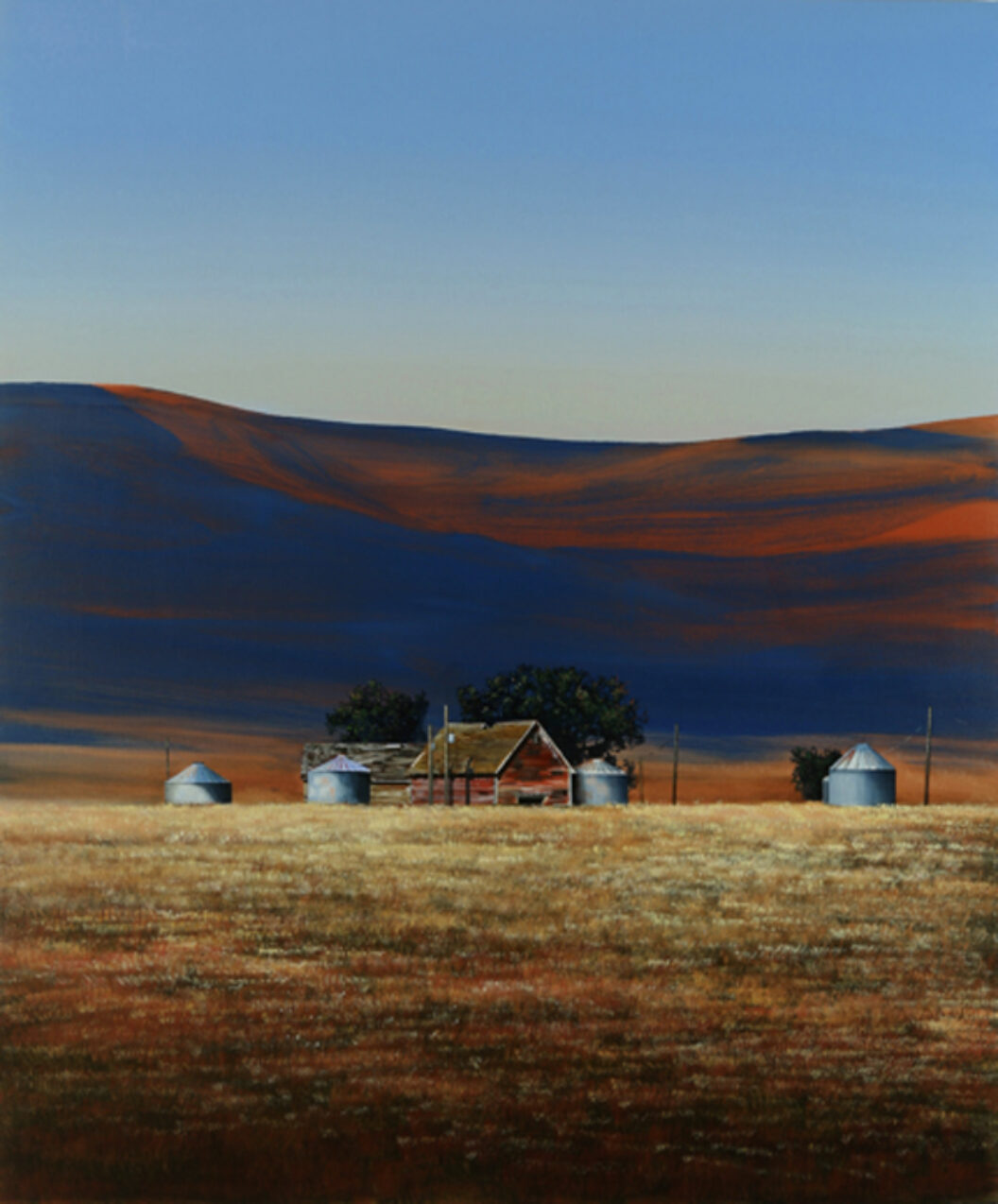 There are two 'time frames' going on here—the moment of perception (registered on the two-dimensional canvas) and those years that have passed to get the places and things depicted to this 'place'—empty, desolate, no people to be seen (now) here, but who once were present here, settling the land, building these structures (houses and barns and out-buildings with weathered shingled and rusted sheet metal and blue-sloped roofs), which 'appear' here as if in 'collective memory' (ours) of the American experience which has been and still (at least at times, as for example here, in these paintings by Michael Gregory) seems to continue.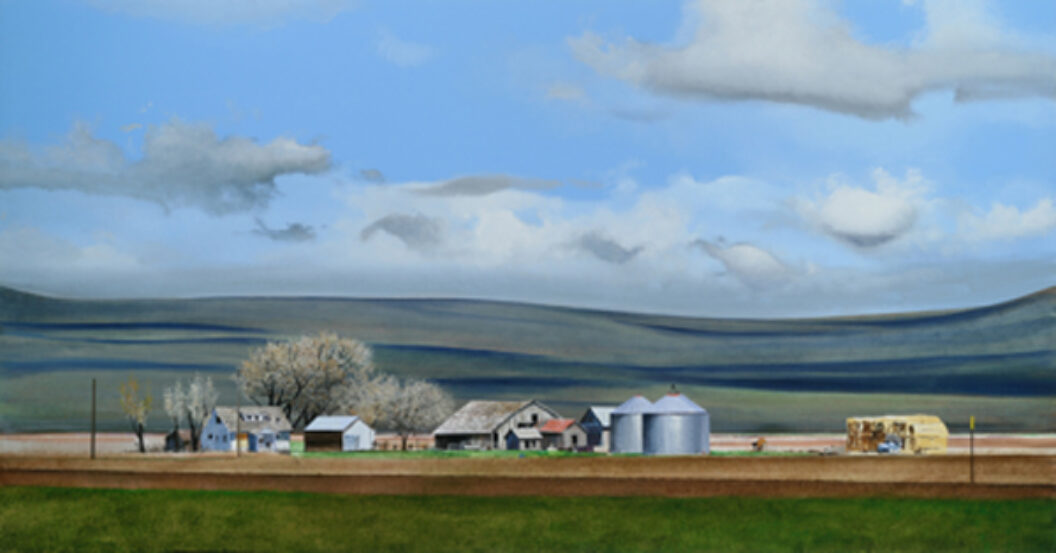 The eye gets close to the canvas on board, the world I live in turns into paint, blue roof of time- and weather-ruined barn, green-yellow-reddish colorfield of a field worked with all of these brush strokes, 'real things' imagined as 'abstractions' as such, where what we 'see' becomes what it 'shows' (us), enacts that landscape and/or that time in which people arrived, settled, lived and disappeared, leaving all this which remains (in paint on canvas on board) for those of us who are lucky enough to see it to—what to say?—experience (?).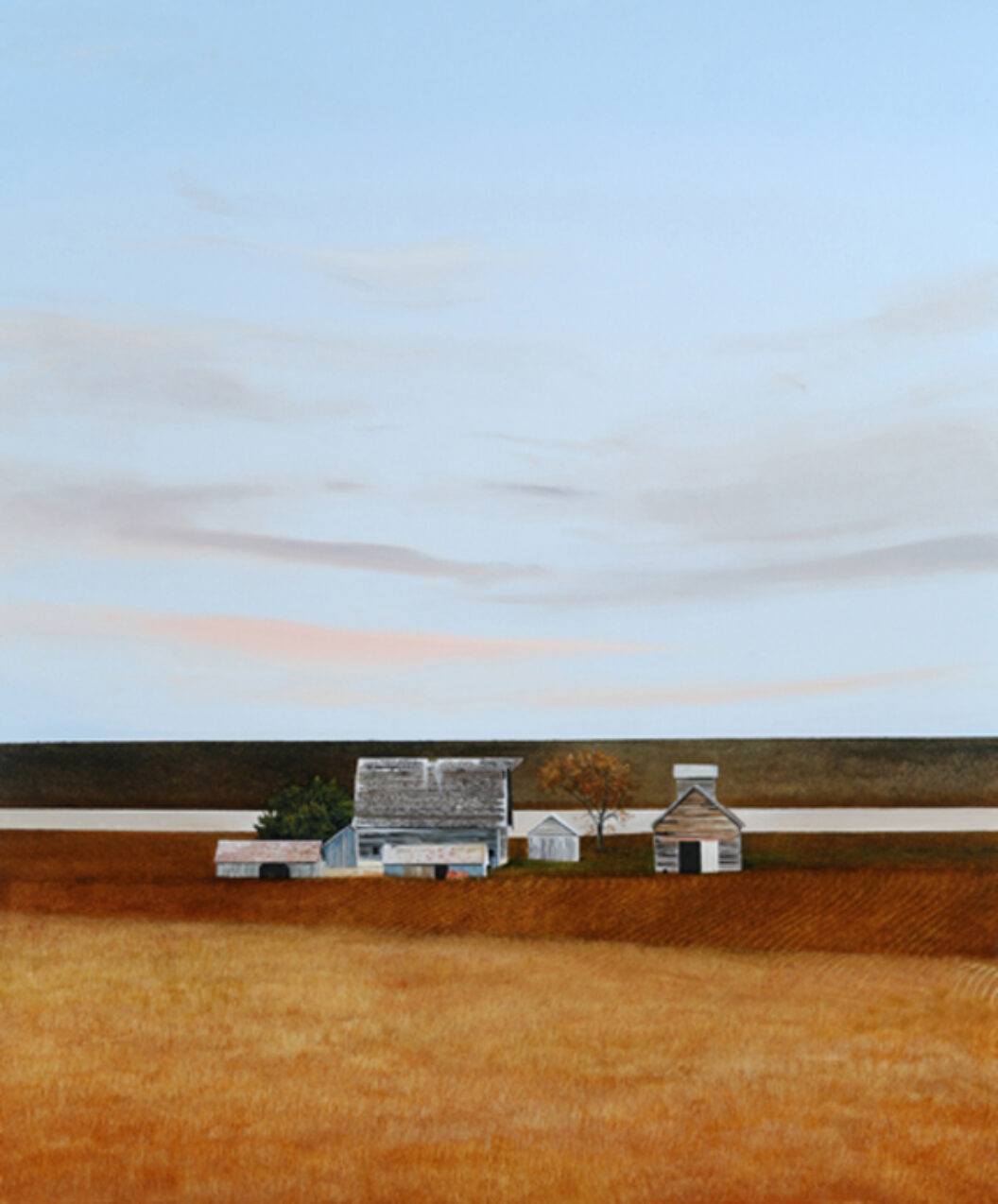 How to paint that middle ground, what really happens when we look at something, really look at it—foreground, background, the eye drawn to these buildings, where the 'narrative' takes place, where we live, everything else missing, sky (above) and foreground (below), stacked up like the colors in a Rothko—except that here there is the sense of time passing, these being temporal as well as spatial works (also like Rothko in that), presenting us (in these two-dimensional worlds) with the sense/'experience' of time passing, but also standing still, in the world we find ourselves both alive and also living in.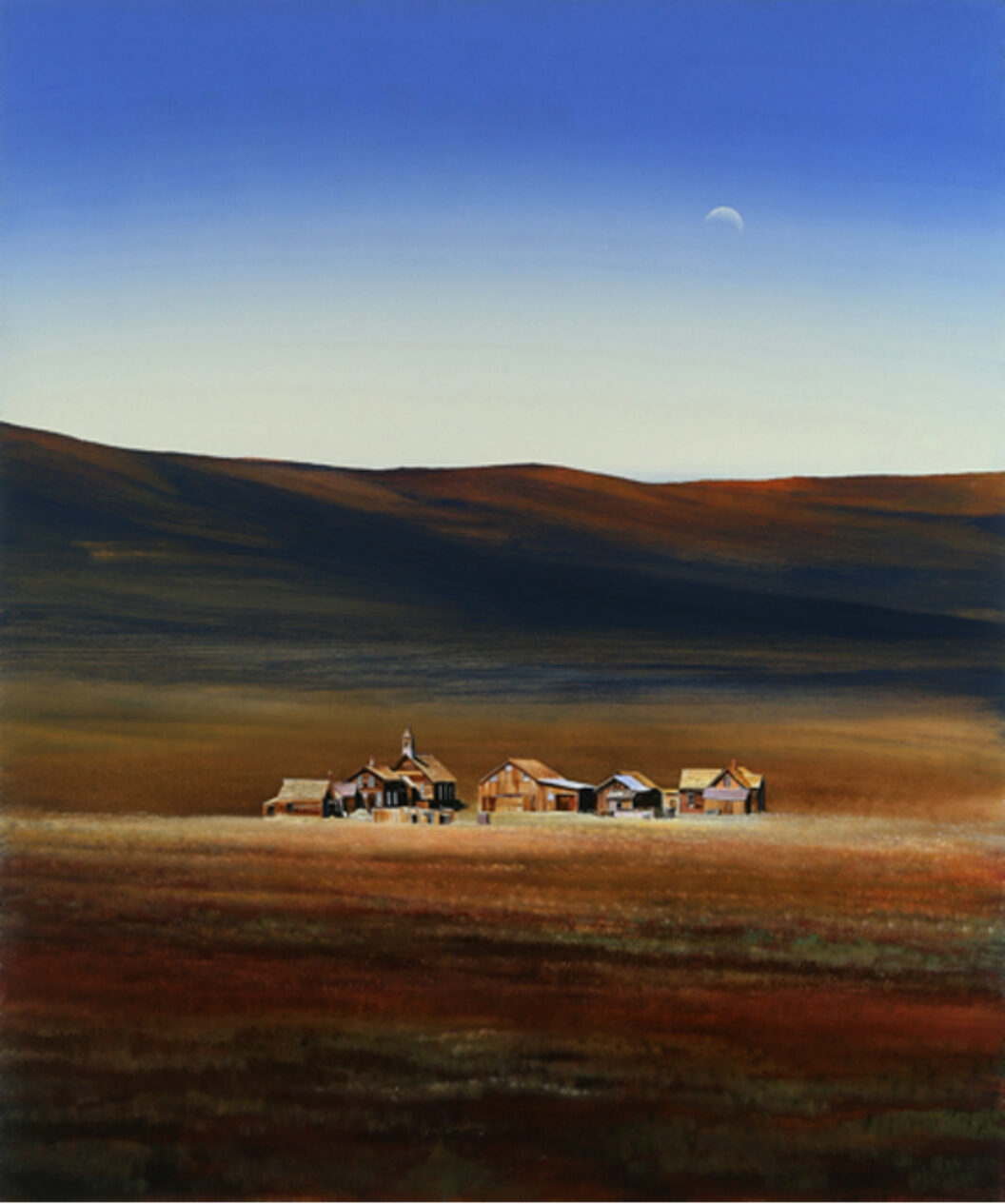 Which is also to ask, how do we see these two actual worlds—one out there and the other here on this wall (or in the pages of this book); one made out of these two-dimensional shapes and colors (whose names—Venetian Red, Raw Sienna, Naples Yellow, Prussian Blue—are the names of places and colors in the world that aren't ever exactly the same as those places and colors, the ones we see when we look at that world 'out there') and the other that 'real', three-dimensional world, the one we live in, the one made present in Michael Gregory's Western Construct.