Agnès Varda's aesthetic tides change, inviting us to switch positions of viewing, knowing, and feeling, for old narratives to wash away and new portals of sensation to open up.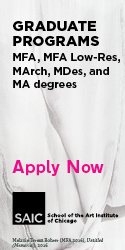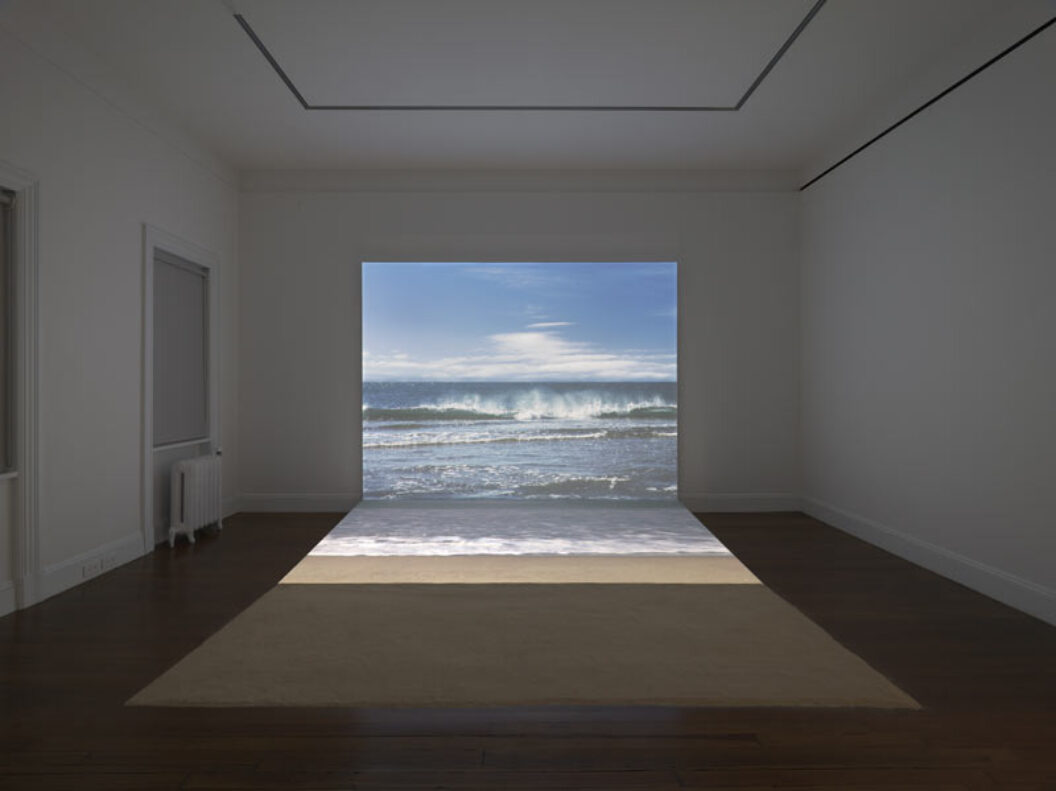 A trio of self-portraits hang in a hallway at Blum & Poe Gallery's solo exhibition Agnès Varda: a silver print mosaic (1949/2012), from when the artist was twenty-one; a silver print of the artist's profile in the foreground of a Gentile Bellini painting, where a row of men's caps mime Varda's signature Dutch-boy haircut (1962/2015); and a digital photograph Autoportrait morcelé (2009), the artist's face in pieces, reflected in square shards of mirror. When Varda cracks herself open, there are beaches.
For a while, I sit calmly on the fifth floor watching the large, three-piece video and sound projection Bord de Mer (2009). Brown digital sand sparkles in the video projected on the wooden floor, extending the wall-bound photograph of sky and ocean. Then I walk to the sea. I take a selfie in the projector's light, becoming un plage d'Agnès. The soundtrack of soughing waves is wordless, but in the title Bord de Mer, I remember Varda's beloved Jacques Demy saying to her that he wants to make a calm cinema, and that he feels himself by the sea. Holder of ancestral memories of the slave trade, of star-turned refugees, another world of copulating fishes and slow growing coral, the sea is another body that we continuously consent to destroy. I look into the photograph of a wave mid-break and imagine the beaches of my own beloveds: North Palm Beach, Sullivan's Island, Varadero, Piñones, Ogunquit, Fire Island, Playa la Chiva. I move, stand by the artwork and fantasize that the green, glass bottle thrown by the precocious Julien (played by Mathieu Demy, the child of Agnès and Jacques) into the English sea in Kung-Fu Master (1987)—containing a curled up, vitriolic, paranoid pamphlet about AIDS—floats from the photograph, across the video of shore break, and rubs against my feet here in Manhattan. Kung-Fu Master braids the story of a non-classical love dynamic into how the cruel majoritarian sphere pathologizes people living with AIDS. Message in a bottle: Varda's art asks what it does to the world when we do what we are not supposed to do.
We can change the dynamics of expectation and desire, the dull anti-trance of cinema-spectator/consumer. On the first level of the exhibition, the viewer can touch the three-panel video projection of an adapted 35mm short film, Le Triptyque de Noirmoutier (2004–2005). By closing and opening the hinged panels where projected family members chop food and prepare a meal in a seaside shack, the viewer can turn off or on the projector's light, and thus that part of the video.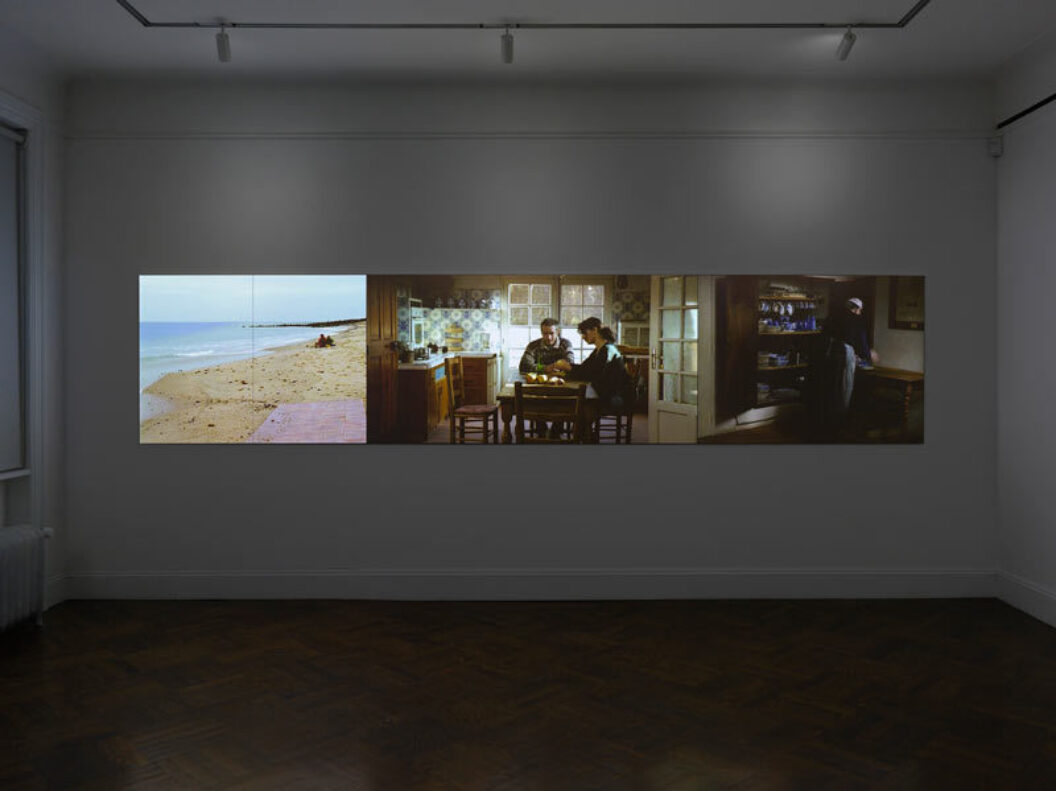 In the room across the hallway from Bord de Mer are two sculptural cinema cabanas, recent works of Varda's: a shack and a wrecked ship, both made of metal, wood, and Super 8 film reels (2017). Looking closely, we see that the film reels partially forming the ship are from La Pointe Courte (1954), Varda's first feature-length film about the impasses of couple-love and the relationship of documentary and fiction, all set in a seaside community of fisherfolk, her friends. The wirey rib cage of the ship and its exposed spine conjure the slave trade for me, moving my mind toward French West Africa and the Caribbean. Varda's gleaner aesthetic is a bibliography of beaches as sites of relation, ritual, and flux: Sète, Noirmoutier, Corsica, St. Aubin-sur-Mer. But the pleasures of sand and shore break reverse and redirect to the depths of the sea. And the abysses of the Atlantic Ocean are not sweet. For this historical reason, we need aesthetic gestures of healing, offering, and love.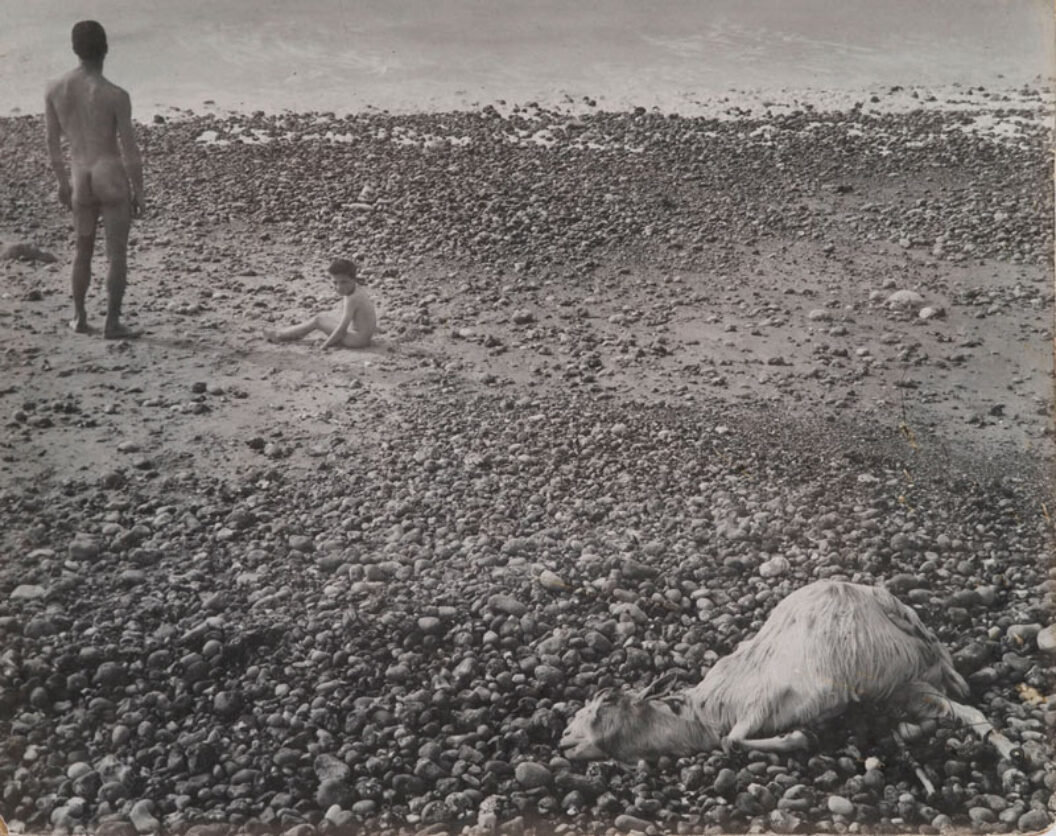 In the Homeric myth, Ulysses spills ram's blood before he goes to the underworld to supplicate from Tiresias how to get home from his sea wanderings. Varda's film Ulysse (1982) grows from the vintage silver print of the same name, presented in this exhibition as one among eighteen enthralling photographs in Evocation d'une exposition de 1954, Varda's seminal show in her Rue Daguerre home's courtyard. The photograph is named for the child held in it, Ulysse. In black and white, we see a pebbly beach at St. Aubin-sur-Mer, on France's northern coast. In the foreground, a bloated, white female goat sprawls dead. Beyond her body, the nude child sits, legs splayed, looking back at the goat, a few feet away from a standing, male-looking body, his back and ass to the camera, his face to the sea. At Blum & Poe, Ulysse is positioned not far from a portrait of the beautiful mother of the child in the photo, a Spanish political refugee and neighbor of Varda's, Bienvenida Llorca. Bienvenida holds out a pile of seaweed in her arms. The film tells us this seaweed was for a massage treatment for Ulysse, as was the trip to the seaside, part of the healing process for a potentially debilitating bone condition in his hips. Clusters of seaweed reappear throughout Varda's films, including in Le Triptyque de Noirmoutier. In the film Ulysse, Varda speaks of our predatory tendency to destroy our own memories, even as an impulse of survival. And in the film, Varda says that any man who faces the sea—a site of both remembering and forgetting—is Ulysse. But, in her cinema, one symbol, image, and subject need not reiterate the self-same meanings over time. Meanings change. Varda is also Ulysse, a trickster who has known loss, and offers salves of light and salt spray. Standing in her moveable room behind the camera, and choreographing her shattered selves in front of it, this child of boats and war refugees invites her viewers to play with memory and form as a mode of healing and imagining what we don't already know.
Rachel Ellis Neyra is a poet-theorist and teacher. She's an assistant professor of English at Wesleyan University, where she teaches Latinx, Black, and Caribbean Poetics, Performance, Film, and Theory. Based in Brooklyn, she was recently living in San Juan, Puerto Rico, and writing a book manuscript in a residency at the art space Beta-Local, The Cry Articulates: Contemporary Radical Brown and Black Poetics. She has published in ArtForum, Comparative Literature & Culture, Sargasso, La Gaceta de Cuba, and elsewhere.