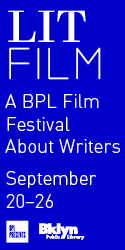 You are on a sidewalk packed and fierce and fueled by desire greed ambition come on come on miracle. Well, it is rush hour on Madison Avenue, the traffic lights have been newly set to change every thirty seconds snarling buses and taxis and cars and pedestrians are racing against the numbers—six five four—well done, you made it across the intersection three seconds to go. You would like to get home in under an hour for a change, you would like to live right here. The neighborhood averages three to five thousand dollars per square foot. A nice handbag, a tall glass vase, an ensemble of bed linens, three items in three shop windows, one average price: four thousand five hundred ninety-nine dollars. Wait. Here is an item for sale without a comma on its price tag: six hundred dollar pajamas. What the cost, the gridlock blare, this crushing hour, oh look maybe just twenty feet around the corner the sidewalk is nearly empty, therefore you look around.
It's pleasant to clamp your attention for a moment on that row of silent facades, those shoulder to shoulder sentinels…no, those are townhouses or no are they called what? Spandrel, cartouche, quatrefoil, corbel, you can learn precise names of this block's architectural details any Sunday, thirty dollars for an hour of your time. Anne Bennett begins her walking tour noon on the dot; her commute today on the M1 is like most Sunday mornings, uncrowded and on schedule, a peaceful interlude crossing Twenty-third Street, then up Madison. Behind her newspaper Anne Bennett is reading that ninety percent of the universe is unknown because that ninety percent is dark matter. The traffic light changes, the bus gains the momentum of an express while sixty-six letters of type nailing down ninety percent of the universe take hold of Anne Bennett, causing the always punctual tour guide to miss her bus stop and trotting all sweaty and distracted, there, she is not late and everything that matters has not been made inconsequential by one sentence. She is not an idiot for devoting much of her life to the wonder of solid materials shaped by hands and tools in an expanding world of dark matter. No, not an idiot, proof is right there: she is pointing to a window cornice with oak leaves wreathed round clusters of grapes, anchored by a pineapple, a nimble collaboration of chisel and stone, the hand coaxing limestone into symbolic language: "The original residents," she explains, "delivered a message of hospitality in the pineapple adorning their residence, an expression of welcome, good cheer, human warmth and family affection inherent in such a gracious home." She continues the decoding of grape clusters representing victory, as the ripe harvest shows the promise of fruits being reaped and turned into sustenance for the future, of oak leaves—symbol of strength, stability, nobility…
On script now, demonstrating to thirty customers how well spent is their money and after the tour, after an hour untroubled by reports on ninety percent of the universe, Anne Bennett is going to enjoy thirty-seven blocks of her city, walking all the way home, the news tossed in the trash on the corner of Fifty-seventh Street is losing its grip with every step past spandrels, corbels, an oculus window deeply set, verdigris copper parapets three in a row.
The Sunday paper's dark matter sentence creeps into Anne Bennett's bed, her sleep always so lively and populated with former boyfriends and formerly living people, her sleep now is a suffocating interval from which she startles awake. A sliver moon is visible through the skylight. The idea of sleeping under the stars in Manhattan had propelled Ted Channing to pry off a section of roof over the bedroom, to DIY glass and aluminum and caulk, lots of caulk sealed the glass and aluminum framed skylight Ted Channing installed without a building permit. Famous in the neighborhood as a model of defiance of living under the radar of skirting the law depending on who you talked with in his era Ted Channing was a low life or a renaissance man polymath, definitely he is a name etched on one glass pane of the skylight, one of thirty that comprise the opening to the sky. The longitude and latitude of the building defines the overhead view, a south west patch of celestial mechanics, Saturn regularly moving left to right, an occasional streak of light, comet or falling star or starship, the astral view regularly overlaid with the nearer movements of backyard pigeons leaving their droppings on the skylight. And that one lower left pane of glass is hosting human evidence, though quite disappointed with how he has drawn the long crossbar of the T first letter in his name, thinking how a thing is never as good as imagined, Ted Channing continues etching e-d-C-h-a-n-n-i-n-g and under his name MCMLXXXIII the year in Roman numerals. A tricky operation manipulating four carats of diamond to behave like a pen shaping letters and numerals, he uses the bottom of the diamond the culet it's called. This, plus another diamond, a ruby, two emeralds, a sapphire go with Ted Channing on his Air India flight to Madras, five gem stones moving through his G. I. track. His reasons for swallowing them include a long-shot belief from the sixteenth century that in certain conditions gems have sex and procreate. Also, paranoia and caution factor into ingesting and thereby hiding from view the wealth he is carrying. His reasons are many, the consequences are singular: the swallowed stones are lost in the urgency of illness, Ted Channing in the hospital unconscious of what's become of his gem stones, his system in the throes of a nameless disorder unresponsive to antibiotics, a rice and yogurt regime, the bedside ministrations of Kiran Chandoor, student nurse in the clinic Adyar, Tamil Nadu, India.
What it must be like to be an American, she is wondering, sitting bedside with Ted Channing. Lingering there after her shift has ended gives Kiran something to think about, something other than bed pans and spoon-feeding and dirty linens and the hour-long bus ride, clinic to home.
It's only late, usually around 10 PM that Carrie Clayton from Denver shows up. Carrie's relation to the patient is unclear, she seems not to mind that mostly Ted Channing is sleeping, "Let's book," she says.  The two young women step out into Adyar night. The American is all mouth to Kiran watching Carrie smoke a cigarette, drink brandy from a silver flask, words tumbling… "That's totally boss, kickass, the poor dickhead, so lame, illin', spazzing."
Also amazing: Carrie wants to be friends.
She's talking about someone named Theos Bernard, the subject of a thesis she's writing, "…you know the whole East-West yoga thing, that's my research using Bernard early practitioner et cetera et cetera, sort of you know using Bernard as an excuse a ruse anyway yoga's my passion. And, your music, so flash." Kiran: "I know nothing about yoga but if you come to lunch tomorrow you can meet my father, he's chief music critic for the Times." Carrie: "Fucking A."
Father, head of the household, chief music critic Mr. Chandoor, much too busy to be a guide to a visiting American, hands over his schedule of concerts for the coming days, week two of the annual Karnatic Music Festival. Actually, no. Head of the household, seated recipient of lunch, Mr. Chandoor is waving his hand, "Send the Bearer to get Miss Clayton's luggage; dear young lady as of this moment no no I insist you now are my guest." He waves his hand a second time, bringing into view two women carrying fresh tea and sweets. He bends his head over Carrie's portable tape player to hear not exactly music in a seven-minute jumble of guitar and from the next track on Carrie's mix tape…a woman is trying to sing, he can sort of make out rock on gold dust woman take your silver spoon dig your grave.
Constance DeJong is an artist, writer, and performer, producing fiction texts and image-based works for performance and theater, as well as audio and video installations. She has permanent audio installations in Beacon, New York; Seattle, and London. DeJong has collaborated with Tony Oursler on live performances; was a collaborator on Super Vision, a Builders Association production (2005); and was the librettist for the opera Satyagraha by composer Philip Glass. Her first book, Modern Love, was re-issued by Primary Information/Ugly Duckling Presse in Spring 2017.
Originally published in
Featuring interviews with Milford Graves, Celeste Dupuy-Spencer, Meredith Monk, Jim Hodges, Lucy Dodd, Branden Jacobs-Jenkins, Jlin, Cate Giordano, Don Mee Choi, Christian Hawkey, and Friederike Mayröcker.