Tabitha Piseno sits down with Omar Lopez-Chahoud to discuss art fairs, site specificity and the layers involved in this year's UNTITLED.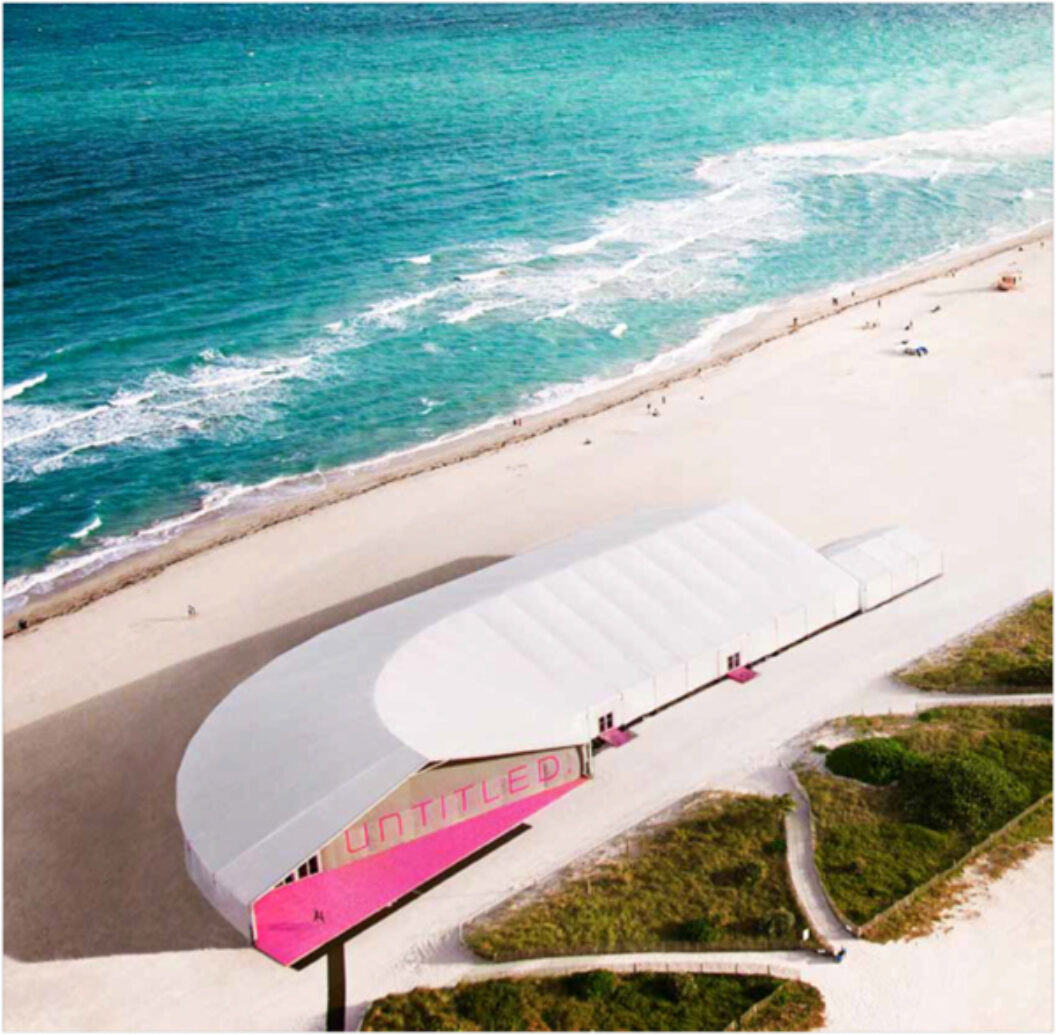 What makes UNTITLED. singular is its aim to formulate a structure that would emphasize an alternative approach to the art fair model. The beach pavilion relied on a bed of sand, but still felt fixed and dense, absorbing and diffusing sunlight, the environment is similar to that of a greenhouse. During the day, silhouettes of seagulls can be seen through the ceiling breezing above, their flight visible from one end of the 60,000 square foot structure to the other.
For this year's edition, Omar Lopez-Chahoud opened up the programming. Dense and diaphanous as the structure it inhabited, the pavilion featured an international roster of galleries and artists. Over 50 new participants were added, ranging from emerging artist-run organizations, and performance spaces to established non-profit galleries, and magazines. Also debuting this year are a series of installations and projects throughout the pavilion emphasizing site-specificity, booths dedicated to special edition prints available for sale to benefit non-profits, UNTITLED. Editions—a collaboration with the custom-printing atelier, sololab, to benefit participating artists—and a limited-edition print by Marina Abramović available for the duration of the fair to benefit both the MAI and the Elton John AIDS Foundation. In addition, a new residency prize was offered this year, the result of a partnership between UNTITLED., FLATT magazine, and the National Arts Club in New York to offer a six-month residency to a participating artist.
Prior to touring the UNTITLED. pavilion with Omar Lopez-Chahoud, I sat with the fair's founder, Jeff Lawson. We chatted while he rested for so long as he could sit still.
Tabitha Piseno What was the initiative?
Jeff Lawson The initiative was to create a fair where I could bring together architects and a curator to execute a concept, to create an interesting architectural space that takes advantage of its site. We thought, We can take advantage of the fact that we're in Miami Beach, so let's build it on the beach! Let's make the ocean a player in the whole show from an architectural standpoint, and then let's work with a curator that would go out internationally and work with galleries and artists that he is admiring at the moment, or working with, or has been following. That was the impulse. The idea was to put those components together to create a compelling environment for the viewer.
TP Had you been involved in any art fairs prior?
JL I own a tradeshow production company. I produce a design and fragrance trade show called, Elements Showcase. We produce it twice a year in New York, and once in Dubai. We're expanding our international market. I consulted with other firms in the past, but this is my first foray into creating an art fair.
TP Such a courageous thing to do amidst everything that is taking place here in Miami this week, especially in a way that is so divergent, almost oppositional.
JL Yeah, that was the idea. In a way, even coming to the idea of calling the fair UNTITLED. The ideas were to strip everything away, to work with the concept of less being more, to really allow for the architects to create a great space for the curator to focus on presenting great work, and to give them the opportunity for it to happen in a different way.
TP Omar, right before you joined us, my comment to Jeff was how courageous it is to do something so divergent from the traditional art fair that happens here in Miami. It's integrating so much site-specificity, and I'm wondering what site means here in this context.
Omar Lopez-Chahoud Did you get a chance to see SITE:LAB here? They broke into the space to make something site-specific. It's a big structure, like a grid. It digs into the sand. It is an entirely site-specific piece. Also, these installations by BroLab are going to be activated so they can host conversations. People can actually move around them, and listen in an intimate way. It's really important that you have this kind of context also—a series of discussions and conversations integrating the whole thing, not separating it.
For me, it was really important that the not-for-profits are mixing with popular commercial galleries. Not necessarily based on the art they are showing, but based on their programming. That is how I wanted things to relate to each other. Rather than fragmenting it into little spaces, and cubes, I wanted to open it up, to give opportunity to smaller organizations, like performance spaces.
TP I think the combination of those elements you just described, and the custom pavilion convey the possibilities of what can be done when something so specific is decentralized. For example, what you were saying about contextualizing booths, orienting booths, so they would not be fragmented into small, categorical units like they typically are in traditional art fairs. I definitely get the impression that moving away from a commercial center was prevalent in your mind when laying out the fair. Was that the case last year, as well? It was such a success.
OLC It was a huge success. I started working on it 8 months before the fair opened, and it was my first time organizing a fair. I only had 8 months to pull it off last year. This year, we had more time to prepare, and it feels more solid. I did more programming throughout the space, and for me that's important. Last year, we basically had a smaller version of this; we had 49 galleries. This year, we have 97, and are more international. This year, we have 19 different countries represented. I have to say I met with all the artists, not all the participating artists, but many of the participating artists galleries, and have been in conversation—even trying to create their booths, or how their booths are going to look, which works would be best.
TP Wow, you worked with everyone individually?
OLC Yes, with each of the galleries, which is why you see cohesiveness to the project. Last year, it was more abstract. This year, I wanted to make more layers, make it a little more surprising—no perceptually based abstraction. Here, we have a little figuration, more photography. We are mixing all of the artists, some of them dead, some of them alive, some of them who were active in the sixties and seventies. We are mixing the relationships between those, younger artists, and mid-career artists, so as not to group or separate them, but instead have them be in conversation with one another.
For example, Hionas Gallery is showing Siri Berg, who is 92 years old. She is a very active artist. The piece they're exhibiting belongs to a very nice collection, and it's a work from 2011. It is presented in relation to Karlos Cárcamo, who, has roots in El Salvador, and works with abstraction the same way Siri Berg does, but in a much more layered way. It's interesting in the sense that the references are a lot different; Cárcamo's references are within graffiti, urban spaces, and his background as a Latin American artist. Although he was born here and went to school here, his roots are in Latin America. He draws reference from his own personal history, layered with a very formal abstraction. Siri Berg is a formalist, a structuralist, who has been a major influence to a younger generation of artists, perhaps. That kind of dialogue, to me, is important as a curator.
There were limitations. This is a very competitive situation. There is a lot more going on in Miami this week, so I have to work with what I have access to. I try to do my best. I'm trying to do something different than what is already happening here, so I have to keep it in mind that I have to do something of quality. I am not interested in just filling booths, and unfortunately, for some fairs that is all they care about. Come, pay, and take the merchandise. No. For me, it has to be beautiful. Visually, it has to have a story. I've been working very hard to see how things visually relate.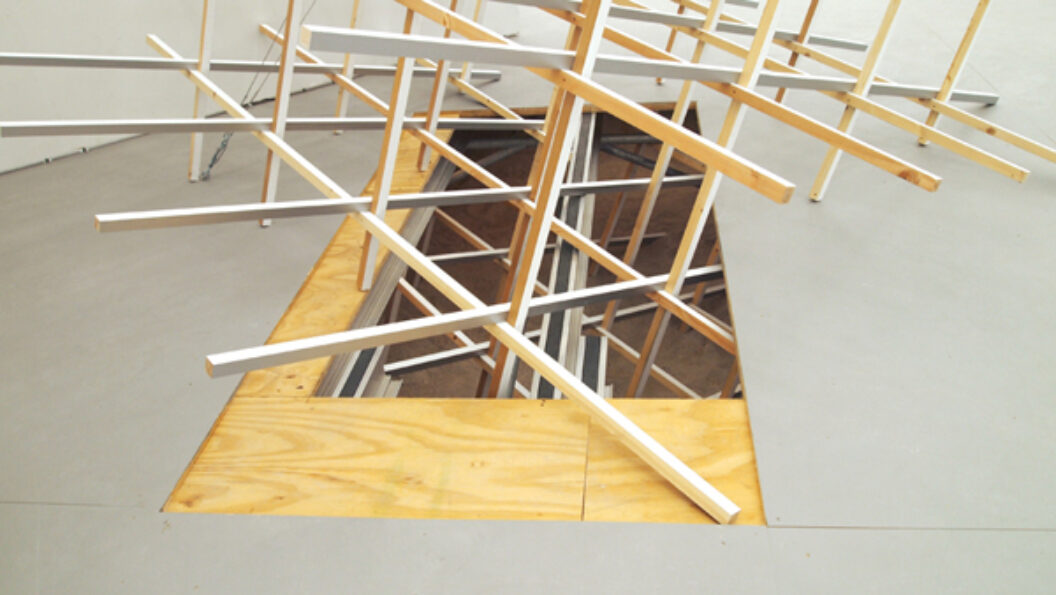 TP Like this, for example? I love this floating, solar powered sculpture by Björn Schülke from bitforms gallery, in the dining space.
OLC There are several site-specific projects here. This for example, the booth of Ana Kustera showing Wendy White, had this specifically made for the fair.
It's a booth, but it is specific to its site, the location, the dimension, and the light for it. SITE:LAB—also a very interesting space but based in Grand Rapids, Michigan—do site-specific projects in various locations.
TP Is this the first fair they've done?
OLC First Miami fair, for sure. They got the ArtPrize award this year, which was selected by Jerry Saltz. Another gallery that I love is Denny Gallery on the Lower East Side. I like the younger galleries to be in this type of wide-angle, open situation, so it can be possible for galleries that cannot afford a bigger space. We're also working with two non-profit magazines this year, Cabinet and Esopus. We also have performances here at the fair by TM Sisters and Jacolby Sattherwhite. TM Sisters performed on the benefit night, as well.
TP How did the benefit go?
OLC It went well, a lot of people came. Sales were made, which is great. It didn't feel too crowded. We had a good flow of people. It felt really good.
TP Tell me about the pavilion. Did you work closely with the architects?
OLC I was in conversation with them, John Keenen, and Terrence Riley of K/R. I worked closely with John Keenen. They understand art, so it's been the best experience for me as a curator to work with them, because they totally got what I was trying to propose.
They made great decisions. I couldn't have asked for better. They did a fantastic job. Everything is so open, so you don't feel claustrophobic. It's still a structure that you don't get lost in, and it's not a boring grid. It opens up. We talked about all of that.
As you can see, the location on the beach, the architecture of the tent, the natural light—I wanted to open it up.
TP Every project is so specific in emphasizing this kind of integration that doesn't happen elsewhere, and that specificity also extends to the additional programming—not only performances, and site-specific projects, but also UNTITLED. Editions, the FLATT Residency opportunity, and panel discussions happening here at the fair like the The State of Contemporary Art: Texas, moderated by Virginia Rutledge, curator of The Texas Biennial, for example.
OLC For the discussions, I wanted them to be in connection with other conversations at the fair. For example, the Texas Biennial, a lot of people don't know of it. It opens up to the rest of the country. UNTITLED. Editions is 4 editions by 4 artists, and we do this in collaboration with sololab. The artists I selected are Jacolby Satterwhite, Karlos Cántamo, Franklin Evans and Jen Denyte. Those were all created by sololab, specifically for UNTITLED.
The talks will be in the VIP lounge, which is also an artists' project. Instead of having a VIP lounge that would be sponsored by a company, we now have artists construct something that is functional for discussions. For example, this sculpture has levels for speakers to sit and talk, so people can sit around it in a very warm way.
Part of the VIP room has a beautiful exhibition. It's gorgeous, by a group of artists who work in New York. They're called Beverly's, and Leah Dixon is part of it. She is a fantastic artist. She knows a lot of the younger artists. I like that kind of energy.
TP Beautiful.
OLC There is a lot of space we worked with this way. I didn't want to be minimal, though. Last year was that way and we felt it. This year, it's more layered. I think offering more diversity is important in the sense of us here. There are multiple languages going on here at the same time, and I hope they find something to connect to, or, at least, find something that connects to them. I'm not talking about the market. I'm talking about more than that, a personal connection. That's what I hope for.
Tabitha Piseno is an artist and curator currently living and working in NYC and Providence, RI. She is the Co-Founder of Richard Keller (R.K.) Projects, an experimental exhibition platform that conducts nomadic exhibitions and performance-based projects.