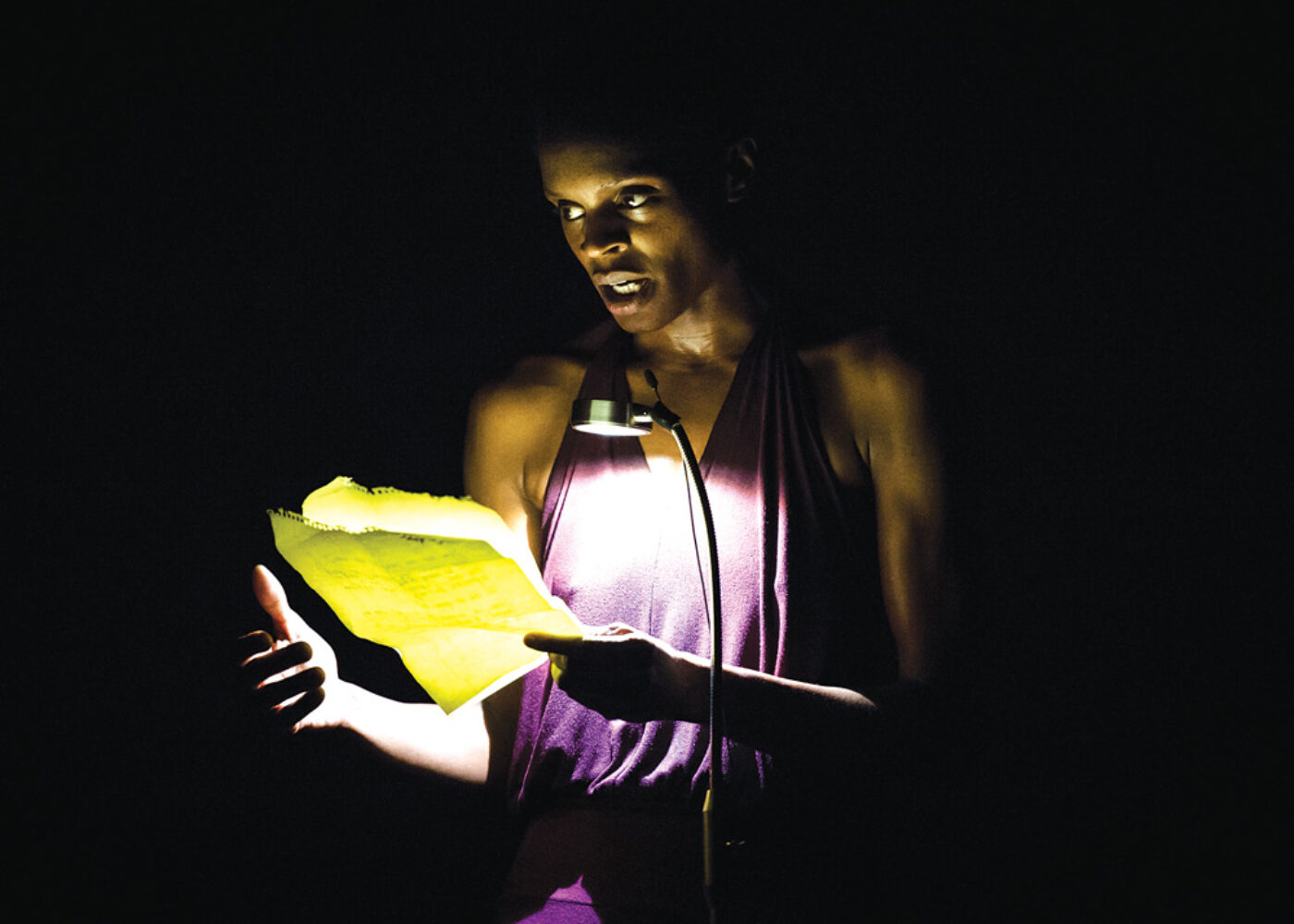 Danspace Project, 2014
The noise of a schoolyard pours into a square, canvassed room. Overlaid by the thumping of distant tribal drums, the shrieking and trilling young voices are pummeled into the rhythm of battle. Like a rebuked child, lone performer Okwui Okpokwasili faces the corner. She stands firmly, but she is not still—far from it. Every single muscle of her body seems to be trembling, quivering, twitching.
Her back a vast quaking surface signaling upheaval, she stretches out her arms, like wings flicking, lifts a foot above the chatter and the battle cries—ready for combat and ready to respond to the mating call. Her breath buzzing, her mind in heat, her body ablaze—a female trapped in primal want. Convulsively. Involuntarily.
Then the noise ebbs away. Okpokwasili's shuddering silhouette remains when the lights dim, until she steps to a microphone: "I wanna share something with you, a note passed between two girls, at the tender age of eleven, one of which was me."
Foremost an actor and a dancer, in Bronx Gothic, Okpokwasili delivers her own writing and, partly, her own story. Just as her body does, her words take the stage with full physical force—they spasm, buckle, fall and rise, flex and strain, and they tear like muscles' tendons. Two girls' shared and betrayed secrets—about "titties," "Frisbee orgasms," periods, jump ropes, grape taffies, and "busted cherries"—are read by Okpokwasili from yellow-pad pages and, after each sheet is finished, it is crushed and tossed on the floor. Occasionally, Okpokwasili drops to the ground as well, like a shell of a body, a creature that has been taken by the tide, engulfed by emotion, but one that rises to its new potential again and again.
Plastic bags strung across the room hover like crumpled moons while weeks if not months worth of blunt and explicit dialogue turn from affectionate to bitching to competitive to full-on heartbreak. The dialogue remains cryptic in terms of distinguishing the two girls, they alternate between separate and merged identities. There are hints of abuse, of nightmares, of daydreams, but they never come sharply into focus—just as repressed memories tend not to do. Sexual awakening is likened to waking from a dream as Okpokwasili repeatedly quotes from the notes: "Ask yourself: Am I awake?"
We are still children when sexuality raids our dreams and the way we awaken to sex will in many respects define us for life. In Bronx Gothic, girls' puberty and coming of age is a violent and intoxicating process which involves bleeding, being "cracked" and "broken" and leaves two girls entangled with their 11-year-old selves for decades to come. Okpokwasili's dialogue is a candid, modern story told in the griot tradition of West Africa, with occasional elements of rap, poetry, and a physicality that evokes a rite of passage. The exertion, in word and movement, is near-painful to witness, leaving one shaken yet also dazed. Am I awake?
Sabine Russ is BOMB's managing editor.
Originally published in
Featuring interviews with Jay Scheib, Matthew Barney and Gaspar Noé, chameckilerner, Zoe Leonard and Shannon Ebnerm, Teju Cole, Etel Adnan, Natalie Frank, and Valerie Snobeck.