Okkyung Lee and Ikue Mori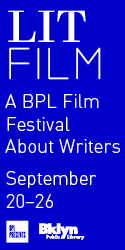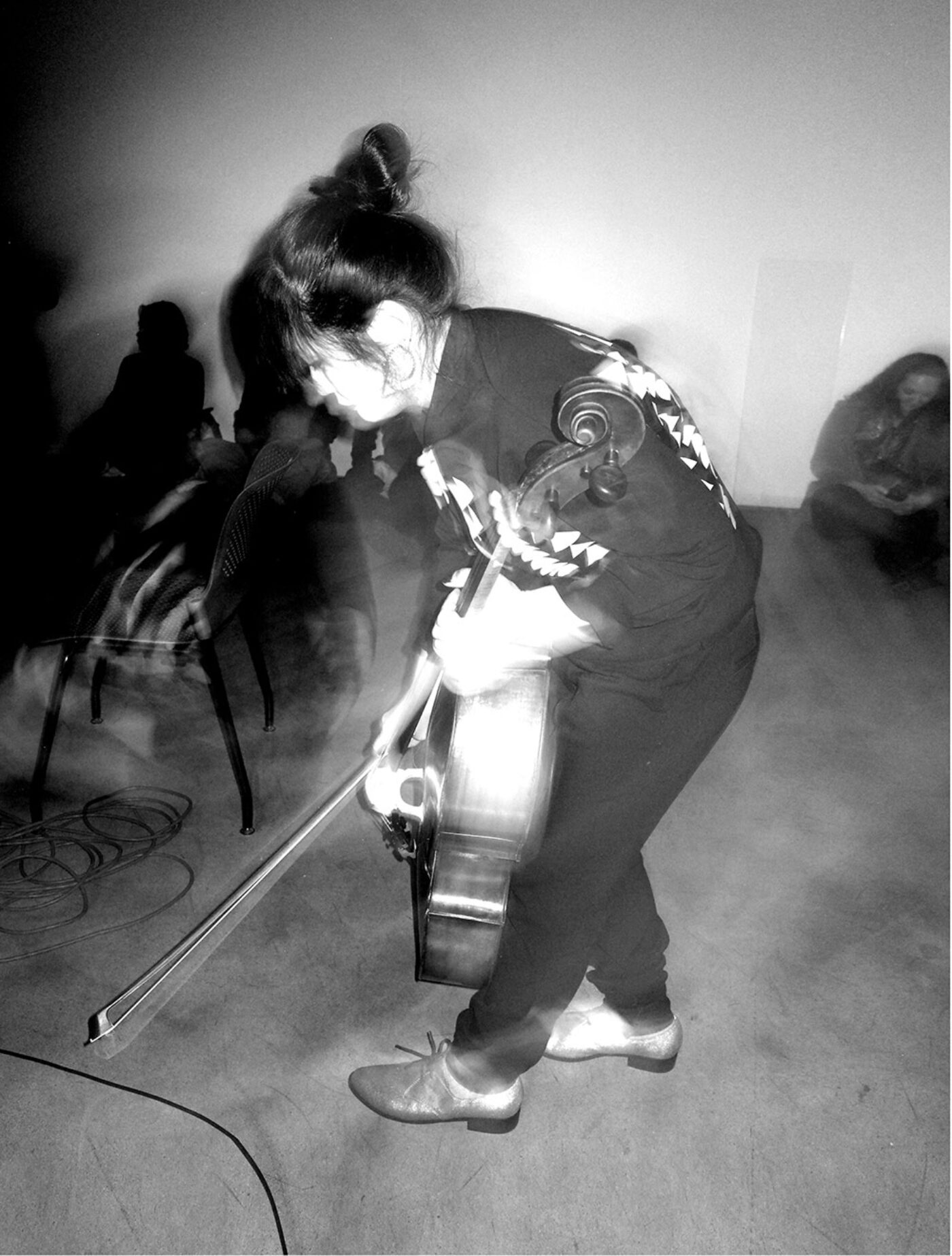 Midway through Okkyung Lee's debut solo album, Nihm (2005), Ikue Mori's electronics blend together with Sylvie Courvoisier's piano on "Home," a composition adapted by Lee from a Korean children's song. While Mori and Lee don't talk about the composition in the following conversation, they do ask themselves what it means to be at home—as improvisers and composers constantly on tour around the world, and as Asian women of different generations who left their childhood homes to find new ones in downtown New York.
Mori arrived in New York in 1977 and soon cofounded the legendary No Wave group DNA, playing drums alongside Arto Lindsay's atonal guitar and guttural vocals, Robin Crutchfield's sheets-of-sound keyboard, and, later, Tim Wright's off-kilter bass melodies. After DNA dissolved in the early 1980s, Mori started performing as an improviser with musicians like John Zorn and Fred Frith, and switched from using a drum kit to drum machines. Around 2000, she moved to a laptop computer to process her samples even further—she calls it a "third generation of sound"—and to create live visuals as well.
Since moving to New York at the turn of the millennium, Lee has released several solo albums as a composer and cellist and remains a constant presence in many different music scenes. Last year alone, she released two live duo albums, one with Christian Marclay and the other with Bill Orcutt. She also performed with Cecil Taylor at the Whitney Museum, toured the Eastern half of the US with the industrial band Swans, and presented several new compositions at the Donaueschingen Festival in Germany.
With nearly two decades of close friendship and ongoing collaboration between them, Mori and Lee are playing together once again in Mori's new group Obelisk, where they are joined by Courvoisier and Jim Black. The two friends began their conversation after the group's debut performance at Roulette in Brooklyn last September and returned to it this spring, as Mori took a brief break in New York amid a series of European concerts with Zorn, and Lee settled into a six-month residency at Schloss Solitude, a Rococo castle outside Stuttgart, Germany—their respective homes, for the time being.
Okkyung Lee This year is your fortieth year in New York.
Ikue Mori Yes! Believe it or not, I just celebrated my fortieth anniversary living here.
OL It's been about seventeen years since I moved here, and I think that's how long we've known each other. Did you know that you'd last this long in this city?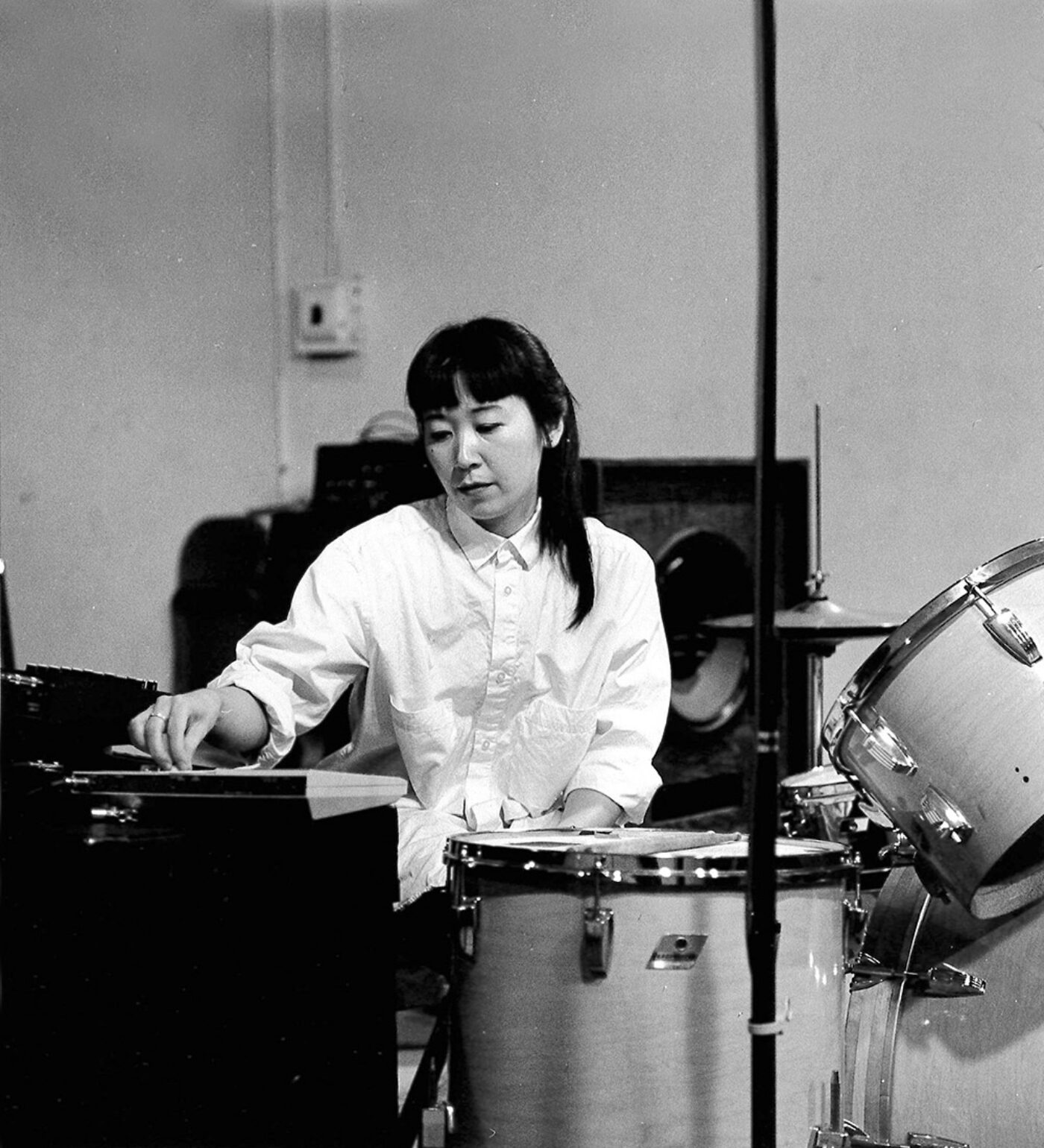 IM Not at all. I came as a tourist with a friend from Japan to experience New York. I was only twenty-two. Once we arrived in New York, we went to gigs all over downtown, and it was just as exciting as I had imagined.
OL That's so courageous of you. At the beginning it wasn't even your intention to stay, but I suppose that was the only way you could make that kind of move.
IM I was surprised how easily we met so many artists and musicians just by going to gigs. I think we kind of stuck out, being two Japanese punk kids. People were intrigued by our presence and invited us to many different places. Eventually my friend decided to go back to Japan to start a music scene of his own in Tokyo, influenced by what he saw in New York, and I stayed.
OL I remember seeing you in the infamous film Downtown '81 and thinking you were a badass when you said "Shut up!" after Tim Wright teased you.
IM Actually that line was dubbed years later.
OL What?
IM Yes, when they decided to finally release that movie years later, the original audio had been lost and we all had to go to a studio to dub our own voices. Also, I was never that kind of tough girl.
OL There goes my projection. (laughter) It's true that I've never seen you speak like that to anybody. I'm sure you are sick of talking about that period in New York, but it's hard not to romanticize that time.
IM It was really special. I remember how everybody seemed to have so much confidence and a cool attitude that I never had growing up as a Japanese woman. But looking back now, I think many artists reinvented their identities and personas when they arrived in New York. Most of them came from somewhere else—many from the Midwest—and New York was the perfect place to escape that background and become whomever they wanted to be.
OL I too remember feeling that freedom once I arrived here. I also had that sense of relief when I moved to the States in 1993, but it was even stronger in New York. But, just like you, I never intended to stay here.
IM How many years did you live in Boston before moving here?
OL About seven years. I went to two very different music schools: Berklee College of Music for my bachelor's degree and then New England Conservatory of Music for my master's. I was so bored living in Boston by then, I just wanted to experience something exciting even for half a year before having to go back to Korea. But like you, in New York I met so many musicians quite easily right away, which gave me enough courage to stay. Now when I think about it, I really have no idea how I managed in those earlier years living in New York. I mean, the rent situation is so much worse now than it was back then. But it's almost a miracle I survived those first years as a musician.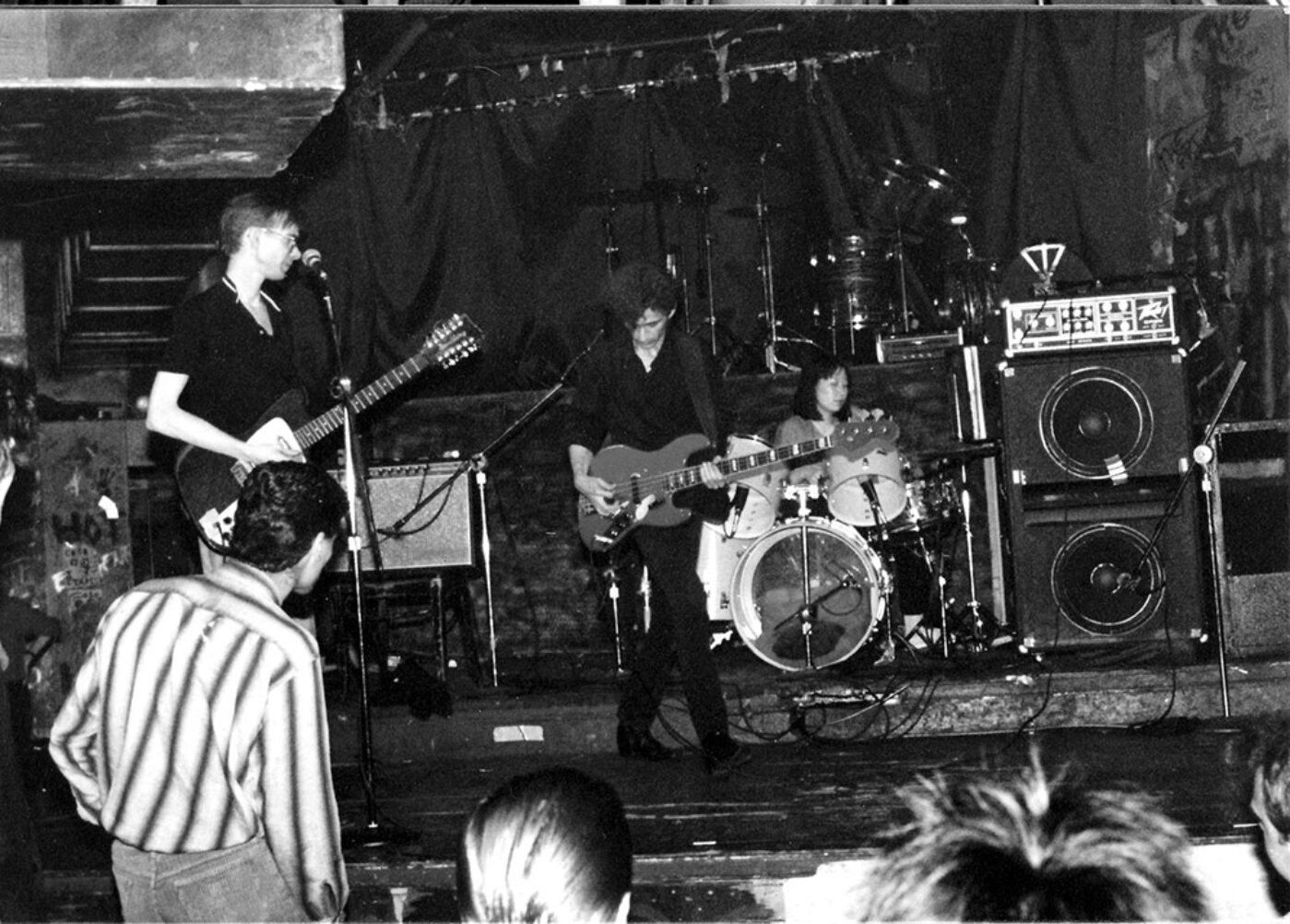 IM Did you do other kinds of work?
OL Well, I used to be ashamed to admit this, but I did lots of gigs just to pay the rent. I even did some pop stuff where I would put on a mask and become this almost empty person. Those days are thankfully over, because it was really the worst to feel that you are disposable in a way. It was a real New York experience though. I played with Rihanna a couple of times on live TV shows when she was starting out.
IM That might have been fun to see. It's hard to imagine you playing that kind of music. I also had lots of odd jobs here and there while continuing to play in bands. It was very important to have those friends and peers that helped me throughout.
OL Did you have any bad experiences as a foreigner back then?
IM Funnily enough, the first time I experienced any kind of discrimination, it came from another Asian female from the music scene—to be exact, an Asian American woman, which is a bit different, as you might understand.
OL Growing up in American culture is very different from growing up in Asian culture, where you are surrounded by only Asians, with different gender expectations and roles. I definitely know what you mean.
IM When Robin Crutchfield and Arto Lindsay asked me to play the drums in DNA, this Asian American woman was so upset and asked why they wanted to have an "illegal alien" as their drummer. She would totally ignore me whenever we were in the same space. It was quite an aggravating experience since I already had a bit of an inferiority complex being Asian. As you know, in Asia we tend to put the Westerners above us, especially among my generation born right after the war.
OL Oh yes indeed. It's a kind of racism we don't talk about, but it was definitely there when I was growing up in Korea as well. After all, we were saved by the West! Look at the manga comics we grew up with and their versions of the highly idealized Westerner—almost all white, with beautiful flowing wavy hair, long legs, and huge eyes with long lashes. (laughter) I think my head got screwed over by reading so much of that as a kid. But that really sucks that she was so mean to you.
IM Once DNA made it onto the No New York compilation album and became more known, she changed her attitude toward me 180 degrees. But then, I also met lots of other great female artists through the social scene and we became friends. Lots of my bands back then got started by asking my girlfriends to play together.
OL To be honest it's quite rare for me to play with other women even though there are more female musicians around these days. There's still quite a lot of misogyny going on in different music scenes. I'm sure you have stories to tell about that.
IM There was even an extra layer added for me being a Japanese woman—with that stereotype of being submissive. Do you remember that festival in Wels, Austria, that I curated in 2009?
OL Yes, that was one of the best festivals ever!
IM Did you know it was the first time they had more than five female musicians in the entire program?
OL What? Easily more than half of the musicians in your program were female.
IM Yes. It happened that way not because I decided to book more women musicians, but simply by inviting many of the amazing musician friends I'd met over the years who happened to be female.
OL All the sets were extremely high quality and very diverse in style. Also that was the first time I got to hear you play the drums.
IM Yes, I started playing drums again—along with the laptop—but only for special occasions. Kim Gordon asked me to play with Body/Head a few years ago, and I played drums for the first time in twenty years, which was very fun. It was good for me to find out that I could still play the drums in that No Wave way. Then Yoshimio asked me to play with her Twindrums project. We both use electronics while playing drums facing each other. It's great fun to interact with her physically and mentally. I think those two are probably the only ones I would play drums with these days.
In the early '90s, when I was performing at a festival in Zürich, I went up on the stage to adjust the drums before playing. The sound guy came out shouting, "Don't touch anything!"—the drum set was adjusted for another male drummer who was playing after me, later that evening.
OL That is outrageous! I had a similar experience while touring with the band Swans last year. Most of the house engineers at these rock venues were quite nice, but some of them treated me as if I didn't understand a thing about how to work with monitor levels. I got really pissed off.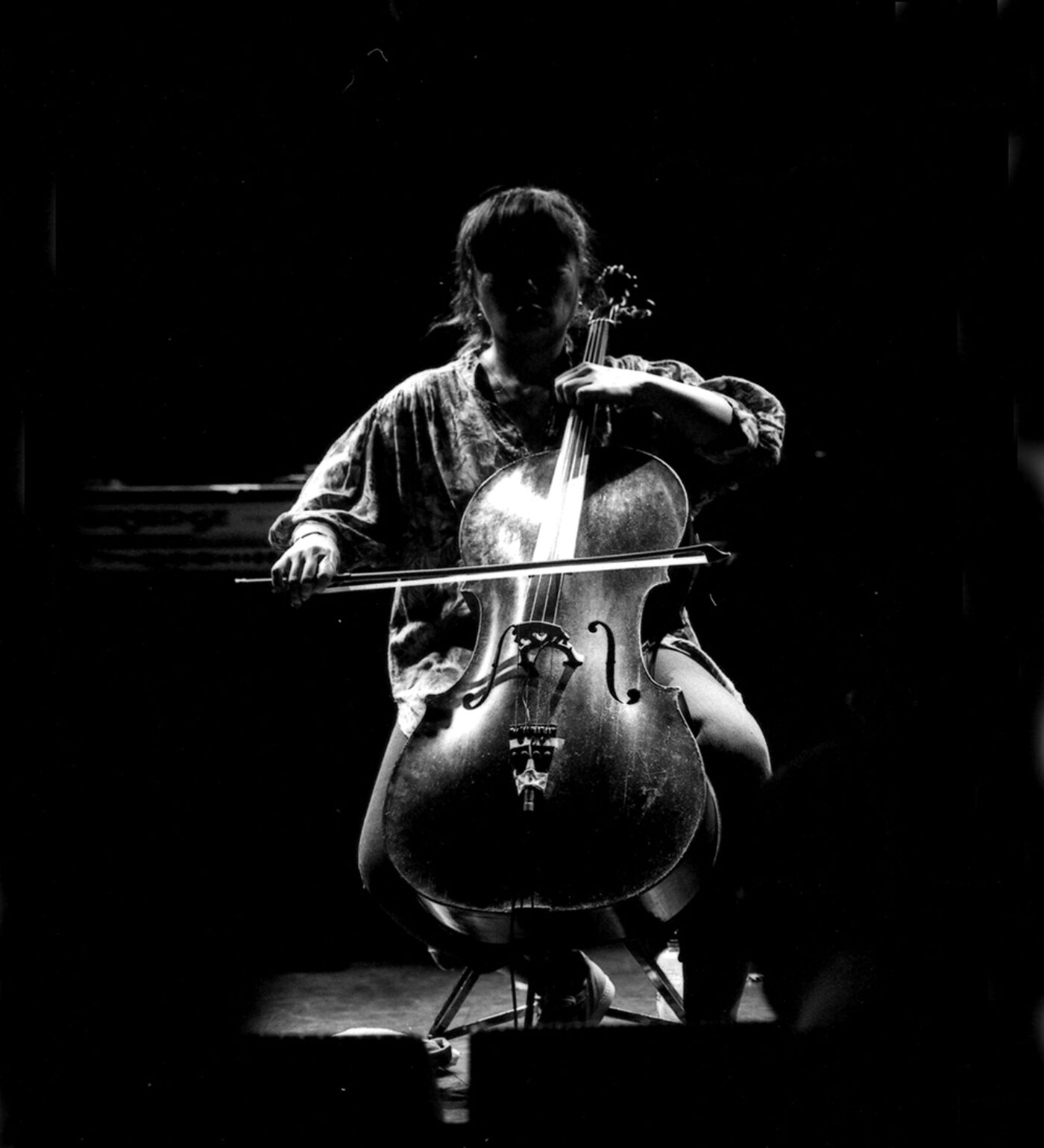 IM (laughter) You have quite a lot of anger in you.
OL My usual reaction to anybody telling me what to do is, "Fuck off." (laughter) It's a miracle how I survived as a kid in Korea. Maybe I had more anger and frustration when I was younger, but now that I'm older, I'm just disappointed. Especially now with you-know-who as the so-called president of this country.
On election night, I was in Vienna by myself. When they started counting the ballots, all the commentators were saying that Hillary had a very good chance of winning, and I fell asleep with the TV on. Then I woke up around 6 AM European time hearing the result half asleep! I thought it was just a bad nightmare. I walked around Vienna all day, and I couldn't look at anything without it intensifying my awareness of being an Asian woman and a foreigner. I felt like a real alien.
IM What do you think it triggered?
OL I think I probably felt threatened that all of sudden New York wasn't safe anymore for foreigners like me, which was very unnerving.
IM New York won't change that easily. People are fighting back in so many ways.
Would you ever go back to Korea to live there?
OL Probably not. I totally feel like a stranger there now that I've spent more than half of my life away. But in recent years I've been going back at least once a year so I can build some memories with my family before it's too late.
IM I'm sure your parents appreciate that. I also go to Japan once or twice a year to see my mother and my brother's family and my friends. I love going to Japan, but still New York is my home, period.
OL I used to feel exactly the same about New York, but these days with so much traveling and all the changes, it gets harder and harder to hold on to that feeling.
IM You have been traveling quite a bit in recent years. Don't you have some kind of residency coming up in Germany for a while?
OL Yes, I'll be doing a residency at Schloss Solitude outside Stuttgart for six months. Six months! It's a bit daunting, but I'm very excited about the opportunity to practice and think and study and figure shit out. Unfortunately it's difficult for me to do that in New York.
IM I'm curious how that will turn out for you. Surely you will get lots of work done. Luckily, I get to have my own home residency whenever I'm not on the road.
OL It's amazing you have that set up. Whenever I'm back, I'm either running around like a mad person or I do nothing and zone out. (laughter) But you really get so much done when you're in New York! On top of all the music you make, you make your own dolls, animations, and videos. And you make your own jewelry and clothes and on and on. It's like a one-woman factory. (laughter)
IM I do love making things and learning different techniques to create what 
I need for my work. I still find it fun!
OL One of many things I admire about you is that in everything you do and make, people can always sense who you really are. It's inspiring.
IM That's very kind of you.
OL I find all of your work very emotional and personal. I remember thinking while listening to one of your solo records that you could even make a line played by MIDI sound heartbreaking.
IM (laughter) I do want to express something that touches people. Not necessarily to impress them, but for the listeners to have an emotional response to what I do.
OL It's interesting because usually that's the last thing I care about—the listeners' responses. In my opinion, people will always hear it the way they want to hear it.
IM Then what inspires you to play or write?
OL When I'm improvising, it's all about the sounds and the flow right then. I just want to dig into that as deep as possible while letting things happen. That's why I'm hooked on improvisation, I think. As I describe it to some people, it's the moment when I'm constantly bouncing between the right and the left side of my brain. It's both frightening and exciting because you are in control and, at the same time, you're not. It's a bit different when I write music, I suppose, since I actually have time to ponder. Interestingly enough when I write music, I find myself more connected to my identity as a Korean. I can feel my ties to all those songs I grew up listening to. Do you also find that sometimes? I know you've written pieces based on Japanese tales.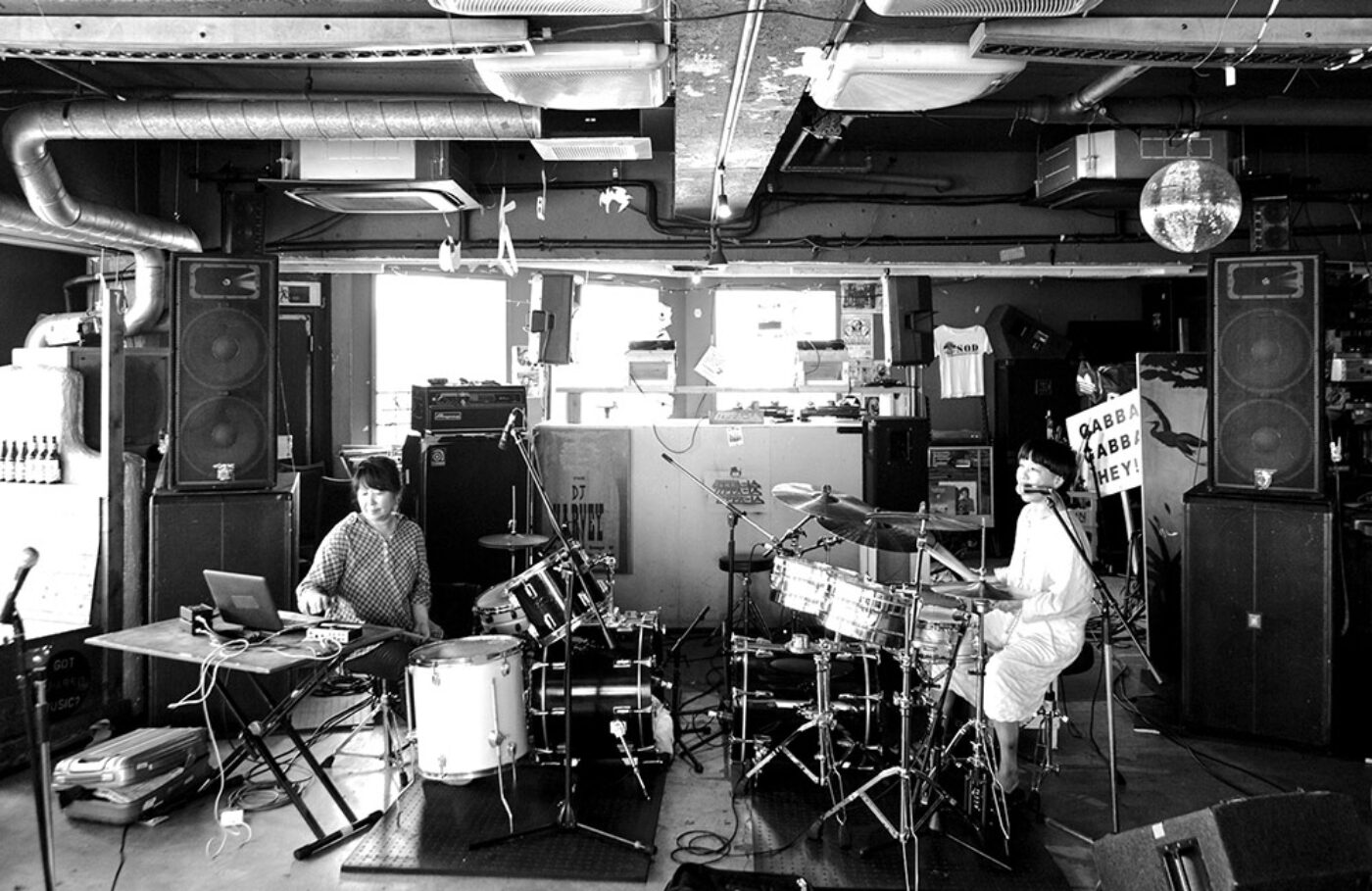 IM When I was growing up in Japan, I only watched American TV shows and foreign films and listened to music from abroad. I was never interested in my culture. Only after I left Japan, I discovered that Japanese culture was in my blood and soul.
OL I had the same experience growing up in Korea. Maybe I was more into Korean pop songs and singer-songwriters as a teenager, but I never had any interest in traditional Korean culture. Do you find it interesting that some people in the so-called West still see Asia, especially the Far East, as a place of contemplation and all that Zen stuff?
IM (laughter) I know what you mean.
OL The Asian culture I grew up in was loud and changing constantly and full of conflict. Once I remember this person from Portugal remarking that, since I was from Asia, I must have grown up very close to nature. I think I gave her quite a nasty look out of disbelief. Oops …
IM (laughter) Japan and Korea are so close and seem similar from the outside, but are really very different beneath the surface.
OL That is so true. I don't know enough about Japanese culture, but I know that Korean people can be extreme and judgmental. I myself can be quite black and white in my thinking.
IM You are indeed rather fast at making up your mind.
OL I'm not always happy about it, but it's hard to go against my instinct. (laughter) You, on the other hand, are so generous with people.
IM I always try to see the good sides of people. You are generous once you pass your hard surface.
OL Well, I only like the people I like. (laughter)
IM Do you think Korean women are more in charge than before?
OL Yes and no. Again I haven't been there long enough in recent years to know the whole picture, but I've noticed an interesting trend in Korean society, especially in the field of art or music. Most of the people who work in those fields are female, very well educated and capable, yet the bosses on top are all male.
IM It's the same in Japan. Most of the top positions are still held by men.
OL Speaking of women's relationship to power, only in the last months have I started to think more about how difficult it is for us. It was probably triggered by seeing how Hillary's campaign was covered.
IM But aren't we already strong in our own ways? We don't need to worry too much about what others perceive as strength. I don't think we can get it from outside ourselves.
OL You're right, but I feel more of this "glass ceiling" these days. But then I might be just going through my teenage rebellion stage again. (laughter) Do you remember that conversation we had a couple of months ago talking about Obelisk, your new band?
IM Remind me.
OL I was ready to interpret the group as some kind of feminist statement from you since the band has three female musicians—Sylvie Courvoisier, you, and me—who all left our home countries many years ago and found a home in New York. There's only one male musician, Jim Black. But when you said that you never had any intentions other than forming a group with good friends, I was a bit baffled.
IM Ah, yes. I remember.
OL But then later I thought about it quite a bit and realized that was how you have always lived your life—following the intentions that are true to you, period. I find it incredible that you remain that way after all these years. I think I may have become too cynical.
IM You're being hard on yourself.
As you know, I haven't had a group of my own for quite some time other than collaborations. But after playing and listening to John Zorn's Bagatelles on several occasions in the last year or so, I was so moved that I decided to start a group. You guys were just the right musicians and also dear friends whom I simply wanted to make music with. That's all. I was so happy that you all said yes.
OL I think we all felt very honored to be asked to be in your group! Again, I couldn't believe how authentic your pieces sounded even when played by us. I'm very much looking forward to getting a copy of the record. It's coming out soon, right?
IM Yes, coming out this July on Tzadik, which is pretty much the only label I've been releasing my own music on for a long while.
OL You also just released another album on Tzadik with one of my favorite musicians, the pianist Craig Taborn. I was lucky to see you two play together as a duo for the first time. It was so good.
IM Right, at the Stone improv night at the Village Vanguard. That was really fun and easy playing with him.
OL I think he has been a big fan of yours for a long time. That's a nice feeling to get that kind of respect from another musician whom you also respect.
IM Definitely.
OL I remember having that experience when I was sitting in front of six amazing musicians I gathered for this piece of mine last year at Donaueschingen Festival in Germany. I was stuck with a structure and having a hard time even forming a sentence in front of them. But then I could feel that they fully trusted me and wanted to give me their one hundred percent to make this piece a success. It was really one of the most rewarding moments of my life. It's a total cliché, but making music is all about process.
IM That's very true. It's just impossible to make meaningful music with people who are not there to give it all.
Okkyung Lee is a New York–based artist and musician. As a composer, her recent works include Cheol-Kkot-Sae (Steel Flower Bird), written for two traditional Korean musicians and five improvisers, commissioned by SWR2 in Germany for the Donaueschingen Music Festival in 2016; and still hoping for a miracle…?, commissioned by Borealis Festival in Bergen, Norway, in 2017. She was the recipient of a Doris Duke Performing Artist Award in 2015 and a Foundation for Contemporary Arts grant in 2010.
Ikue Mori moved to New York from Tokyo in 1977. Soon afterward, she formed the band DNA with Arto Lindsay. She won the Prix Ars Electronica's Award of Distinction for Digital Music in 1999. Her latest releases include a duo album with Craig Taborn and the debut recording of her new group, Obelisk.
Originally published in
Featuring interviews with John Giorno, Lidia Yuknavitch, Iman Issa, Eric Baudelaire, Ieva Misevičiūtė, Daniel Borzutzky, and more.