"It's really important that my colleagues, the filmmakers from all Yugoslav countries, turn their cameras toward themselves, so as to dissect and question what really constitutes our recent history."
In his brief filmmaking career, Ognjen Glavonić has made not one, but two works of nonfiction that defy categorization. This is an artist who never planned on making documentaries at all. In fact, his latest work started out as a fiction script about a truck driver who becomes an unwitting participant in the cover-up of a mass murder. But Glavonić, flooded with articles, documents, and tribunal transcripts from The Hague and Belgrade Special Court that recount the discovery of mass graves in Serbia was compelled to dig much deeper into how that discovery came about, in the process creating a profoundly moving ode to the silenced victims.

These gravesites located in Batajnica, a suburb of Belgrade, were found in 2001. They contained more than 700 human bodies, first exhumed from the ground in Kosovo amid the chaos of the NATO bombing of Serbia in 1999 and then transferred by freezer trucks to secret locations in Serbia, where they were reburied. At the beginning of Depth Two (Dubina Dva),we see a rapidly flowing river set against vertical walls of rock as a man's voice intones, "The police officer on duty informed me that in the Danube River, near Tekija village, a fisherman noticed an object floating on the water, something that looked like a truck's trailer box." So begins a heart-breaking postmortem about a deeply buried secret, one only revealed by the inevitable movements of nature and time. We discover that in matters like these, the evidence never quite disintegrates enough, that whatever remains through disappearance, fire, burial, and the ravages of time persists, eventually revealing itself to the generation directly following the one who perpetrated such crimes in the midst of disorienting wartime.
I first met Ognjen several years ago in Kosovo when I programmed his first feature documentary, Zivan Makes a Punk Festival, for a music film program. The 64-minute profile of a hapless music festival director and punk rock fan is as unfettered and homemade as Depth Two is flawlessly constructed. But according to Ognjen, the two films definitely have similar imperatives—what he considers essential elements of his work.
Depth Two will have its North American premiere as a selection at 2017's First Look program at the Museum of Moving Image in Queens, January 14, one of several outstanding new Balkan films that MoMI's Associate Curator of Film, Eric Hynes, discovered last summer at DokuFest in Kosovo.
Pamela Cohn You're still making the fiction film that preceded the conception of Depth Two.Quite often a fictional account is made from a documentary film or story, but rarely the other way around.
Ognjen Glavonic I started working on a fiction film called The Load seven years ago, after I discovered two articles about this case by accident. One was about a driver who had not known at the time what he was transporting. The other was about all the objects and clothes found in the mass graves. I started the script based on those two texts, along with my own childhood memories of that period.
I wanted a minimalist structure too, with one character involved in a mystery. But it's not just about this character or particular crime; it's about everything that happened, about what one does with the truth when one finds it. Since The Load is a period piece and a road movie, raising enough money to make it has been a hard and long process. As time passed, I found out more and more information, and the stories, ideas, and testimonies I had put aside started to grow and gain a voice of their own. That was the beginning of Depth Two.
PC This film presents quite a baroque story, but there's also this minimalist imperative. Can you talk about your research process in terms of figuring out what you wanted to say and how you wanted to tell it? While much of it is procedural, in the second part, you take a detour into very singular terrain, that of one survivor's testimony.
OG I wanted a particular articulation of images of desolate places juxtaposed with aural testimonies of the eyewitnesses. I didn't want to reconstruct the event itself, but wanted to structure the narrative as a sort of thriller by providing traces of the larger story. This gives the audience a chance to connect it all together, enabling the film to speak directly to their senses, imaginations, and emotions. So, the overall impression has a chance to engrave more deeply into their consciousness than any standard distribution of facts and information could ever do. We didn't want to use images as mere illustration, but rather entwine them as part of the tone and atmosphere, taking care that the rhythm of editing followed the flow of the stories.
In making Depth Two, I knew I needed to be really precise and correct, because I was so fed up with the stories we are surrounded by here, not just in my country but also in the entire ex-Yugoslav region. There's a persistent sense of competition to win the championship of who is the bigger victim. Being the victim gives you an excuse not to deal with your own crimes. So even though I'm using a story that happened in Kosovo, the responsibility for it came directly from the regime and from people still walking around the town in which I live. I wanted to approach it without trying to find some alibi or any kind of neat correlation. My film has more to do with my own surroundings in Belgrade, and in Serbia in general, than with Kosovo. It's really important that my colleagues, the filmmakers from all Yugoslav countries, turn their cameras toward themselves, so as to dissect and question what really constitutes our recent history.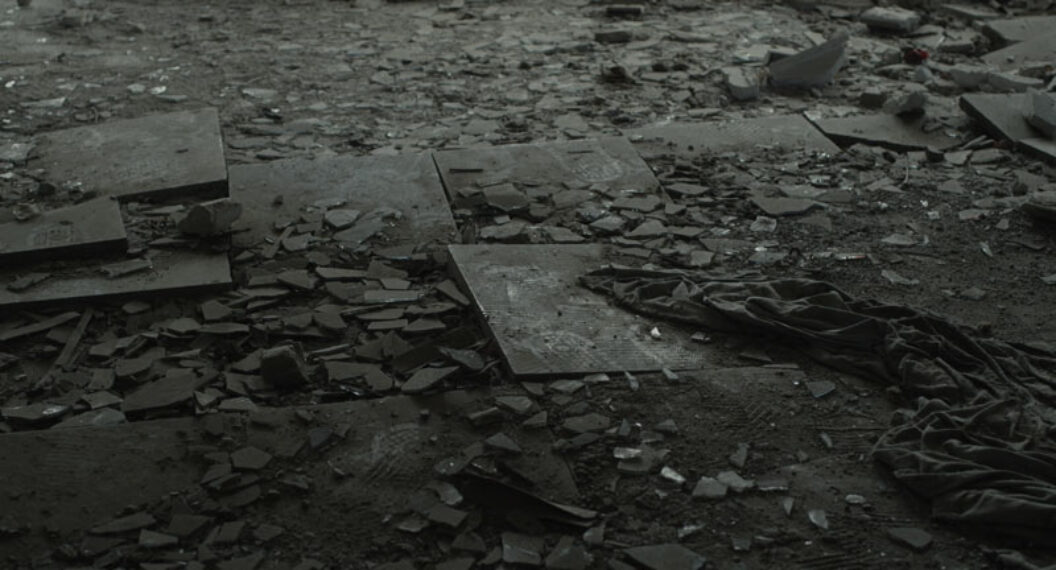 I don't believe in collective guilt; however, I do believe in the responsibility of the collective. This film is about dealing with the responsibility of a previous generation, the generation of our parents, and it's a reflection on what that does and means to our generation today. Not only did they not take responsibility for what happened, they left it to my generation as our heritage.

PC The entire journey through the film becomes one of constant discovery for the viewer, moment by moment, as pieces of what happened come together. Is this mode of discovery similar to your own, as you collected more and more bits of information?
OG Initially, I only had access to this material through transcripts, and I read a ton of them. Only after I conceived the film did I actually hear the voices and see the people on the recordings. And even though I never planned to make this documentary, I started to dream some of these stories I was reading. They started gaining presence in my imagination. I started seeing the river and the mountain landscapes where the truck bed was found floating on the Danube.
We shot for only ten days, but the edit took eleven months because, eventually, we ended up with around 350 hours of testimonies. One of the producers of the film, the Humanitarian Law Center, has the entire archive of the Hague tribunal. We received around 400 DVDs of video material related to the case. There were testimonies from three separate trials between 2002 and 2011, and the technology changed a lot during that period, so the sound quality improves over time.
I first envisioned this film in black and white, and with much longer shots. But I kept uncovering material and couldn't see making something that experimental in this case. I needed a strong narrative, strong structure—that's the only way to tell it within the right amount of time. I counted on finding people who would speak out and then basing the film on their stories. But the only person who would speak to us was Marko Minić—a man present at the exhumation sites near Belgrade. When I realized no one else would speak to us, I decided to go to all the places connected to the crime and see them. One reason for this was very practical—to scout locations for my fiction film. The cinematographer Tatjana Krstevski and producer Dragana Jovovic are working on The Load, as well. We went on our shoot without really knowing what kind of film we were going to make.
Really what set things in motion was finally getting permission from the Defense Ministry in Serbia. They gave us access to the special units police base where the mass graves were located. They gave us a specific date and time, and that was all we were allowed. This forced our hand before I even had the film figured out. We shot there the same day we interviewed Marko.
PC There are parts of Kosovo that, disturbingly, still look like they did right after these events occurred. These are the only existing "monuments" to what happened—in other words, no discernible monuments at all. You see things built around these locations, but somehow certain spaces are disintegrating in real time, maybe until whatever remains is completely reabsorbed into the earth.
OG In Belgrade also.
PC In terms of audio, you very carefully curated the voices, since you had enough material to realize a narrative in myriad ways. Can you talk about the middle part, consisting of the only female voice, as well as the only victim? Her testimony is particularly bone-chilling because it's so specific, even though we understand her story is representative of many similar stories. She tells us the people involved in her persecution, and that of her family, were people she grew up with, people she knew—neighbors and acquaintances.
OG Upon reading her transcript, we realized Shyhrete Berisha's testimony would be the heart of this film. All the other stories would have to surround hers. I'm interested not only in the narrative—what happened, when, and how—but also in the particular voice, the small details, background sounds.
The places where these crimes happened look similar to one another, and they are similar to that place of connection between them all—the mass graves. Every location leads there. Every story ends there. In many of these places, even today, there are no signs, no monuments, as you said, no indication of what happened, even at the spot where the mass graves were found.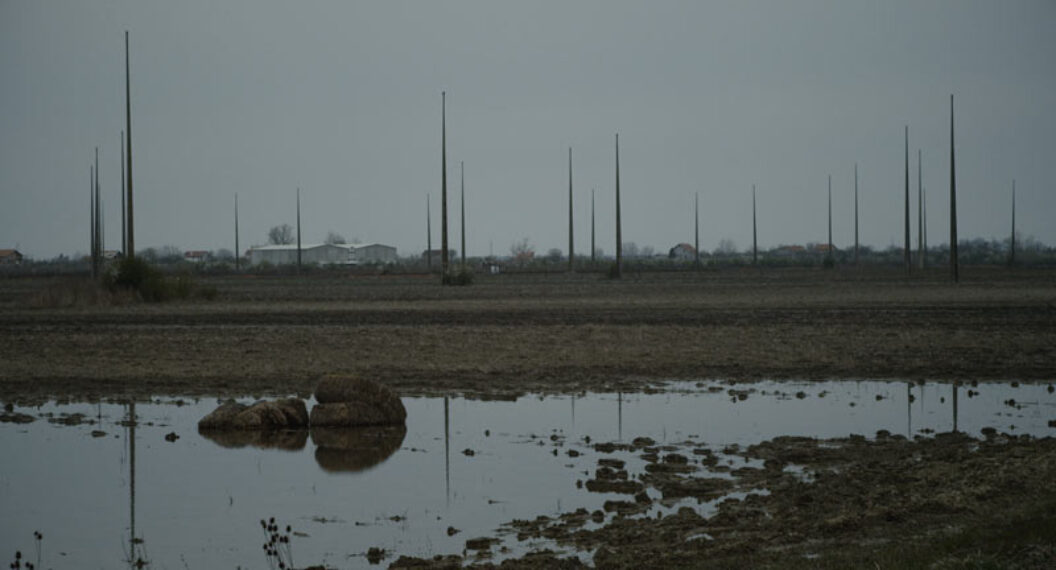 The storytelling is as important as the story, so when I discovered these voices, I then figured out how I was going to make the film. The viewer is asked to be my co-conspirator. The film is a seed. You are the soil and if it grows, it becomes a part of your imagination, and then you must decide what to do with it.

PC The evocative way you end the film speaks to that idea quite literally, and it's also a distinct stylistic shift as all the voices drop away and we enter a more experimental realm. But this is also where we see pictures of what we've been conjuring in our heads based only on descriptions of what we've heard. We see things in such close-up that they take on a near-abstract quality. The wound is so far from healed; it's still wide open.
OG Yes, yes, exactly. I needed something concrete and graphic as an anchor to the more abstract elements. That's why we used real objects and clothes dug out of the pits, showing them only after you had time to imagine them going through water, fire, and burial, what the passing of time has done—to imagine the people to whom all those objects and pieces of clothing belonged.
This is the story of a regime trying to bury the truth, to bury the fact that these people were ever alive, that they existed. The civilian victims today are forgotten, completely ignored. The way in which I shot the end is meant to speak about them in a different way—not to use them in daily, para-political quarrels, as victims are often used here whenever some politician feels like competing with another. The point is to give them a voice while not denying or stripping them of their truth. In Kosovo, this is also important because not many people know about this story. When we showed this for the first time in Prishtina, Shyhrete Berisha was there and the only thing she said in response to the film was, "Now I know that I am not forgotten."
I owe an incredible amount to my editor, Jelena Maksimović. One of the early versions of this film was five hours, full of archive material, with a lot of politicians speaking. But we made a list of rules that we decided to obey. One was to only use the voices of the people who saw these things with their own eyes, touched them with their own hands—the ones without any reason to lie.
PC Let's circle back to this notion of collective responsibility. Even though you had read through the testimonies and knew the case well by then, here you and Jelena were, two Serbs, sitting with all this material, day in, day out for close to a year. For you, what precisely is this legacy you referred to before, this burden that's been left to your generation to deal with?
OG This film goes against the already institutionalized way of seeing things and the institutionalized logic behind all the things that happened in the '90s. All the countries created from this war were created based on similar crimes. When you speak about something that not a lot of people want to hear or that the country did its best to hide, even when you speak about empathy in these circumstances, it is considered a rebellious act—even a blasphemous one. This film is a fight for a new kind of logic and a kind of communication that is not common or very visible here, not just in daily politics and public life, but also in art and education. But I should say I didn't necessarily think about all this when I was making the film. I never try to directly articulate my own intuition and obsessions. That kills the adventure. Yes, being ethnically a Serb and making this film is a political statement, but it's precisely a statement about ethnic divisionism, nationalism, the myths, and resultant destruction and hatred installed and perpetuated in my lifetime.
As times goes by, I hope people realize the responsibility for the reality in which we live cannot lie only in what "others" have done to "us." The process of mending bridges and relationships broken in blood is the legacy that has been left to us by the previous generation, a generation that avoided even talking about responsibility for their actions. When you deal with these stories that are really heavy, you need a logic that is not layered with nationalism or personal interest that lives within this nationalistic point of view.
PC What remains then from this uncovering is the truth that cannot be denied. While you set the challenge to the viewer to participate, you do present an airtight narrative.
OG I feel that every film I make is a chance to speak about the stories I consider forgotten or suppressed, about the processes around and inside us that are not necessarily visible. The unearthing of these truths is now more relevant and important than ever, because these events happen when fascism is allowed to blossom. It always leads to the pits, to the unmarked graves. It's important to say what that does to humanity. It is possible to shake up, if not defeat, accepted logic with facts, with the truth. The only way to fight back is through the patient and persistent explanation of truth.
Pamela Cohn is a filmmaker, writer, programmer, and documentary consultant currently based in Berlin.