Offering a World: Garry Winogrand: Color Reviewed by Gideon Jacobs

Discover MFA Programs in Art and Writing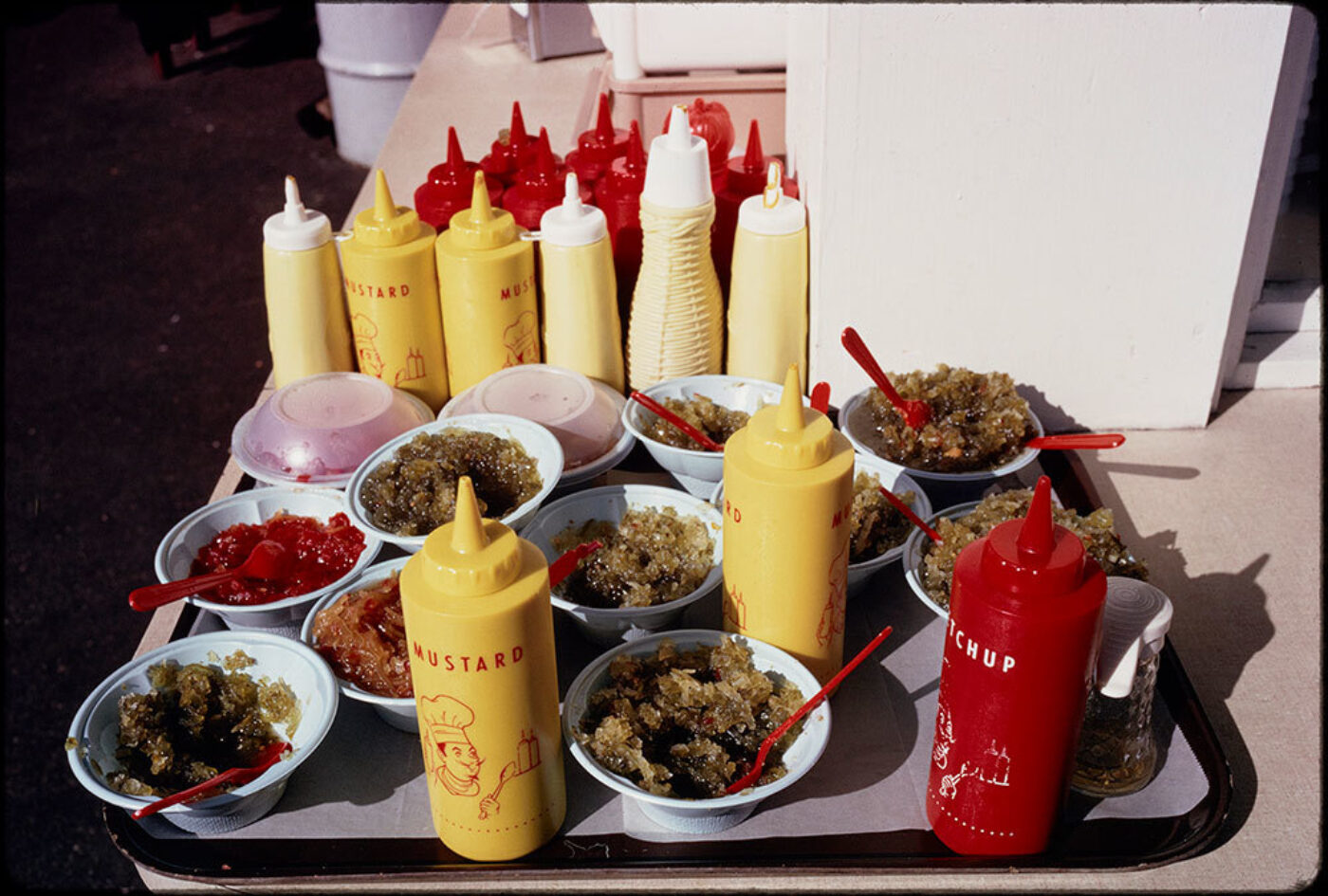 Photography, a minimalist medium, silent and still, can help us cope with reality's too-muchness. It is a process of strategically freezing the perpetual motion of time and space in hopes of organizing the disorganized and grasping the ungraspable. This is part of the pleasure of images, which are essentially bite-sized pieces of an experience that is difficult to swallow whole. Photographs resemble what is inherently unwieldy, chaotic, and boundless, and yet we can hold them in our hands and stare at them for as long as we please. They look like the world but are not what the world is like, and it's usually this uncanny incongruity that gives them their value.
Photographer Garry Winogrand once said, "The world isn't tidy; it's a mess. … I don't try to make it neat." It's a candid, straightforward statement of intent—Winogrand didn't really have another mode—that speaks to his instinct to resist photography's minimalist nature. The camera's most basic function might be to simplify, but Winogrand saw its potential to capture the complexity of the "mess," and this mentality is on full display at Garry Winogrand: Color, currently on view at the Brooklyn Museum.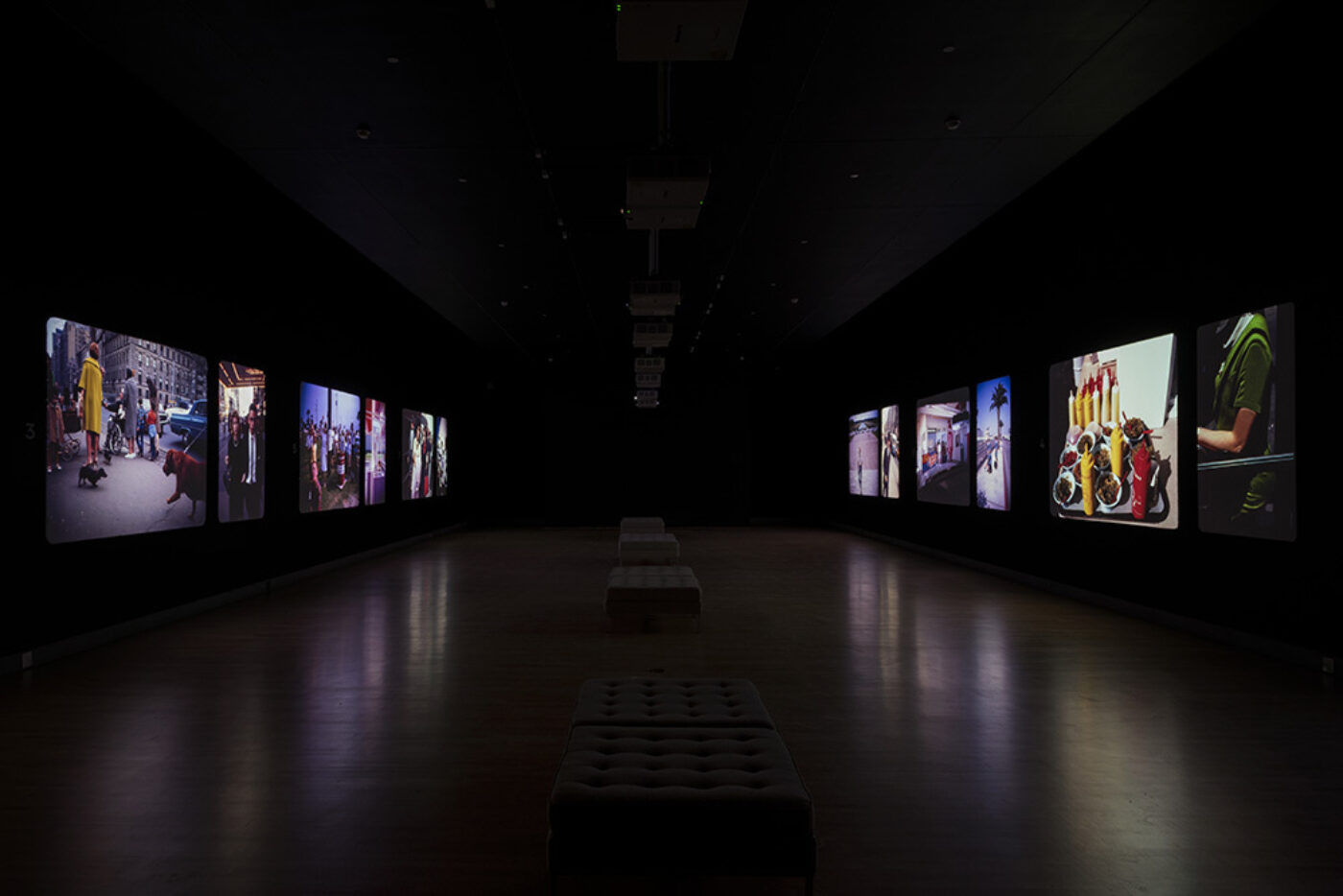 The main event of the exhibition is a large, dark room housing sixteen projectors organized into pairs. Each of these pairs is comprised of a slideshow of horizontal photographs and a slideshow of vertical photographs that share a theme but play at staggered cadences, meaning that a viewer who spends hours at the show will likely never see the same complete arrangement twice. In total, there are 425 images cycling in the room.
It's a lot of pictures, a quantity rarely encountered in an exhibition; but considering that Winogrand was a compulsive shutterbug—one of his wives famously said it was "like being married to a lens"—who made millions of images in a pre-digital era, presenting his work in volume feels true to his creative premise. Winogrand's eye was democratic, egalitarian, almost undiscerning. His practice was anti-hierarchical: "All things are photographable," and, "No moment is most important." His creative drive was relentless; as a result, isolating his photographs by hanging them on big, white walls in a highly curated manner can sometimes feel like a mismatch of spirit. This is what makes curators Drew Sawyer, Michael Almereyda, and Susan Kismaric's decision to avoid the preciousness of a small edit of prints such a powerful choice. Stand in the darkness of Garry Winogrand: Color, open up your peripheral vision as the projectors whir, and you just might feel a little overwhelmed. If that's the case, the curators have succeeded.
This effect of soft visual overload is only emphasized by the other defining element of the show: the Brooklyn Museum's collection of classic black-and-white Winogrand prints. Although these photographs give the projections of color work context and contrast, it's the exhibition's only misstep. While in most curatorial circumstances, "less is more," here more would almost certainly be more. The space afforded to Winogrand's well-known street photography should have been used to add more projectors, more photographs, more, more, more of Winogrand's Kodachrome world.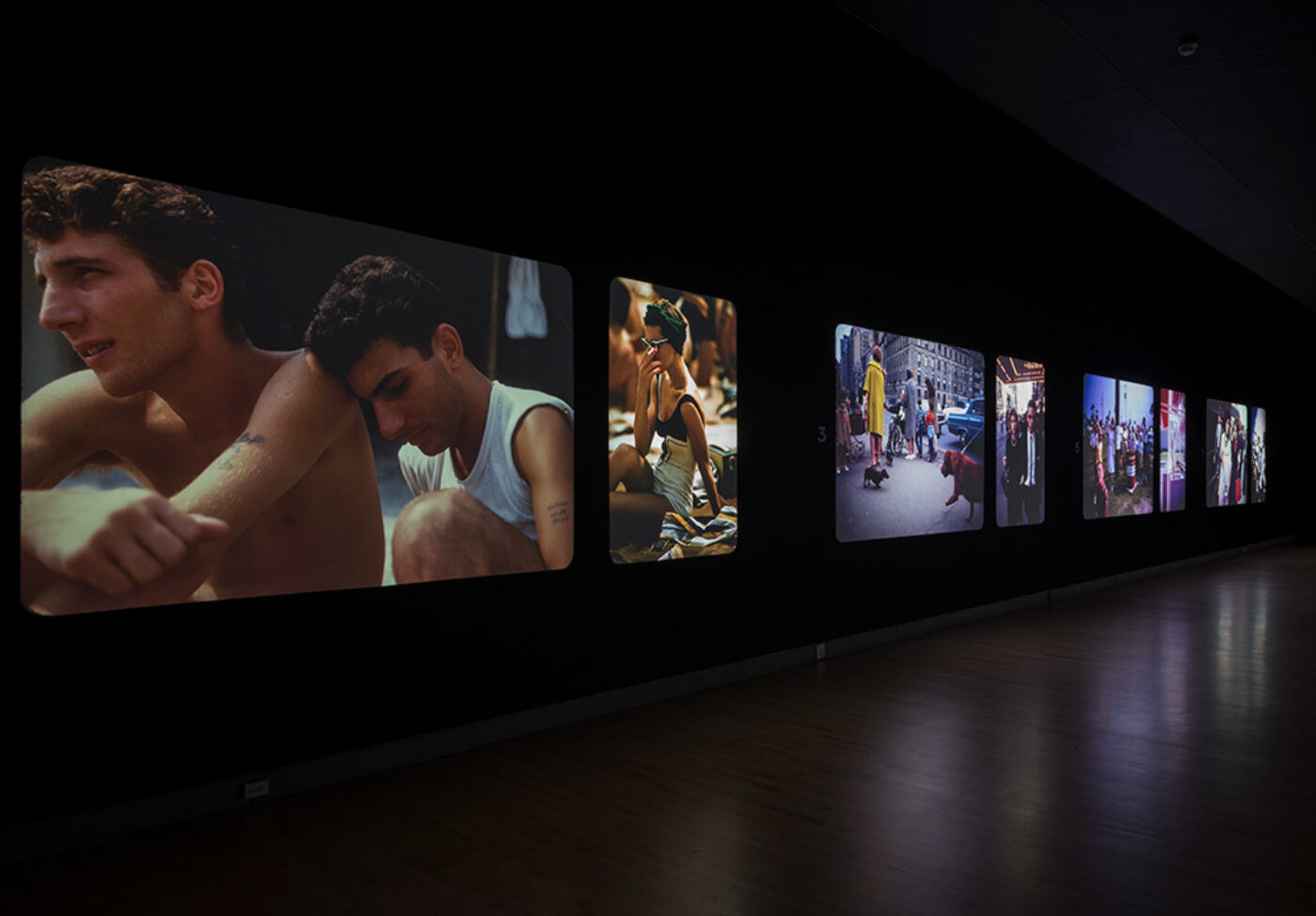 It's worth noting that a majority of the images on view have never been seen. When Winogrand died, he left behind thousands of unexplored negatives and thousands of undeveloped rolls of film. It's estimated that he himself never saw a quarter million of his photos. This is usually talked about as if it's a little tragic or bizarre, but, if anything, it's simply an indication that we cannot employ the usual rubric when assessing this work. It wasn't just that Winogrand was so process-oriented that the product was sometimes relegated to an afterthought. It was that he was trying to take good pictures, not make good pictures. That is to say, Winogrand was his medium's epitomic modernist—while others offered images of the world, he offered the world.
It's a subtle but important distinction, one that Garry Winogrand: Color, with its quiet onslaught of stunningly vibrant photographs that Walker Evans would have deemed "vulgar," seems to recognize. The projectors roll through their sequences, the horizontal photographs changing every eight seconds and the vertical photographs every thirteen, and the result is a small, ordered universe that hints at a bigger, disordered one. The result is a show that appropriately presents Winogrand as more than just his medium's champion of the street, but as one of its most ambitious and prodigious conceptual artists, a kind of quotidian photographic genius.
Garry Winogrand: Color is on view at the Brooklyn Museum until December 8.
Gideon Jacobs is a writer who has contributed to the New York Review of Books, New Yorker, Paris Review, Playboy, Los Angeles Review of Books, among others. Previously, he was creative director at the storied photo cooperative Magnum Photos. He is currently working on his first collection of short fiction.