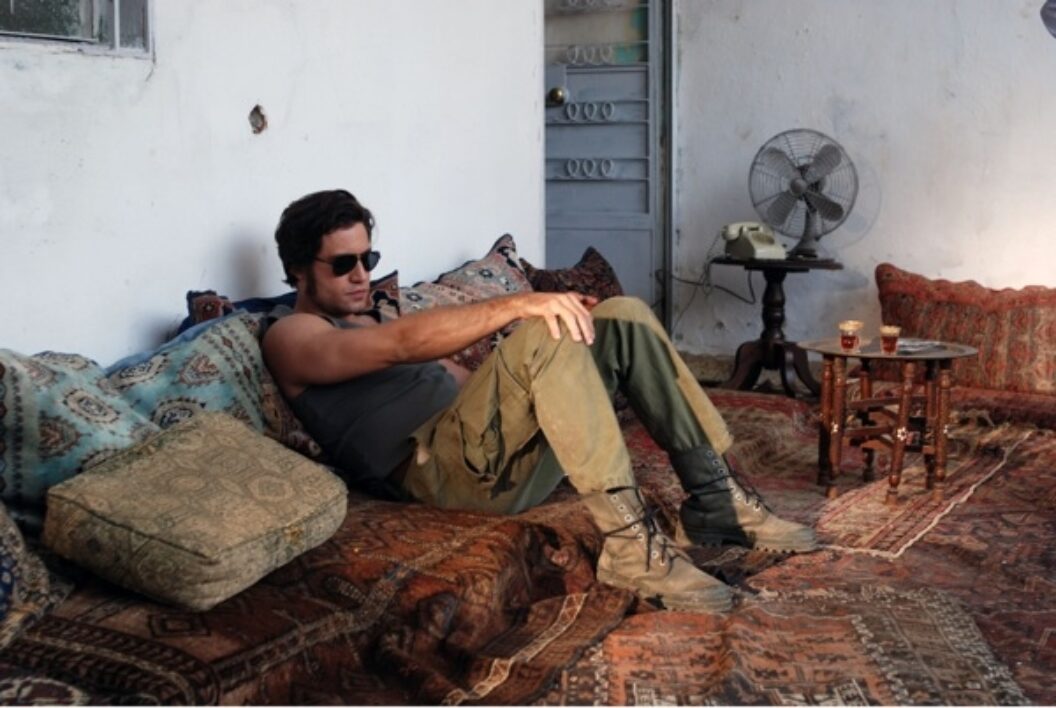 Zachary Block and Olivier Assayas discuss Assayas's new film, Carlos. The film tells the story of Ilich Ramírez Sánchez, otherwise known as "Carlos the Jackal," a man whose violent history was twisted and erased by the political climate of his time.
Carlos, the most recent project of César nominated filmmaker and former writer for the Cahiers du cinema Olivier Assayas, is a massive 5½-hour miniseries coursing the bloody career of Ilich Ramírez Sánchez, also known as "Carlos the Jackal." Charged with the task of telling a comprehensive story of a historical figure for whom there really are no comprehensively documented—or verified—histories, Assayas confidently and assiduously weaves the thin warp of evidence through the much thicker weft of rumor, fantasy and guesswork to create a vexing, difficult film that is almost a complete success. Instead of subjecting his viewers to contrite moralization, he scores scenes of violent terrorism to a super-cool post-punk soundtrack, and tells Carlos' story from what Assayas terms "his point of view," a story that caters to the hubris of its real life protagonist as much as it indelibly captures it.
I had the opportunity to interview Olivier Assayas in a busy lounge in Alice Tully Hall, just upstairs from the clamorous tumult of the New York Film Festival's ninth day of screening.
Zachary Block When did you first become interested in the project, what was its germination?
Olivier Assayas Well, that's a long story. It starts two and a half years ago when this French TV producer, Daniel Leconte, comes to me with two pages about how Carlos was traitored by the Sudanese to the French against satellite images of the positions of the guerillas in the south of Sudan — because they had this really brutal war going on at that time. Ultimately, the information proved wrong and it's very unlikely that he was traitored against those images, though we did not know it at the time. Still, I was not exactly interested because this was completely seen from the point of view of French bureaucrats and it was very much a small scale French DV movie with some elements of dialogue with Sudanese officials. But the project came with research that had been done by an American-French journalist, Steven Smith, who had gathered most of the available information on Carlos and I started looking into it and I thought it was amazing, so I came back to Leconte and said I'm not exactly interested in the project as you present it, but if you are into trying to figure out a way of telling the story of Carlos from his point of view then that's something that I think is exciting. I didn't understand why it hadn't been done before, so that was the starting point and it ended up evolving from there.
ZB Your film devotes approximately three minutes of screen time to the origins of Carlos' political ideology: a decision which could be described as judicious, economical or timorously prevaricatory. Why did you choose to gloss over most of his history before 1975, before moving to Europe?
OA You know, this is the central trilogy, I'm working on the prequel trilogy. (laughter) No, it would have been a film on its own and this would have been getting into some kind of biopic territory. And this is not a biopic: it's focusing on a very specific moment of the activity of Carlos, from the moment he is hired by Wadie Haddad for the FPLP, to the moment he is arrested, and it's built in fairly simple, big chapters, each focusing on one specific moment. I don't think I would have actually been able to devise the dynamics of a narration of Carlos' early years.
ZB In the film, Carlos tells Lebanese journalist and poet Assam El Jundi that Communism is in his blood: Ilich became active in Venezuela's communist youth movement at the age of ten, under the influence of his father, a Leninist lawyer, who named his sons Ilich, Vladimir and Lenin, and sent the future Carlos to Patrice Lumumba University in Moscow — an association which would eventually lead to widespread speculation that he was a lifelong Soviet agent, something touched upon briefly in the film, which I think you did in a really interesting way: it's never directly implied that he was a double agent.
OA Exactly.
ZB And you depict the speculations in the film without actively speculating.
OA You know, it was the only way to do it because, to this day, I just don't have the correct answer. It's discussed by the Hungarians the way they more or less discussed it and it's as far as one can go. When the KGB files were opened, briefly at one specific moment in the early 1990s, we learned that he was expelled for misconduct from the university. But it's pretty obvious that it's the best possible cover. I never really bought that the real KGB were out for the western states to analyze, I've never really bought that Carlos' file was Carlos' true file or that he could move in the Eastern Bloc as freely as he did, without having some kind of KGB connection. And also, Wadie Haddad is notoriously a KGB agent, but you can't establish it, you can't prove it, and there's not even any solid evidence for it, so you know, it's up to speculation.
ZB Have you heard the story that after the El Jundi interview, Carlos went to his house, held a gun to his head and threatened him?
OA Where did you read that?
ZB In the John Follain biography.
OA That's interesting, I hadn't heard that.
ZB Though a massive, five-and-a-half hour miniseries can potentially relay more information than a mere two-hour feature, the expanse of its canvas is relative to that of the collected body of work on Carlos. As you seem to concede in the film's opening placard, it has shed little light on the true nature of Carlos' undocumented dealings in Northern Africa and the Middle East, rendering the film, to some extent, self-consciously conjectural. You talked a little bit about Steven Smith as a primary resource, but I'm wondering if there were any sources for mythology.
OA No, there's a disclaimer at the beginning of the film because there has to be. Obviously there's a legal side to it, it was more or less written by lawyers. I was extremely clear that I wanted a disclaimer at the beginning of the film from the start, because it was as close as we tried to get to the reality of fact and we can get pretty close at specific moments. There are witnesses and there have been very precise accounts but still there are blind spots and there was stuff that you could not research because you will never have access to the files of the Syrian secret service, so you have to assume what could have happened, you have to sum up in a couple of scenes the relationships between the Syrians and Carlos. But it's not factual; it's not as factual as, for instance, the dialogues with the Hungarian Secret Service or the dialogues of Johannes Weinrich with the Stasi because those were recorded. You know, we have transcripts. I did not want to mislead the audience because it's a mixed bag: some stuff is very precise and researched, and some stuff is made up because I had to fill in the holes so I wanted to be very clear about it. We are in a very weird position with this film because ultimately a lot of is more accurate, more precise, more thoroughly researched than most of the Carlos biographies available on the market. So that's a factor in the film, but I did not want the audience to be misled by that element into all of a sudden thinking that everything has this kind of scientific precision. This is a long film, it has to be entertaining for the audience, it needs to have the kind of pace that kind of keeps the audience awake and of course there are specific moments when I have to condense the narrative because you cannot go into all the details of the dealings of Carlos in the 1980s, trying to coordinate 20 different operations in 20 different countries.
Carlos plays on the Sundance Channel October 11th–13th and will open at the IFC Center on October 15th.
Zachary Block is a writer based in New York.