Noisemakers Featuring Talib Kweli At 92YTribeca by Matthew Goodman
On first impression, Noisemakers was simple, a sort of a homespun, basement version of Inside the Actor's Studio.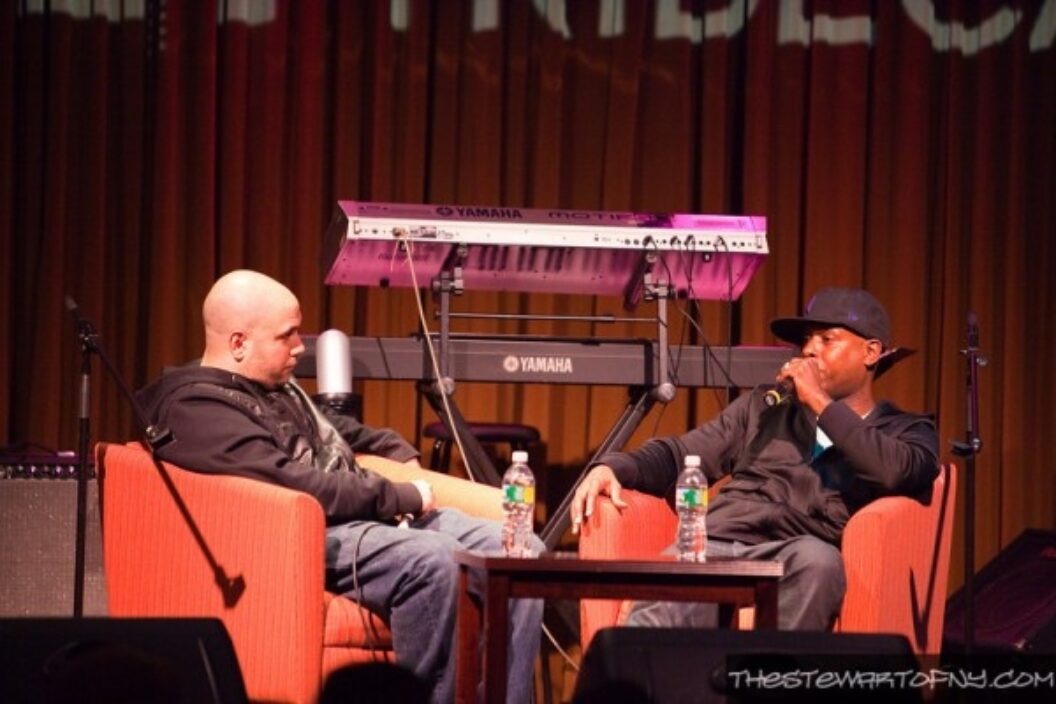 On first impression, Noisemakers was simple, a sort of a homespun, basement version of Inside the Actor's Studio with a capable house band seemingly composed of friends from the neighborhood and an audience that was a realized, ideal American concoction: young, congenial, multiracial, and from a spectrum of educational, employment, and economic backgrounds. But if the format of the event was simple, it was equally compelling and brilliant, rivaling if not surpassing intellectual and cultural discussions hosted by the city's most revered institutions.
After previously welcoming artists such as Q-Tip, ?uestlove, and DJ Premiere, Peter Rosenberg, the host of Noisemakers and Hot 97.1's opinionated, occasionally crass, politically and socially aware DJ welcomed Talib Kweli, a definition defying lyricist about whom hip hop god Jay Z once reverentially rapped: "If skills sold, truth be told, I'd probably be, lyrically, Talib Kweli, truthfully." A Jewish hip-hop savant, on air Rosenberg holds no punches, and he can sometimes come across as a provocative, precocious little brother with a touch of Asperger's Syndrome. However, in the format of Noisemakers, Rosenberg demonstrated that not only is he a music fan with an encyclopedic knowledge of hip hop music, but he is a deeply critical thinker who believes in the larger social significance of music and the celebration of its roots as well.
As for Talib Kweli, much has been made of the fact that as a Brooklyn-born and -raised rap artist, he is the son of two college professors who was educated at the esteemed Cheshire Academy. But as the discussion progressed, it was clear how little that said about him as an artist and how much that said about him as a man. Humbly rejecting Jay Z's assertion, Kweli said that he was not the most talented lyricist and listed others who's talent far surpassed his own. If Kweli was right than what his discussion with Rosenberg highlighted was that Kweli's success was a product of rigorous study, diligence, and focus on his craft. In other words, Kweli is an incredibly gifted student; a characteristic that would have guaranteed success in any endeavor he selected.
At one point in the evening, Rosenberg and Kweli conversed about obscure, unreleased mix tapes with little known dj's and lyricists. The audience was noticeably detached. But their detachment was a product of awe. How was it that Rosenberg and Kweli knew so much? The answer is simple. Rosenberg and Kweli's conversation was a discussion between geniuses. Thus, the audience's confusion, like the rest of the night, was a gift; for, although we live in New York City, a cultural and intellectual mecca, it is not everyday that one has the privilege to witness gifted thinkers too excited about their art form to contain their acumen and dumb their discussion down for the sake of the rest of us.
Matthew Aaron Goodman is a writer/author living in Brooklyn. His most recent novel, Hold Love Strong, was published by Simon and Schuster (Arpil 2009). His website isholdlovestrong.com