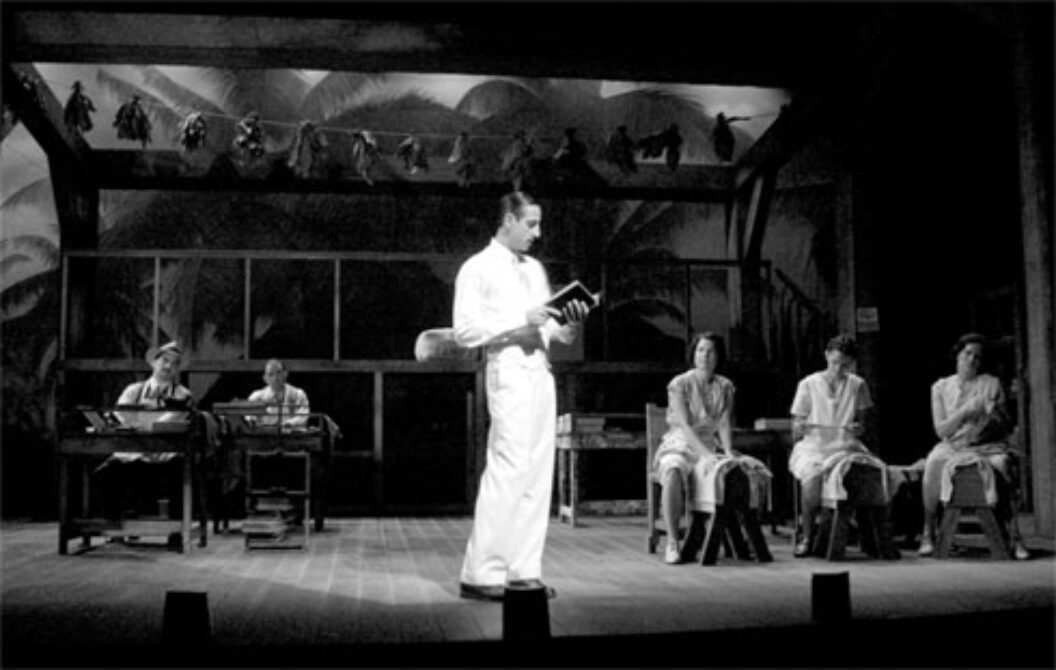 Nilo Cruz and I recently found an hour to sit down with a tape recorder in my office at the McCarter Theatre in Princeton, New Jersey. Anna in the Tropics, Nilo's latest play, had opened our new Roger S. Berlind Theatre a few weeks earlier, though we were still rehearsing and fine-tuning it before it moved to New York. The interview gave us a rare moment to have a cup of coffee together, relax and just talk.
It has been nearly ten years since I was introduced to Nilo's work by McCarter's dramaturg, Janice Paran, and Loretta Greco, who was then McCarter's associate director. They had urged me to consider commissioning something from him for a festival of new work we were planning. I'll never forget the moment I started to read Night Train to Bolina. From the first words of the play, I was stunned by Nilo's language. The writing was honest and searingly alive. This was a writer, a real writer, who had an absolutely unique playwright's voice. We immediately commissioned him to write a one-act play, and that was the beginning of a long association between Nilo and McCarter. He expanded the one-act into the full-length play A Park in Our House, which became the centerpiece of our 1995 festival; another short play commission turned into another full-length play, Two Sisters and a Piano, which premiered on our main stage in 1999. This year, while looking for a special project to inaugurate the Berlind Theatre, we read Anna in the Tropics, which had just opened at the New Theatre in Coral Gables, Florida. Set in a Cuban-American cigar factory in 1929, the play tells the story of a "lector" who is hired to read aloud to the workers, and what happens when the novel he chooses—Tolstoy's Anna Karenina—begins to seep into their lives. I had been waiting for an opportunity to direct one of Nilo's plays myself, and this one seemed a perfect fit, so I took the leap. We soon had even more cause for celebration when Nilo was awarded the 2003 Pulitzer Prize for the play, and Roger Berlind, the Broadway producer for whom our new theater is named, decided to bring it to Broadway following its McCarter run. With a brilliant all-Latino ensemble cast of actors led by Jimmy Smits, Anna in the Tropics opened in New York in November at the Royale Theatre.
The following interview took place on October 8, 2003.
Emily Mann Did you see the show Sunday night? What do you think about John [Ortiz, who plays Palomo] being there at the end of Act One, at a completely different time?
Nilo Cruz The audience was really taken by it.
EM I think it works now. It totally changes the focus. Of course, it depends on what you want. After this we should talk about it. But for the first time, I liked it.
NC It brought a certain kind of tension.
EM Yeah. So let's talk about your journey as a writer, and then what our working together was like. How playwrights and directors can work together when it's a good connection. But first, I have to ask: Has your life changed since you won the Pulitzer Prize?
NC (laughter) Yeah, it has changed a lot. I used to be a very private person, and now I'm more of a public person. I haven't had any time to write since April, when the award was announced. I haven't been able to work on the plays that I was writing before I got the award. Everything has been about Anna. And of course I've also had three productions going on, so—
EM So you might not have had any time anyway; you've had to shepherd all three productions.
NC Completely. And this summer I also had a production of a new text: Lorca in a Green Dress.
EM You've been going nonstop, dealing with the fruits of your writing labors. But on top of that, what did the Pulitzer do that changed your life? Did all the interviews, all the people wanting to know about you, eat up your time?
NC People want to put a face with the name; there's a lot of interest from theater journals, but also within the Hispanic community, the Latino community, or whatever you want to call it—
EM I was going to ask you, what should we call it?
NC Let's call it Latino. That's the way to do it. They're so proud that someone from the community has won the Pulitzer. I'm the first one to win it in drama. So again, I think they want to know, Who is this person behind the plays? Who is this writer? I've been responding to that and doing a lot of interviews.
EM Do you feel a sense of responsibility to the community, more than you used to?
NC I can only respond as an artist, because that's what I am. I'm not going to become a politician all of a sudden. I am a politician in terms of the plays that I write, the way I embrace culture, the way I embrace characters that, in my particular case, have to do with the Latino world. And I embrace the Latino experience. For instance, Anna in the Tropics documents the presence of Spaniards and Cubans in this country in the late 1800s and early 1900s. I thought it was important to write about that.
EM That was your starting point, right?
NC Yes. I knew there was a group of people who came here then, not just as immigrants but also as exiles. Some of them were controversial in Cuba because they were fighting for Cuba's independence. If they had stayed there they would have been killed. We have to remember that Cuba was the last colony to be liberated from Spain. Ybor City, where the play is set, was named after Vicente Ybor, a Spaniard who had a cigar factory in Cuba. He was in favor of the island's war against Spain, which made him very controversial. Some of these folks came to the States and started a new life, but with the hopes of returning to Cuba and fighting the war.
EM When did you find out about the lectores, who would read literature out loud to the cigar factory workers?
NC I found out through my father.
EM So you knew about this for a long time.
NC I have known about the lectores since I was a teenager. Much later on, when I was in my twenties, I read about José Martí, Cuba's greatest poet, reading at one of the tabaquerias, the cigar factories, in Tampa, and I thought, I would like to write about this one day.
EM Oh, I didn't realize it was that connected to Martí.
NC When I started writing the play, I thought I was going to set it in the late 1800s. I thought it was going to be more historical, more political. That was an exciting time, when Martí went into those Tampa factories and created a brigade to go fight for Cuba's independence. But then I thought, It's too much—it was so much information. I didn't know how to sculpt that kind of play. I thought that my initial idea of concentrating on lectores would disappear, that it would become too much of a historical play.
EM I think it would have.
NC In doing the research I discovered that in 1929, at the beginning of the Depression, the lectores were the first ones to be fired from the cigar factories. I thought, This is the time to set the play, just as the factories are being industrialized. Just on the brink of change.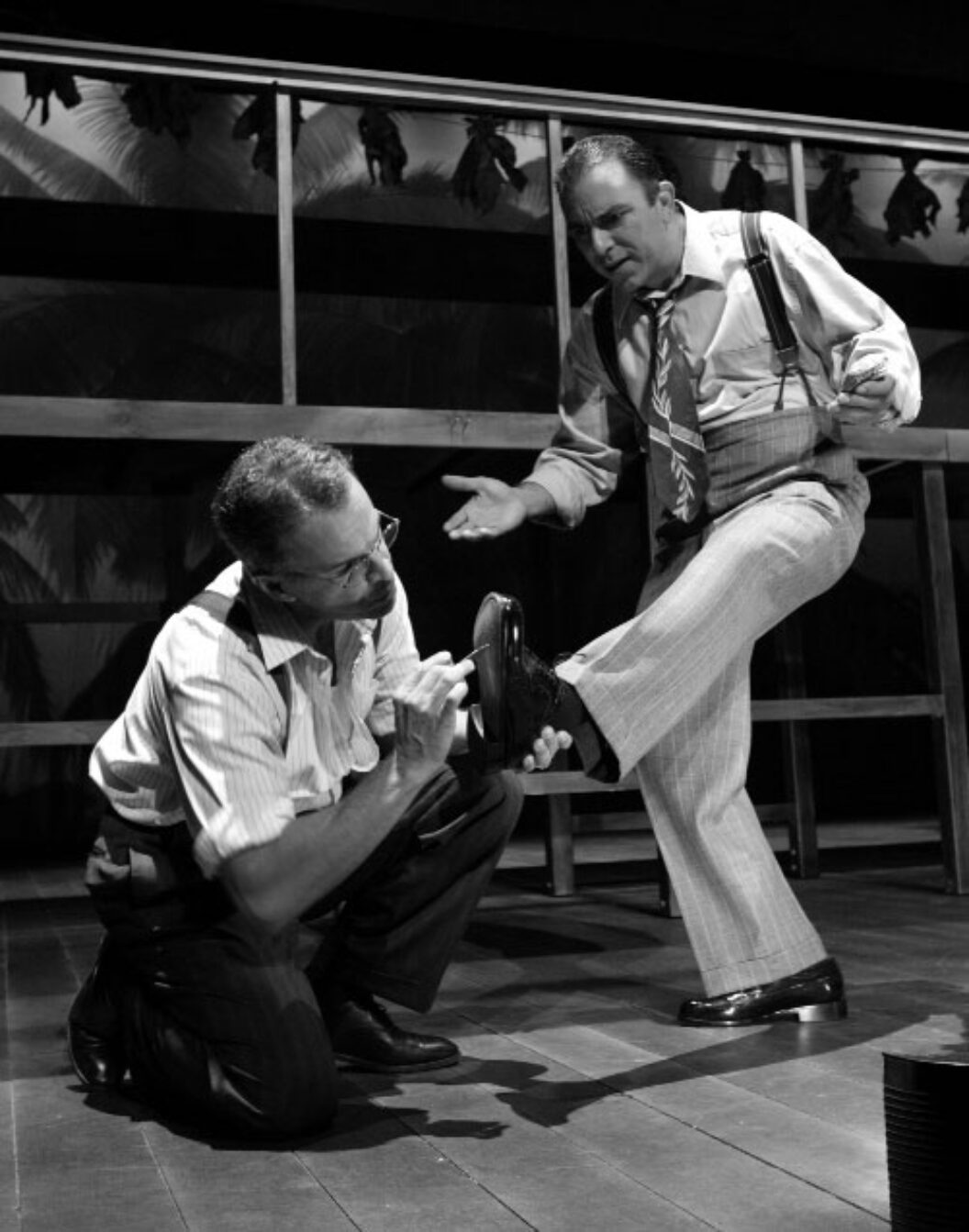 EM I've told you that a lot of your writing reminds me of Chekhov. With The Cherry Orchard, for instance, you're seeing the end of an age, a certain way of life coming to a close. And there's something of that in your play, a society that was so deeply rooted in the cigar factories, the social clubs—the social unit that all that signified. They don't know that they're on the verge of a huge change. We hear it a little bit from Cheché: "We've got to bring in the machines" and all that. But they don't know it's the eve of the Depression. They don't know that machines will be taking over their jobs. I think that pathos is really gorgeous in the play.
NC Writing about the Spaniards and Cubans in Florida during that time, I wanted to identify some of the things you lose in order to integrate yourself into this society, when you enter this North American landscape. These cigar rollers came from an island that is not very rich in resources, so the little they had they valued. The tabaquerias back on the island flourished after tobacco replaced coffee as Cuba's most lucrative export in the mid-1840s, so that's the kind of trade these people brought with them, which helped boost Tampa's economy. Imagine, by the end of the 1800s Tampa had become the capital of the North American Clear Havana cigar industry. It even rivaled Havana itself. And there was this beautiful tradition of the lectores, which sadly came to an end here in North America. That, of course, had to do with the industrialization of the factories. As you said before, the world was starting to change: modernity, productivity, advancement, all came with the new era. Machines were introduced into the workplace, and the intrusion of these machines destroyed the silence necessary for a lector to read from newspapers and novels to the workers. Nobody could hear them read over the sound of the machines. And, of course, it was the beginning of the Depression, and the first employees to be fired from these factories were the lectores. That's what America is all about, isn't it? "Next!" The tradition of the lectores has been traced back to the Taíno Indians, by the way. The cacique, or chief, used to offer cigar smoke to the deities, and he would communicate to the gods. The rest of the tribe would sit silently rolling cigars while the cacique translated the sacred language spoken by the divine beings. That was the genesis of this tradition, believe it or not.
EM There's something about this play of yours that places it in a particular American playwrighting tradition, which has to do with how groups or cultures live their lives. We've seen this with women, and with black people, and, in the early days of the last century, with Jews. The point is, America is made up of immigrants, but we have yet to see many Latino stories on our stages. Every one of your plays is really about a Cuban immigrant. The immigrant experience is what America is based on. There's a tradition of great literature that comes out of that. This has the smell of a classic American play to me because it is not only specifically about their culture but about them in America. They're Americans; they talk about it. Why are they taking a vote? "Let's do it the democratic way. We are in America." It connects with the entire country, though it's about a particular people at a particular place at a particular time. I love how generous it is.
NC Something I've noticed in producing my work throughout the country, in different cities but especially Palm Beach—there is a large population of Jews in Palm Beach, and they immediately connected with my work. They knew the world of the play, even though it is a Cuban world. As a matter of fact, I wrote an article for a local Jewish literary magazine that had to do with the play and with people fleeing Cuba on rafts. I made parallels. I think I actually quoted from Lillian Hellman's Pentimento. She describes how sometimes you begin to paint a certain landscape or a certain figure and then change your mind and paint over it and start creating a new image. The years go by and that initial image starts to appear in the painting as the other image starts to fade: the original one starts to seep in. When I started writing, I was terrified about writing about Cuba, because the subject matter was so controversial in this country. I was in Miami doing the International Hispanic Theater Festival, and one play got bomb threats. The Cuban community in Miami thought that this particular writer was leftist, pro Castro. The play that I had written had to do with Italian immigrants, but basically I was writing about the Cuban exodus. Much later, when I actually embraced my culture and had the courage to write directly about it, I went back to that play and changed it all. Now they're Cuban exiles.
EM Which play is this?
NC A Bicycle Country. It's interesting—it was not hard to make the transition. I just had to see it with different eyes all of a sudden; it was the same kind of journey, these people coming from Italy to the United States during World War II.
EM Going back to my culture, sometimes I look at Anna as a Jewish play, and it helps me get into another level of it. The values are almost identical: it's about family, about love, about education, about wanting to make something of yourself in this country. That's what I was brought up with. The difference between those who can rise up and those who can't is education. And family, and love. What else is going on in the play but all these values?
NC You've tapped into the emotional life of the play. Even at the beginning, when we read the play and you would stand in for an actor who was missing, you knew the rhythms and the world very well.
EM Part of it is knowing you so well, and part of it's the play itself. It immediately struck me when I read it on the page. I heard it, I felt it, I saw it. Those three women did something to my heart. How the character of Juan Julian, the lector, affects the men and the women, how their lives change as a result of his reading Anna Karenina to them, but also the way he brings it to them. Not just anyone reading Anna Karenina would do what he does to this group. He embodies every single one of those characters: Anna, Vronsky, Levin…. He understands them all; he can become them all. And when he reads, he brings it all to them. And they internalize the book.
NC I believe it's something that happens when one is around art, and when one is close to books: they seep into your system, into your blood, and start to activate something in your life. We start living in the way that some of these characters live, with some sense of their sensibility. It's almost as if the reader becomes the writer and the writer becomes the reader. That's very much what I'm doing in Anna too: the play becomes the book Anna Karenina, and the book informs the play. There's a marriage between reader and writer. Jorge Luis Borges said that books grow. The writer writes the books, but in our interpretation we layer the book in different ways. Talk about pentimenti. We layer it with our understanding. In theater, it's what the director brings to the play and how the director shapes the material and brings a different focus that might enhance the story.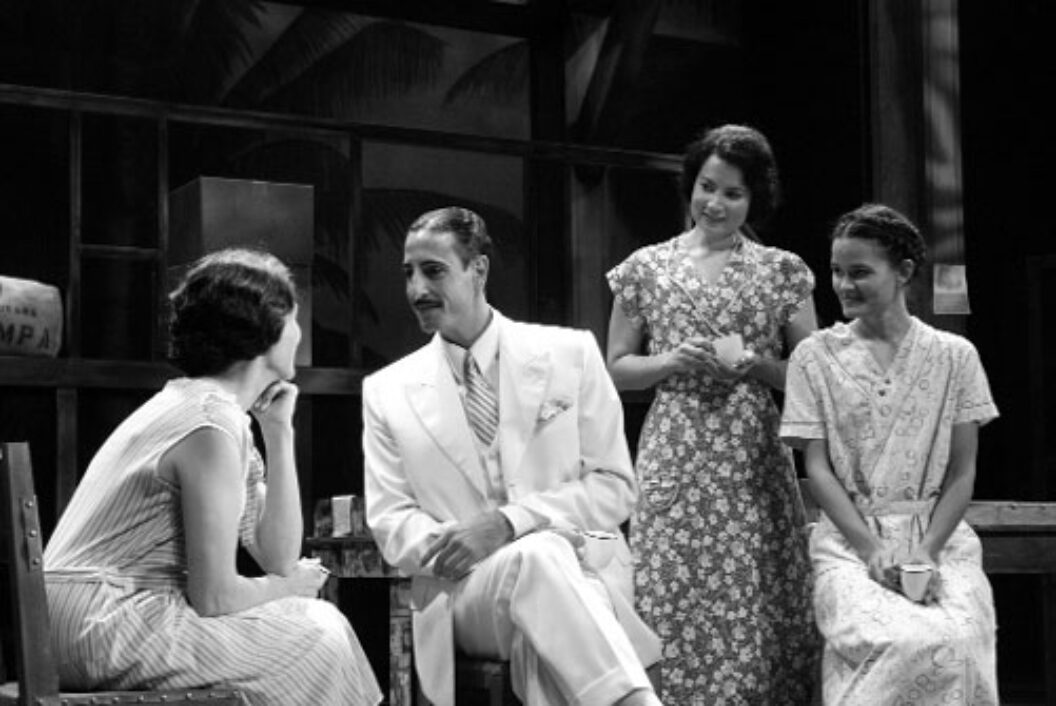 EM It also happens in terms of artists: whether you're a director or a reader or an audience member, your own experiences change you. And the age you are when you connect with a piece of art, be it painting or literature, informs your interpretation. When I first read Anna Karenina as an undergraduate, all I could read were the Vronsky passages. The other stuff was not at all interesting to me: you know, Levin, Kitty, the structure of Russian society, the serfs. I flipped past it all to find out what was happening with Anna and her lover. I reread the book this past summer, and this time I was mesmerized by Levin. I experienced the book on a whole other level, the fabric of society that Tolstoy so brilliantly depicts: that wonderful chapter when Levin is threshing, for instance, and eventually learns to give in to its rhythms. It's what the creative process is all about, how to let go. Suddenly the novel was brilliant to me in a new way, and I thought, Well, it's a good thing I grew up a little in 30 years. And I could bring that to the play. I understand why Santiago, the cigar factory owner in the play, admires Levin more than any other character in the novel. When Santiago asks his wife whether there is only one woman for Levin and she says "Yes, for Levin there's only one woman," the resonance is enormous. When I look at who Juan Julian could be, his different aspects, the novel goes through my mind. I learn something about your characters from the characters in Anna Karenina. Some of the play's motor comes from the love story between the lector and Conchita, but other characters in the play, especially Santiago and his wife Ofelia, are also being affected by Tolstoy's characters. Having lived through a number of layers of the book, I have more to bring to the play, I hope, than if I were directing it in my twenties.
NC In that important scene between Conchita and her husband, Palomo, which has to do with sensuality and sexuality, when we were trying it in front of an audience, we got certain laughs: celebratory laughs. It's important to make a distinction between different laughs: some are laughs of joy, others are just comedic laughs—
EM Some are laughs of recognition.
NC Yeah. With the laughter we were getting, it was clear that the audience was celebrating Conchita and the change that she had made. But you wanted something more. You said, It's not about celebration. It's something more profound, where there is no laughter whatsoever, but there is listening. You went deeper into the character of Conchita, and you helped Daphne [Rubin-Vega], the actor, understand what she was dealing with. That moment is about how couples speak to each other. How do we talk about sex when we're a couple? How do we talk about different levels of what we're feeling? Especially in that particular scene, where she's talking about her lover.
EM Right. How do you talk to your husband about your lover?
NC And I was so grateful that you found a way of navigating the scene. It didn't just stay on the surface.
EM I learn so much from audiences. I love listening to audiences. They tell you where the surprise is, or when something is truly funny. Of course there is a beautiful comedic strain in the play, but if there's also laughter of discomfort, then you can decide whether or not you want them uncomfortable at that moment. And if so, in what way, so that you're in control of the laughter. The audience can't take that away from you. And that means that you have to deeply inhabit the moment of both the terror and the courage it takes to speak almost the unspeakable to your husband, to talk about being taken somewhere sexually, imaginatively, to a place you've never been with him. It has a solemn resonance; the consequences are potentially so great. Once certain things are said in a relationship, you can never take them back. This will be one of those times, and Conchita knows that. But she needs to tell him. And then John went another step too, toward what it did to Palomo to hear it. And it's not that it's not celebratory, because isn't it wonderful that she has finally had this breakthrough, if you will, and that she has the courage to tell him, given their history, but it wakes you up to how painful this exchange is for him. The audience can't quite take it so lightly. That was a great challenge.
NC It's what the play is trying to investigate: we don't just want to stay in the relationship between a man and a woman. What we're after here is a deeper sense of being that has to do with sexuality and desire. This particular scene deals with Conchita's projection of desire onto another man, whom she wishes were her husband. She gives in to the lector, to this stranger, to this reader of love stories as a way of rescuing a part of herself. The lector fills the void the husband has left in her. It is the husband who pushes her into making this decision through his behavior. He has practically extinguished her light. He probably dictated her sexuality, as happens with most men: they try to take control of women's sexuality, of their lives, of that moment of intimacy in which the body becomes pure spirit. It is part of their nature, a form of manipulation. I've seen it over and over again, especially in Latin culture. Nevertheless, what I find curious is not what the illicit love affair with the lector does to Conchita but what it does to Palomo. As the reader of the love stories, the lector embodies both the male and the female. Conchita and her husband both attach their desires to the lector. It is through him that Conchita and her husband find each other again—through the geography of this other body, through the landscape of literature, through the actual book that is being read in the play. The husband and wife find each other through a sort of voyeurism that only literature can offer. The sexual conversation that takes place on the stage is also a way for Conchita and Palomo to ignite their passions. It's sex through a third person who is not physically present at that moment, who in fact has become as fictional and evanescent as the story being told through the book. The lector becomes the embodiment of literature, of art, and he is as desirable and desirous as only art can be. And of course he offers possibilities for this couple to communicate in the same way as art offers possibilities through the interrogation of reality. The lector becomes one of those bridges in which land crosses water and opposites meet. The couple's desires resurface and what seemed impossible is no longer impossibility. We brought the audience with us; they were consumed in this relationship through the world of art, through the play.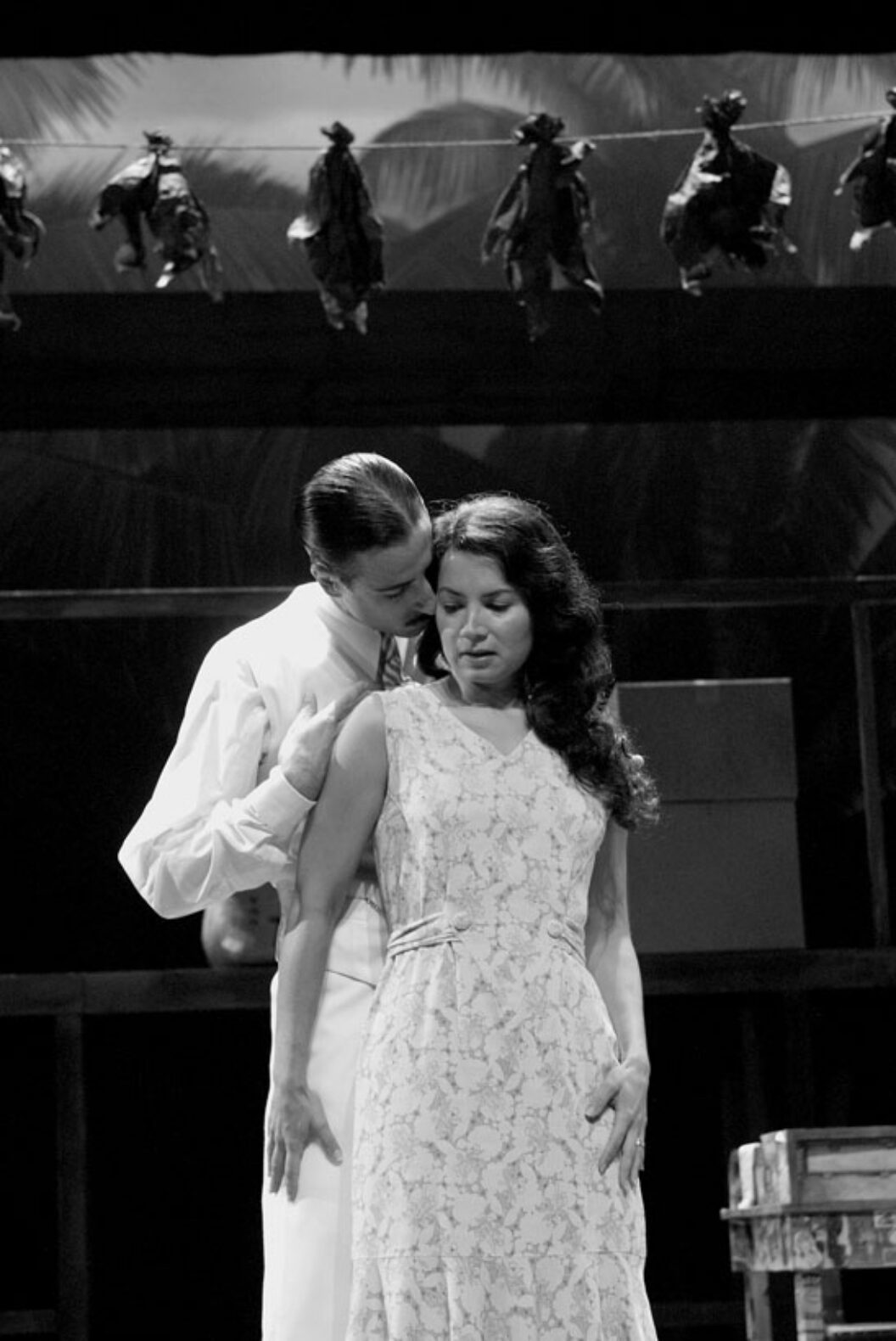 EM It's about a discovery of self, but at the same time you can chart the play on a sexual level, in terms of how people—particularly men, but women as well—have to embrace the female inside them. And if they can do that, they come to another level of consciousness, not just in terms of living in the world but also in their relationships with women. It's really looking at ideas of machismo, but taking men and women together on a very deep journey. I've never seen that in a play before. Palomo makes the biggest journey: he goes from being the most macho guy, with a wife whom he's not really into anymore and his girl on the side. He doesn't want to talk about these things or to confront what it is when his wife changes, or what this other man has done for her. And then he asks her to teach him, to show him what it is to love like that, to know her like that, to surrender his armor, his masculine identity, and become one with her, and even change places, be her. That is so profound. And John is really taking Palomo there. It's something that the audience senses. The number of people who talk to me about this, who write to me about never having seen that before in a movie or a play, that kind of challenge, a man discovering the female self—
NC I was interested in investigating that in this scene, how to enter the female landscape and what you get from it. I find that male sexuality, especially the kind that we usually see, that we're trained at, is very masculine. Even women sometimes are taught about sexuality through this male perspective. This play is actually doing the opposite, allowing the woman to really look at her sexuality and explore it and change the way that a man looks at sexuality.
EM Of course, it couldn't happen if Juan Julian didn't already have that knowledge himself and could help her go there. I think he actually falls in love, so he goes to another place with her as well. At first he's the teacher, if you will, the leader who helps her love in a new way, but she responds by taking him someplace.
NC I find that writing is all about going into this female landscape: it's about surrendering and letting the story take its own form and not manipulating it. Male sexuality is often a form of manipulation instead of a dance, but sexuality should be a dance, I think, between two people. This play allows for that dance. But sometimes that dance is even better if it goes into a female energy because that allows you to go into deeper places. Writing should bring us in touch with both the male and the female in us, and then there are times we should move away from anything that might seem corporeal. In some cases a male writer might reject the female in him, and that usually happens when the writer feels too vulnerable and he becomes self-conscious. But it's precisely this vulnerability that I'm interested in. It is this state of being completely naked and there is a sense of nonexistence, because you drop all masks or walls, any kind of carapace. It's in this plane where all of a sudden you don't recognize yourself or what you are doing, because you enter the void and you let the writing take over. It is quite frightening at times, because you no longer dictate what is going to happen. The only way to go about it is to surrender, to have the patience that a woman has when she carries a child in her womb. You can only be a vessel for this particular life that is growing inside you. And when the child is born, you realize that it doesn't even resemble you. Likewise, the play doesn't resemble the initial idea you had or the story you were going to write. What has come out is something completely different. But isn't that what happened in the first chapter of the Bible? Mankind changed what the divine had planned. That's the perfect example of our first attempt in the creative process.
EM You have always understood women on an exquisite level.
NC Maybe it has to do with the fact that in the first few years of my life, in Cuba, I was brought up by three women: my mother, my grandmother and my older sister. They had a lot to do with my life. I was born on October 10, an important date in Cuba's history, it's El Grito de Yara, when one of Cuba's leaders shouted, "We will end slavery in this country!" The moment I was born my father said, "Ah! We've got a patriot here." And my mother said, "You're not going to guide him in that direction!" She wanted something else out of me. It was my mother who, when I was in my late teens, said, "You're a writer," and she gave me a typewriter.
EM She'd been watching you.
NC It's all about human behavior. That's something that interests me in my work: observing human behavior, which is full of action. It's not about an idea.
EM That's how you remind me of Chekhov. And Lorca, and Tennessee Williams.
NC Well, Chekhov was surrounded by women all the time. So was Tennessee Williams. And Lorca, with his mom and his two sisters. These are men who were very connected to that female energy. Look at the power that Chekhov's sister had on him, and even much later, when Olga Knipper moves into the house after he dies, you could still feel how strong the sister had been in his life. It's curious. It's a kind of learning that you can't explain. It's beyond you, it's in the blood, it's in the system. It's like culture.
Originally published in
Featuring interviews with Brooke Alfarmo, Stanley Greaves, Santiago Sierra, Erna Brober, Jorge Volpi and Martin Solares, and Jesus Tenreiro-Degwitz and Carlos Brillembourg.