The Illusion of Permanence: Nick Flynn Interviewed by Yvonne Conza
On his new collection of poetry, I Will Destroy You, the book that emerged from choosing not to write.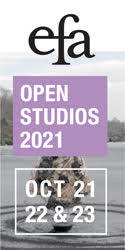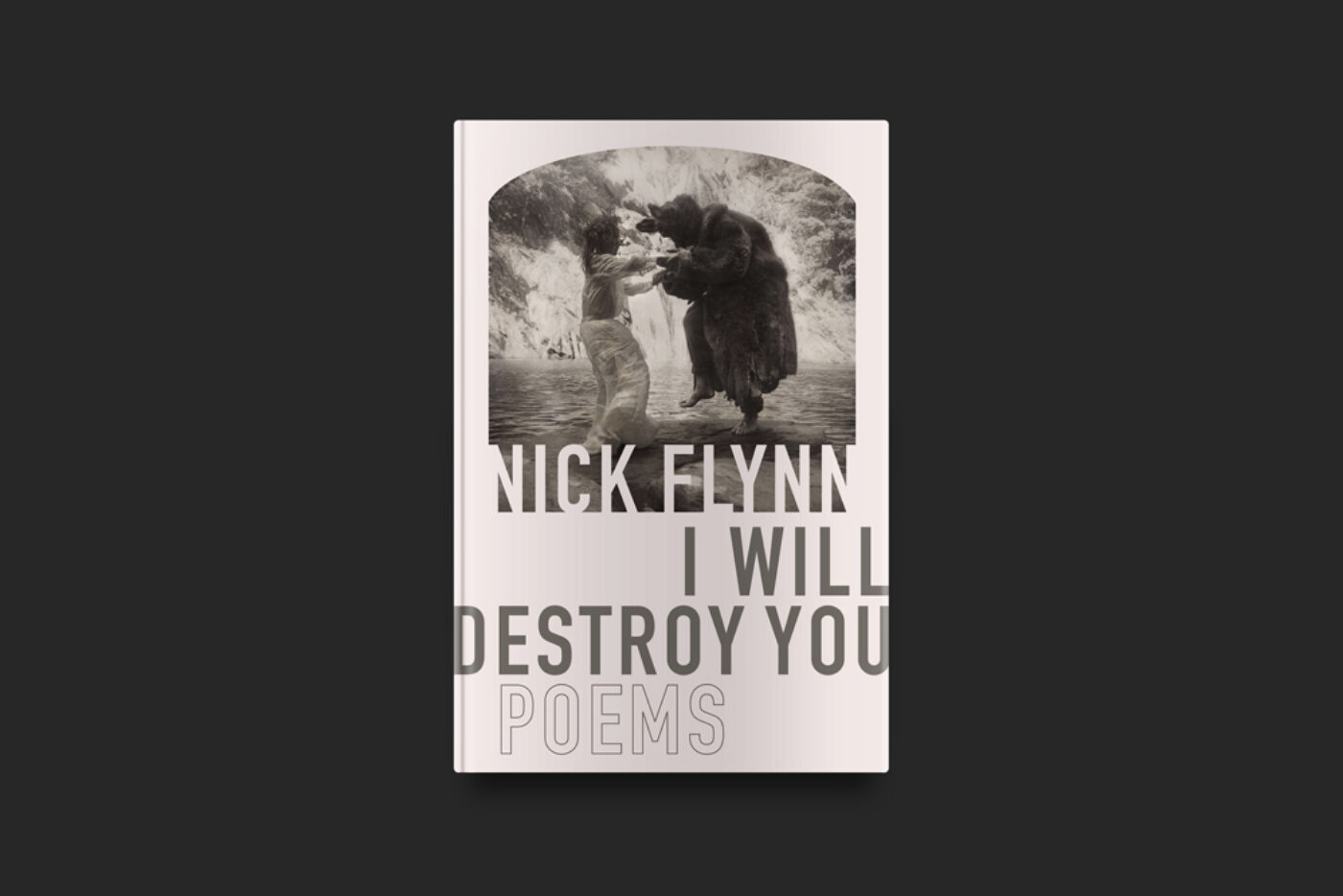 In 2015, at a workshop in New Smyrna, Florida, I met Nick Flynn. With generative child-like fluidity, his approach opened doors for students like myself to understand thematic interrogation, resonant language, and ways to sharpen intuitive impulses via meditation, research, and collaboration. Devoted to crafting art and forgoing personal musings, Flynn is a poetic scholar who has long lived inside books. He is a prolific writer having authored four poetry books, three memoirs, and other collaborative works. I Will Destroy You (Graywolf Press), his fifth and newest poetry collection of forty-four poems, has an unparalleled vibrancy that tempts an all too autobiographical reading. Both ferocious and luring, I Will Destroy You skillfully awakens and wrestles with the inner tensions of the collective unconscious. Feral impulses of self-scrutiny delve into the depths of addiction, temptation, infidelity, and repressed memory. What does one risk, or let go of, in order to live? With clear-eyed intimacy, the collection meanders toward a redemptive, self-accepting, impermanent path of introspection.
—Yvonne Conza
Yvonne Conza What was at stake for you in developing I Will Destroy You?
Nick Flynn Stakes? I didn't think about the stakes when I was writing the poems that became this book. Yet what was happening in my life during those years was all about stakes: whether to stay in my marriage, how to raise my child, what it meant to come clean about an affair. I was also struggling with the entire project of transforming one's time and energy into books. If asked what I was working on, I would say, I'm working on not writing. I had been making poems for thirty years. I wanted to simply see what it was like to be alive without being in a book. I Will Destroy You came out of that non-writing.
YCHow did not being in a book and not writing impact your work? NFIt was very liberating. And terrifying. I cannot say if the circumstances of my life drove me away from poems, or if poems drove me into the circumstances of my life. Yet there I was, and making poems stopped making sense, or seemed like a way to avoid actual feeling, and so I turned away from creating them. It was as if a burden had been lifted, and when I returned it was not with a sense of burden or obligation, but a sense of joy.
I think this mirrored my sense of waking up one day married, with a kid … on some level I felt like I had simply fallen into this life … I needed to find my way to see that this was a life I had chosen (as much as anyone gets to choose their life), that I wasn't forced into it any more than I was forced into making poems.
YC What made your examination of descending, as it says on the book's jacket copy, "into the deepest, most defeating parts of the self" possible? Also, the book's title came from someone who said, "I will destroy you" to you, correct?
NF Those lines were written by someone else, not me. I believe they are meant to encourage readers to buy the book—seems unlikely, though I am not in marketing. I think they accurately depict some aspects of the collection, though. The phrase "I will destroy you," was, yes, said to me, and those words kicked around in my subconscious for a while, eventually emerging as the title poem of the book, yet utterly removed from its source.
YC In "Saltmarsh," which seem to be about parenthood, spacing and spaces between words break apart and start to vanish in ways that echo guidance, warnings—preparations for life and death—reminiscent of Tibetan prayer flags that are fading and disintegrating, a reminder of impermanence. How does this theme of dissolving play out through your collection?
NF I've always been interested in the idea of dissolving, how everything around us will transform into something else with time. I did want to capture something of that in "Saltmarsh," to attempt that with language, to point out that the letters on this page have a sense of permanence which is an illusion. Do I want to point that out to my daughter? Is that part of my job as a father, to let her know of impermanence? Then why do I tell her I will be here forever, that I will always love her? I believe that is true as well.

YC "Saltmarsh" and the "saltwatermarsh" photo pinned to your Twitter account shimmer and pulse with the notation: "the source #scituate #hometown #saltwatermarsh." When working with source material, what should be disclosed and what should be left alone?
NF That Twitter photo documents a day I walked with my daughter through one of my sacred places—the saltmarsh in my hometown—where I spent much of my childhood. It seemed important, for her to understand where she is from, for her to spend some time there herself, at the same age I was. I can't say why, exactly.

YC My writing can be both exhausting and exhilarating, but for me, writing is not without its dangers. What advice or guidance can you give about self-care when working with material that contains instability and wild energy?
NFI know that your writing is athletic, risky, raw—these are some of the things I admire in your work, they give your writing its energy. If I am deeply in a project I need to do some sort of self-care daily or I go off the rails pretty quickly. Whenever I teach these days, I discuss the need for self-care. I, too, believe that this work can be dangerous, unhealthy. What self-care looks like for each writer I leave up to them.
YC My question connects to Nuar Alsadir's praise of your book:
The reader is drawn—as a you but also ("breathe for me") a collusive I—into a kind of virtual reality where they become implicated in secrets and lives, feel the impulse to set fire, let go, jump from windows, fly. To read these poems is to reach in and touch the scar, the feigned wound, put trust in what may, at any moment, show its teeth, bite, transmogrify into dissolution, deception, destruction and, yes, love.
The first time I read "The Ethics of the Third Person" in your collection, I became angry and held the poem accountable in an all too personal way, thinking, is he really going to put that in his book, a mention of a lover and a well-known setting with such recognizable specificity (an honest accounting)—who will be hurt by that? The line in the poem, "no childcare in Florida," I was there when you were going through that, recalling an energy that I was trying to ignore. The whole time I felt oddly implicated. I said to my husband, "I hope he (you) isn't playing with fire." I don't know what transpired, but I know the wild energy scared me, out of recognition, not naiveté, regarding the impulses of temptation.
Each read afterwards made me realize that the poem was crucial to the collection. The striking of the match, the moment of responsibility/accountability that needs to exist for redemption to have its truth. How did you negotiate this terrain?
NFI remember our days in Florida, at the Atlantic Center for the Arts. The poem you mention, that disturbed you (it disturbs me as well), circles around another, earlier trip to Florida, though I'm sure that, yes, while we were at ACA there was still some of that wild energy leaking out from me. I was wrestling with what it meant to be married, what it meant to be alive, what it meant to be a father. I will likely wrestle with those issues forever, but for the moment it is with less intensity. Alsadir's comments are insightful (she is a psychoanalyst as well as a poet), in noticing that one of my (subconscious) projects is to implicate the reader. I think her comment on the back of the book could be read as a warning.
YC When does strategy enter your writing process? Is strategy different from structure?
NF I'm unsure what you mean by strategy.
YC Here's a rough sketch of how I conceive of the strategy behind your structure: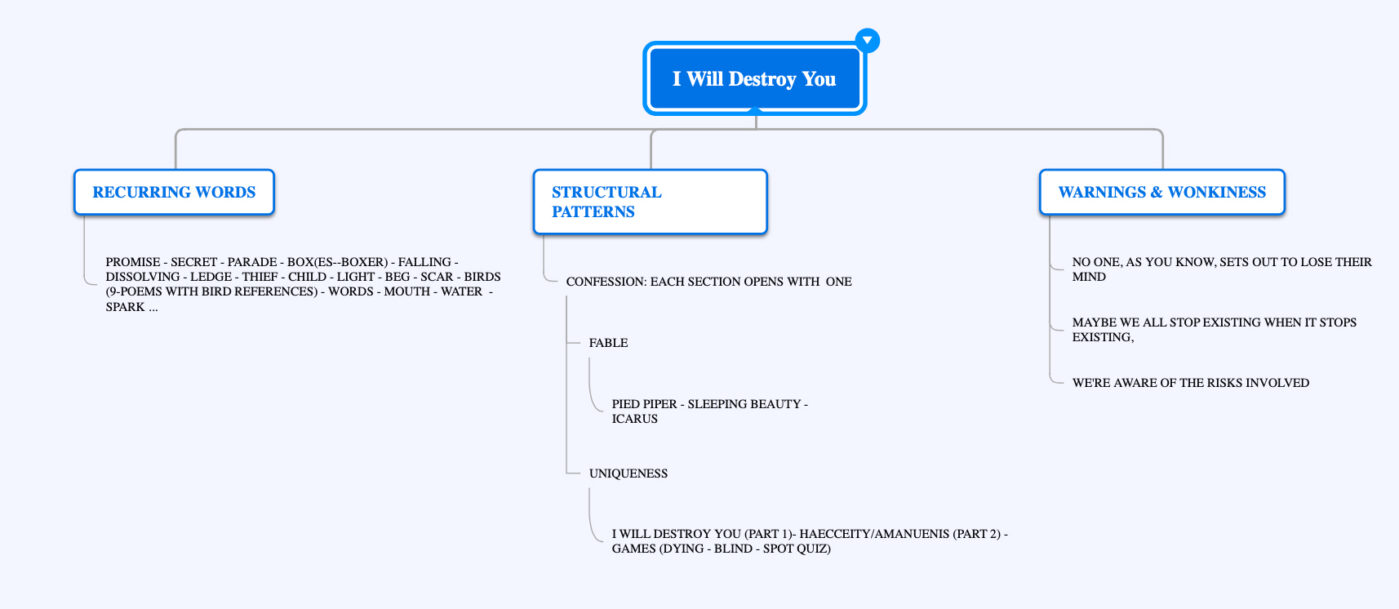 NF I love this, but still, I think I try, sincerely, to not think strategically about poems, or about my writing in general. You have located many patterns to the structure of the book; repeated images; repeated modes. In this way one poem speaks to another, and if you read the poems consecutively, some deeper meaning to the repeated images may be revealed, but I would hope that would be true if you read the poem from back to front as well. I tend to work with a limited palette of images. For example, I did notice, at some point, that many birds were appearing. My wife spends a lot of time looking at birds, talking about birds, and I was grateful that some of her knowledge seeped into the poems, but I wouldn't call that strategic.
YCFred Marchant's advice, given to you years ago, was to seek "a different purchase on your material." Does finding purchase effortlessly dissolve into your work or are you conscious of it while writing?
NF There's that word again—"dissolve." The writing workshop you were part of in Florida— that process—is my attempt to find different purchase on whatever material I am working on. So it is conscious, structurally, but subconscious in the actual creation.
YC Do you have a particular process for the various projects you are working on?
NF Each project has a different process. I Will Destroy You, was written in a state of consciously and actively attempting not to write. The poems came out sideways. I spent much of those years trying to simply be alive, outside of any project.
YC Stay is your upcoming sibling book to I Will Destroy You. In what ways do they connect and disconnect from one another?
NF Stay is actually another book, a collection of past writings and collaborations—I believe it will appear in March 2020 (Ze Books). The sibling to I Will Destroy You is Mister Mann, which will be out later that same year. Those two books are deeply connected—the poetry is more transformative, more quicksilver, more interior, where Mister Mann is non-fiction, more grounded, more measured. Both cover much of the same material.
YC Does struggle play a role in your writing?
NF I used to struggle with writing, when I was younger, but that seems unsustainable, like struggling to breathe. Maybe necessary when starting out, but hopefully one finds a sustainable rhythm.
YC As you work through your material from the personal to the crafted, what connects the material to the universal?
NF I think all art has to navigate that tension, between the personal and the universal, which is perhaps simply an illusion, with some deeper mystery flowing beneath it all.
YC Stuart Dybek spoke in an interview about the "addictive" quality of writing and said that when it kicks in he doesn't want "to make it sound too mystical, but there is a sense of the self-disappearing."

Did you reach a point where your writing became its own addiction?
NF Any addiction, for me, is dangerous, and I can become addicted to anything, it seems. The way that writing can be used to keep emotional energy at a distance is troubling, and much like my experience with addiction. I think that poetry is nothing but an attempt to navigate emotional energy. It is a contradiction I am still wrestling with.
YC In Lit Hub, T Kira Madden wrote that her writing is her work, job, and medium, but is not catharsis. What's your take?
NF I agree—I am suspect of using writing as therapy. I worry it will drain some of the wildness from it, some of the darker impulses will not be allowed in. Writing does seem to be therapy for some people, and I wouldn't take that away from them … it just isn't for me. As a writer I spend enough time lost in the dark neighborhood of my mind, and so I find it more useful to seek out an actual human therapist, rather than hoping I can heal myself. The advice I give myself is usually terrible.
YC I Will Destroy You tempts an autobiographical reading with its specificity to all that is revealed, such as the collection's dedication to Lili (your wife), nine bird-fluent poems (Lili is a well-known birder), other poems about your daughter (you're Maeve's father) and the opening poem "Confessional"—yet it pulls into a place that retains privacy.
NF I think people are endlessly strange, contradictory, complicated, beautiful. Can a poem capture all that? I think we can try, but if anyone thinks they can know me—or anyone—completely from reading words on a page, then I wish them the best. In "Confessional," a line from a poem that begins the collection: No one, as you know, sets out to lose their mind, is not my line—it is culled from another poet, as part of a cento. The process of constructing that poem attempts (on one level) to point to the universality of experience.
YC It strikes me that your collection took a great deal of patience.
NF Patience, yes, and a type of acceptance. I think one learns patience from writing terrible poem after terrible poem—it makes the moment when one seems to come alive that much more precious.
YC What question do you hope nobody will ask about I Will Destroy You?
NF I am open to whatever questions come my way. I often find them more interesting than the books.
Yvonne Conza's writing has appeared in Longreads, The Millions, Electric Literature, Catapult, Cosmonauts Avenue, The Rumpus, Joyland Magazine, Blue Mesa Review, The Adroit Journal, and elsewhere in print and online. She's a Pushcart Nominee and a finalist in many competitions including the Barry Lopez Creative Nonfiction award, The Raymond Carver Short Story award, and others.