Krystian von Speidel sits down with artist Nick Cave to talk about his incredible Soundsuits and his concurrent exhibits at Jack Shainman and Mary Boone Galleries. Cave shares his thoughts on pipe cleaners and fashion week, and invites everyone to come to his playground.

Discover MFA Programs in Art and Writing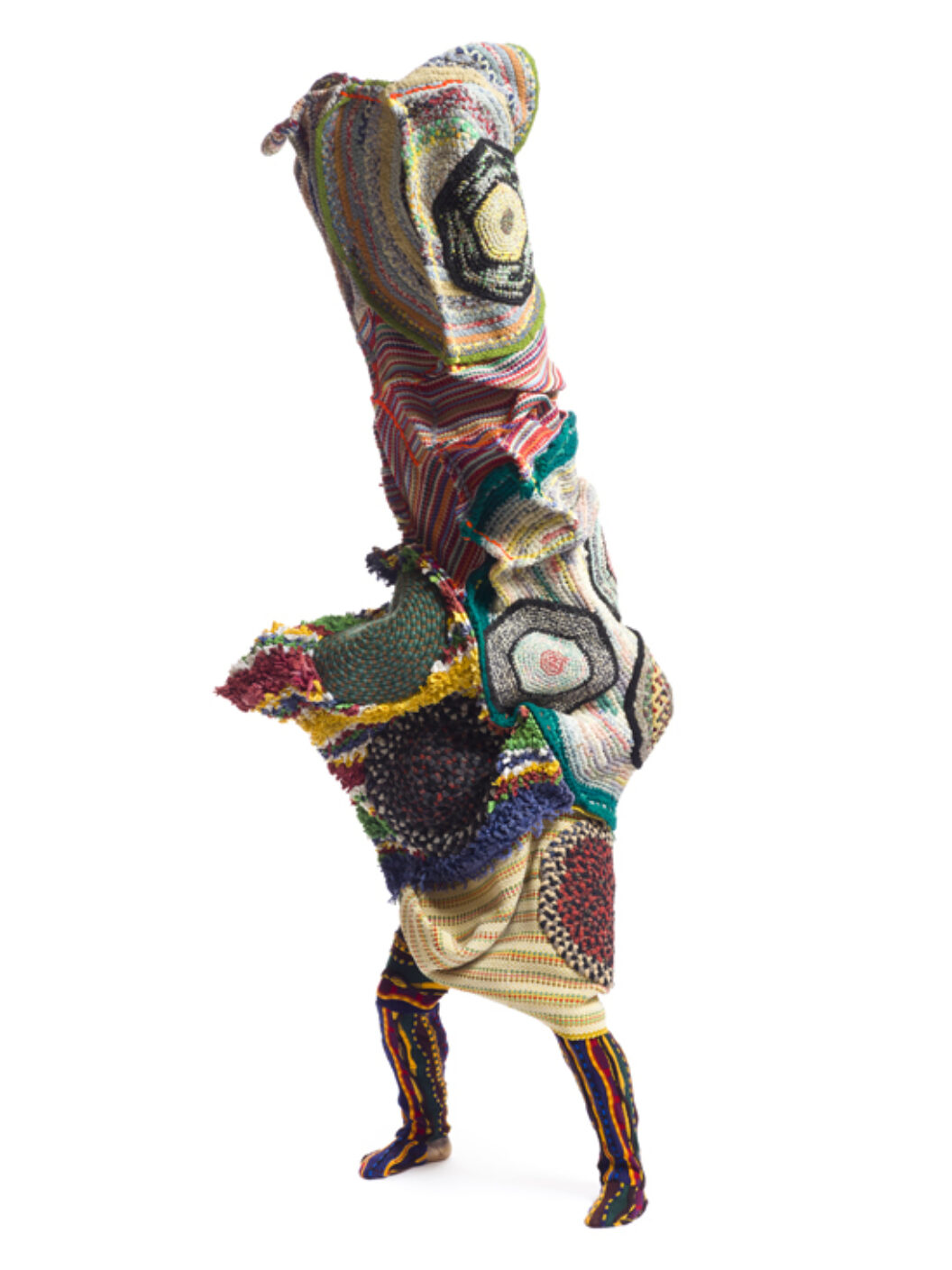 In the several years since Nick Cave emerged on the scene, his signature artwork, the textile-and-found-object "Soundsuits," have become a must for the art world cognoscenti.
Cave's Soundsuits were initially viewed as hijacked haute couture. They are now highly collectible and increasingly coveted artworks, whose manufacture transcends craft, sculpture, and art. Their categorization, in fact, Cave himself dismisses as unimportant. According to Patricia Hickson, the Emily Hall Tremaine Curator of Contemporary Art at Hartford's Wadsworth Atheneum Museum of Art, "In the contemporary art field, it is so exciting to come across an artist with a wholly original artistic voice. Nick Cave is one of those rare artists whose work is unmistakably his own. The Soundsuit in the contemporary art collection at the Wadsworth Atheneum—an encyclopedic museum—bridges numerous collections with its direct connection to African art, Modern abstract painting, performance art, contemporary sculpture, and costumes and textiles. The versatility of the Wadsworth Soundsuit as a collection object allows for its presentation in numerous contexts, which is a great benefit in addition to the celebratory and joyful nature of Cave's work."
With this week's opening of two collaborative exhibits at Jack Shainman and Mary Boone galleries (September 8 – October 8, entitled Ever-After), Cave's work enters a mature and introspective phase. Cave, a soft-spoken Professor at the School of the Art Institute of Chicago, created the first Soundsuit in response to the Rodney King episode in Los Angeles. That first Soundsuit may have served as an individual, cloaked counterpoint to the explosive crowds and unmasked conflict of those weeks.
Coinciding with the Ever-After exhibit, Cave has partnered with online art retailer Artspace.com to release a limited edition of signed prints featuring his works that appeared in the blockbuster "Meet Me at the Center of the Earth" exhibit. Originating at San Francisco's Yerba Buena Center for the Arts over two years ago, that show is now traveling and opens next week at The Taueman Museum of Art in Roanoke, Virginia. Bomb's Krystian von Speidel caught up with Cave as the artist put the final touches on his New York installations.
Krystian von Speidel Tell me about the collaboration with Artspace.com and what it means for you to introduce a new audience to your work through photography.
Nick Cave This is providing a different accessibility. I'm interested in how art can be accessible. It has a lot to do with when we finish a suit and are moving it into the photography studio that provokes a different level of sensation. It is an image that speaks to me and reads emotionally as a print. I feel it has the same attention and authority. It is important to ask: does it set the tone and is it a strong image? That's true with this collaboration.
KvS Your work is so unique. Who first gave you a big break? Was it difficult to crack the visual art world with work that has its roots in multiple and disparate disciplines – fashion, performance art, costume, sculpture – so many things, but not one thing. Is what was once a challenge now perceived as an asset?
NC I think Jack [Shainman] is the individual who provided me with the greatest opportunity. I look back at myself as a gypsy. I was traveling around, looking for the right relationship. I was willing to wait. I was showing my work, continuing my studio process, feeling it out, seeing what other artists were doing. My career has always moved upward in a horizontal way. I'm in a place where I'm understood and that I understand. I like knowing how I arrived where I am as an artist. Once the first show happened, it felt like overnight.
KvS The upcoming show Ever-After has a new angle and takes a new direction compared to previous exhibits. What excites you about this new direction?
NC It's nice to know I can work in this abundance of materials. I'm an artist that can work in this multi-disciplined way. The show at Jack Shainman is my being more internal and stripping down to myself at its purest form and raw. That's the core of this exhibition. Everything is black and white. It represents the loss of an important person in my life. My friend Matthew came to me at a dark time in my life as an artist. It's me regaining that belief again and resurrecting. In Mary Boone's show, I'm inviting everyone to the playground. I'm working with pipe-cleaners, a material I have a repulsive feeling about, which is amazing. It's about not excluding anything. I'm going to fall into the abyss of experience.
KvS By your count, how many Soundsuits have you made? How many did you make on your own, and when did you first employ additional workers to help?
NC I have no idea, I've probably made 500. There are 50 in the upcoming show. What is so critical is the detail and craft and high level of execution. I really have to think this through, how can I maintain the quality. It's about making the work for myself. It's devastating when I come home and a piece is finished. Looking at options has me in the state of mind to find a solution but it has to be appropriate: creating exhibitions three years out that will allow the work to maintain its integrity in a setting.
KvS The traveling show that originated at Yerba Buena Center for the Arts is still going strong, opening next week at The Taueman Museum of Art in Roanoke, Virginia. Did you imagine that the show would have such legs?
NC I'm not there anymore. I just have to be in the present. I think about how the work performs. How does this exhibition change the performance. How is it changing, in this sense. Then I'm interested in its responsibility. It's amazing how I'm not connected to my work. It's amazing how I can turn my back on it and keep going. I think when I give the lecture to introduce the show at Taueman, I'm only going to speak about the new exhibition in New York.
KvS As head of the fashion department at the School of the Art Institute of Chicago, what are your inspirations? Being in town during Fashion Week, are there any collections you're excited about seeing?
NC A lot of my friends are designers. I don't really look at fashion. It's a small interest of mine. It all somehow filters into my work. I'm interested in couture principles. I'm interested and excited about presentation and how it informs the collection.
KvS How important is it for you to see a Soundsuit in performance? In your mind does it forego its fulfillment or mission if it remains static, like in a museum display case?
NC If I'm at MoMA looking at an African object, I'm interested in the notion that it has a function. I'm interested in the duality of its purpose. It keeps flipping. It keeps my processing or thinking very organic. Am I wearing these in a performance or in a gallery setting?
KvS You've used your Soundsuits as a means of reaching underserved arts communities.
NC There are so many amazing artists that have gone underground. To bring them up is exhilarating for me. I move into a city for two months and create a lab with 40 Soundsuits and have the city build a performance: seeing what is available in a city, what musicians are in a city. With these labs I'm curious to see if I can put on a performance. I'm building 90 Soundsuits and my focus will be that. I'll allow them to be choreographed into performances, working with youth. For me it's trying to see what can I do to leave an impression. By working with a city, people are shown that they matter. I'd like to think of myself as an artist with a civic responsibility.
KvS Early on in your career, the Soundsuits were described in the language of fashion—as alien haute couture, for example. How did the transition to the Soundsuits as high art develop?
NC Art, craft, fashion, I don't really care. I do like that there is this broad dialogue in the art community. We can all fit together. I really avoid associations and keep going. I've reached a point where I make what I make. To work in the way I work I have to be fearless.
Connecticut resident Krystian von Speidel writes feature articles on design, lifestyle, and the fine arts, for which he finds inspiration in his frequent travels abroad.