New Futures: nora chipaumire's #PUNK 100% POP *N!GGA by Nicole Loeffler-Gladstone
The three-part epic brings to life an adolescence informed by music as a gateway into a powerful, assertive selfhood.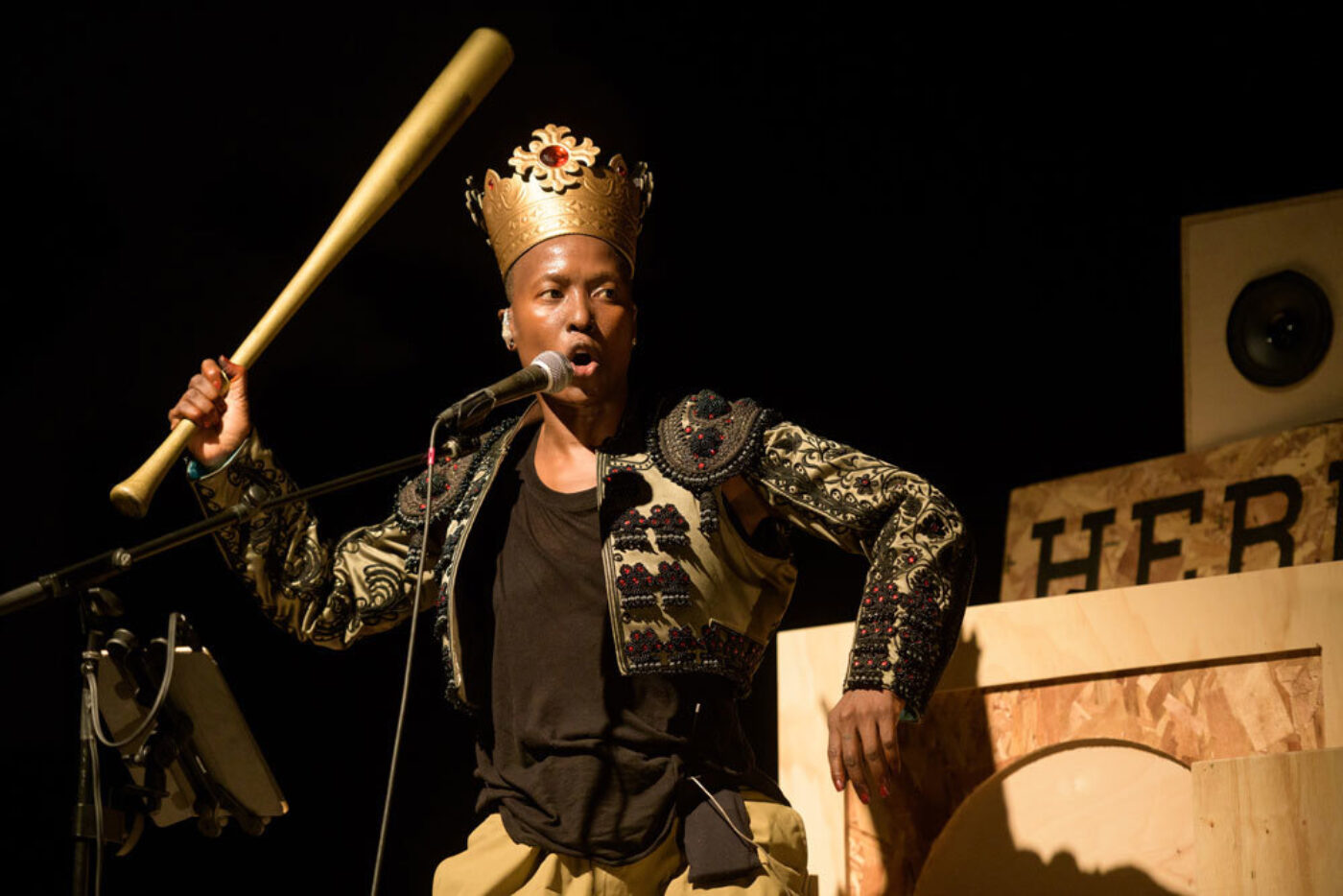 Zimbabwe-born artist nora chipaumire's latest work, #PUNK 100% POP *N!GGA, is a three-part performance epic, in which she channels Patti Smith, Grace Jones, and Congolese rumba vocal performer Rit Nzele. These three musical icons had outsized influences on chipaumire throughout her childhood. During the performance, she shape-shifts across time and musical genres, trying on aspects of their personas as possibilities for self-realization and freedom.
New York City's The Kitchen hosted the premiere of all three parts of this work, which were previously seen as stand-alone performances. The audience gathers on the floor of the theater for the first section, forming a loose circle around chipaumire-as-Patti Smith and her collaborator/fellow performer Shamar Wayne Watt. Two musicians play live, purposely clashing with the recorded music. Wood boxes, some housing speakers, balance in a wall-of-sound-esque tower on one side of the room. chipaumire and Watt strut and stomp, exhorting the audience to join them as they cheer and clap rhythmically. They strike poses of authority, occasionally move in unison, and speak fragments of a story.
The second section operates similarly, as chipaumire slips into the persona of Grace Jones. She and Watt both continue to work the crowd, but they feel less like equals. Now, Watt and a DJ battle against the recorded sound, and he starts to dash around the room, perhaps in the role of jester, while chipaumire largely holds her ground. A group of guest artists from It's Showtime NYC! joins them onstage, showing off hip-hop and street dance skills. In the third and final section, the audience sits in the house, facing the tower of speakers which are now decorated with spray-painted symbols of luxury brands. chipaumire stands at the top, gaze impassive, wearing a crown and holding a gold baseball bat. Watt races around the stage, attempting to complete an indecipherable pattern or task. His energy and effort reaches a fever pitch, and offsets chipaumire's regality—he expresses the emotions she can't afford to give away. They're both mesmerizing.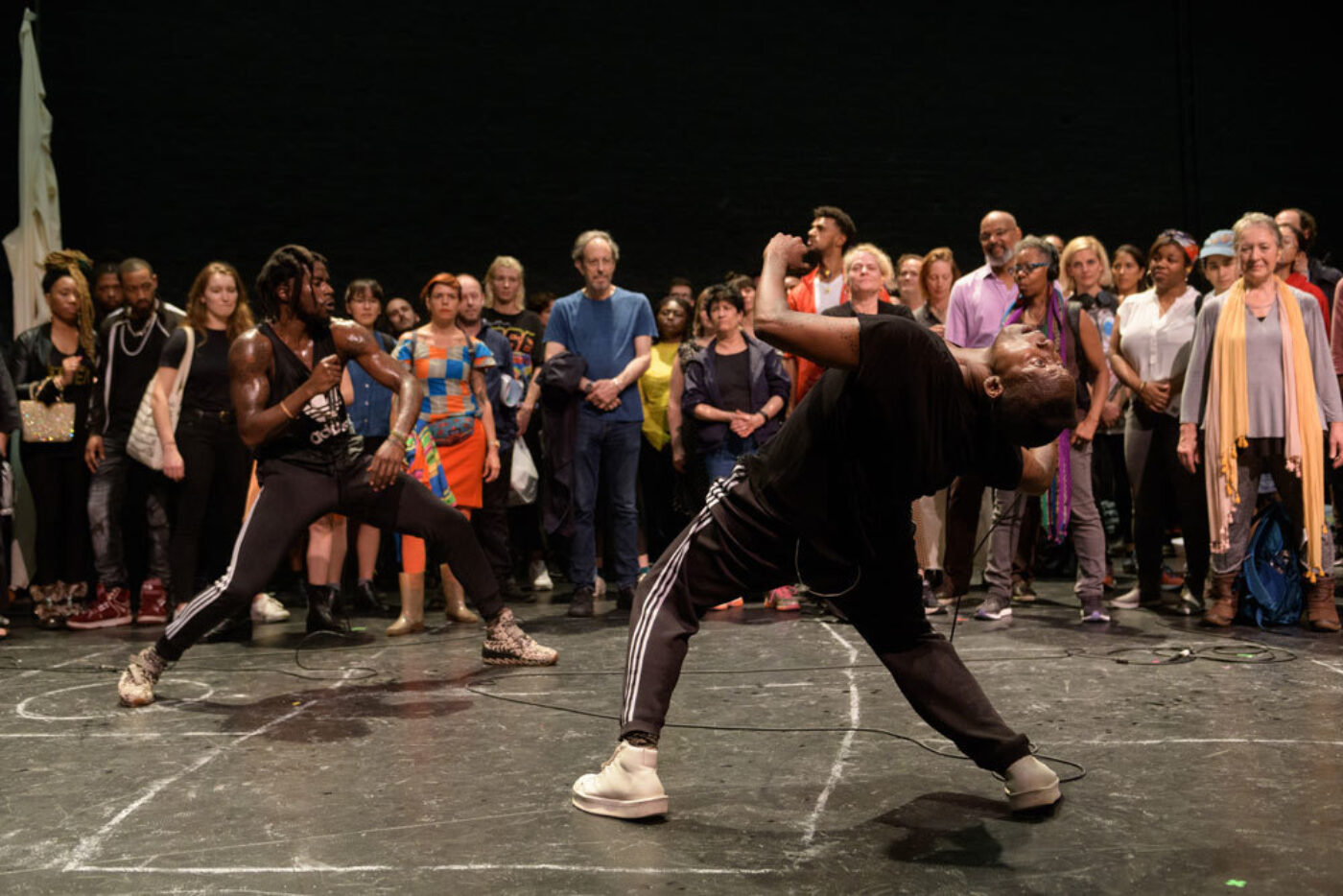 #PUNK 100% POP *N!GGA isn't made for the average concert dance audience (older, white). But those who stay through a full performance, clocking in at three hours with two fifteen-minute intermissions, will feel themselves change. chipaumire's frequent use of the N-word, for example, defies the American expectation that black people temper their blackness to make white people comfortable. When chipaumire leans into the face of a white audience member and murmurs, "Go back to Africa, n—," the woman cringes and averts her eyes, unable or unwilling to meet chipaumire's gaze. It's a brief but indelible moment, one that illustrates the revelatory process of witnessing chipaumire's work.
On the one hand the audience claims, through their presence, to hold space in support of unapologetic blackness. On the other hand, some white people flinch or laugh uncomfortably when faced with its embodiment. There may not be a "correct" response in that moment, but an honest one is probably best. #PUNK 100% POP *N!GGA is an experiment in black identity and black world-building that utterly disposes of white supremacy as the de facto perimeter of reality. For white viewers, the experience shines a searchlight into the murky waters of allyship, as well as its motivations, illuminating the lingering guilt that mixes with even the best of intentions. The searing power of chipaumire and Watt's presence forces the audience to decenter its expectations of transaction—payment for entertainment—and instead ask what it means to stand in the room at all.
The work ends much as it begins: music blasts, the lights are up, and the world onstage is potent enough to fill the entire house. If Afro-futurism imagines a future in which black people exist, rejecting the present culture that denies black humanity at every opportunity, chipaumire choreographs in the realm of Afro-immediacy. She demands that the audience witness, acknowledge, and value black and African people now—there's no room to prevaricate.
nora chipamaure will perform #PUNK 100% POP *N!GGA at Centre Dramatique National in Orléans, France, on January 18 and 19.
Nicole Loeffler-Gladstone is a performer, choreographer and writer living in Brooklyn. She is interested in dismantling hierarchies.