Nature's Nation: American Art and Environment by Louis Bury
An exhibition looks at historical conceptions of nature in the United States. 

Discover MFA Programs in Art and Writing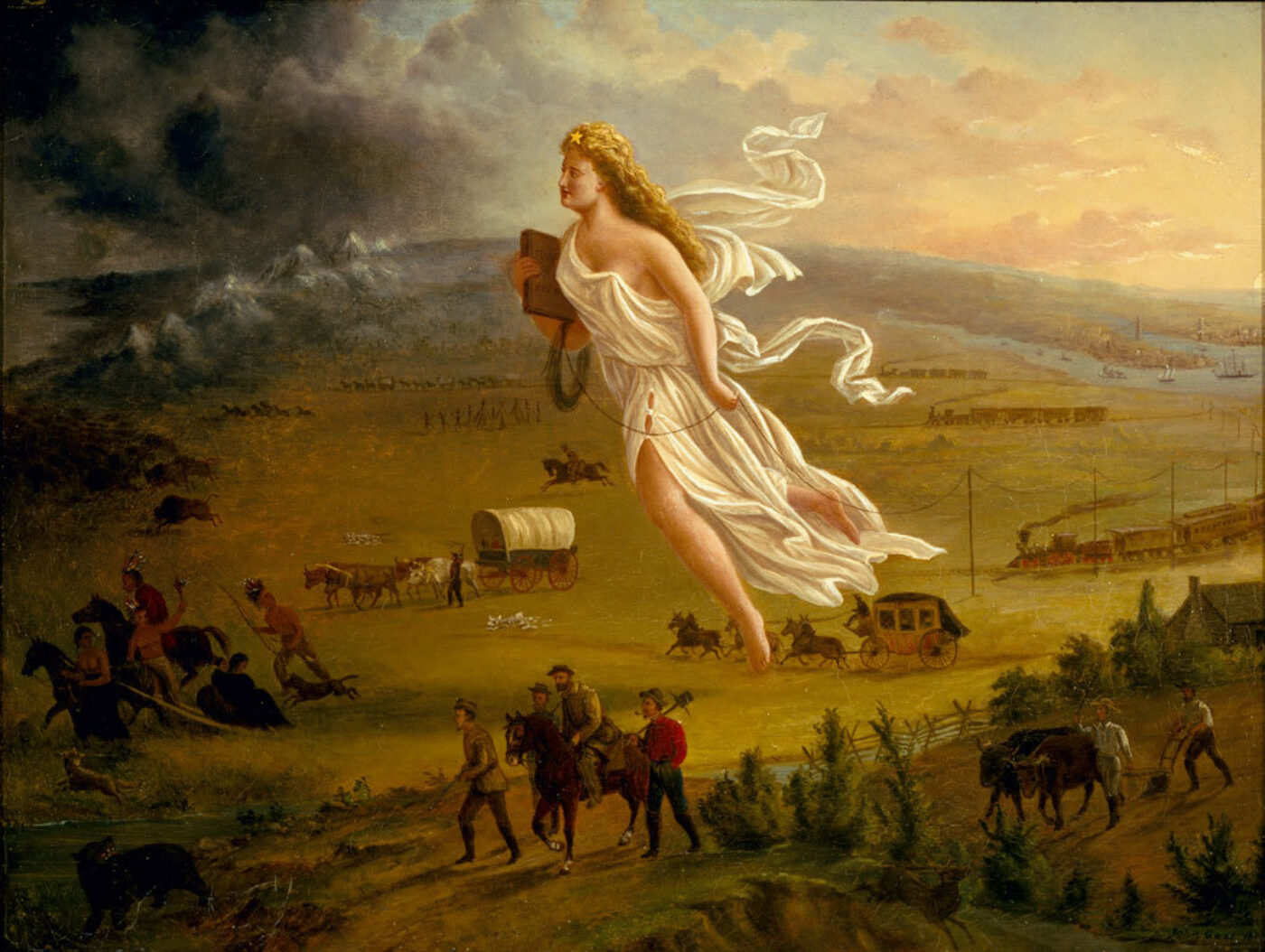 Co-curated by Karl Kusserow and Alan C. Braddock, Nature's Nation: American Art and Environment at the Princeton University Art Museum surveys over three hundred years of American art from an environmental standpoint. The ambitious and important undertaking encompasses over 120 artworks, organized into three periods spanning the colonial era to the present: "Colonization and Empire," "Industrialization and Conservation," and "Ecology and Environmentalism." The show's massive scope affords a unique opportunity to view shifting historical conceptions of nature as manifested in American visual art, suggesting not only more robust genealogies of environmental art but also a sharper sense of art history's own institutional ecologies, of how and why artworks become incorporated into museums, curricula, and public consciousness.
The first work to greet viewers in the exhibition's "Colonization and Empire" section, Charles Wilson Peale's self-portrait The Artist in His Museum (1822), signals this institutional theme. Standing in the canvas's center, the artist lifts a tasseled crimson curtain to reveal vitrine-lined museum walls whose rows of taxidermied birds evince Linnaean order. Themes of institutional architecture and species taxonomy recur throughout the exhibition, from Peter Blake's model of an unrealized open-air and glass-walled "Ideal Museum" for Jackson Pollock's Work (1949); to Mark Dion's spry, red and blue pencil critique of Aristotle's hierarchical staircase of nature, Scala Naturae (1994); as well as the apt inclusion of a didactic video, Ecology of an Exhibition, that reveals Nature's Nation's behind-the-scenes logistics.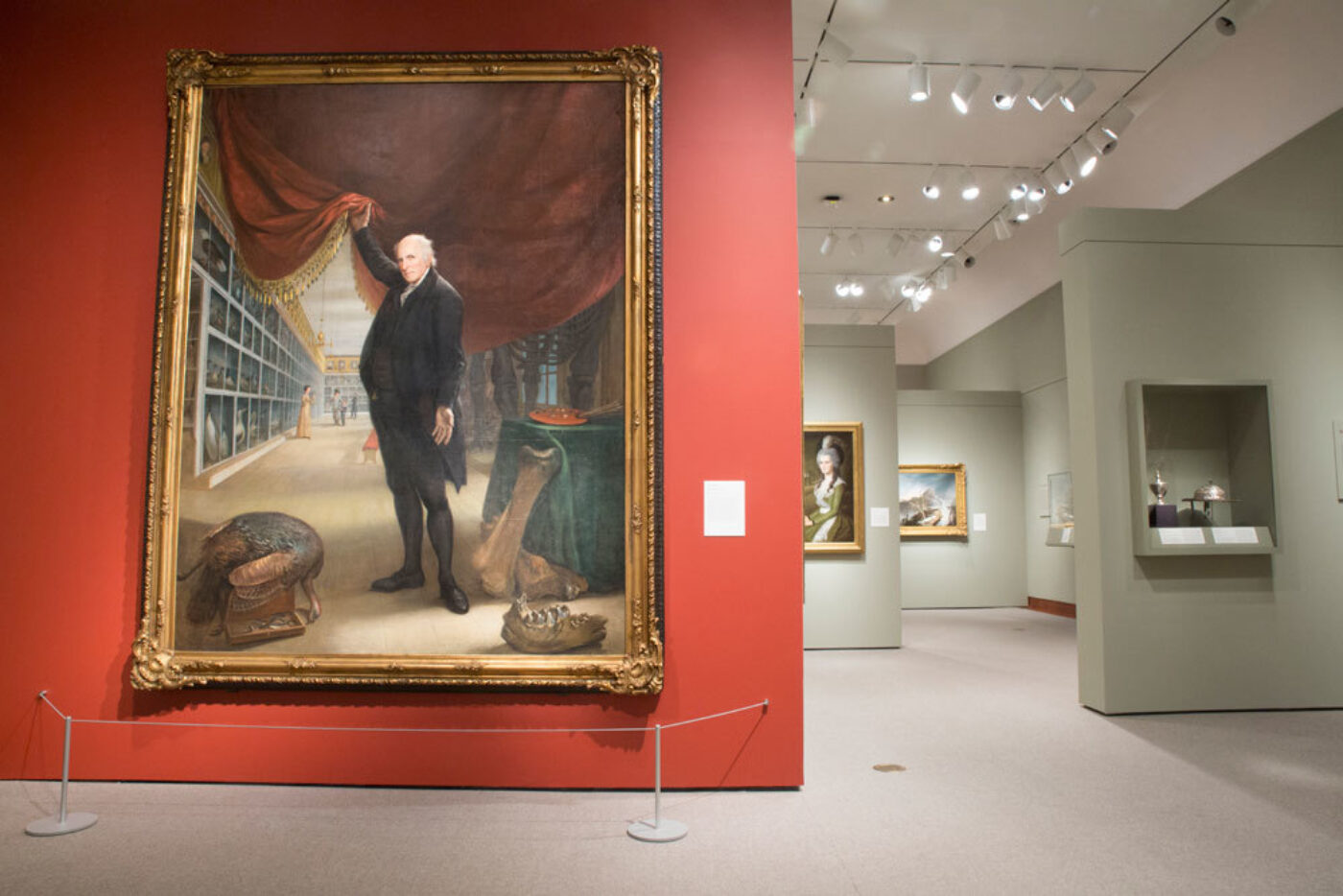 In both its primary and supplemental materials, the exhibition strikes an elegant balance between art historical depth and lay explanation. The "Introduction" room, for example, pairs Albert Bierstadt's grandiloquent Bridal Veil Falls, Yosemite (ca. 1871–73) with Valerie Hegarty's crowd pleasing, if somewhat over-obvious, charred and decayed version of it, Fallen Bierstadt (2007), but also includes subtler gems such as Jaune Quick-to-See Smith's Browning of America (2000) and Subhankar Banerjee's Caribou Migration I (Oil and the Caribou, Coleen River Valley) (2002). Likewise, the exhibition's wall texts—informative but not overwhelming—are pitched toward a nonspecialist audience, while its gargantuan and star-studded catalogue is pitched toward experts.
Many of Nature's Nation's most powerful commentaries occur through its incorporation of indigenous artworks into familiar art historical narratives. In particular, a terrific room focused on the bison as an "icon of extinction and resilience" serves as a hinge between the exhibition's pre- and post-industrial sections. Centered around a remarkable buffalo skin robe produced at Standing Rock Indian Reservation by an unidentified Native American artist (Buffalo Robe, 1882), the room contains an array of indigenous and Western artworks: Pawnee artist and medicine man George Beaver's vibrantly pigmented Double-sided drum (ca. 1890), a drum of the kind used in the 1890 Ghost Dance movement; Karl L.H. Müller's commemorative centennial porcelain vase, Century Vase (ca. 1876), whose protruding busts of a bison and of George Washington are unintentionally humorous; George Catlin's oil painting, Dying Buffalo, Shot with an Arrow (1832–33), whose expiring subject possesses a gawky poignance; Albert Bierstadt's blithely Romantic photogravure print, The Last of the Buffalo (1891); and Kent Monkman's jocular send up of Romantic triumphalism, The Fourth World (2012), an acrylic painting in which topless blonde hunks corral buffalo toward a Richard Serra sculpture at the base of Yosemite Falls. This bison-themed medley offers a pleasing kaleidoscope of perspectives onto a bygone era.

The exhibition as a whole also favors kaleidoscopic variety over telescopic focus. Even a partial list of the art historical eras and movements covered reads like the syllabus for a survey course with a capacious definition of environmental art: colonial portraiture; colonial crafts; Early Republic works of natural science; the Hudson River School; Luminism; Plains hide painting; the Ashcan School; the West Coast Photographic Movement; Abstract Expressionism; Conceptualism; Feminism. While an expansive and inclusive canon of environmental art is, in the wake of the '90s culture wars and recent ecocriticism, less groundbreaking than the curators maintain, Kusserow and Braddock have done the considerable work of realizing an exhibition that reflects such far-ranging historical and political viewpoints.
The result is a proliferation of literal and figurative cross-era aesthetic reflections. Contemporaries such as Chris Jordan and Edward Burtynsky start to look like ecological muckrakers when included in the same lineage as Jacob Riis. Ana Mendieta's Silueta series appears refreshingly down-to-earth and intimate alongside so much Hudson River School grandeur. Cannupa Hanska Luger's ingenious Mirror Shields (2016)—dulled and pocked reflective shields used to confront state authorities during the 2016 Dakota Access Pipeline protests—stand, in a reading room adjacent to the Buffalo Robe, as reminders of the willful opacities and distortions in US historical and ecological memory. Nature's Nation holds a mirror up to American conceptions of nature in a similar way, showing not only how the country has understood nature across the centuries but also, just as often, how it hasn't.
Nature's Nation: American Art and Environment is on view at the Princeton University Art Museum until January 6.
Louis Bury is the author of Exercises in Criticism (Dalkey Archive) and Assistant Professor of English at Hostos Community College, CUNY. He writes regularly about visual art for Hyperallergic, and his creative and critical work has been published in Bookforum, Brooklyn Rail, Los Angeles Review of Books, Boston Review, and The Believer.