Narratives of Personhood: Harold Mendez Interviewed by Brandon Sward
Stretching the limits of photography and representation.

Discover MFA Programs in Art and Writing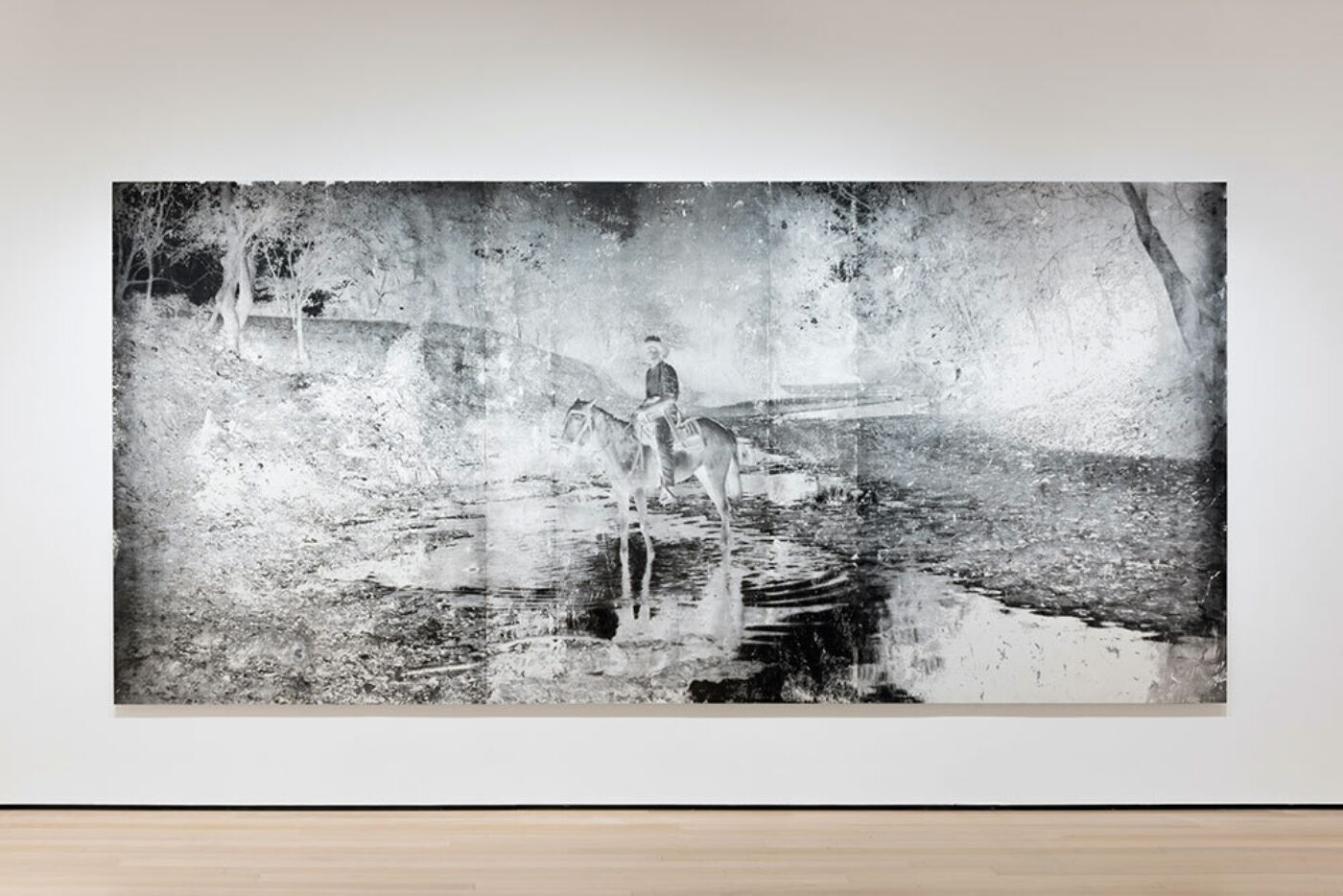 I met Harold Mendez in another world. We sat across from one another in a café on a chilly afternoon as he took a break from installing The years now at the University of Chicago's Logan Center Gallery. It might have been the last art I saw before lockdown. Now he's in California, and I'm in Montana. We both studied in Chicago. He's shown at many of the museums and galleries I frequent, among them the Renaissance Society, Whitney Museum, Museum of Modern Art, and Hyde Park Art Center. One of his prints graces the cover of Black and Blur by Fred Moten, to whom I've found myself returning lately. His current exhibition at the Institute of Contemporary Art in Los Angeles is entitled Let us gather in a flourishing way. I'm grateful for the opportunity to get to talk to him about it.
—Brandon Sward
Brandon Sward Could you speak a bit about your interest in funerary customs and whether our current moment has caused you to reconceptualize that work at all?
Harold Mendez It's funny that you started here, because I actually wouldn't say that I'm interested in funerary customs. The interest is around questions and narratives about personhood, its visibility, absence, and place; these interests have more to do with offerings that are associated with varying forms of commemoration or gestures that are made visible by those actions. Sometimes those rituals take place in funerary settings, but it's not a pointed focus of mine. I've been making work like this for over a decade, but I suppose it is enhanced by the current moment. I'd say that's particularly true with The years now, which was in development for some time but was presented in January 2020. The installation was conceptualized around an expansive arrangement of contradictions (what's rendered abstractly versus what's more representative) linking material signifiers for the human body. To be more specific, what held that work together was the audio component (a multi-channel, immersive sound installation) of an unseen speaker who ruminates about a crisis of identity—which we hear a lot about, particularly during quarantine. In hindsight, it was a poignant exhibition for me just as the current crisis we are now under came to greet us.
BS This ironically resonates with the title of your exhibition at ICA LA, Let us gather in a flourishing way.
HM It's named after a poem by Juan Felipe Herrera (the son of migrant farm workers and the first Latino Poet Laureate of the United States). I was drawn to that title for the way it articulates how life spreads out and how our stories, selves, and labor are made visible. I went back to it a few years ago after reading his 2015 book, Notes on the Assemblage, and remembered how generative that poem (and book) was as a platform for discussing visibility and the transnational. How the poem itself is able to objectify by naming. As artists we are giving corporeal space to our facts and our fictions—measuring them and their meanings, giving them a physical presence and claiming space.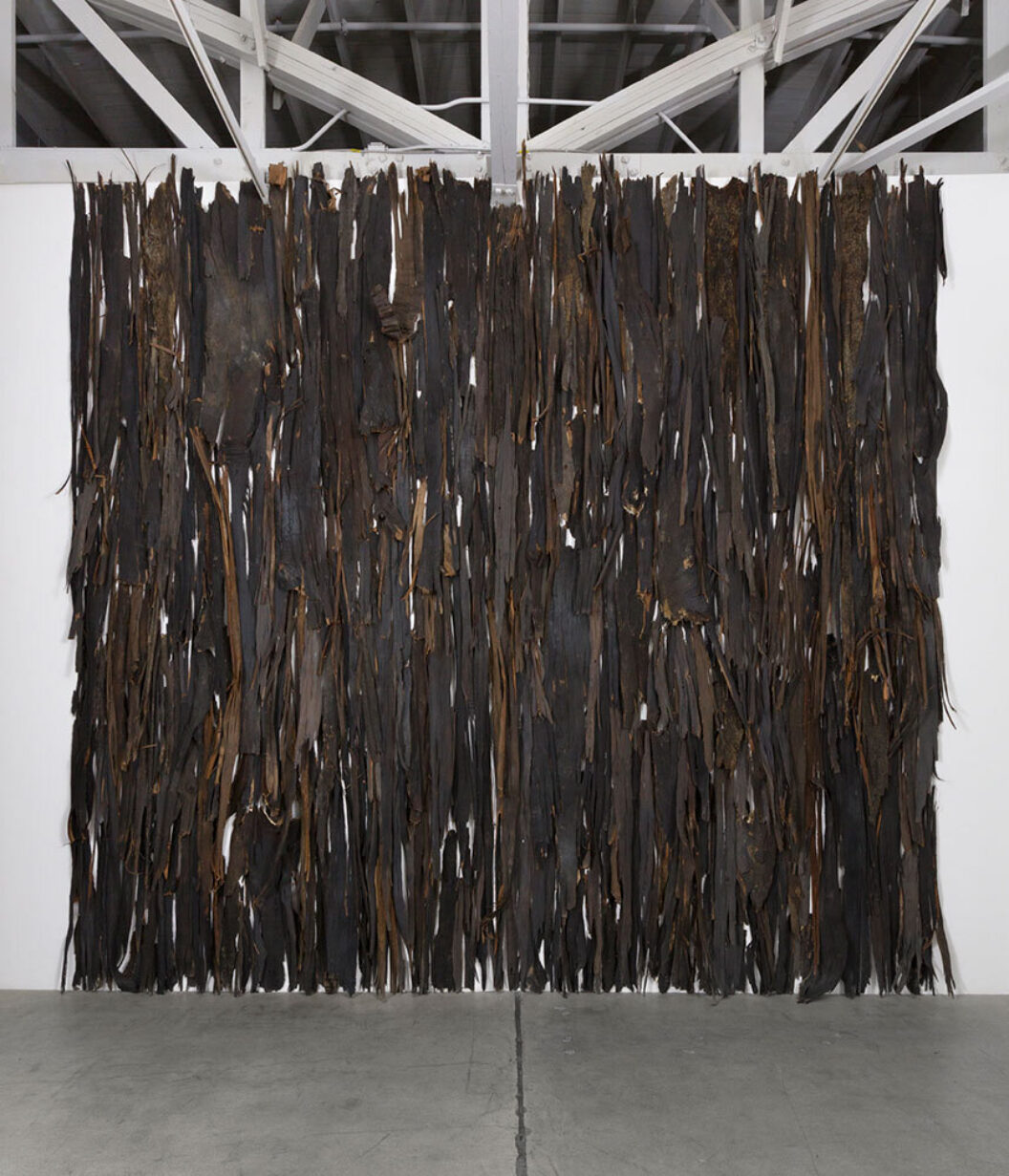 BS Audio seems to suggest a more nebulous or metaphorical space than discrete material objects. Was The years now your first time working with sound? Is there anything you're carrying forward from that experience?
HM Right. It certainly has the ability to resonate beyond your encounter with it in ways that material objects often don't. I have worked with sound before for my first museum solo exhibition in 2008 at the Museum of Contemporary Art, Chicago (MCA). Back in 2006, while visiting Nancy Holt's Sun Tunnels (1973–76) in Utah's Great Salt Lake Desert, I made a recording of the sonic atmosphere near the location of her work, which captured crows cawing in the distance as well as wind and sand blowing in a seemingly limitless expanse. Later, I worked with the Experimental Sound Studio to transform the audio for the MCA show into a four-channel sound installation.
One of the things that I am carrying forward after making The years now is placing a greater emphasis on a cohesive representation of the body. Although I tend to work in a constellatory way, there are fewer allusions to the body's visibility or absence here. The body is the focal point: from the voice, to the memorial site, to the translation of a pre-Columbian artifact, and finally to the traces of a living thing or being.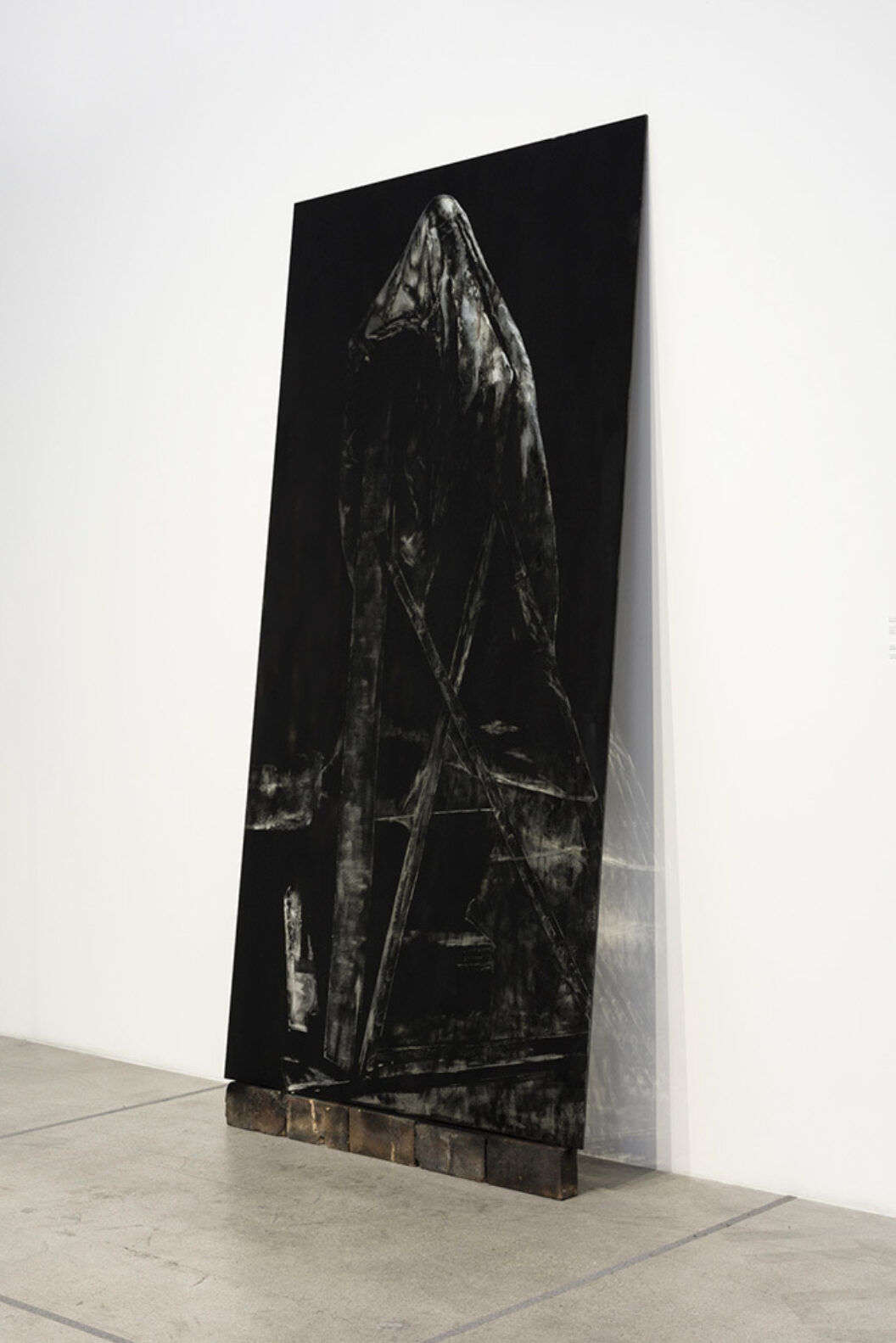 BS You worked with found photographs for Let us gather in a flourishing way, correct? Is there a relationship for you between photography and the "trace," whether literally as traces of light or figuratively as the trace of a moment?
HM I tend to arrive at photography through my interest in objects and what they embody rather than through formal questions specific to the medium. It's not the popular opinion to admit this. But if I take a photograph myself—even with an artistic consideration for composition, exposure, and lighting, for example—I don't believe that's enough. I am inclined to mediate the images that I engage with by hand in a range of ways where I impart different kinds of processes onto them, further enabling me to engage with them beyond the confines of photography. This allows me the space to slow down how the final work will be seen and understood visually as well as materially, and in the process hopefully expand the discussion about image production and forming new conditions for their visibility as works of art.
There are two found images that I have transformed for the exhibition. One of the works is made more like a painting/drawing with soot from an acetylene torch, produced at 1:1, human scale onto a large sheet of glass. The source image is a shrouded monument. It's quite a meticulous process. Nevertheless, it's a work that reads as both an object and an (ephemeral) image. And how it's made also allows me to produce another work from it entirely.
But to pointedly answer your question: a photograph is produced from traces of light, yes. It's also an object. And what is depicted or encountered is also an object of photography. There are many threads we can pull at here. But the question is an observation about how a photograph is made, which artists have been exploring for almost two hundred years. I'm aiming to push beyond that and go somewhere else, stretching the limits of the medium, if I can. Or at the very least, my own engagement with it. It's a constant question and exploration inside my studio when I am dealing with images: Can a photograph stand in for something else? Can it be a monument? A memorial?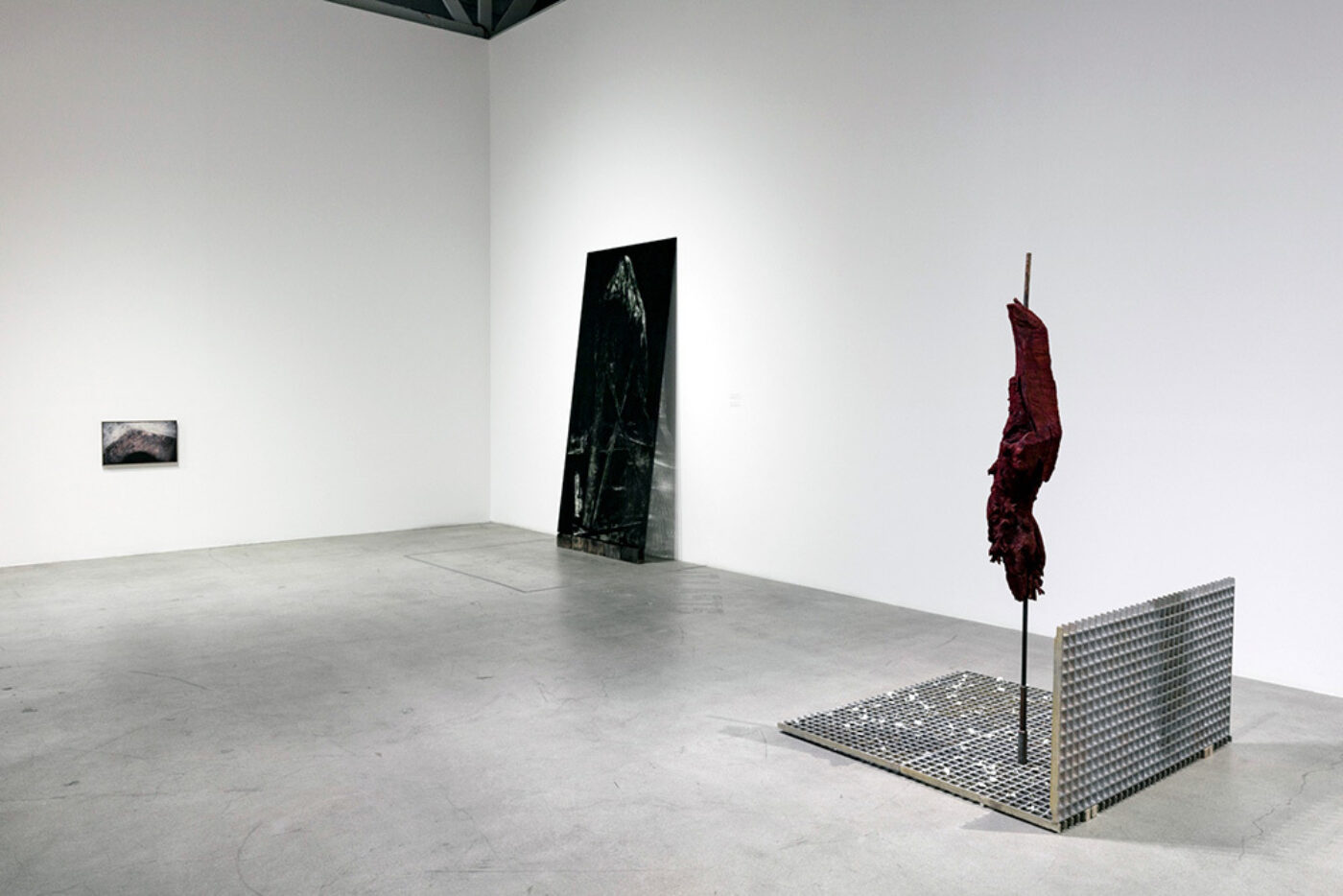 BS Monuments and memorials also introduce the idea of memory. I can't help but think of the episode in Swann's Way where the taste of a madeleine dipped in tea reminds the narrator of his childhood.
HM Memories can be points for departure toward inquiry. Certain objects or sensory experiences help recognize a trace from your past, but there has to be a shift in focus beyond that to transform those traces into something more—which is why that moment in Swann's Way is so impactful. There's also something else that gets brought into this process by those of us who are transnational, whose identities are constituted by a multiplicity of geographies, languages, collective histories, and/or politics, etc. Trace is inextricably tied, not just to our memory, but to our present and future selves. You could say that these traces are continually contracting and expanding, even if they might be unrecognizable. The subjects and materials I work with through sculpture or photography are all, in a sense, reconciliations of the trace.
I think it's in how we tease these things out through our efforts and what we seek to make meaning from. Ultimately, it's about creating new ways to constitute discourse for ourselves and our work, which is ongoing. Of course, there's a lot we can draw from and speak to because of this, but there is also an underlying void: we belong to multiple places and to no place simultaneously. By actively engaging with traces and fragments, it's a way to bridge some of this and for simultaneity to exist—meaning that the trace from the past enters the present to influence the future.
Harold Mendez: Let us gather in a flourishing way is on view at the Institute of Contemporary Art in Los Angeles until January 10.
Brandon Sward is an artist, performer, writer, organizer, and doctoral candidate at the University of Chicago who lives and works in Big Timber, Montana.