Discover MFA Programs in Art and Writing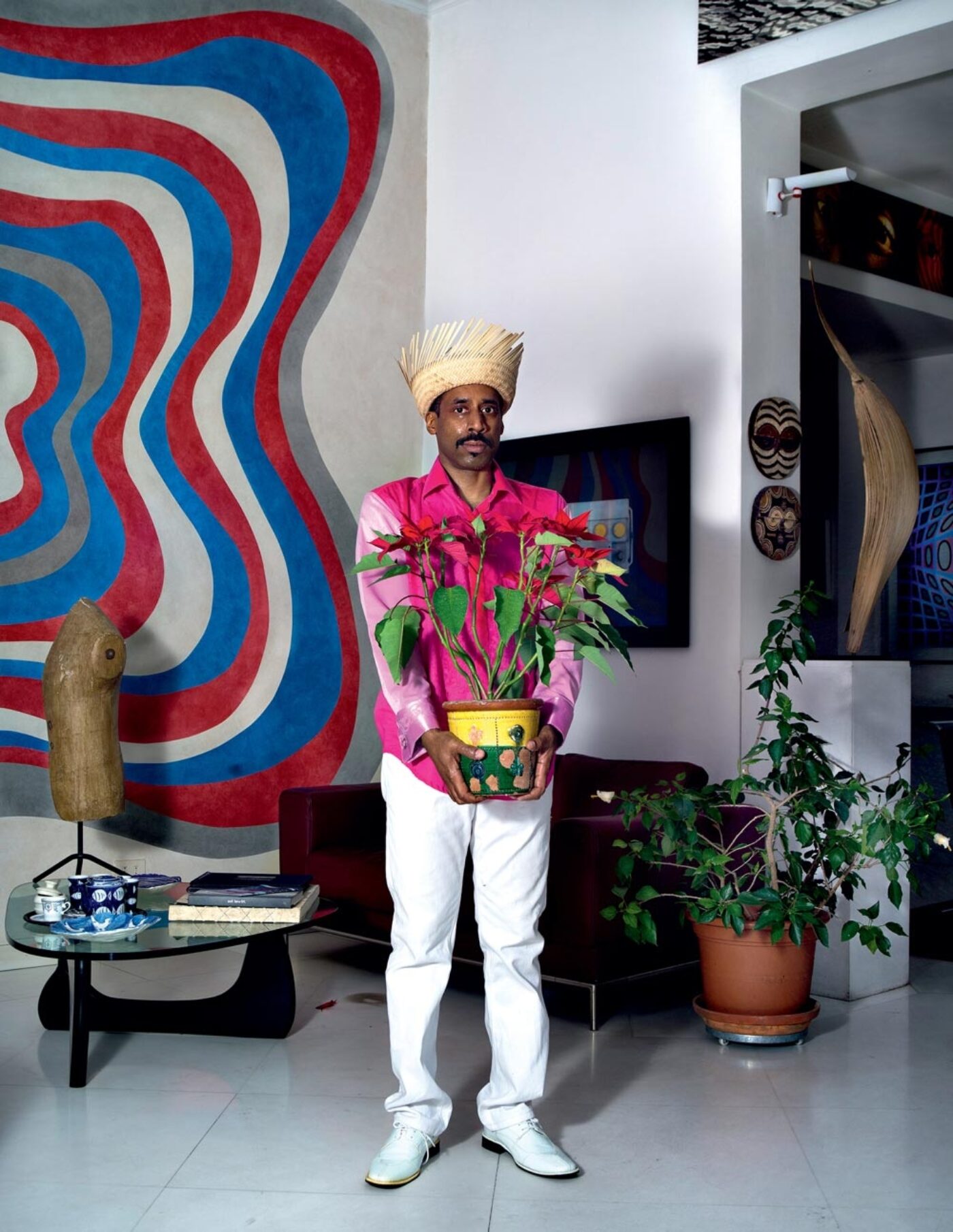 I met Nari Ward in San Gimignano, Italy, at a sit-down dinner that Gallery Continua was having for the opening of their Ai Weiwei exhibition in 2012. Ward came up to me and said, "I think you are in a movie I just saw!" Of the 300 odd invitees to the dinner, he was the only one who looked Jamaican.
I had lived in Bob Marley's house in Kingston for three years in the '70s, initially working to arrange his first two North American tours and eventually playing harmonica in his band. The documentary Marley, directed by Kevin MacDonald, had just been released and parts of an interview with me appear throughout the movie.
I surveyed the vast, immaculately restored, medieval room and its lily-white crowd and nodded, "Yes, that was me."
At the time, Nari was living in Rome for a year, being the recipient of the Rome Prize from the American Academy. As I was residing in Florence, we exchanged contacts and a few months later he called and invited me for a visit. The American Academy in Rome could be called The American Academy Above Rome—it is housed in a palatial villa situated on a hill looking down on the Pantheon. As we sat in the grand dining room with its cathedral ceiling and tapestried walls, after an elaborate eight-course dinner (not for me as I'm vegetarian), Nari began discussing plans for his upcoming exhibition at Continua, and mentioned that he needed a photographer to document a performance piece for the show. When he explained that the work was based on his uncle, a Jamaican musician, I knew I was qualified to help realize his vision. A few months later we shot the photo series Sun Splashed in twenty residences in Rome and Florence. Nari's only stipulation for the locations was that there be an existing houseplant on each premise.
Active as an artist since the early '90s, Ward has created countless large-scale sculptures and imposing, provocative installations, many of which involve found objects and complex layers of historical and contemporary references. In this conversation we decided to discuss three major works of his that I felt a particular affinity with due to my own involvement in Jamaican culture.
—Lee Jaffe
Lee Jaffe We are looking at one of the works to be shown in your upcoming survey at the Perez Art Museum in Miami. It's called Happy Smilers and it's from 1996.
Nari Ward I made it for my first gallery show. Prior to that I was an artist-in-residence at the Studio Museum in Harlem, and I did a project called Amazing Grace in an old firehouse in my Harlem neighborhood.
LJ Let's talk about Happy Smilers first. (siren noises from the street) Can you turn off that siren?
NW This is Harlem, man! But let me run out to them. (laughter)
LJ You're gentrifying the neighborhood!
NW I've been here long before all this gentrification.
LJ No man, that's why it's getting gentrified, because you were here first.
NW The building that is my studio now used to be the exhibition space where I did Amazing Grace.
LJ This was the old firehouse?
NW Yeah. Now it's very different, of course. In the mid-'90s, when Jeffrey Deitch, who had just started Deitch Projects, invited me to do an exhibition, I thought, A white cube is a really tough space! I wanted to reference this situation I saw: the owner of my old studio, on 125th Street and Lexington Avenue, was running an illegal gambling business behind the fake front of a candy store. People would come in and play their numbers among all the paraphernalia of a candy shop. Everyone on the block knew, including the police, but they had other things to deal with. So it was this sort of known fiction, this almost normal situation. So I decided to use this idea of a lived fiction at Deitch Projects. I wanted to make a kind of happy, jovial experience so I had a yellow awning, saying "Happy Smilers" and then you had Tropical Fantasy soda bottles—
LJ —hanging from the ceiling.
NW They're very colorful. You get them in the corner stores of mostly low-income neighborhoods.
LJ It's a remake of the candy shop in a way.
NW Exactly. It's like, Hey, this is all very safe and fun, and maybe a bit disturbing if you consider that the bottles are basically colorful sugar water.
LJ And they were the colors of the Jamaican flag.
NW Tropical Fantasy soda probably had that inherently in it. But there was also the reference to the original Happy Smilers album.
LJ When did you discover the album?
NW I grew up with that album; my father played it all the time. I had two uncles in the Happy Smilers group, Uncle Euton and Uncle Robin. They were an original mento band, a kind of Jamaican folk.
The show was also about the idea of the artist as entertainer, and maybe a kind of place-keeper for other expectations. It's like, We know this guy, he's supposed to be happy and jovial. However, if you put him into another context that is ambiguous, would he become something else? This piece is all about the altering of context.
LJ This is the Jamaican diaspora in Harlem, integrated into a traditional fabric of Harlem.
NW But it's any space outside of home, outside of the original context. That's the side of dislocation I was talking about. It's these two spaces combined. I wanted a certain experience as you enter the space, I wanted this moment of, Oh, this is great fun! Island music is playing, the walls are all yellow, and right away you're probably smiling. But then you go inside, and your mood changes. You walk into a strange tapestry of household material, woven together with fire hoses. Almost like an abode, or a ceremonial space.
LJ It looks like compacted trash.
NW They're all so-called discards, familiar things that were given another kind of presence, a special moment in the narrative. The fire hoses that I had gathered for this installation were all ruptured and no longer functional. Nothing there is functional, it's now serving a different purpose.
LJ And there's a fire escape hanging from the ceiling.
NW Yeah, it's no longer just a fire escape. Because once you take it away from the building it's actually a sculptural object. From one side it reads as a fire escape, and from the other side it reads like a jail structure.
LJ A fire escape, for escaping from nowhere to nowhere. It's suspended. It's a spectacular image.
NW An important element on the hanging fire escape is the aloe vera plant. Most people know that aloe vera is a healing plant. I wanted to bring in this element of nature that was about rejuvenation and healing.
LJ A kind of optimism, a possibility. And the speakers in the middle of the space, they are like an altar.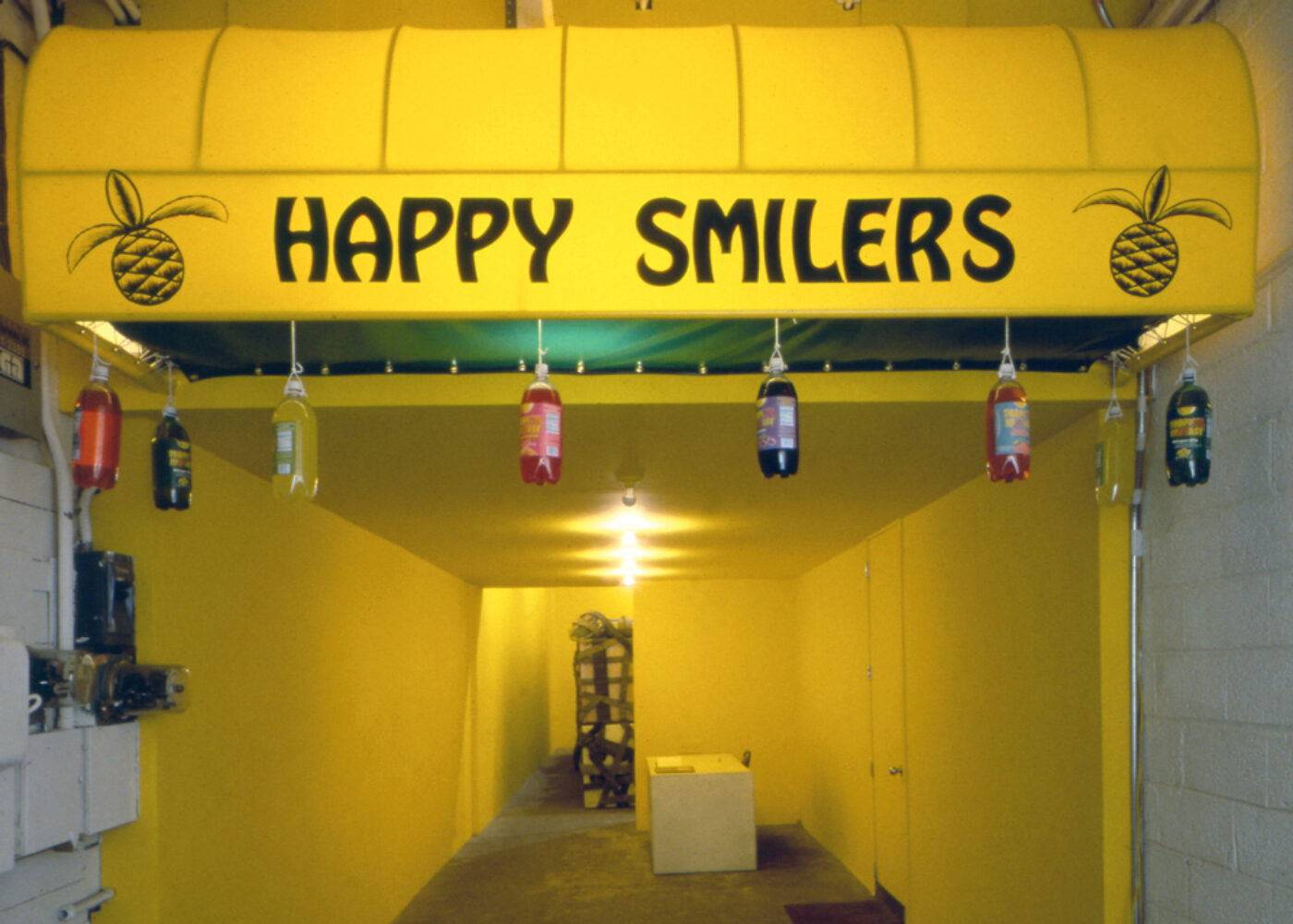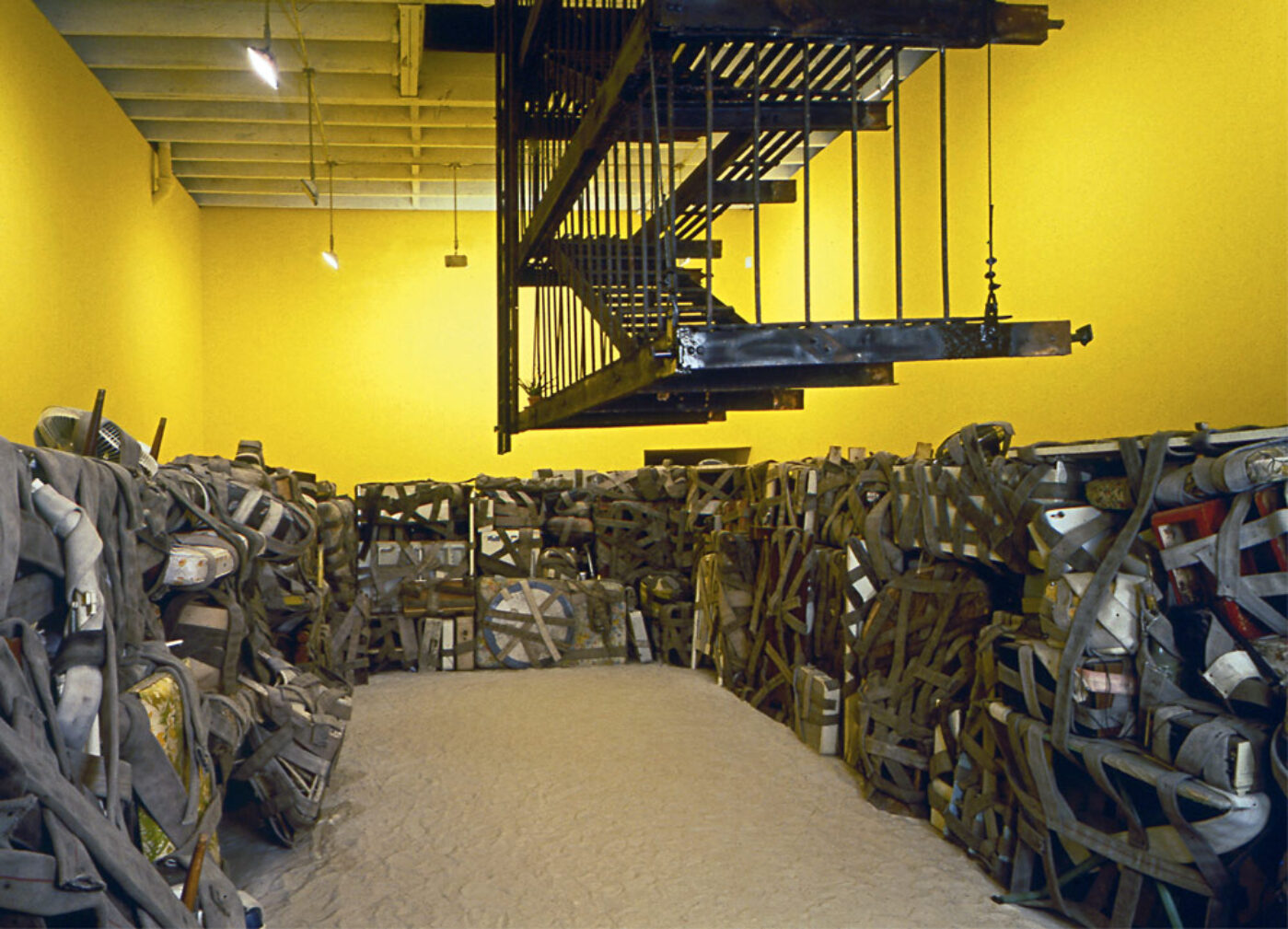 NW Exactly. When you go from the Happy Smilers soundtrack to the big speakers in the center of the room, you hear what I remember hearing in Jamaica as a small child—the sound of rain hitting the tin roof. I would go to sleep hearing this sound. I recorded that, but when I played the recording in the space with the fire hoses, it was really strange, because instead of sounding like rain it sounded like the flickering of flames. I would never have gone there with the association of rain becoming fire if it wasn't for the presence of the fire hoses and the fire escape.
LJ So it's the rain, which is a symbol of regeneration, and at the same time it's the sound of flames. And there's the fire escape, a kind of prison, an enclosure.
NW I guess that's exactly what I felt, this notion of confinement and limitation. That's why the aloe vera plant came in as this symbol of light and potential that gave hope to the piece.
LJ And then you got your uncles entertaining.
NW Yeah, the Happy Smilers are there. I recently visited my storage facility to inspect the piece for my museum retrospective this year. I felt very aware of the amount of repetitive work it took to build the piece. Now I have a little bit of success and I can hire people to help me.
LJ Back then you had to make that whole thing yourself?
NW I was there like a true Jamaican immigrant, working twelve-hour days nonstop for a month. Happy Smilers became also about labor as a transformative force.
LJ You're the slave and the slave master at the same time.
NW I guess that could be one way of putting it. But the idea of transformation has always been something that I romanticize in a work. I'm cautious of it but I also need it to connect my thoughts with the process of making. That's really important.
LJ How did you get the fire hoses?
NW From the New York City Fire Department, just across the street from my former studio on 125th Street. One day I had found an old piece of fire hose, and I was like, Wow, this is great material. So I went over to the firehouse and said, "Hey, guys, do you have any extra fire hoses?" And they're like, "No, but why don't you go to the hose room in Long Island. Whenever a hose is busted, it goes there." They gave me the address and sure enough, this is where all five boroughs bring their busted fire hoses. The guy there explained to me, "We have a big problem here. We used to repair the hoses ourselves, but now the insurance companies don't allow us to do that anymore, and so we have to toss them. But the sanitation don't wanna take them." "I want them," I said. And they're like, "Oh, good. We'll bring 'em to you." After a while, I was getting fire hoses delivered to my studio. Soon I had no more room and I had to say, "Stop!" I did three major projects with the material! I could have easily become the fire-hose artist, you know. It's a very seductive and resilient material.
I'd love to do an entire line of housewares out of this stuff. It's strong and so weighted symbolically, but also very comfortable and soft. It's an industrial material that can become organic; you can twist and turn it like a vine. And it's a material that comes with these two relevant signifiers, fire and water, both elements of regeneration.
LJ Let's return to Amazing Grace.
NW It was an installation of about 365 baby strollers that I had collected from the streets. I picked up the baby strollers that were discarded by so-called marginalized folks…. That piece was a reference to what was happening at the time; you know, a community in crisis.
LJ Right, and you just captured the space, the abandoned fire house.
NW I was fortunate, though, because the woman who allowed me to rent the space wasn't interested in making a profit. She just wanted me to pay for the upkeep. She was very generous and a supporter of art.
LJ I saw Amazing Grace at the New Museum two years ago. The context, the topology, were so radically different.
NW It's been shown in at least five different locations now: Paris, Athens, Vienna, Torino, Geneva…. I've been intrigued with the change of context because in every situation, people bring their cultural experience to the piece. In Athens, I remember people talking about the baby chairs like remnants, almost from an archaeological perspective. In Vienna, we showed the work in a former horse stable of the king and it was viewed as a dialogue about class. In Geneva it seemed even more vulnerable since it was installed next to automobiles in a parking lot of the World Health Organization headquarters. For me it's not problematic to shift with these different references—in fact I learn from that.
LJ And seeing it at the New Museum in this white cube—
NW It was actually on the ground floor, in their adjacent storefront space. It was next to the New Museum, but it wasn't in the museum. But the context of the Bowery was important for the piece.
LJ Yeah, the history of that neighborhood and the homeless people, it's inseparable from the work.
NW The piece is echoing the margins, and so it works on that level. But then you don't want to be the poster child of the margin, the marginal artist, right? (laughter) You don't want to be the crazy guy shouting outside the house. You want to effect change by getting in the house. Amazing Grace will be shown next in Milan; an exhibition this fall that deals with motherhood. Very exciting!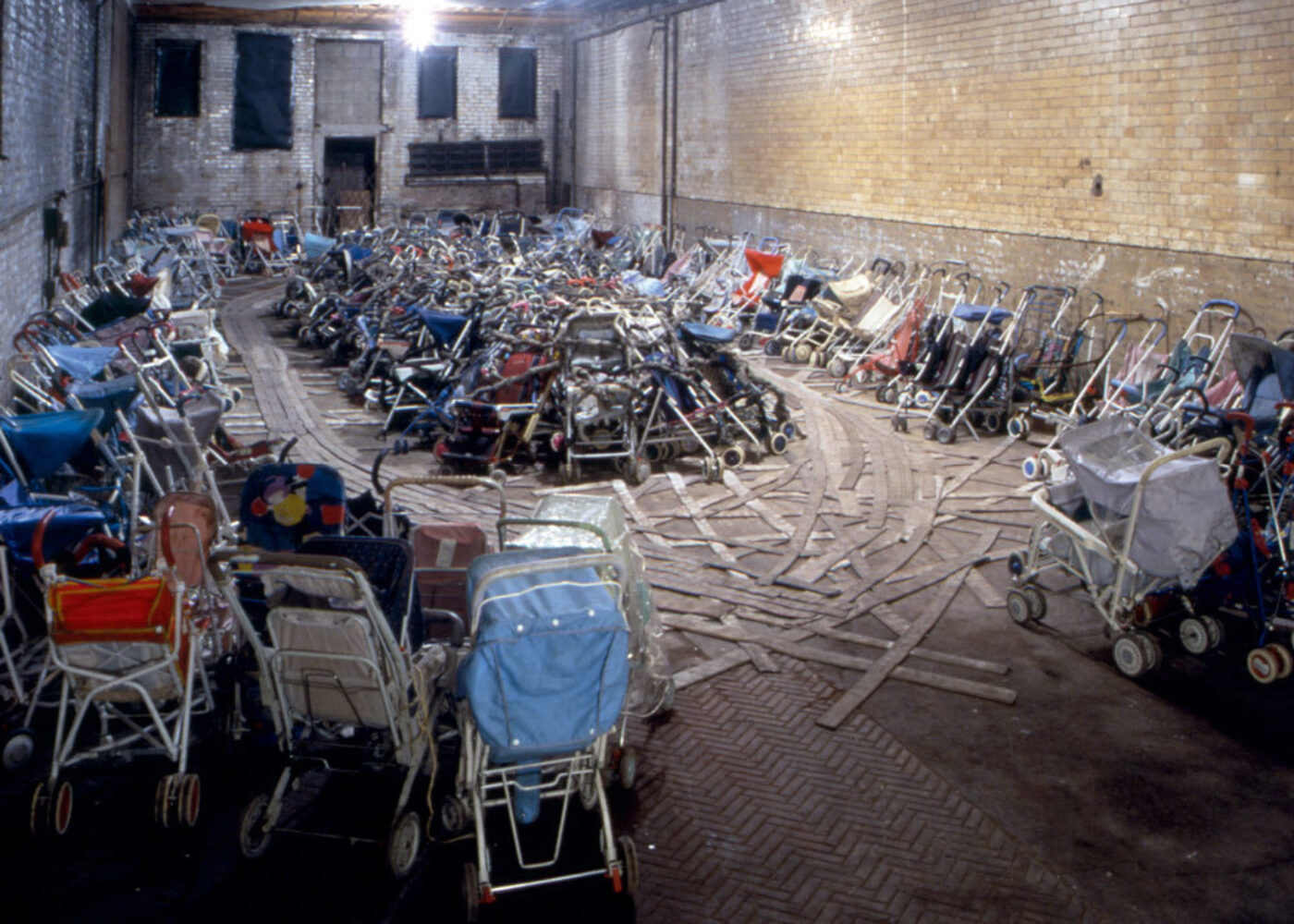 LJ Well, you know so much about that.
NW It's the life cycle of this object and how it reflects on human conditions that really interests me. It's like a first-world vehicle, it's the first time the baby leaves the mother's, or the parent's, arms and is pushed into the world, experiencing the world in this new way. That's a powerful moment. There's this idea of protection, and nurturing, but then, the strollers are discarded and get used by marginalized individuals who pick up bottles and cans to make ends meet, people who are perceived as being failures.
LJ Let's talk about the music with Amazing Grace.
NW The sound is equivalent to the aloe vera plant that was in Happy Smilers—this element of hope, of light. When I was putting together all these strollers, the piece became so heavy and dark; there was this sense of despair, and I wanted to pull that back. I needed to find a sound to do that. I grew up with my father playing Mahalia Jackson soundtracks. He was a big fan.
LJ I grew up with that too!
NW Yeah, beautiful powerful voice, man. So I said, I'm sure Mahalia could save this work for me. One of my favorite standards is her rendition of "Amazing Grace."
LJ She's the first black person to sing "Amazing Grace" at the Grand Ole Opry in Nashville.
NW Oh, I didn't know! That song was written by a white slave owner, it's basically a song about his transformation and repentance. He was on a slave ship, in a furious storm, he felt that the ship would be tossed and broken up. And he got on his knees and prayed to God to spare him, and promised that he would stop being a slave owner and slave trader. And apparently he was spared, and this song is a result of that experience. It's about him awakening, becoming a sort of abolitionist—
LJ So he freed all the cargo?
NW I don't know if he freed the cargo, but he promised God he was going to live a different life.
LJ So he wrote the song.
NW Yeah. So when you walk through the Amazing Grace installation, on the exterior of the piece the strollers are like frozen in time, and then in the interior they are intertwined with the fire hoses, knotted and tied. It's almost as if they're chained. But I was thinking of them more like being entangled in their own growth. The twined and wrung fire hoses are like roots piercing each stroller. So the idea was that the strollers on the interior are overwhelmed by some kind of energy, and then the strollers on the exterior are sort of watching their situation. And you, as the viewer, participate in that theater by walking through.
LJ In Amazing Grace at the New Museum, the sound goes into the street and the street becomes part of the experience.
NW Exactly. If I were to reinstall that piece, I would have more of the sound outside so passersby would wonder, What's going on here?
LJ Mahalia Jackson's "Amazing Grace" recording was very important during the civil rights movement in the '60s and '70s.
NW She had a major role. She was a big supporter of Dr. King and a real rock for him.
LJ Sound transcends the constraints of space and time. Mahalia Jackson's voice transported me to a time inextricably linked with the civil rights movement. Her transcendent voice commingling with the detritus of abandoned strollers and punctured fire hoses, arranged on the floor in a shape reminiscent of a slave ship, transformed the museum into a sort of storefront cathedral. And right next door is the Bowery Mission, a homeless shelter created in 1879 through a Christian organization.
So we're confronted with the paradox of a work of modern art, which is such a product of the Enlightenment, and specifically Christian. Which leads to the next paradox, as Christianity is the root of colonialism, and intrinsically of race theory, which was used to justify the African slave trade and the genocide of indigenous cultures in the Caribbean and the Americas.
Seeing your work brought me back to a song of Bob Marley's, "Talkin' Blues." I was at his wife's Rita's house in 1974 and I slept on the floor on the porch. When I woke up, Bob had a bowl of porridge for me and started singing: "Cold ground was my bed last night, and rock was my pillow too. Talkin' Blues. Your feet is too big for your shoes." And then it has the line, "I feel like bombin' a church now that you know that the preacher is lyin'."
NW Pretty radical, blowing up a church.
LJ And it's the frustration of an island where there are more Christian churches per square inch than any country in the world. And all the hypocrisy of the church.
NW For me, the connection between Harlem and Jamaica is also the church. In the book of Guinness World Records it may even be Jamaica and Harlem that have the most churches per square mile. Religion has a dual component of being an opiate for the people, as Marx would say, but on some level it can also, at its best, unite, as in the civil rights movement. So I never really want to discard the importance of faith. Faith, well-placed, is a powerful tool. And that's the problem, it allows for manipulation.
LJ So then the question I have is: Does the sculpture Amazing Grace turn the religiosity of the recording into something profane? Is it addressing the failure of religion sixty years after the Mahalia Jackson recording? Here we are walking into the New Museum on the Bowery, and right next door we have all these homeless people, and almost all of them are people of color.
NW Yeah, yeah.
LJ So in a way, your piece was addressing this failure.
NW There is lack of change and a breakdown in support, but I keep getting back to that notion of hope. Yeah, I'm super-critical of religion and its limitations, but there is also the possibility of effecting change. I have a very complicated relationship with my faith, being a Baptist. I'm not a devout Baptist by any means—I live next to a church and that's the closest I get to going there. (laughter) But I always feel it gives a perspective. Religion can give you distance from your situation, and I think that's what I want, distance even from the contemporary art experience. It's about having you step back, having you pull outside of the tendrils of connection and murkiness that life offers. It gives you this other position to view reality. Within a good preacher's sermon there's a lot of repetition. And all this repetition is about reinforcing one's relationship with the moment. In my piece, Mahalia Jackson's voice was pulling you into another space, a space of devotion, or of just beauty perhaps, of power and empowerment.
LJ Here's something that I grapple with constantly in my own work: How does one infiltrate the market without denigrating the underlying aims of what's ultimately a subversive practice? Because without a venue, such as a museum, to draw a large audience, the work is kind of neutered. In fact, one might say that only when perception occurs does a work become an artwork. In your case, until you were able to penetrate the art market, the work would have never been able to be realized in that museum space.
NW You are correct in that I made it as a conversation with my neighborhood, about identifying a crisis that I saw within the community. That was the impetus and it never occurred to me that the work would survive beyond that. At some point I thought I could make it smaller for some future iteration but then a collector saw the piece in Harlem, and said, "I want this entire thing, I love it, I want it." And right away that changed the piece. It got a chance to live in these other places—on three continents and in five different venues. It's interesting to think about the market. I went through the Studio Museum in Harlem as an artist-in-residence, and that's actually when Amazing Grace was built. A lot of people don't know this because the program is so successful now, but one of the museum's early mandates was to acknowledge and give a platform to artists of color who had been overlooked by the market. And even now, when we have many artists of color being snatched up and brought into major museums and so-called blue chip galleries, there's still this oversight—all these artists from the '70s to today, who never got their support, are still being left out. I'm fortunate enough to be making work in a time when the market is hungry for that other voice that they've sorely overlooked.
I remember my first art history book when I was going to school in the mid-'80s. It was Janson's History of Art. The only African American artists in this huge book were, I think, Jacob Lawrence and Romare Bearden. Museums are now trying to get artists from the '60s and '70s, maybe the '50s, and even more so young African Americans. So we've come a long way, but still a lot is being overlooked. The market is a wild card that you can't run after—I just do my work. There are works that function in the market and then there are things that I make that could never be consumed readily. I mean it takes a very unique person—curator or collector—to want the more politically driven works. That's a reality that I've come to live with.
LJ Let's go to Sun Splashed. In this photo series you are wearing your uncle Euton Ward's performance outfit. In channeling your uncle you've elevated him to a heroic status, but at the same time you've exposed him to his own vulnerability. You have him drenched in sweat in this costume, a type used in the '50s and '60s for entertainers who would be performing for tourists in Jamaica. By accepting to wear this costume your uncle was accepting the myth of the Happy Smiler.
NW He was a survivor just like the African American minstrel character—a nice, entertaining guy who was in some way disparaged but found a way to feed his family and survive. To add another layer, the hotel that made the Happy Smilers album for my uncle was called The Plantation Inn. It's the plantation legacy.
LJ The hotel owners had to make the tourists feel comfortable and they tried to dispel the racist image of the black African savage.
NW The angry savage.
LJ So they put them in these costumes.
NW Most of the tourists to Jamaica were Europeans, they wanted the benefit of the plantation without the undertone of that horror and oppression. So these guys sort of fulfilled that, they were happy entertainers.
LJ And in the early '60s, being from Jamaica, if you wanted to survive by making music, this was one of the only ways.
NW I remember Uncle Euton being very charismatic. He was able to travel, they even did a tour to Germany, and when he came back he was a bit of a star, even to regular Jamaicans he was this special character.
LJ And that was before ska, before reggae, and around the time of "independence" from England. Before the first Bob Marley and the Wailers hit record came out, in 1964. That was called Simmer Down, and you had the music changing from mento, which was a slow, relaxing, folky kind of music, to a much more intense, faster rhythm. And the lyrics were saying, "Simmer down, the battle will get hotter."
NW Yeah. That was almost a premonition of what was to come.
LJ Exactly. And here you had the euphoria of the independence, and now you've got the reality—it really isn't independence. It's independence in name, but the economic and social-political conditions haven't changed.
NW Right. When I adopted this character in the '90s for the Happy Smilers show at Deitch Projects, it was about the issue of power. There was a narrative of the immigrant, but it was also about the sub-status quo for the individual. I was reacting to what I experienced in my community in Harlem. But it was a difficult time in America in general, there was the crack epidemic hitting full force, and AIDS. So there was a real sense of crisis in these different areas: in health, in social justice, full-on, especially for people who were vulnerable, people who were poor.
LJ Yes, and now we have emigrated your uncle into this new surrounding. Now he's in Europe, in Italy.
NW Yeah. This character no longer needed to be home, because it was about a psychological state of being disconnected from place, this sense of not belonging, but at the same time being okay. For me it was really important that I not play this character as a victim. When you look at the image, there's ambiguity—is he a pathetic, dependent person, or is he, in some ways, particularly dignified? That's something you brought to it with the image you took of him. In the photographs, he seems to be sweating, or wet, he appears out of place, but he's the plant in this pot, very much dependent but at the same time surviving. That surviving component, surviving with your dignity, was really important in balancing these portraits.
LJ I felt that the sweating was significant of someone who's working really hard, but also someone who's not accepting of the situation. There's an underlying—
NW —anxiety.
LJ And the intensity of your gaze as you posed in character; I worked on that in all the photos. Your gaze made me think of Frantz Fanon's study Black Skin, White Masks, when he talks about the light-skinned guy from Martinique who goes to Paris. In Martinique he's in a kind of elite class, because of his lighter skin, but when he gets to Paris people are looking at him completely differently, and it's shocking.
NW He's the Other.
LJ The savage.
NW I wanted my character to be more like a domestic wild and unpredictable element. He is easily understood as coming from another place. But I wanted him to seem to fit into this context. Perhaps he doesn't. So the tension is not necessarily that he's coming from somewhere else when he's there, but that maybe he belongs there—like the plant. He's come to terms with being the potted plant and he's got his own set of problems that relate to that situation. The untamed is the wild growing foliage and you can imagine the realities of that. The potted plant is much more anxious because it may want to be wild and unhindered, but it can't! He's got to make a living. I want to acknowledge that other predicament—you can't necessarily go back to being Other anymore. You have to figure out how to be different within. That's why this work made so much sense in Europe, because there is a whole set of problems that comes with immigration. People coming from other countries never really assimilate; they can't because of the strong tradition of the host country, so they feel as if they're under siege. In America it's different, because there is this notion that everyone gets absorbed and becomes American.
LJ Yeah, the camera's fixed, so the camera becomes the white person. And me being white, being the photographer, I'm taking that position. In all the images, I was careful to be facing slightly upward, to give a powerful presence to your uncle and his transformation.
NW I guess that's why there's this element of that person's dignity. And it's finding the line between a sense of anxiety—you mention the sweating and the labor—and this almost heroic persona that's parked within that.
LJ Yeah, how is he surviving in this situation?
NW Right. Which is the premise for what I want the viewer to think about: How is this person surviving? How is he belonging?
LJ Also, we were in Italy, the birthplace of the Renaissance, and Europe is where race theory was first formulated. And now in the twenty-first century, being so informed by the cultural theorist Stuart Hall, a Jamaican who immigrated to the UK and revealed race to be a social construct and a "floating signifier." We are left with the nasty residue of those earlier racial theories.
NW With the whole European Union experiment, one of the hard things for them to figure out is how to deal with the Other. It's okay to be able to have this conversation and commerce between these several European countries. But what happens when you have an influx of people coming from Asia or Africa, how does that change the dynamic?
LJ Jamaica being an island, it's a whole country of dispossessed people. The Spanish annihilated all the indigenous people. Everyone is a displaced person.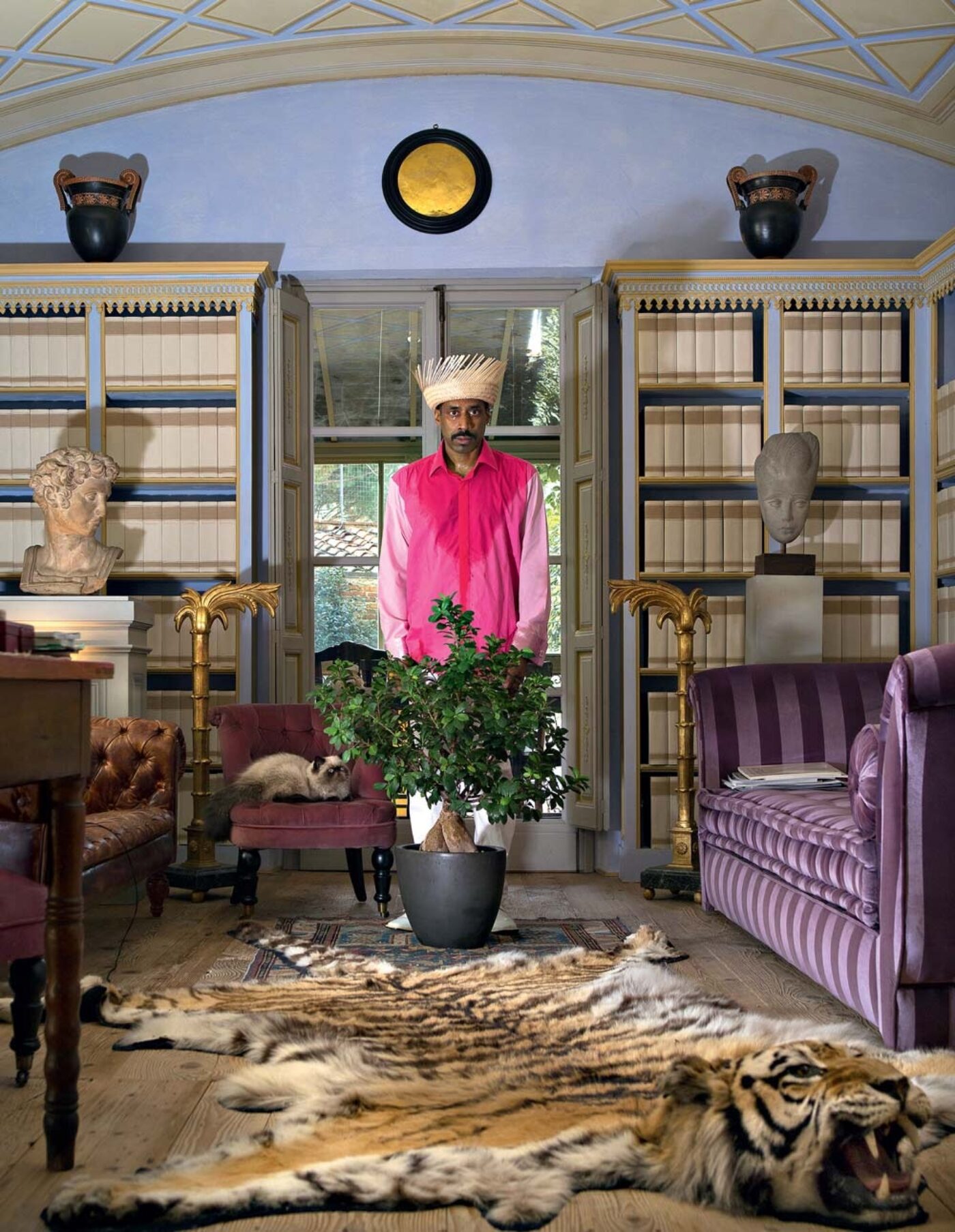 NW That model has been fortified by the business of slavery, the business of colonialism. All of these businesses created this entity.
LJ And now you have the multinational hotels and all-inclusive resorts on the island, mostly not owned by Jamaicans, but by foreign corporations. People pay abroad with a credit card and the money doesn't go to Jamaica. There's huge unemployment in Jamaica, so they can hire people for slave wages.
NW The funny thing is that Jamaica created the notion of the "all-inclusive" hotel experience, but now it's destroying the island, because the commerce doesn't go into the community.
LJ The hotels are importing all the food into Jamaica although everything grows there.
NW It's a real problem.
LJ But I think there's hope for change. I'm feeling it. The island will be self-sufficient one day, which it can be.
NW One of the problems that we talk about in any of these so-called third-world countries is that the local people of wealth don't support their own cultural institutions. There's a contentious history to business being contingent on manipulation and on taking advantage of the other. There isn't a notion of civic responsibility. People who are really talented leave, because they can't survive under those conditions. I want to go back and participate in the visual-cultural life in Jamaica and try to develop an art residency on the island.
LJ When you talked about your teaching experience there, it sounded as if there are really smart people coming out of art education.
NW Yeah, I feel like the Edna Manley art school there has some excellent instructors and produces very skilled artists. However, there isn't enough support for artists to develop visions to help transform their communities. The pervasive model, like everywhere else, is to follow the market standard of success, which is selling your work to support your practice. And that's the struggle and challenge for artists—to keep that creative flame active while creating resources that can effect change within their communities.
Lee Jaffe is an artist and musician. He has worked with Vito Acconci, Hélio Oiticica, and Miguel Rio Brando, and as a musician, with Bob Marley and the Wailers and Peter Tosh. He has had solo exhibitions at the Moderna Museet (Stockholm) and The Irish Museum of Modern Art (Dublin).
Originally published in
Featuring interviews with Nari Ward, Jim O'Rourke, David Diao, Rachel Rose, Tonya Foster and John Keene, Alice Notley, Deana Lawson and Henry Taylor, Annie Baker, and more.