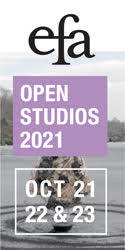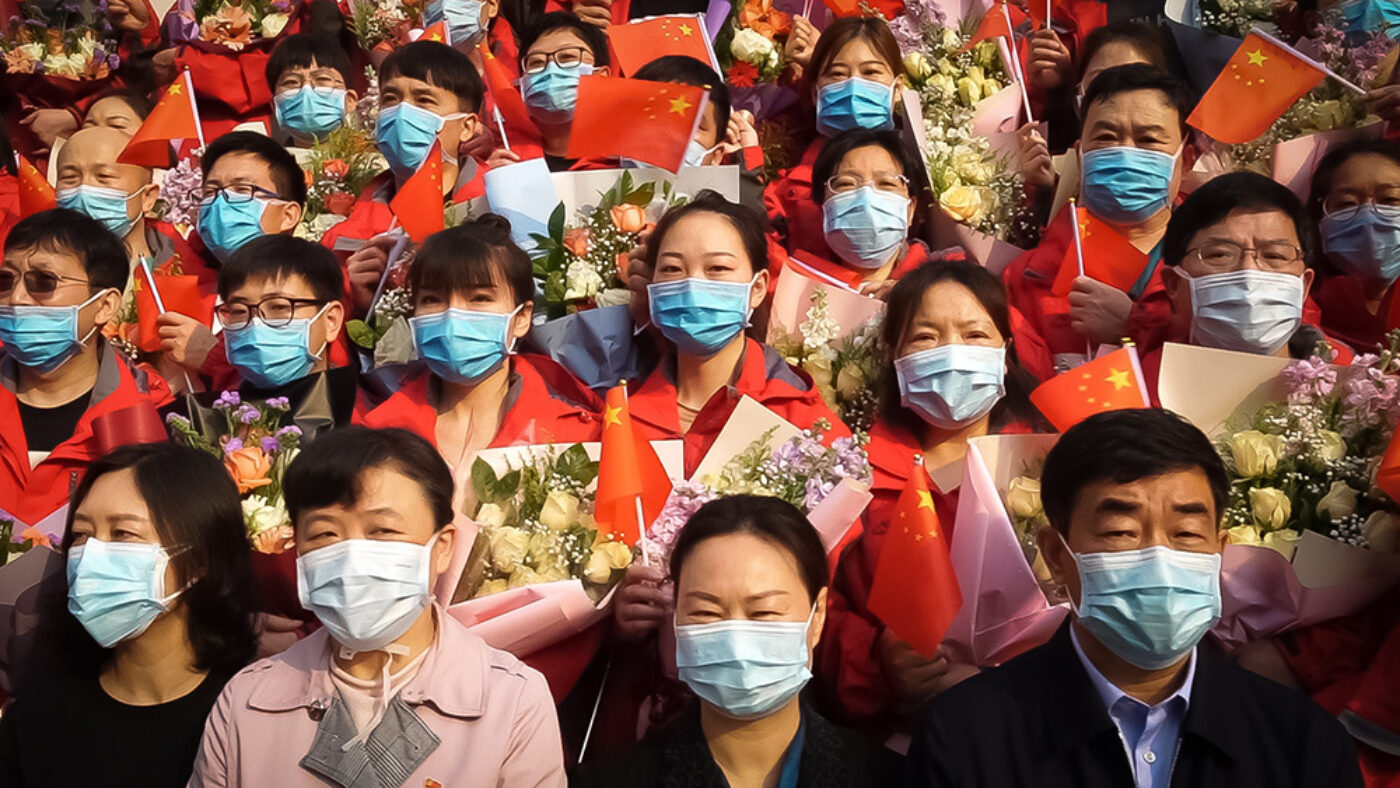 In January 2019, after eight doctors in China were punished for sounding the alarm about a mysterious new illness, news anchors across Chinese state media recited the same warning: "No one can get away with spreading rumors online." Months later in New York City, a nurse who spoke out
about the lack of personal protective equipment at the hospital where she worked, tearfully echoed: "I was accused of causing hysteria and spreading rumors."
Nanfu Wang's new documentary In the Same Breath tracks the churn of propaganda and misinformation that grew alongside the COVID-19 pandemic, following the virus like its shadow. A Chinese-born American filmmaker, Wang has long investigated risky subjects that seem guaranteed
to flag her birth country's censors: a child rape case involving a school principal and Chinese government official in Hooligan Sparrow (2016) and China's population control measures in One Child Nation (2019). Across her oeuvre, Wang tells personal stories that illustrate the effects of entrenched power structures.
Her new film relies on an anonymous camera crew, lenses poking out of their PPE, who discreetly film the initial outbreak of the pandemic in the Wuhan region in early 2020. Some of their shots linger—an exposed foot poking out of a hospital bed—while others cut abruptly—the masked face of a healthcare worker, who blinks and asks, "Is that filming?" One jarring montage of a clinic's security videos shows a steady stream of patients who describe, as if reading directly from WebMD, the litany of symptoms we have all come to fear. These scenes inspire awe at Wang's craftiness in smuggling them out of China and onto the big screen and also a dreadful sense of déjà vu.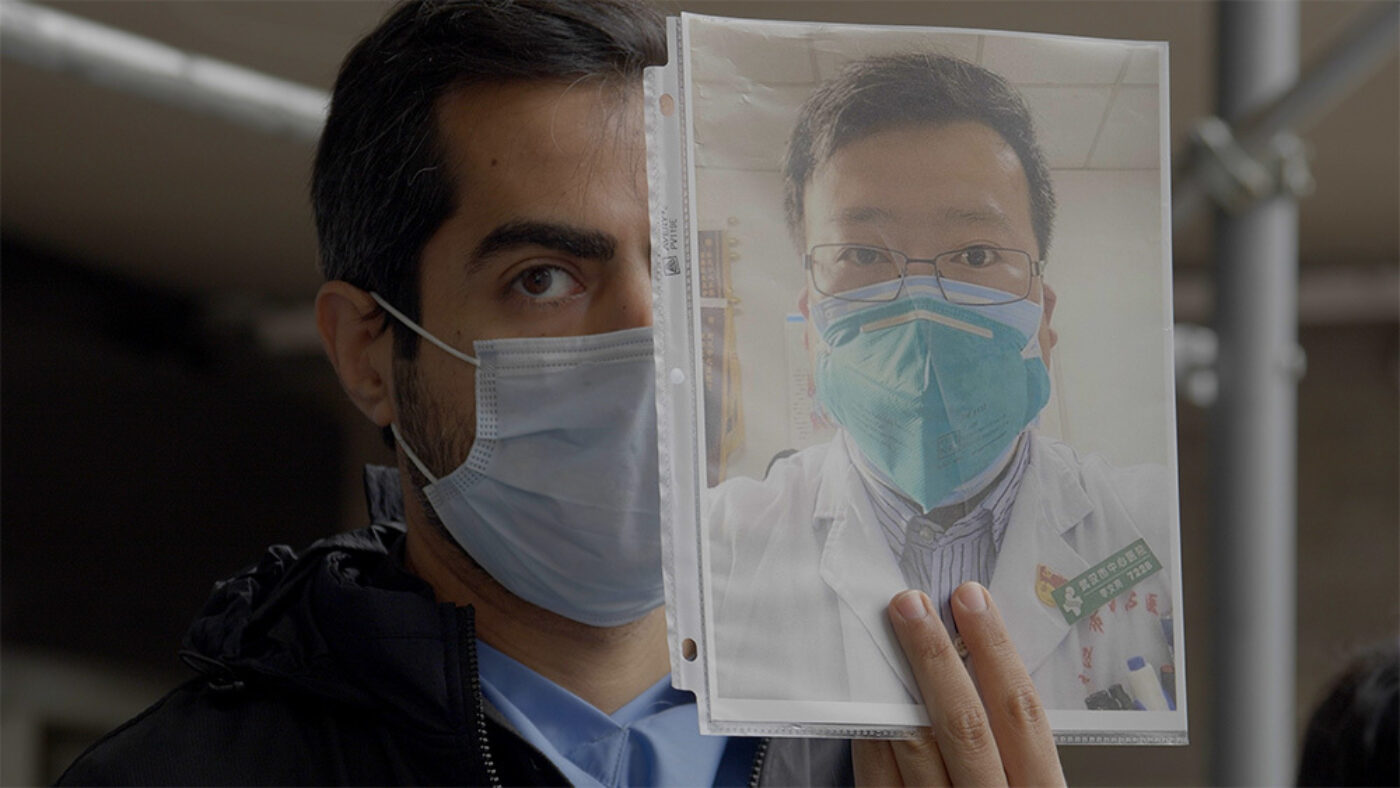 The chilling hospital footage of illness and grief is contrasted with clips from state media propaganda featuring rousing anthems and smiling crowds of first responders. As a filmmaker, Wang is clearly impressed by the government's savviness in manufacturing a patriotic narrative after working to quell rumors of the virus's existence. And she captures the impact of their campaign on citizens: we meet a despairing widow who affirms the need to protect her country's image over finding closure around the death of her husband, a clinic doctor who was refused treatment at several hospitals.
Thousands of miles from Wuhan, another superpower sneaks a peek at China's playbook. President Trump appears halfway through In the Same Breath, waving his hands and dismissing the novel coronavirus as a bad flu. The Trump administration's handling of the pandemic often seemed haphazard, but In the Same Breath aligns the United States government's negligent equivocations with the coordinated machinations of the Chinese, showing how two governments that differ wildly in dogma and style both responded to the spread of the coronavirus by protecting their public image above all else. Wang draws a more tenuous connection between the common people caught between a deadly virus and self-serving leadership. A great gulf exists between a grieving Chinese man risking his life to criticize his government after his father's death and a maskless horde of Americans screaming their discontentment about lockdowns, but both are vulnerable to pernicious ideas of national identity. In one scene, an American man at an anti-lockdown protest likens the US to China then concludes, "being free is what separates us" from them. Nanfu Wang seems uniquely qualified to question this claim.
Bridget Hovell is a writer based in Philadelphia. She cohosts the film review podcast Chick Flicks.
Originally published in
Our summer issue features interviews with Mel Kendrick, Azareen Van der Vliet Oloomi, Kader Attia, Arthur Jafa and Dana Hoey, Quntos Kunquest, Katiana Rangel, and Anne Anlin Cheng; fiction by Jenzo DuQue, Dylan Landis, Anthony Veasna So, and Sophie Hoss; nonfiction by A.V. Marraccini; a comic by Ronald Wimberly; poetry by Arthur Solway, Rickey Laurentiis, and Alina Stefanescu; an essay and portfolio by Kalup Linzy; an archival interview with Suzan-Lori Parks; and more.