Discover MFA Programs in Art and Writing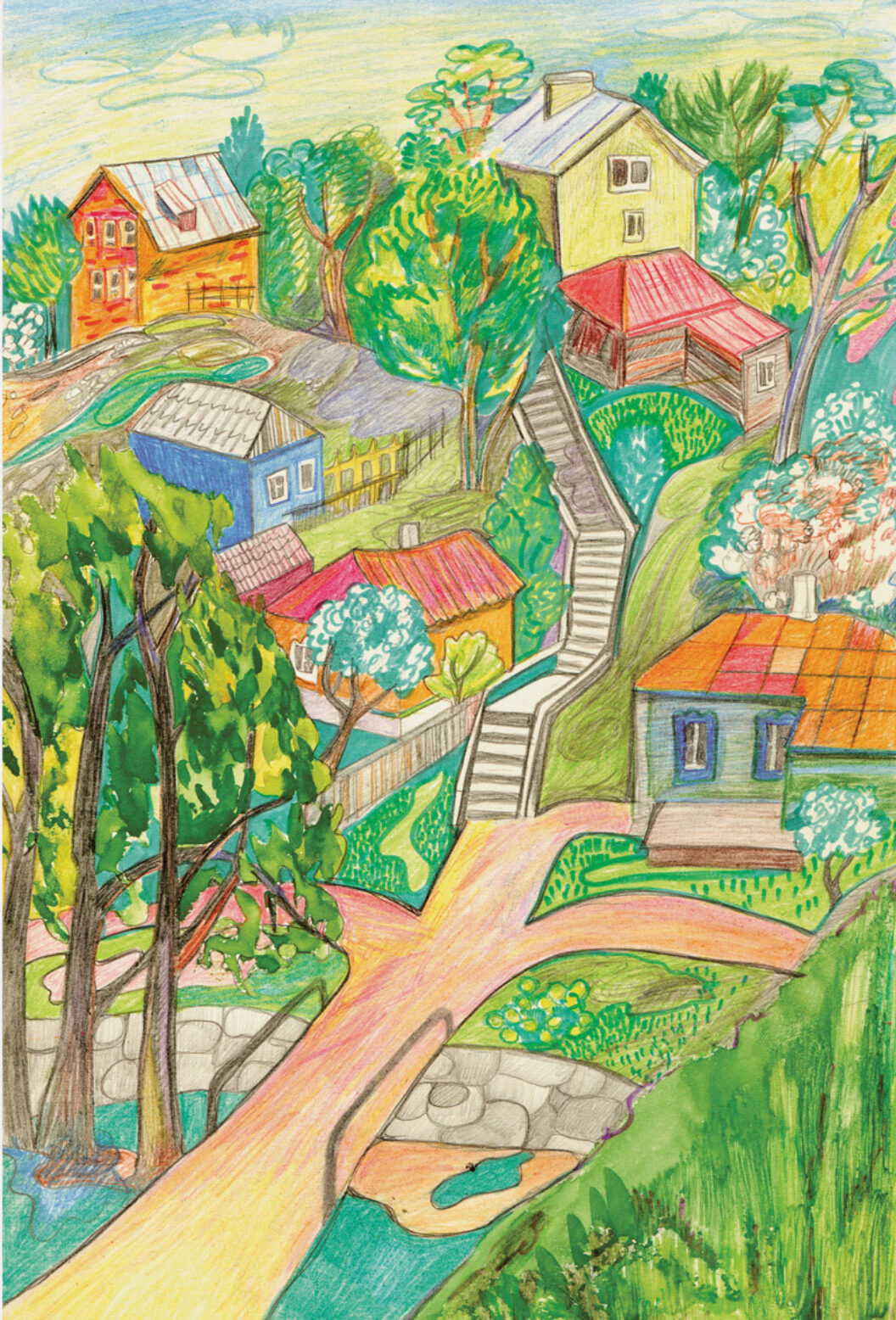 Translated by Bela Shayevich
До девятнадцати лет моим самым большим желанием было уехать из родного города Серпухов. «В Москву, в Москву!», — думала я, как три сестры из пьесы Антона Чехова. В этом маленьком городишке, как впрочем, во всей русской провинции ничего не происходило, и не было никаких перспектив. В 19 лет мне удалось перебраться учиться, жить и работать в столицу. Прошло много лет, прежде чем возникло новое желание — рассказать историю про ненавистный и любимый Серпухов.

Until I was nineteen, my greatest wish was to leave my hometown of Serpukhov. To Moscow! To Moscow! I thought, just like the three sisters from Chekhov's play. Nothing was happening in this small town, or really, any small town in Russia, and there were no opportunities. When I was nineteen, I managed to move to the capital, to study, live, and work. Many years passed before I wanted to tell the story of my despised and beloved Serpukhov.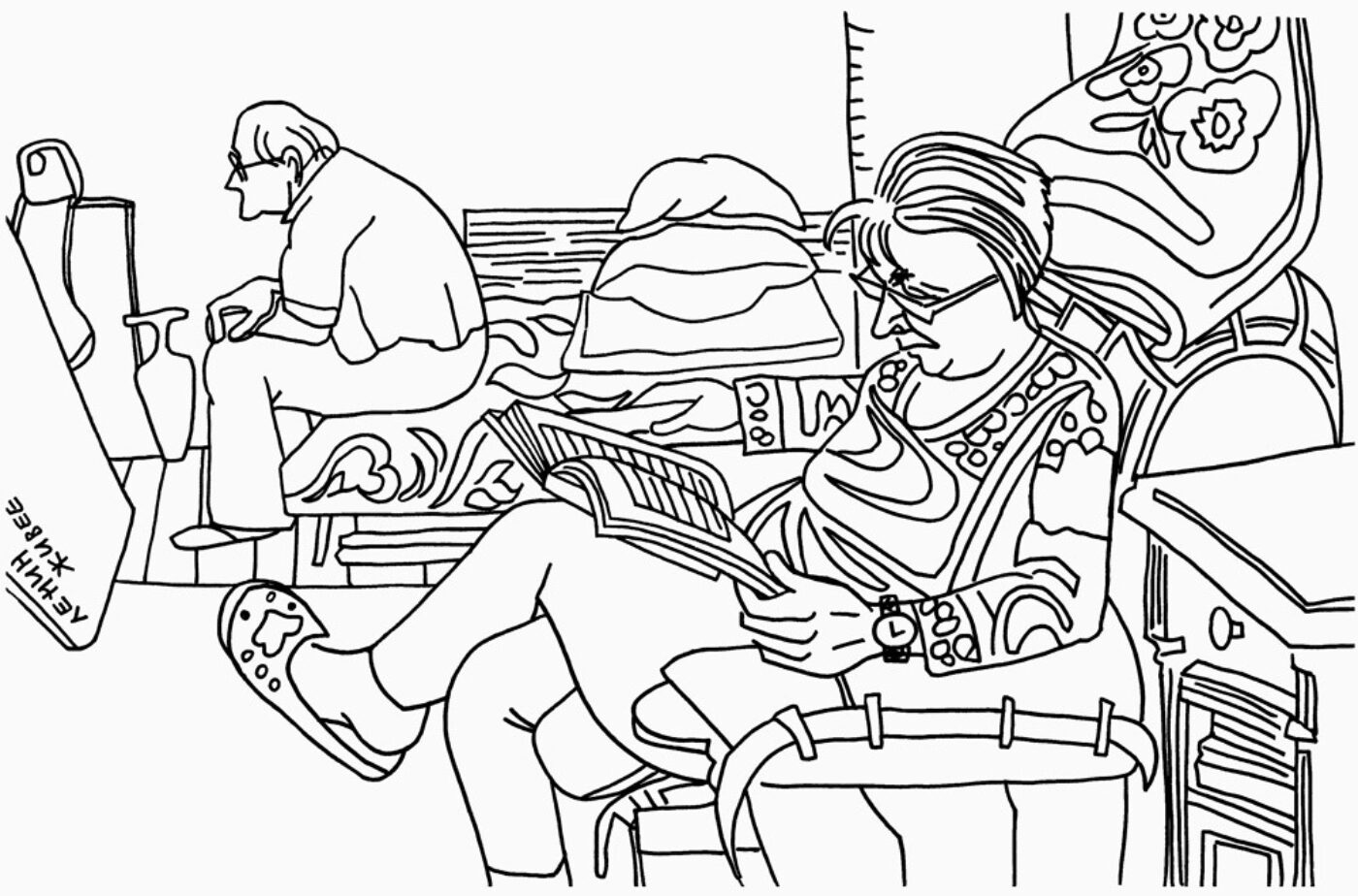 Раз в несколько месяцев я приезжаю в Серпухов навестить родителей. Серпухов для меня сейчас — это их квартира.
Every few months, I come to Serpukhov to see my parents. For me, Serpukhov is their apartment.
До недавнего времени было ещё одно место в городе, куда я могла зайти без приглашения. Серпуховская государственная типография. Там сорок лет работала моя мама. Как хорошо, что я успела сделать несколько рисунков до ликвидации типографии!

Until recently, there was one other place in town where I was welcome without an invitation, the Serpukhov State Printing House. My mother worked there for forty years. I'm so glad that I managed to do a few drawings of it before they shut it down!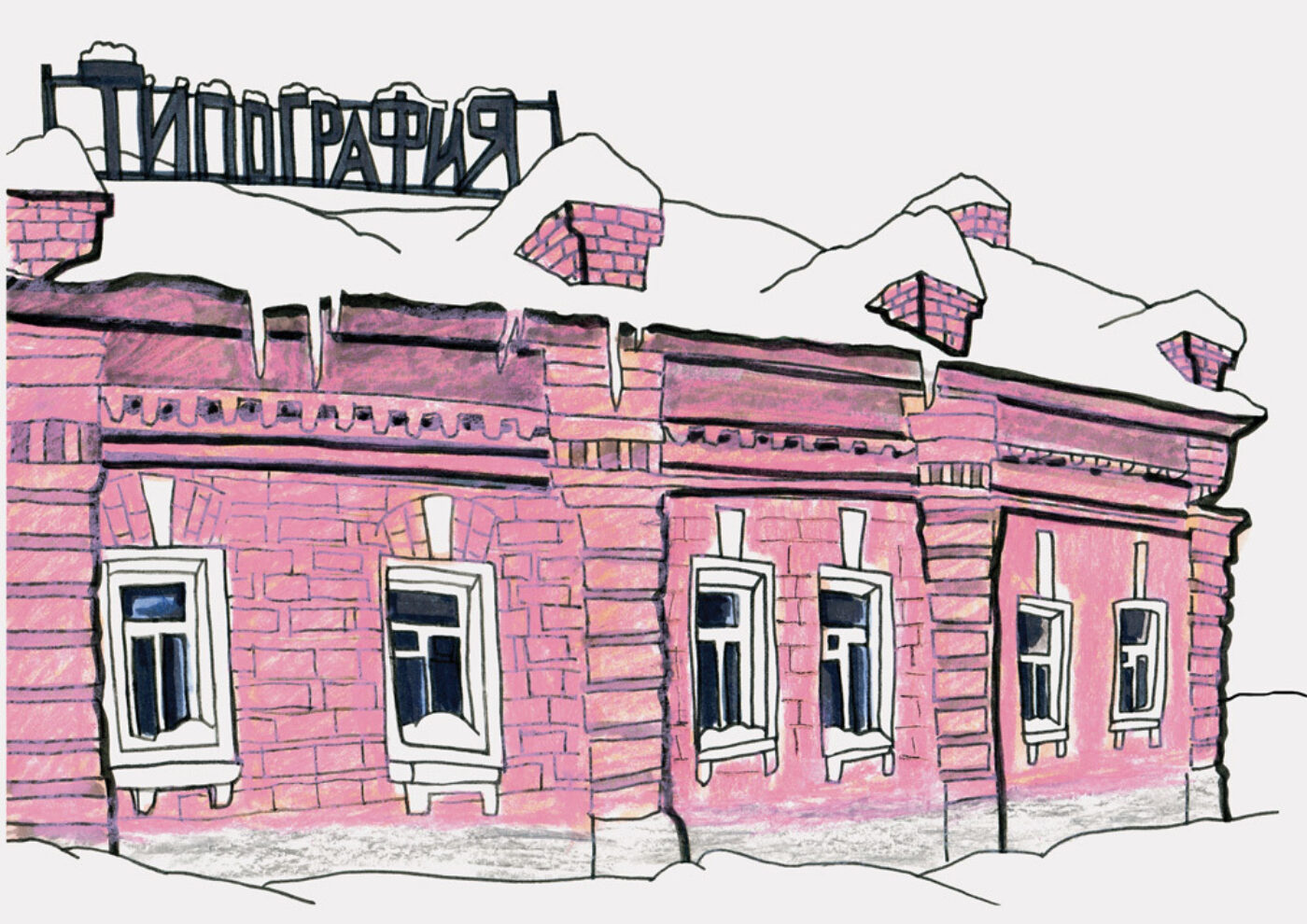 В советское время 150 сотрудников работали в две смены. Каждый день возили в Москву машину с готовой печатной продукцией и привозили обратно рулоны бумаги. Когда началась перестройка, заказов почти не стало. Вместо 150 человек к 2017 году осталось 15. Из всего оборудования, закупленного в советское время, кое-как работала одна немецкая машина Victoria.

In Soviet times, 150 employees worked here in two shifts. Every day, trucks traveled to Moscow with fresh printed matter and came back with rolls of paper. When perestroika began, the orders practically stopped. Instead of 150 jobs, by 2017, there were only fifteen. Out of all the equipment that had been installed during Soviet times, only one German-made printing press was still in working order: the Victoria.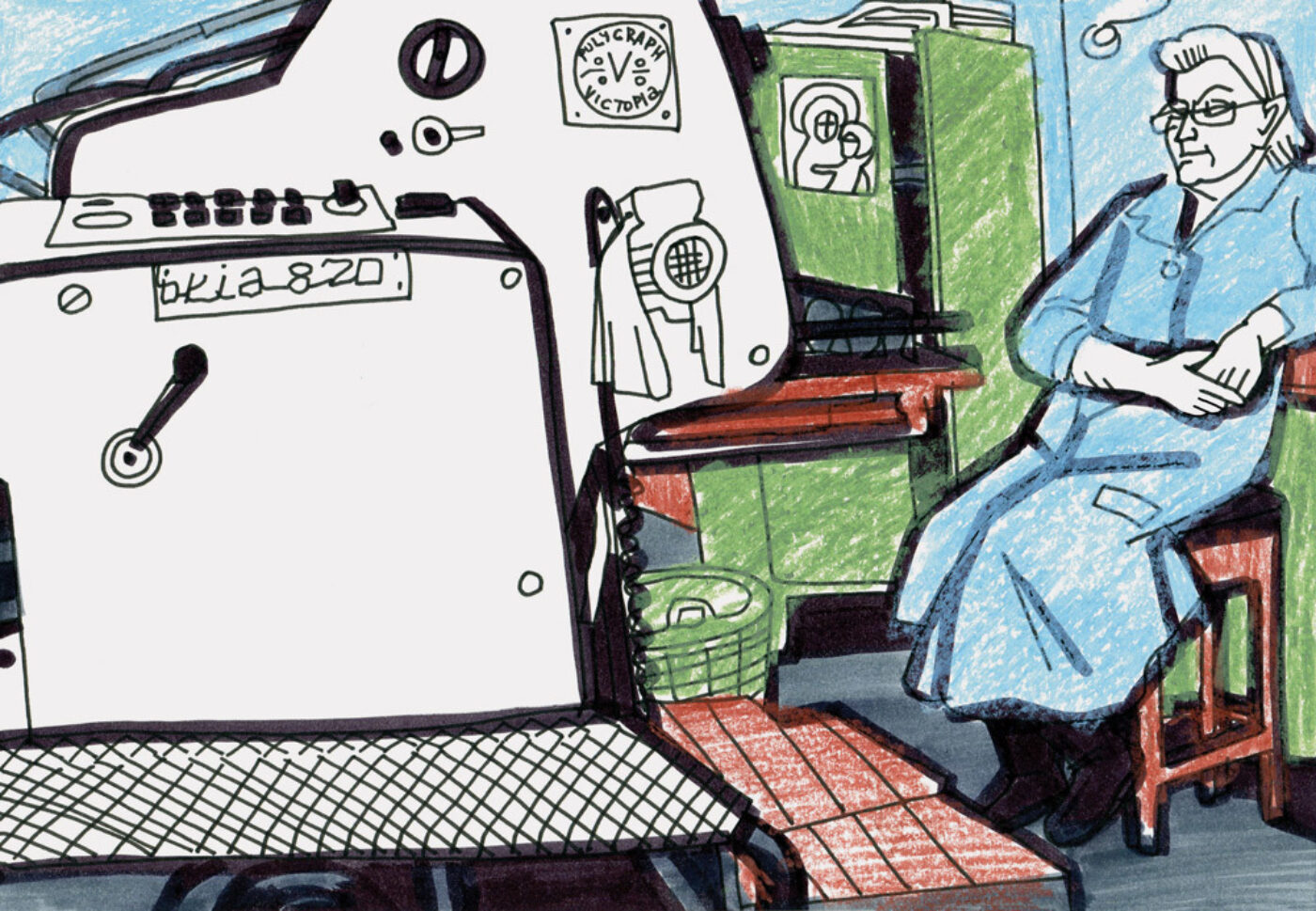 В цеху играло радио: «Есть только миг между прошлым и будущим, есть только миг, за него и держись…»

The radio was on in the work room, "There's only a moment between the past and future, only a moment—so hold on to it…"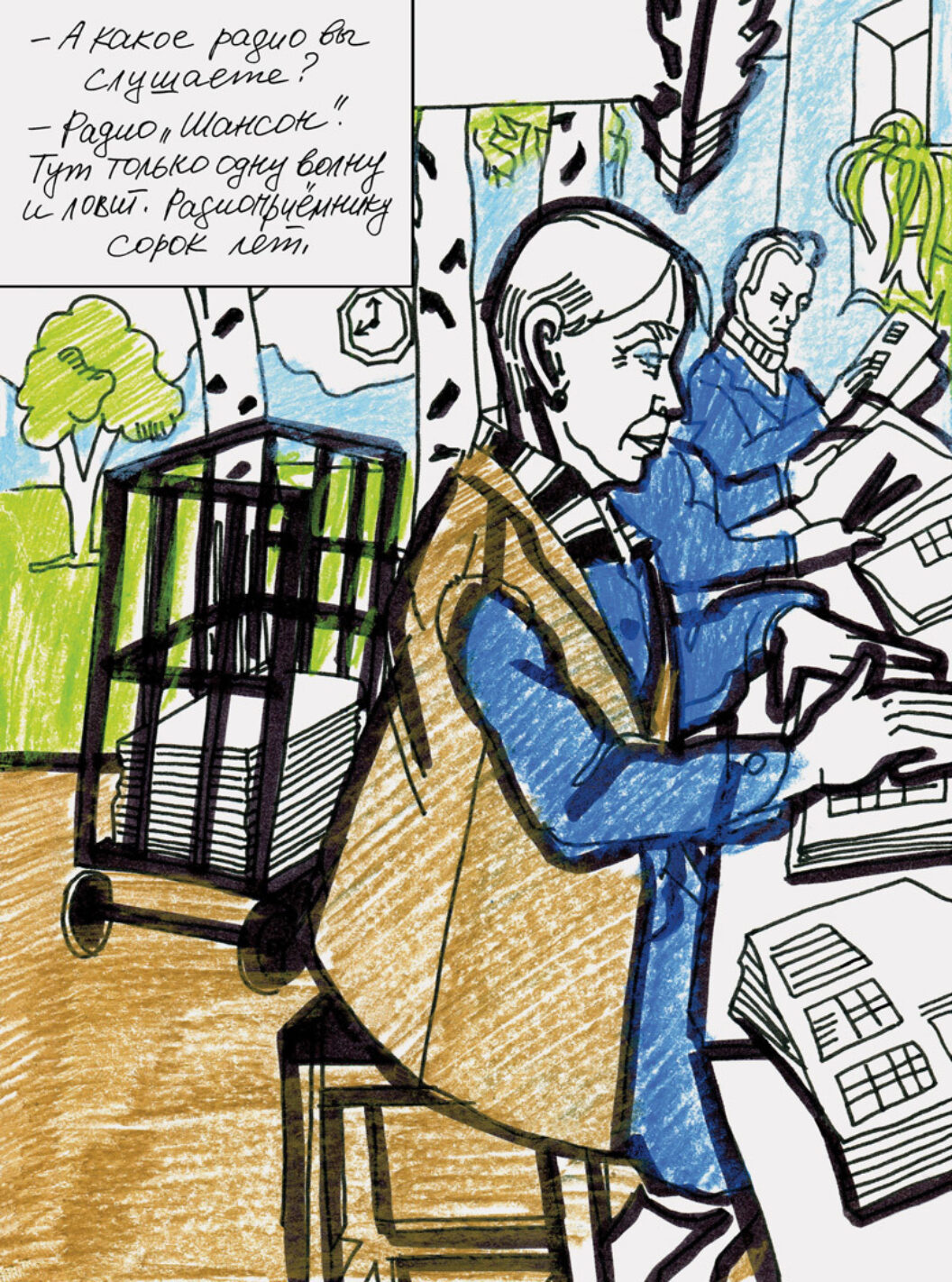 «Вода течёт, с потолка валится штукатурка, нет отопления, мало заказов, старые машины, если их только сдвинуть, перестанут работать», — говорили рабочие.
"There are leaks, the molding's falling from the ceiling, there's no heat, hardly any orders, and the machines are so old, if you try to move them, they'll stop working," the workers told me.
При этом все сотрудники типографии любили это особое место.
But everyone who worked at the Printing House still loved this special place.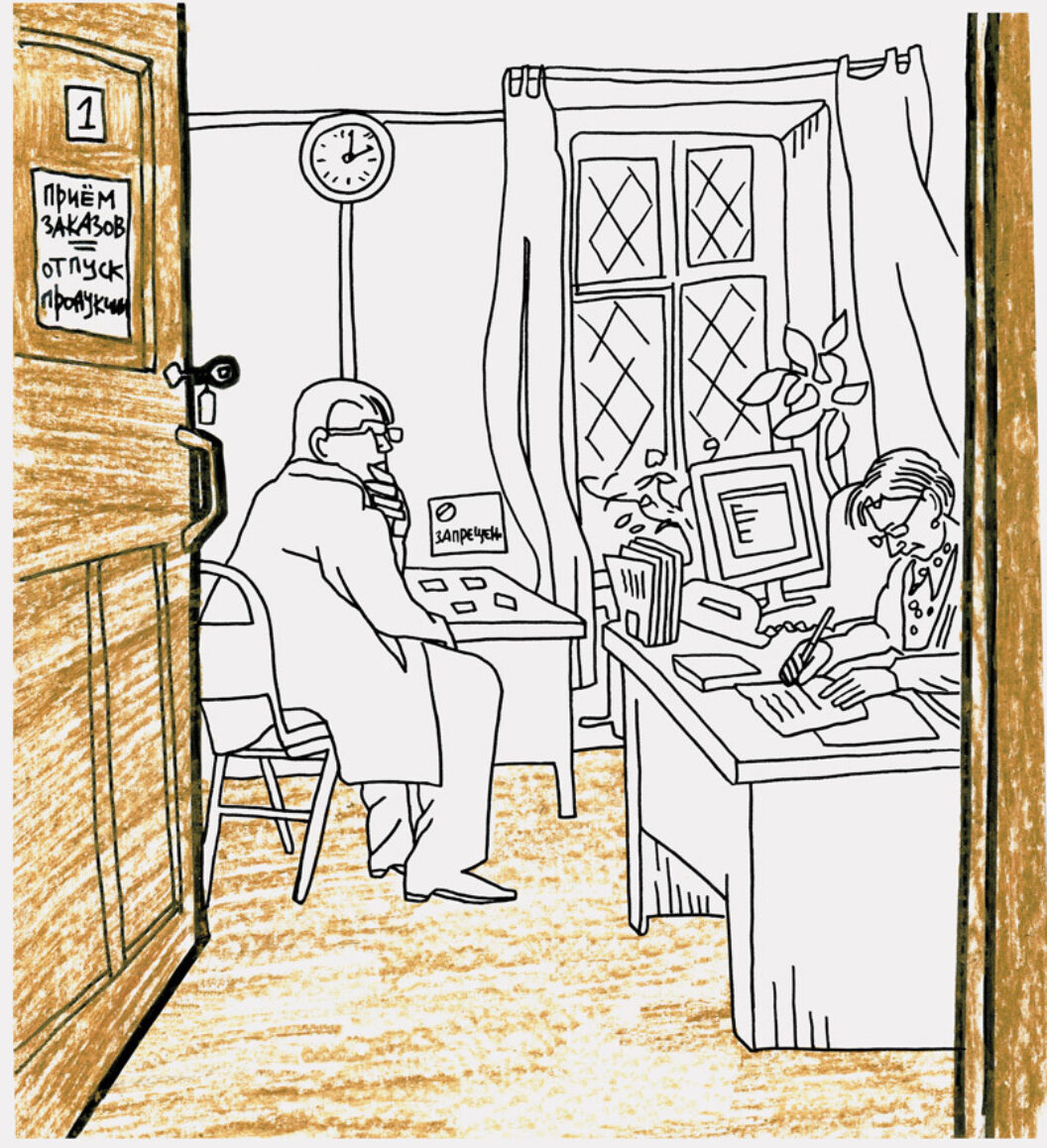 «Заказчики, которые приходят в типографию, говорят: «У вас как Советский Союз!» — с гордостью рассказывала мама, — «В типографии нет частников, которые гнобят, нет иерархий. Как сейчас хозяева относятся к наемному рабочему? Как к козявке. Я уверена, в нашем городе больше ни на одном предприятии такой атмосферы не осталось». При этом все сотрудники типографии любили это особое место.
"The customers who come to the Printing House always say, 'It's like the Soviet Union in here!'" my mother told me with pride. "There are no private owners who look down on their employees, no hierarchy. Do you know how business owners treat an employee these days? Like dirt. I am positive there's nowhere else left in our town with this kind of work atmosphere."
«В том цеху, где сейчас стоят компьютеры, был красный уголок. Тогда все эти собрания были в тягость, а сейчас вспоминаются с теплотой», — рассказывали сотрудники типографии о советском времени.
«Раньше идёшь по Серпухову, и на каждом предприятии написано — «Требуются», «Требуются», «Требуются сотрудники!» Сейчас в городе нет предприятий и производства. На Ситценабивной фабрике деревья растут, развалины, как после войны. У нас не социализм, не капитализм, а бандитизм», — подытожила разговор одна из печатниц.
"In the room where we have the computers now, there used to be the Red Corner.A special area for Communist propaganda common to all Soviet workplaces and some Soviet homes, coming from the tradition of a dedicated corner for religious worship, with icons. Back then, all those meetings were annoying, but now we remember them fondly," the workers said about Soviet times.
"It used to be that you'd walk through Serpukhov and see 'Wanted' signs on every business. Nowadays, there are no businesses and no manufacturing. There are trees growing out of the floor of the cotton-printing plant. What we have isn't socialism, and it's not capitalism, it's banditism," one of the women who worked the presses summed up our conversation.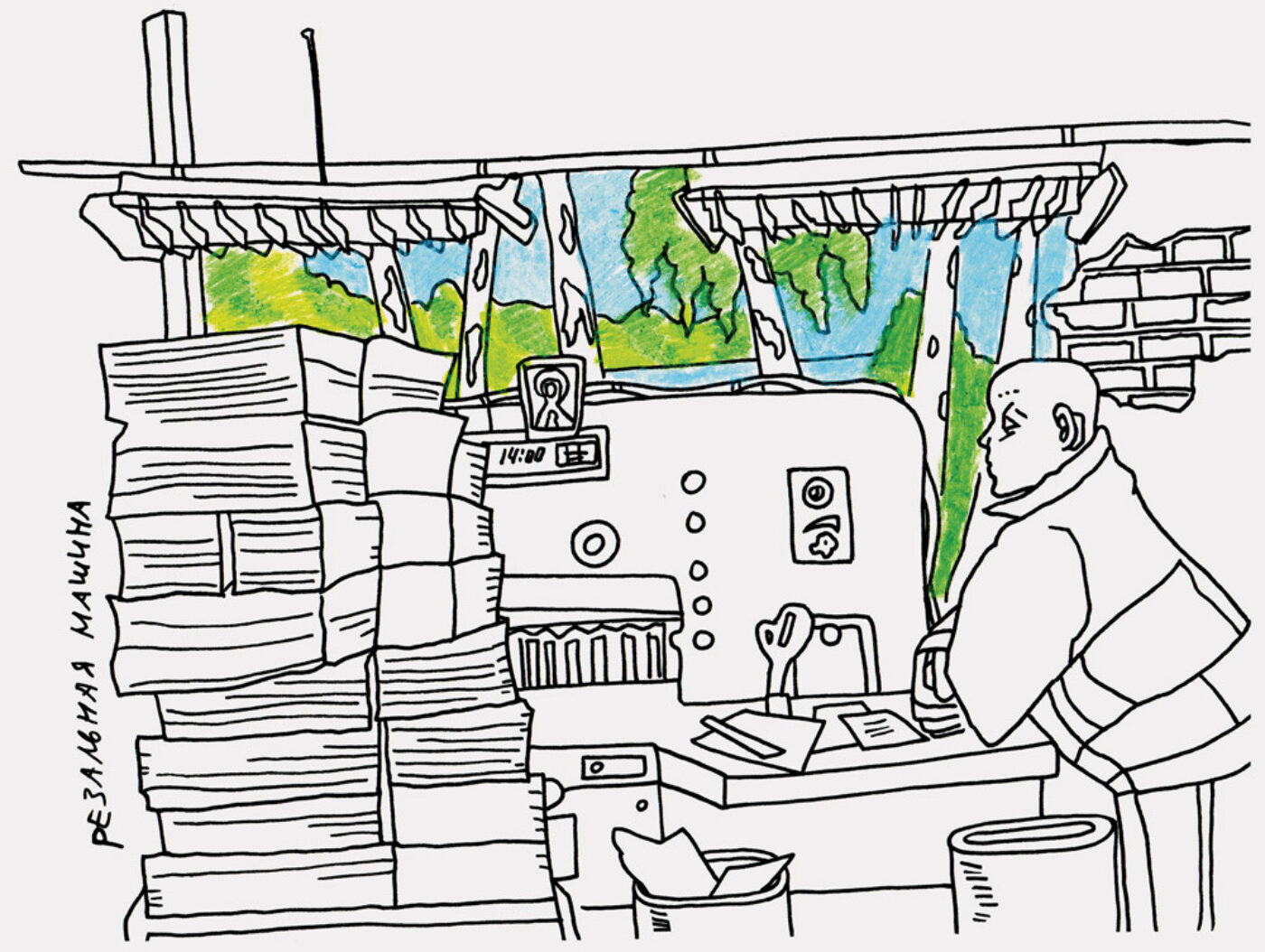 Когда я делала эти рисунки, до ликвидации типографии оставалось несколько дней. Вот о чём были самые большие опасения сотрудников:
When I was making these drawings, there were just a few days left before the Printing House would be shut down. Here's what the workers were most afraid of: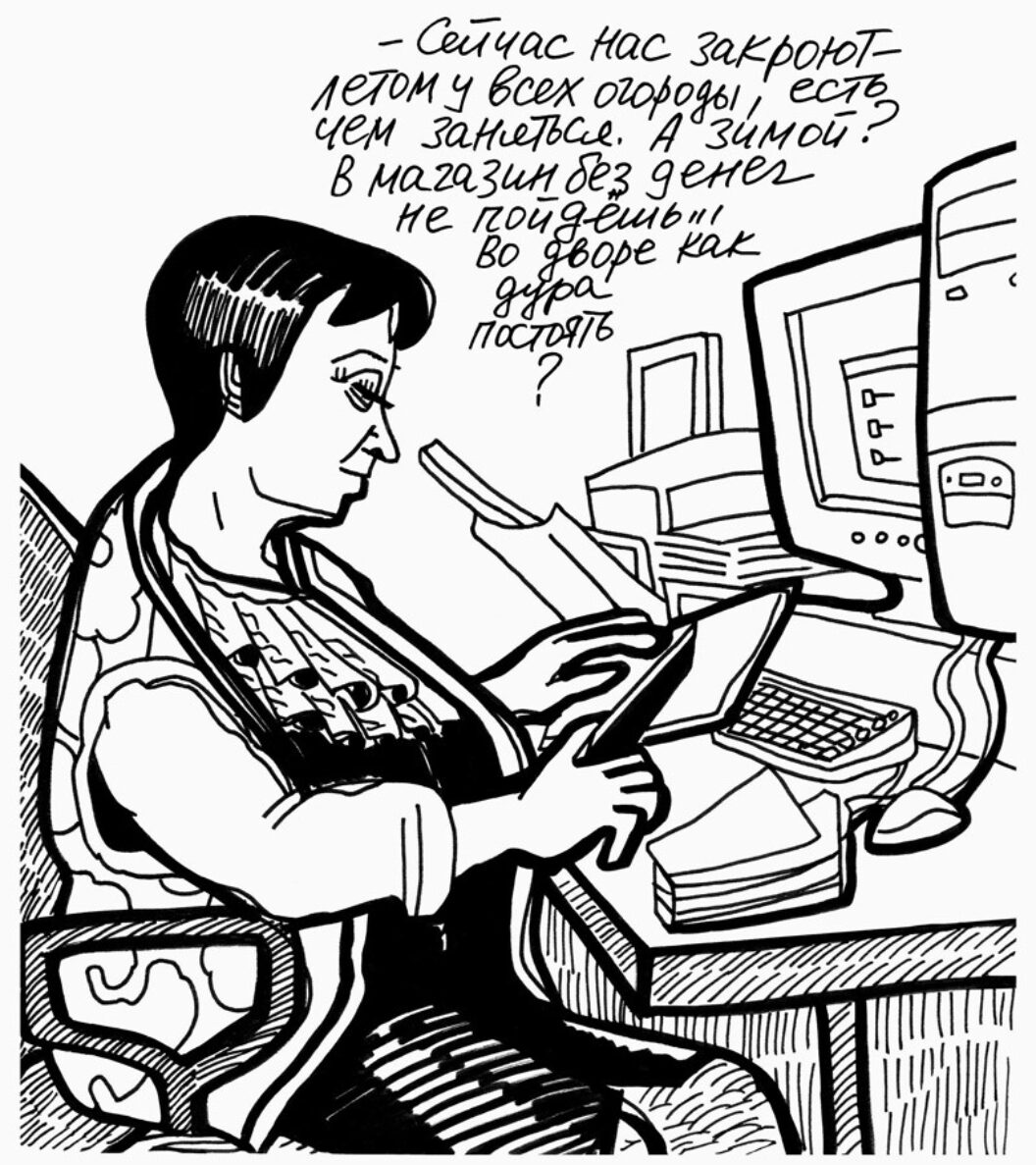 Понимаете, почему мне так хотелось уехать из Серпухова?
Do you understand why I wanted to get out of Serpukhov so much?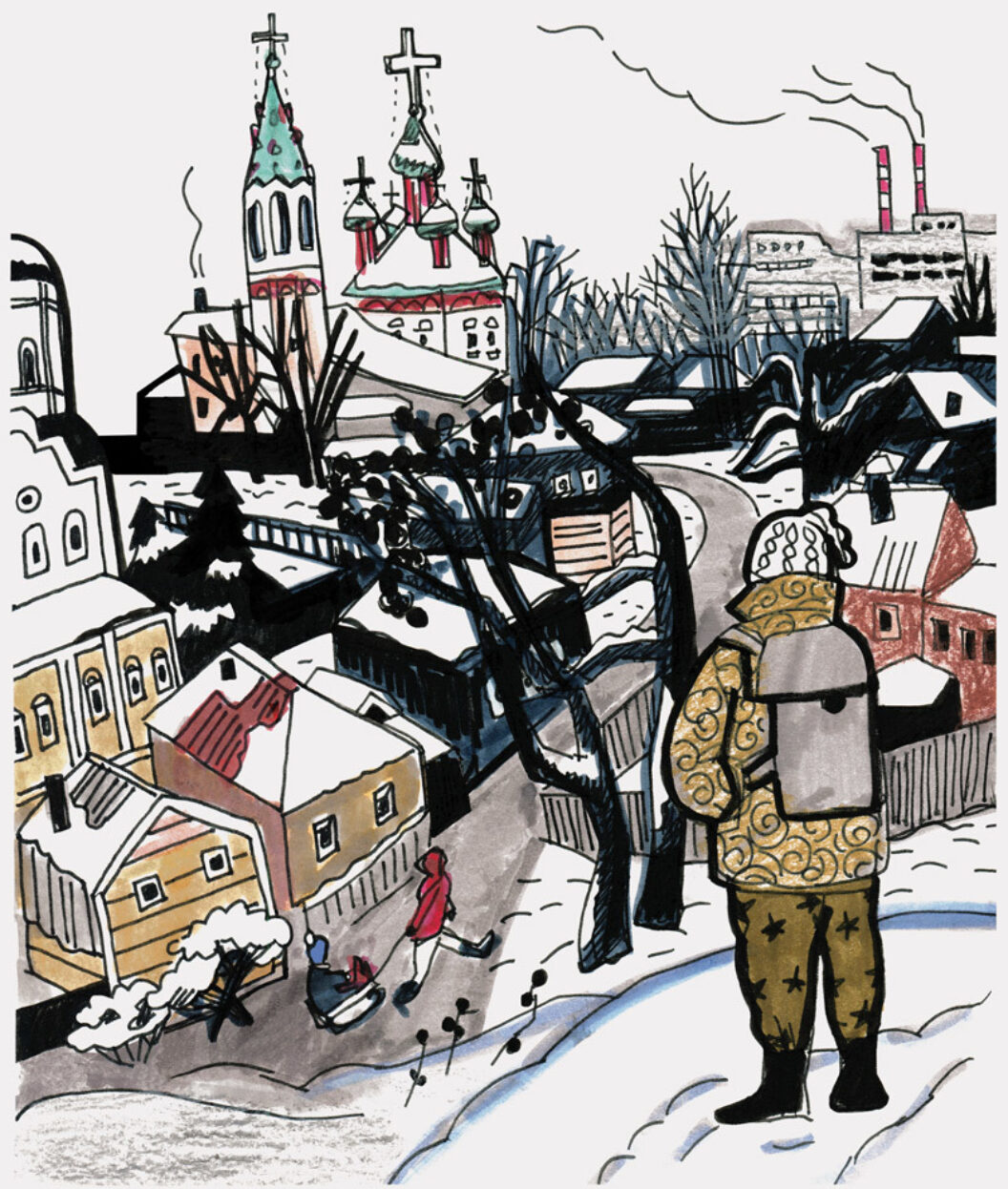 Вы увидели начало работы над новой книгой «Мой Серпухов». «Советский» незарисованный Серпухов, для меня потерян, и теперь остаётся только, как драгоценности, собирать его фрагменты. Вы спросите, как эта история связана с темой «желание»? Это желание художника создать пространство для дорогих людей, вещей и мест, для времени, которое протекает сквозь пальцы. Главное желание, которое заставляет рисовать.
These are the beginnings of my new book, My Serpukhov. The Soviet Serpukhov, which I didn't get the chance to draw, is lost to me, and now I can only collect fragments of it, like precious jewels. The desire to create a space for the people, places, and things I love, and for time, which pours through my fingers, pushes me to draw.
Victoria Lomasko works as a graphic artist with a focus on reportage. She has collaborated extensively with various nonprofit human rights organizations and taught workshops in places of incarceration. Her work has appeared in print publications and exhibitions in Russia and abroad. Her book Other Russias was published in the US by n+1 in 2017.
Bela Shayevich is a Soviet-American writer, artist, and translator.
Originally published in
In the process of putting together each new issue of BOMB, we often come across distinct resonances between interviews—shared themes, creative preoccupations, and even specific phrases crop up time and again within otherwise disparate features. In these pages, artists discuss their expansive notions on collaboration. Their practices tend to split, reapportion, or redefine authorship, privileging process over individual intention and encouraging unique partnerships with spectators, local communities, film subjects, and one another. These willful acts of reaching out and beyond are as vital as ever, and worth emphasizing here.