Music Made Visible: Anne Teresa De Keersmaeker Interviewed by Ivan Talijancic
The North American debut of Belgian choreographer's work set to Johann Sebastian Bach's cello suites.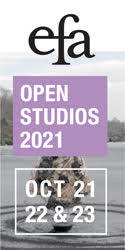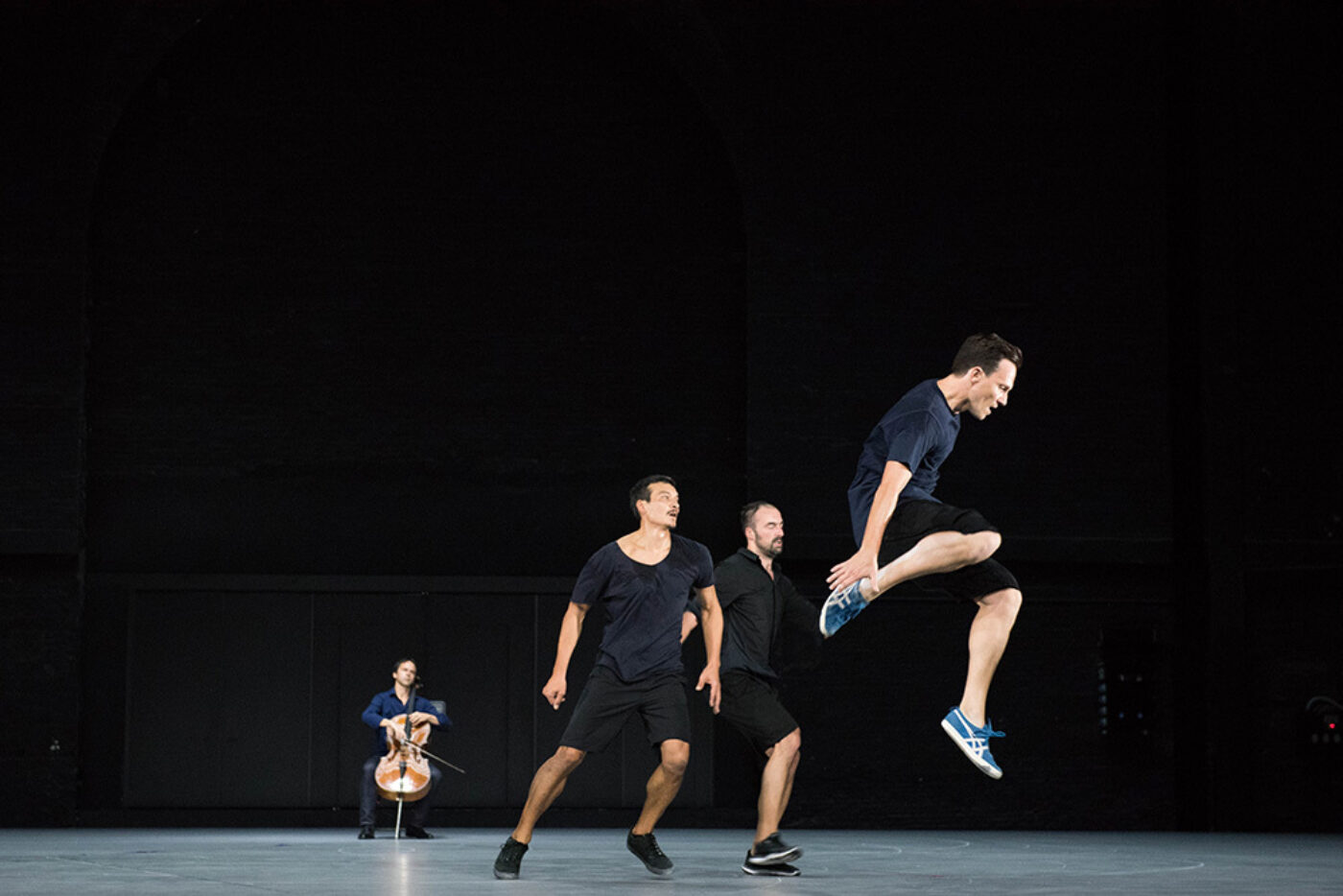 The Belgian choreographer Anne Teresa De Keersmaeker is responsible for creating some of the most iconic dances of the contemporary era, including masterpieces Rosas danst Rosas, Fase, and Rain (the latter two set to the music of Steve Reich). A household name throughout Europe, De Keersmaeker also maintains a steady presence in New York's performance circuit. This month, she returns to the City's stages with her work, both as dancer and choreographer, in her production of Mitten Wir Im Leben Sind/Bach6Cellosuiten (In the Midst of Life/Bach's Cello Suites) at NYU Skirball. I caught up with the visionary choreographer in late December during a rehearsal break from the West Side Story, which she is currently choreographing on Broadway, to speak about her career-long connection with New York City, the development of her unique choreographic language, her long-standing collaborations with live musicians, her love for the music of Johann Sebastian Bach, and what it means to work as a dance-maker, and as a woman, in the present-day contentious socio-political climate.
—Ivan Talijancic
Ivan TalijancicOver the years, you have been developing a distinct choreographic language rooted in clearly defined geometric principles, which has also been documented in a series of books you published in collaboration with the dramaturge Bojana Cvejić. Where does this practice stem from, and how has it evolved over time?
Anne Teresa De KeersmaekerI started working in the 1980s, and Fase (1982), set to the music of Steve Reich, was the serious beginning of my career as a dancer and choreographer. From the beginning, I wanted to develop my own language, vocabulary, grammar. I literally went step by step. My training was at Mudra, the school of Maurice Béjart. Throughout my entire trajectory as a choreographer, the relationship with music has been primary.
I was drawn to dance because I see it as embodied abstraction. Even though I worked with narrative forms, such as opera, I would still say that I am a formalist. Organizing movements in time and space, on vertical and horizontal levels, is what I consider the most accurate definition of choreography. I've always been interested in developing different strategies in relation to music, and I've worked with music from many different periods, from the thirteenth century to contemporary. Music was my teacher.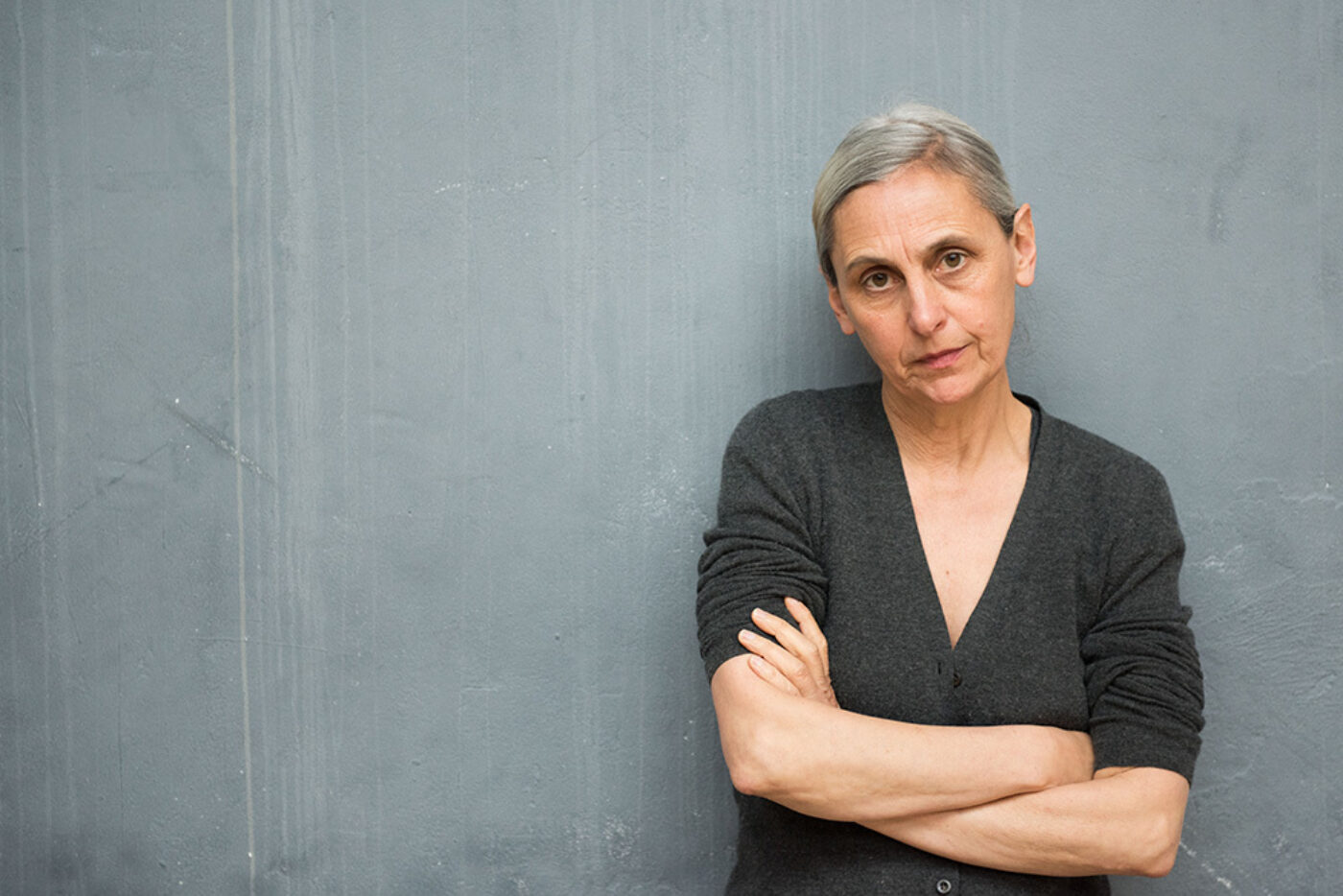 I was also influenced, as you said, by geometry: in the early years, geometric patterns were my way of organizing traffic between dancers; it became nearly Laban-inspired, three-dimensional.
In the first years, I myself danced in everything—Fase, Rosas danst Rosas, Elena's Aria, and so on. My body, the body of a young woman, was extremely present in those dances, and the development of that language definitely changed with the arrival of male dancers. Since, unlike ballet, most of contemporary dance doesn't have an established, codified language, this process of creating a unified vocabulary for a group of people is always the first step, and it takes a lot of time. It means that every piece became what it was by me giving frameworks and the dancers making proposals in that framework, which I then shape into a final form. The DNA of the work is very much influenced by working with the dancers. Mozart wrote the most beautiful vocal music, especially for female voices, and many of those roles have been defined by what he had in mind for specific singers. Similarly, I created specific pieces with certain dancers in mind. Some people, like Cynthia Loemij, have been with the company for twenty-five to thirty years, and it was something similar with Mitten, with Michaël Pomero, Marie Goudot, Boštjan Antončič and Julien Monty, who have been with me for the last ten years.
ITThroughout your career, you have been building an intimate relationship between your choreographic language and the music (both contemporary and classical). Especially in recent years, I feel that there has been an even stronger fusion between the two, particularly with your involvement of live musicians. Among your recent works, Vortex Temporum and Cesena come to mind as magnificent examples of this practice. I am curious to hear how you work with live musicians to achieve such a seamless integration with your dancers.
ATDKThe first step was to accept music as my most important partner, to be inspired by musical writing for the development of choreographic writing. I would begin by listening to the music; then, I would analyze the score. When I work with live music on stage, I watch how musicians play and how they deal with scores. When you observe piano players, or violin players, there's a lot of movement on a very small surface. As a dancer, dealing with speed and organizing your body in space, watching musicians is fascinating. I always want to share with an audience what fascinates me, what I find beautiful or powerful. When I work with vocal music, the voice itself becomes an instrument, like an intimate, internal dance. What is the technique? What is the embodied energy? What are the articulations?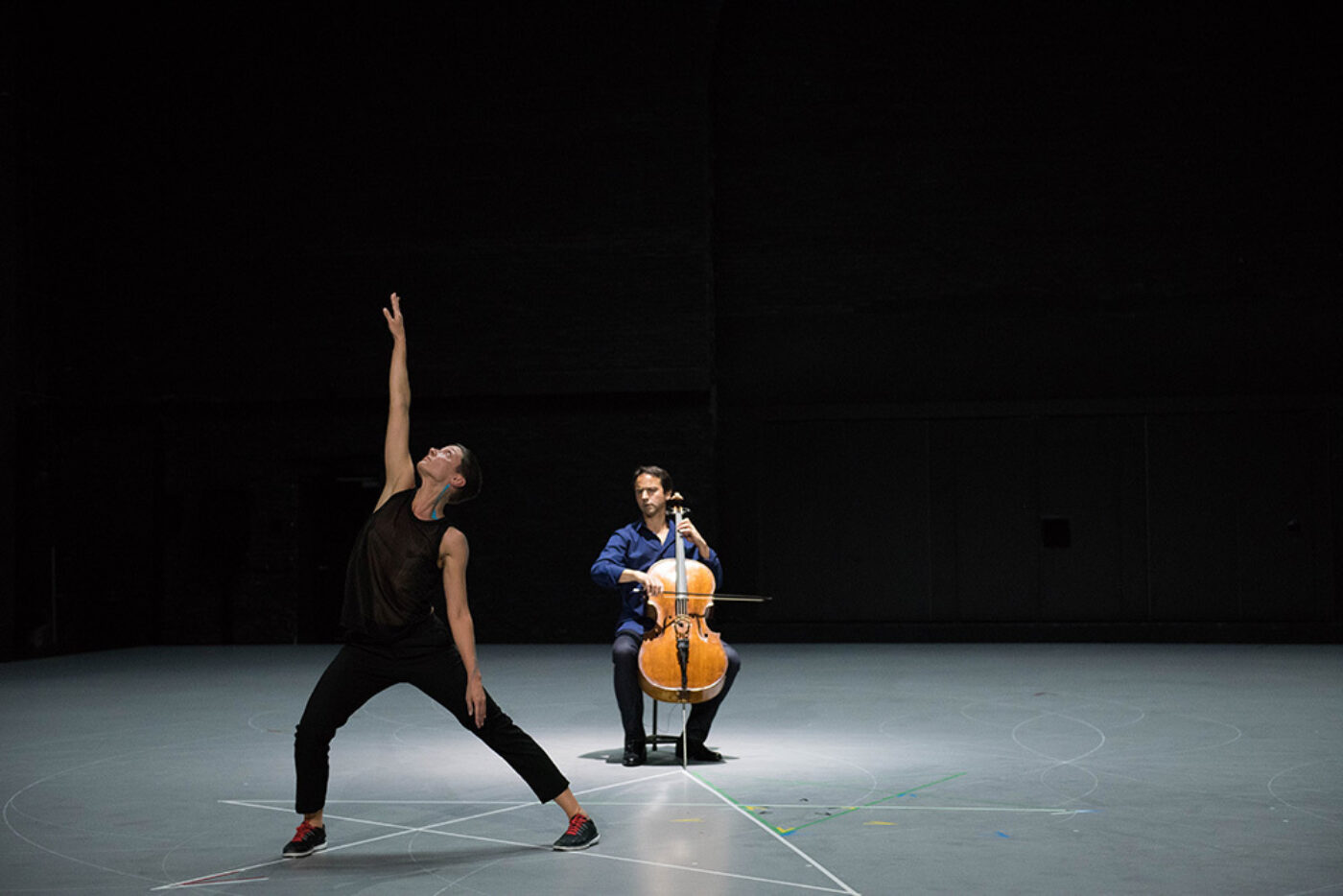 I have the privilege of being surrounded by highly skilled musicians on a daily basis. In Brussels, we work with Ictus Ensemble, which is a contemporary music ensemble that also covers a wide range of musical history, from early music to jazz music to twentieth-century, and so on. During the time that Rosas was the company in residence at La Monnaie, I had the chance to collaborate closely with Bernard Foccroulle, but also Antonio Pappano, Philippe Herreweghe, and many others. These were people who really inspired me, and who have always been by my side.
Music has a codified language, one that can be shared as a tool for reflection, study, and objectification. I've always been jealous of music. Of course, as dancers and choreographers, we have this incredible potential to be the most contemporary art form, because what is more contemporary than the body? I have my so-called music "drug dealers," like Thierry De Mey, who simultaneously may be looking at Beethoven, pop music, West African drumming, or the Talking Heads.
ITInspiration can come from the most unlikely places.
ATDKI've always had a fairly wide interest in music, from Helmut Lachenmann to Dolly Parton.
ITWhat is the relationship between live music and dance in Mitten Wir Im Leben Sind?
ATDKJean-Guihen spent a lot of time with us analyzing the music—how it is written, how he reads it, how he sees it both through his craftsmanship and poetic vision. Bach's music was forgotten for a long time, and it was the cellist Pablo Casals's reading that brought it back. Cello suites, which were originally the baselines in string quartets, had always been considered études for an instrument. But here, Bach brings them from a classical form to one that is nearly polyphonic. They have so much complexity, but they always maintain this clarity. It's rhetorical; it's embodied abstraction. There is always embodied movement within pre-classical dance forms like allemande and gigue; it makes us move, and it moves us. Jean-Guihen guided us through this music, by analyzing the harmonic structures in it, by writing the underlying baselines, by giving poetic dimension to those movements in the immediacy of the performance.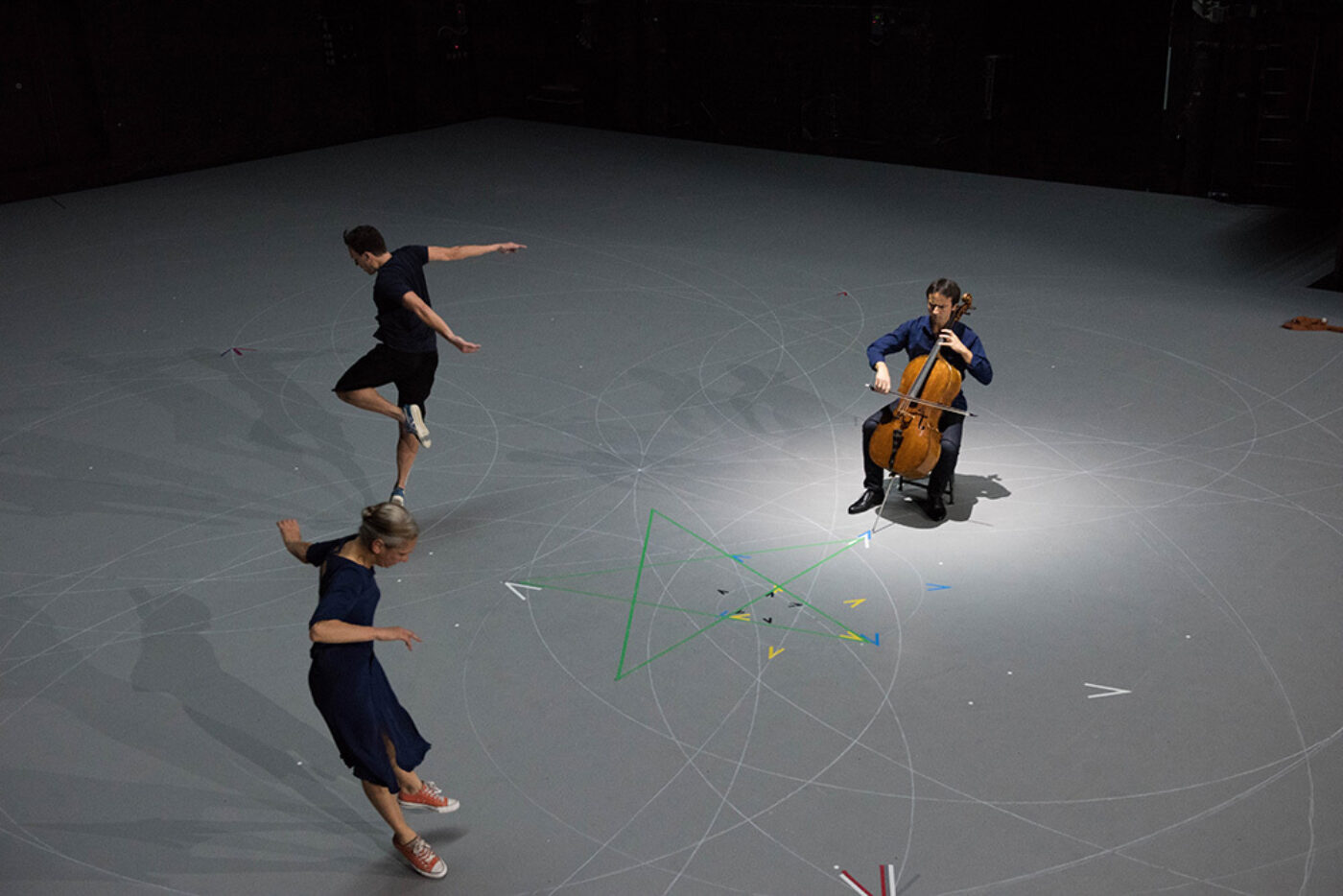 ITYou are one of the rare European choreographers who have maintained a career-long connection with New York, starting with your time spent here studying at the NYU's Tisch School of the Arts. How does it feel to be presenting your work in New York, and do you feel any contrast in the way your work is received here in comparison to Europe?
ATDKThe very beginning of my career is linked to this city. I was twenty-one when I came here in 1981 to study at NYU. I was looking at a lot of dance—American avant-garde, Broadway, but also the dance in Washington Square. It was the beginning of the '80s. BAM [Brooklyn Academy of Music] was already on. Trisha Brown came out with Set and Reset. People like Karole Armitage, Molissa Fenley, and Andy de Groat were making work. It was already post-Judson era. I was studying not only in the Dance department but also in the Experimental Theater Wing. It was incredible to discover the energy of the city. For me, it was my first time going out into the world, leaving my familiar environment behind. Over the past forty years my main partner has been the Brooklyn Academy of Music, but also the Kitchen, Dance Theater Workshop, and Lincoln Center, among others. I've always felt a great deal of admiration, because I consider the history of modern and contemporary dance as related to this city.
This may be a sideline, but I have often found the reviews from critics here to be quite skeptical. I don't know what it is, but it feels as if they are being somehow protective, similar to the British.
ITIt's the Anglo-Saxon tradition.
ATDKYes, exactly: "Don't touch what belongs to us." So, I just sort of gave up on that.
ITWell, you keep getting invited back.
ATDKYes, well, we have this Flemish expression: "Going into the mouth of the lion." That is what's I'm doing now with West Side Story.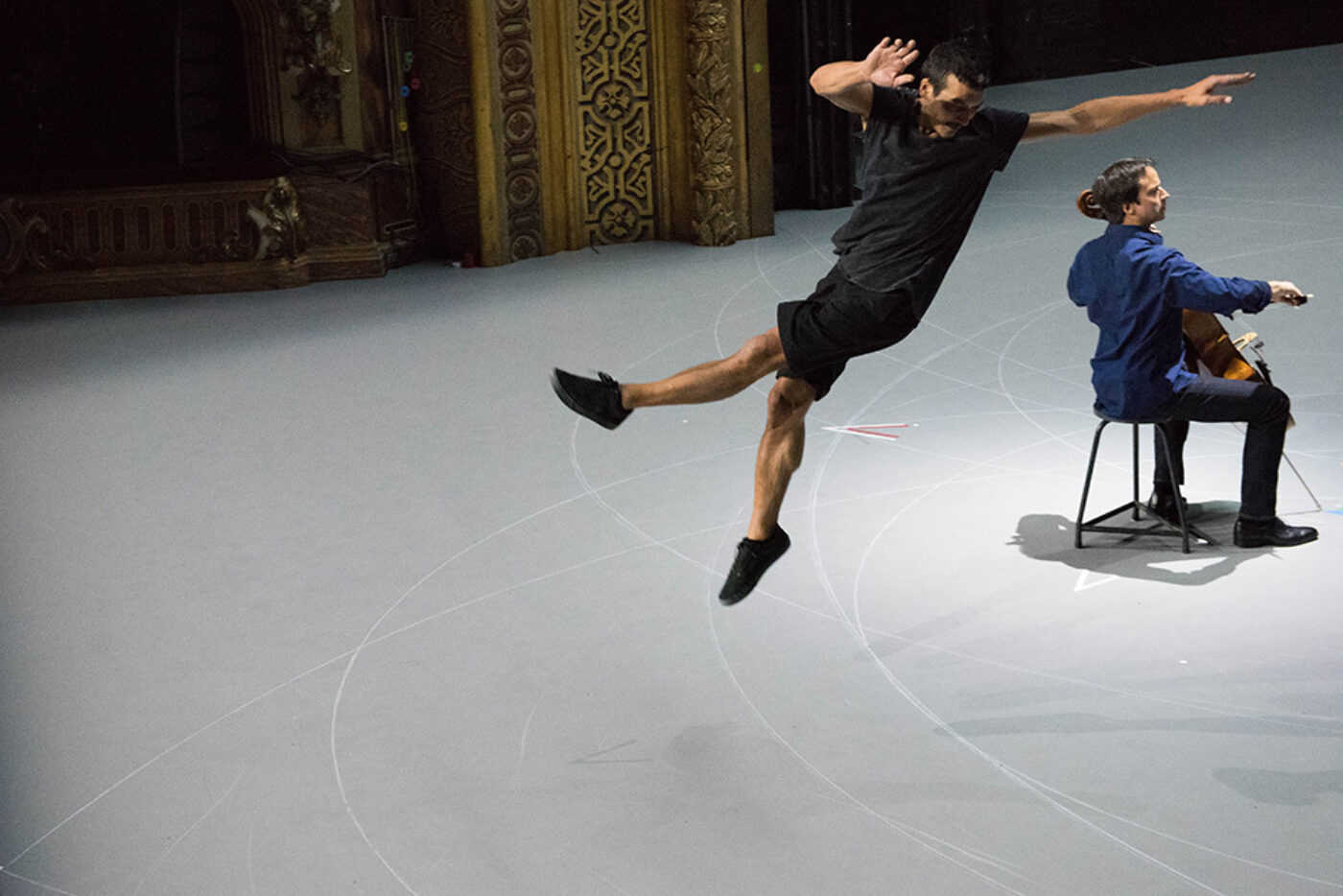 ITI have one last question. What's coming next for you and Rosas? Is there an upcoming project that you particularly look forward to?
ATDKNext, I'm making a solo to Bach's Goldberg Variations, which I am performing myself. Lately, I find myself coming back to Bach often. People sometimes say I should do something else.
ITWell, you're not done with Bach yet.
ATDKConsidering the place I am at in my career and in my life, things get more and more difficult in terms of deciding what to spend your time on, what remains, what you want to remain. In this age of extremes, what is the place of dance, and art in general? We live in a time of uncertainty about what's going to happen on a large scale and how that's going to affect our lives in a very direct way. I think the performing arts have always combined this notion of celebration and reflection and, through that, have a healing effect.
The very definition of choreography is to write, and its root is in the Greek word chorus, which is a circular dance by a group of people. The function of the chorus in a Greek tragedy is to comment on the story, primarily regarding the main characters. That is also the potential political aspect of this art of choreography, which, as I said, I am so interested in as it involves the body—it is literally embodied abstraction, which always has physical, mechanical, social, political and spiritual aspects. I believe that makes dance unique.
Over the last year or so, I have reflected a lot about what it means to be doing this work as a woman, especially with the work I am doing now on Broadway. Already from the beginning of the '80s, when I made Rosas danst Rosas, this issue of being a feminist was raised, and I always kept myself far away from it. As I get older, I get closer and closer to it. The bigger the business you go into, the more you realize how it is different to work as a woman, and how, even one century after the suffragettes, there's still a long way to go.
The North American premiere of Anne Teresa De Keersmaeker and Jean-Guihen Queyras's Mitten Wir Im Leben Sind/Bach6Cellosuiten will be presented at NYU Skirball in the New York City, February 13–15.
Ivan Talijancic is a time-based artist, educator, journalist, and co-founder of WaxFactory, where he most recently directed LULU XX, the company's twentieth anniversary production which is currently being prepared for international touring. His first feature film, 416 MINUTES, is currently in post-production. Ivan is the Artistic Director of Contemporary Performance Practices program in Croatia.