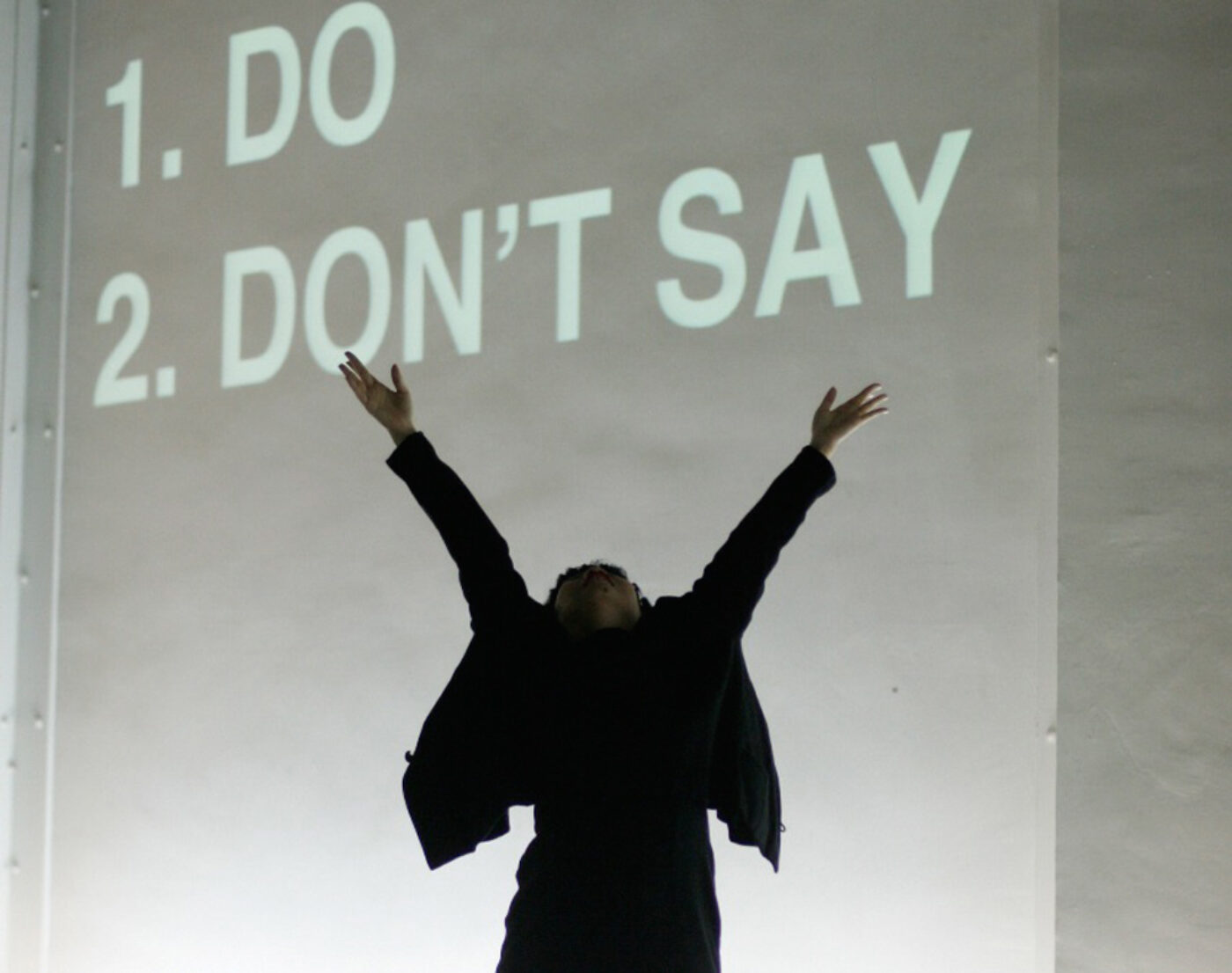 Muna Tseng has survived more than 30 years of dancing and choreographing in New York City. She has also survived her brother, photographer Tseng Kwong Chi, who died of AIDS in the '80s, and both of her parents, emigrants from Hong Kong to Vancouver, Canada before the Communist revolution. Her latest work, STELLA, grew out of the clothes and personal articles she inherited from her mother Stella and into a historical fiction of sorts, a meditation on how those left behind must fill in the blanks.
In her West Village apartment, at her mother's Arne Jacobson table and chairs, we talked about the show, New Yorks past and present, and the objects themselves—the heavy jade ashtray bearing a mermaid in its curve with which she once tried to brain her brother, the bottle of unopened congac given as a goodbye present from Hong Kong, the "kissing stole" that brushed against her cheek when she was tucked in at night, the blue and white china, and, of course, the dresses.
KG I don't know much about modern dance. But I do have a mother. And your new piece, STELLA, is all about yours.
MT Well this piece STELLA, is a good piece for us to talk about because, besides dance, it's art installation and performance. I'm using contemporary art practices and postmodern dance. The dancers are dressing up á la Cindy Sherman. They put on my mother's 1960's Chinese dresses, very tight form-fitting Cheongsams, we reference Wong Kar-Wai's film In The Mood for Love. My dancers put on wigs and sun glasses and Stella's furs, her purses, gloves, to channel Stella. We're asking questions like: what is family history? How do we construct our history?
KG Can you tell me about the installation? Did you work with any other artists or curators?
MT Actually, I curated the objects with my dramaturg, Ong Keng Sen, who has helped me with this piece from inception. There was my solo version that he presented in Singapore. He's a very interesting Singaporean director who is now here at NYU doing his PhD in performance studies. There will be mannequin dress forms that wear the inventory of dress that we've curated. And they are installed in the performance space. There is a a museum vitrine for her smaller articles: letters, photographs, evening gloves, evening bags, handkerchiefs. Her Arne Jacobson table and chairs are the selected furniture pieces that embody stories which then will be told in the performance. So the art installation is the set in the theatrical tradition, but it's also an art installation in which the audience are invited to enter and walk around like in a museum at the end of the show.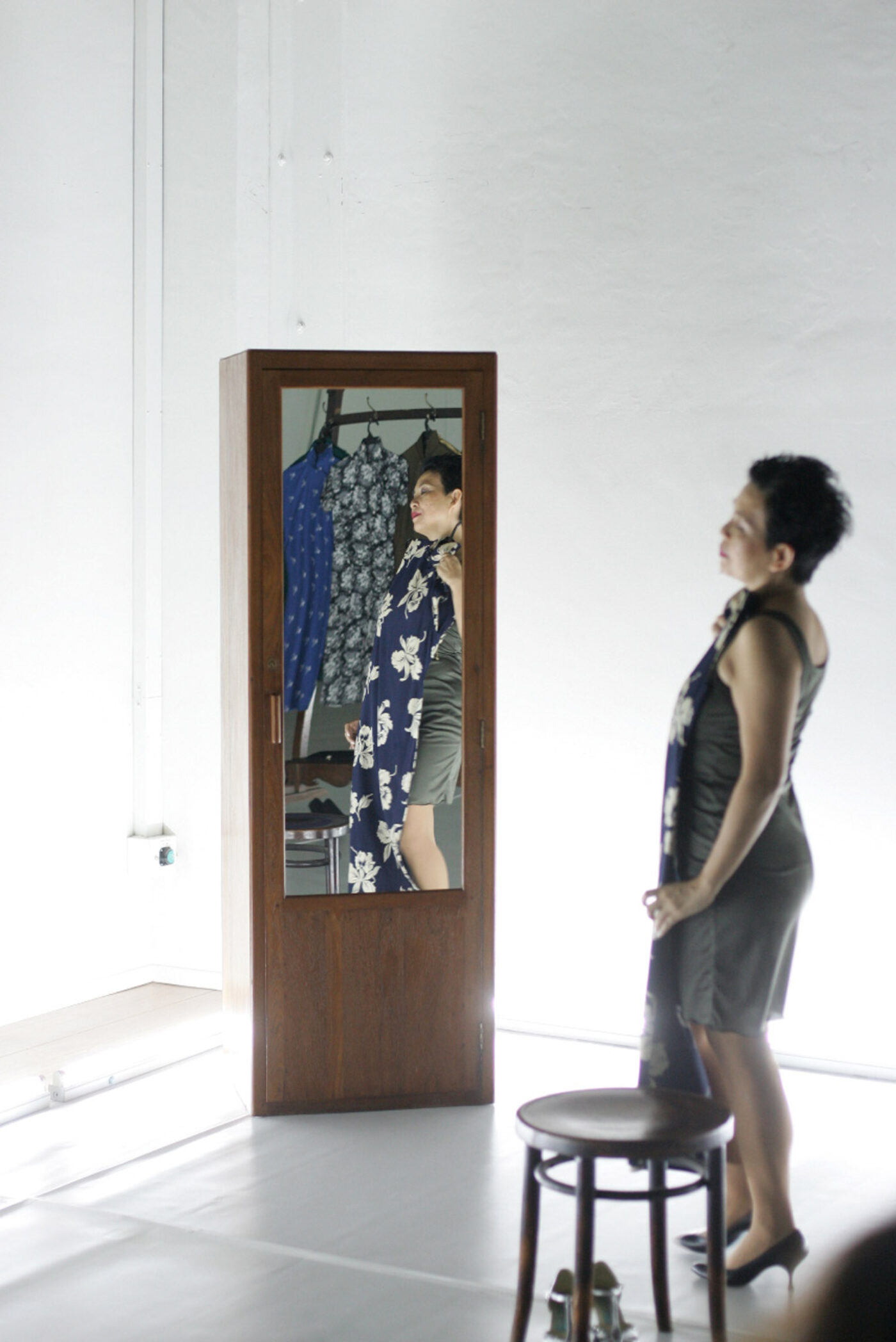 KG How did you come to dance?
MT The family had just immigrated from Hong Kong, and I was basically lost as an immigrant teenager in Vancouver, Canada. I discovered modern dance through Heather McKellam, who danced with Anna Halprin in the states, and also Gertrude and Magda Hanova who were modern dancers who danced with Mary Wigman in Germany in the 1930's. So, there's a whole lineage of modern dance history that was transplanted in these people in Vancouver, Canada. I found dance to be my calling, it was where I could express my inner self—whatever teenager inner self it was. But it stuck and I realized that it was what I wanted to do. I went to the University of British Columbia in Vancouver and studied dance, fine arts and architecture.
Then I came to New York in 1978, it was a very different time. I have been here ever since. My older brother, Tseng Kwong Chi, was also here and we were two siblings forging our way in New York. He was working on his photography, which also encompasses performance. He took self-portraits of himself always in the same Chinese uniform with famous architecture, monuments or nature sites as background. He worked in the 1980s downtown East Village world and was good friends with Keith Haring, Kenny Scharf and Ann Magnuson. I was in a kind of parallel world of dance with Jean Erdman at the Theater of the Open Eye. That was my uptown, Martha Graham, classical Modern Dance period. And then I came downtown in the mid-80s and started my own company, Muna Tseng Dance Projects. It was the heady days of like, "Hey, you wanna make a piece?!" Everyone was collaborating. Keith Haring would come in and do drawings for my set, or Kenny Scharf would paint my dancer's unitards and there were all these musicians, so I often commissioned original music I worked with film makers, videographers. The worlds were very fluid, the genres were very fluid. It's probably that way now but I think it's just much harder because it's a very expensive city. It's hard to pay your rent and do things guerrilla style. And I've evolved since then…
KG So, while you and your brother were living this artist's life in New York, your parents were in Vancouver? Were they nervous that you guys were down here?
MT Absolutely. Everyday they thought we would get mugged and killed and shot.
KG And what did they do? Were they artists?
MT My father was a very traditional Chinese man. He had a high executive position in Hong Kong. My mother, interestingly, and STELLA is a piece about her, had the roles of a traditional Chinese mother and traditional Chinese homemaker but she was actually very much ahead of her time. In the 1950s, when Kwong Chi and I were young children, she was a school teacher and got a British Council Scholarship. She had been highly educated in Shanghai, where she was one of the first women admitted into St. John's University with her older sister. She studied English literature. When she took the British Council Scholarship to study higher education in London she just told my father and her mother-in-law: I must go. She left her family for one year. For a traditional Chinese woman in the 1950s that was extraordinary—it's still extraordinary to do that today. So, I think on one hand our parents were freaked out that we were living this dangerous life in New York and "When are you ever going to get a job?" was a constant, but somehow I think they knew that they made these children who were going to become artists no matter what.
KG Could you talk about the role autobiography plays in your work? Do you think artists have a kind of responsibility to be private in a public space? Or is that too strong a word?
MT Well, I know some artists deal with autobiographical material and many that don't. I don't always deal with autobiographical material. This is the second full-length piece, the first being SlutForArt, which was about Kwong Chi—his life, his work, the art world of the 1980s. My mother died in 2006 and after she died I couldn't touch the material for a while. I thought, I'm not going to come back to this. But then, later, I had the opportunity to present the season at Danspace and I realized I do want to come back to this material—but I want to blow it up, not be the solo performer in it. I added three dancers. Ong Keng Sen said: you have to write the text, it's your story, you should write it. So, I took on that challenge and then he said, you should direct it. So, I took on that challenge. I choreographed, wrote, directed and curated the installation for Stella.
For me as an artist who has worked for 30 years, you look back and you find that you want to deal with material that's closest to you but figure out a new way to tell it so that it's not only personal. It's interesting to find ways of pulling out this material and adding dimensions to it. A big part of writing it was finding out that these are questions that I've been asking about my mother that no one can answer now. Because of her dementia, by the time I wanted to ask her questions she could no longer answer them. So, it's really my truth and my fiction. The dancers and I all wear her dresses, use her stuff and we try to be her. When we first get into these tight dresses, we find that there is a very specific way you have to move in them—you can't do any big leg movements—all of a sudden you become very feminine and from another era and it gives you a completely different sense of physicality. It was so interesting to start exploring that, and from that restriction find a new vocabulary to move in. One of the performers speaks as Stella. We are all channeling her. And in the end, we can't become her.
KG Talking a walk in her shoes, so to speak. When my great-grandmother passed away, my sisters and I inherited all of her dresses but we couldn't fit into any of them.
MT Talk about stepping into your mother's shoes—the dresses, they are tiny. I couldn't fit into most of them and it was so depressing because you're like, Oh, my god I'm too fat! Metaphorically and literally, you can't fit into your mother's dress. I started to feel better when my younger dancers couldn't fit either.
KG How have your past experiences prepared you for this piece?
MT Jean Erdman and Joseph [Campbell] were my first artistic parents in New York. It was an incredible time. Joe was an incredible man. And Jean was really just amazing in the way that she experimented and explored world theater and world myths because of Joe. She was a lead dancer with Martha Graham. I learned a lot from Jean and Joe, in terms of story telling and asking: what are world myths and what are personal myths? They both grew up in Hawaii and were both exposed to Asian theater practices like Bejing opera. You have the diva singing an aria and it's story telling and also she's doing acrobatics a the same time and she's all dressed up. I grew up watching a little bit of that. My mother was very Western, so she didn't expose us to Beijing opera. My father's mother exposed us to that. My mother had us practicing Bach and Beethoven on the piano. But I am so grateful for that bilingual, bi-cultural east-west background.
KG So I guess your mother was the reason that you started taking modern dance versus ballet or classical Chinese dance? Was it difficult finding yourself in that world?
MT I found dance as a refuge in my life. You know, it's interesting, someone asked me how I cast STELLA. Rebecca Warner and Isadora Wolfe are the two dancers besides David Thomson and myself. They are both young dancers in their late twenties. I didn't cast Asian dancers in this piece, besides myself, because when I came to New York to be in the contemporary dance world it was a white world. And I was in that and I thought that I was one of them. I was a bit colorblind. Rebecca kind of takes the role of being the younger Muna in a way, the Stella/Muna. I realized that I wanted to also cast someone non-Caucasian, that's David's role. That was just an instinct. So we have two Caucasians, one African American, and me, a Chinese American. The piece is also about identity: what identity were we born with and which ones we adopt, which ones we wear on our lapel, which ones we forget about, suppress, and then later rediscover over our shoulder, which ones we pretend we've always had.
STELLA will premiere on May 5, 6, 7, 2011 at Danspace Project, 2nd Avenue & 10th Street, New York.