Multiple Representations: Florine Démosthène Interviewed by Jareh Das
Shapeshifting, cosmological nudes.

Discover MFA Programs in Art and Writing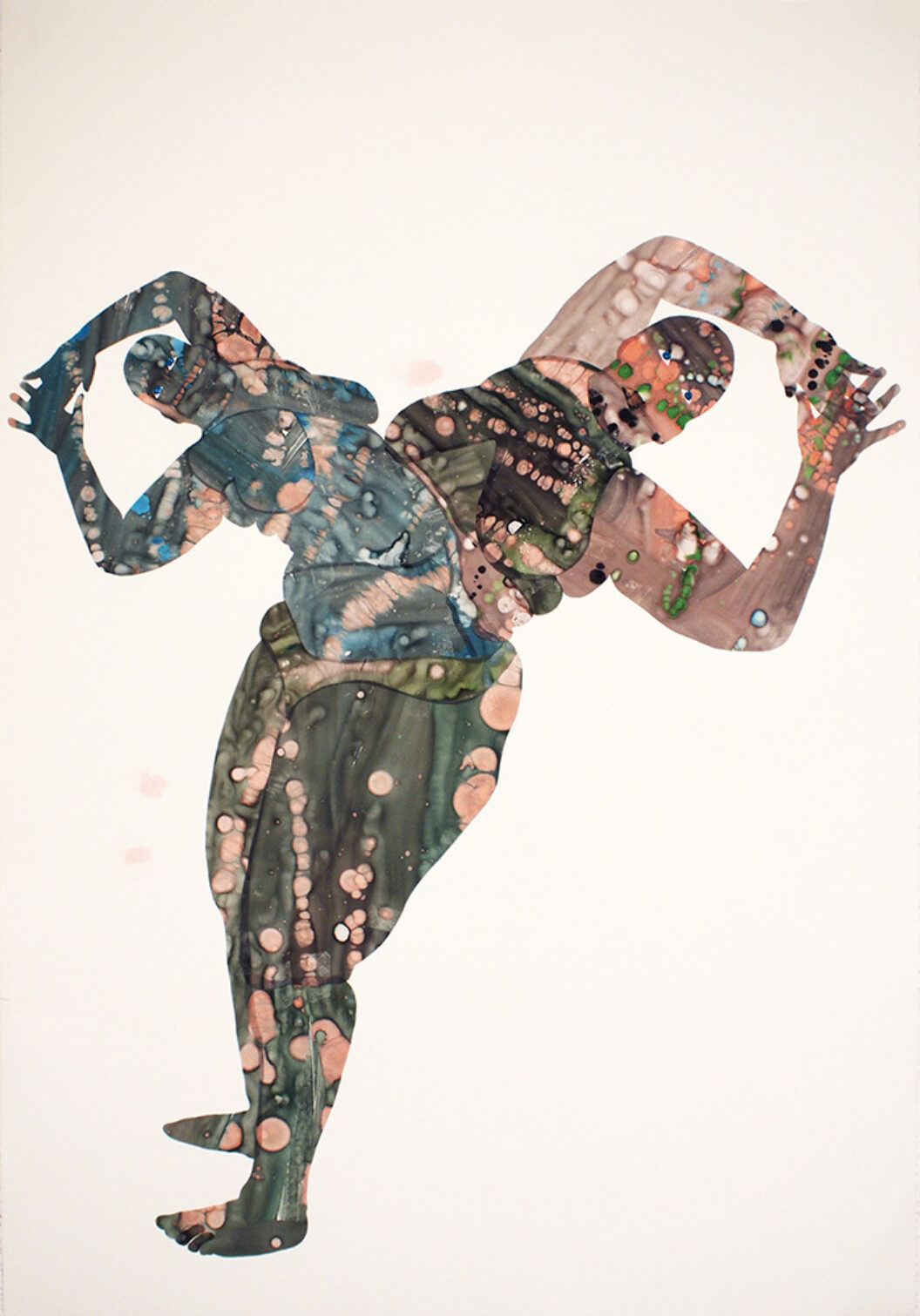 Florine Démosthène's shapeshifting, cosmological, and mythically imbued nudes posit the black female body as a myriad of collective experiences beyond immediate interpretations based on sensuality and fetishization. Her ample-shaped figures are largely autobiographical with depictions capturing folds, curves, child-bearing, and other recognizable feminine attributes laid bare on paper and Mylar through an alchemical process of pouring inks and allowing them to react to the work's surface. Démosthène was born in the United States and raised between Port-au-Prince and New York City. The nude figures in her artworks are spiritual investigations showing pluralities of the black female body beyond desire and sexuality. For her exhibition Between Possibility and Actuality at Mariane Ibrahim Gallery, Chicago, Démosthène spoke to me about the diasporic experience, non-conforming bodies, and pushing back against the male gaze.
—Jareh Das
Jareh Das What does the word "diaspora" mean to you as someone who has lived in Haiti, the United States, and Ghana, and given the impossibility of this term to capture the varieties of historical experiences, trajectories, and agendas?
Florine Démosthène That's a very loaded question because when I think of "diaspora" it comes across in many different ways. I take diaspora to mean a considering of how black people live in the different parts of this planet. I had one set of experiences growing up in the United States and very different experiences in Haiti, with the two often clashing. In Haiti, for example, there are constant exchanges and tensions between Haitians living in Haiti and a diaspora that returns or lives elsewhere, with both having disparate ideas on Haitian identity and culture. I was also very curious about how diaspora operates on the African continent; hence, my going to Ghana. This period of living in Ghana was for me to get a really good understanding of black people's grounding and placement in the world on a spiritual level, rather than revisiting where black people come from as a pilgrimage for discovering one's roots or reclaiming history in the way that, for instance, a black American might approach this. I also wanted to explore the ways Western—Anglicized—culture conflicts with the diaspora, particularly in lived and everyday experiences.
JD How did growing up between Haiti and the US—alongside living as an adult in Accra, Johannesburg, and New York—inform your current understanding of blackness, particularly in relation to black, female bodies?
FD This is something I've been studying since I was a child, being a black woman and observing throughout my life the standards we put on ourselves. The black, female body is both complex and convoluted because on some level we are told that what we have is unacceptable, but on another level, everybody wants to be us, so it is a constant state of confusion. For example, for me growing up between Haiti and the United States, I was fed images of straight hair and thin and light skin as an ideal, but it wasn't until I finished my degree at Parsons in the late 1990s that I began to see much more than this as an option for beauty standards for black women. Even coming out of the Black Power and feminist movement in the United States, it was still this mentality that projected black women's standards of beauty. In the last ten years, this has imploded, and it's totally crazy to now see white women trying to get black women attributes with things like lip fillers and ass-enhancing injections. At the same time, you also find black women who don't think that they're black enough doing the same thing as well. I am always seeing layers and understandings that dig deep beyond social and political structures, which helps me create a mindset to consider the more psychological aspects of what forms these ideals for black beauty standards. I don't have the answers, but I'm forever searching and trying to formulate a greater understanding of it.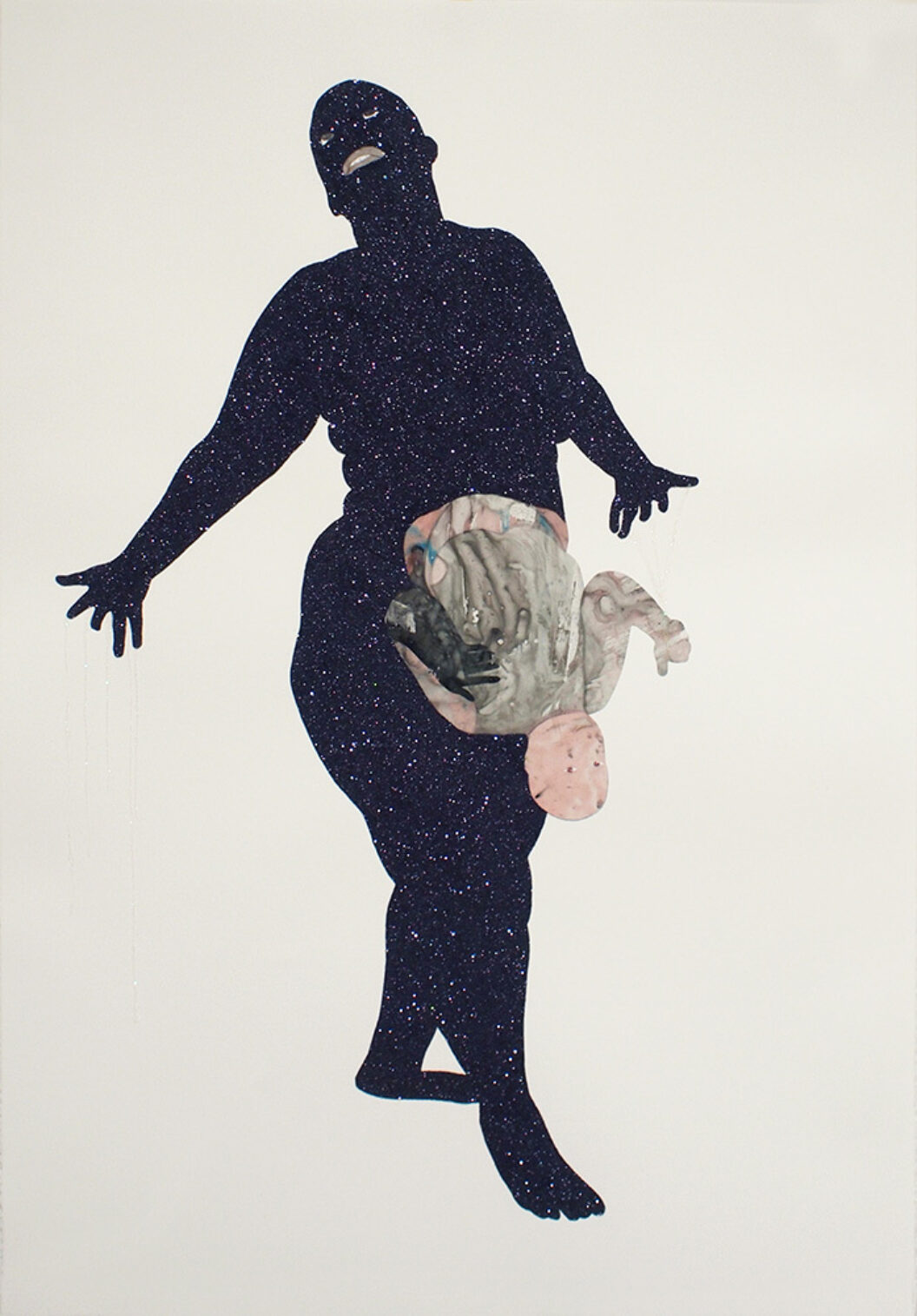 JD In an interview for World Literature Today, you mention "searching for a deeper understanding of who people are beyond the white gaze on the black female." Can you expand on this in relation to reclaiming the male gaze on female bodies in art, and perhaps also in life?
FD I'm not necessarily interested in the white gaze on the black body, and I wouldn't say this is a racial gaze, but has more to do with the male gaze and gender divisions. I am more interested in the female gaze on our own bodies. How do we as black women view ourselves against sexist and conservative cultures, and how does one represent themselves for themselves? I grew up in a family where women weren't subservient to men and got on with it, so I never had this perception that as a woman I couldn't do anything. Men make certain types of decisions that influence everybody like they're the only ones who have the capabilities to do this. So to answer your question, I was reflecting on the interplay between male-female, masculinity-femininity and what these terms might mean when stripped of all the external politics that we have to deal with.
JD There is an alchemical-reaction element in making your collages as you pour inks onto the paper's surface and allow them to mix with little interference. What attracted you to this more fluid and experimental approach to making?
FD I discovered working this way in Ghana in 2009 due to an ink explosion in my bag, and I liked the way the ink stained Mylar, so I began to play around with that. Working with ink in this way allows unpredictability in my process so that I don't go into the studio with a set idea of what I am going to get at any given moment. It also allows me not to focus too much on making things look perfect and rendered a certain way, which was what I was doing previously.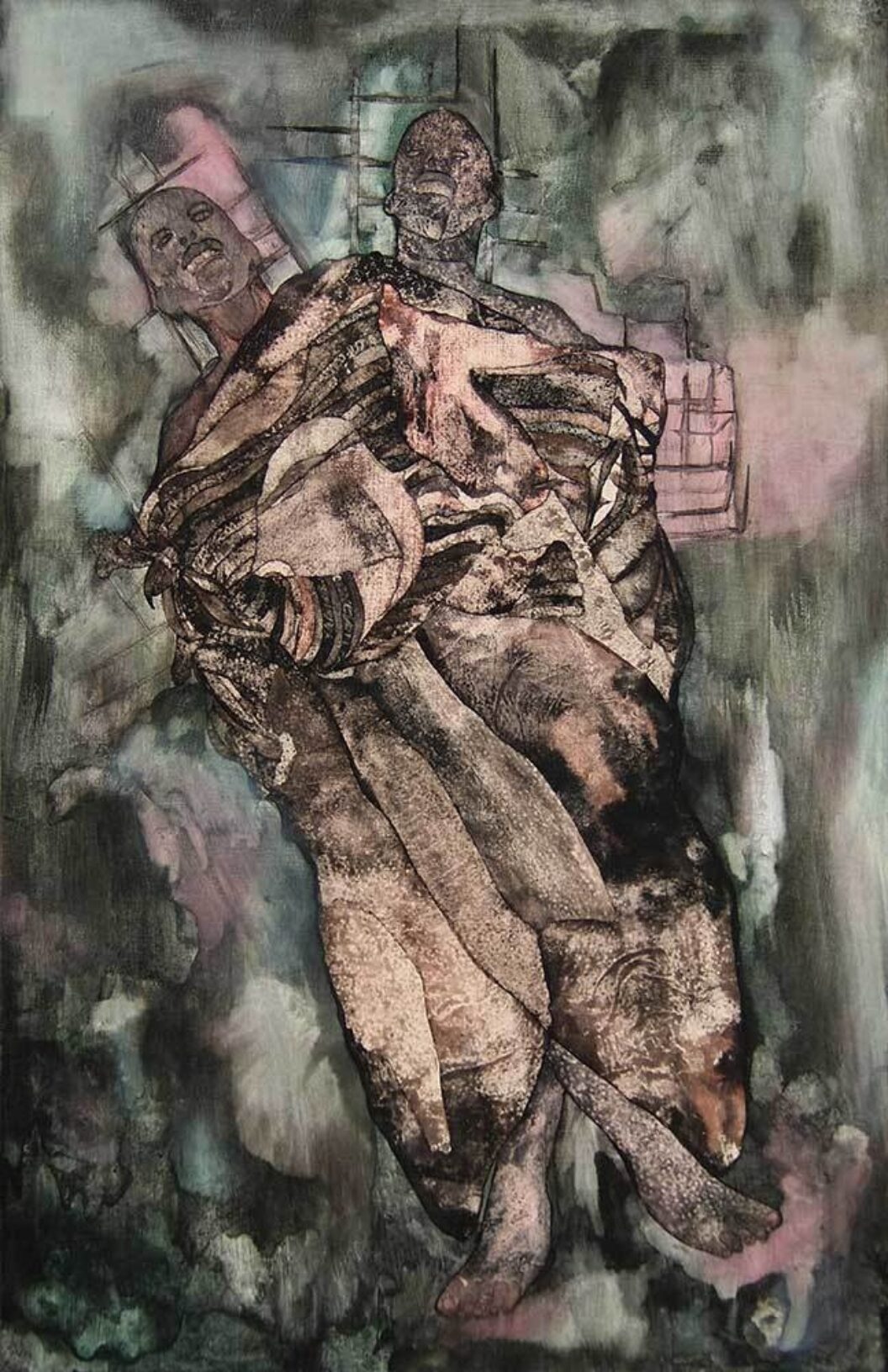 JD The skin surface of your nudes is made from a combination of ink, glitter, charcoal, and graphite, and in works such as Between Possibility and Actuality (2019) and Going On Without A Plan (2019) is rendered in a myriad of colors that articulate the nuances of black female subjectivity on the one hand while, on the other, signal sensuality, mysticism, and, perhaps, fluid sexualities (Real Love, African Style [2016], comes to mind here). Can you discuss this emphasis on bringing together black female desire and sexuality in your works?
FD In terms of the process, I really limit color so that for any given piece only four inks are used to paint the Mylar surface before I begin to cut it up to collage it. I limit the color palette so that I can focus on the content of the piece and not necessarily always look to make perfect images but, rather, to create more depth to the works. The palette is mostly black and maybe three other hues that intermix to create these different tones in the flesh you speak about in recent work like Between Possibility and Actuality. The sensuality part I think has very much to do with the fact that the figures are nude and autobiographical. People can see that it's me or, rather, parts of me. The figures move beyond just being about desire and sexuality to deal with multiple representations of selves that exist in a body that is corporeal, spiritual, cosmological, emotional, biological, and physical. My works are more about transition, spiritual inner struggles, and the psychological aspects of black women's bodies.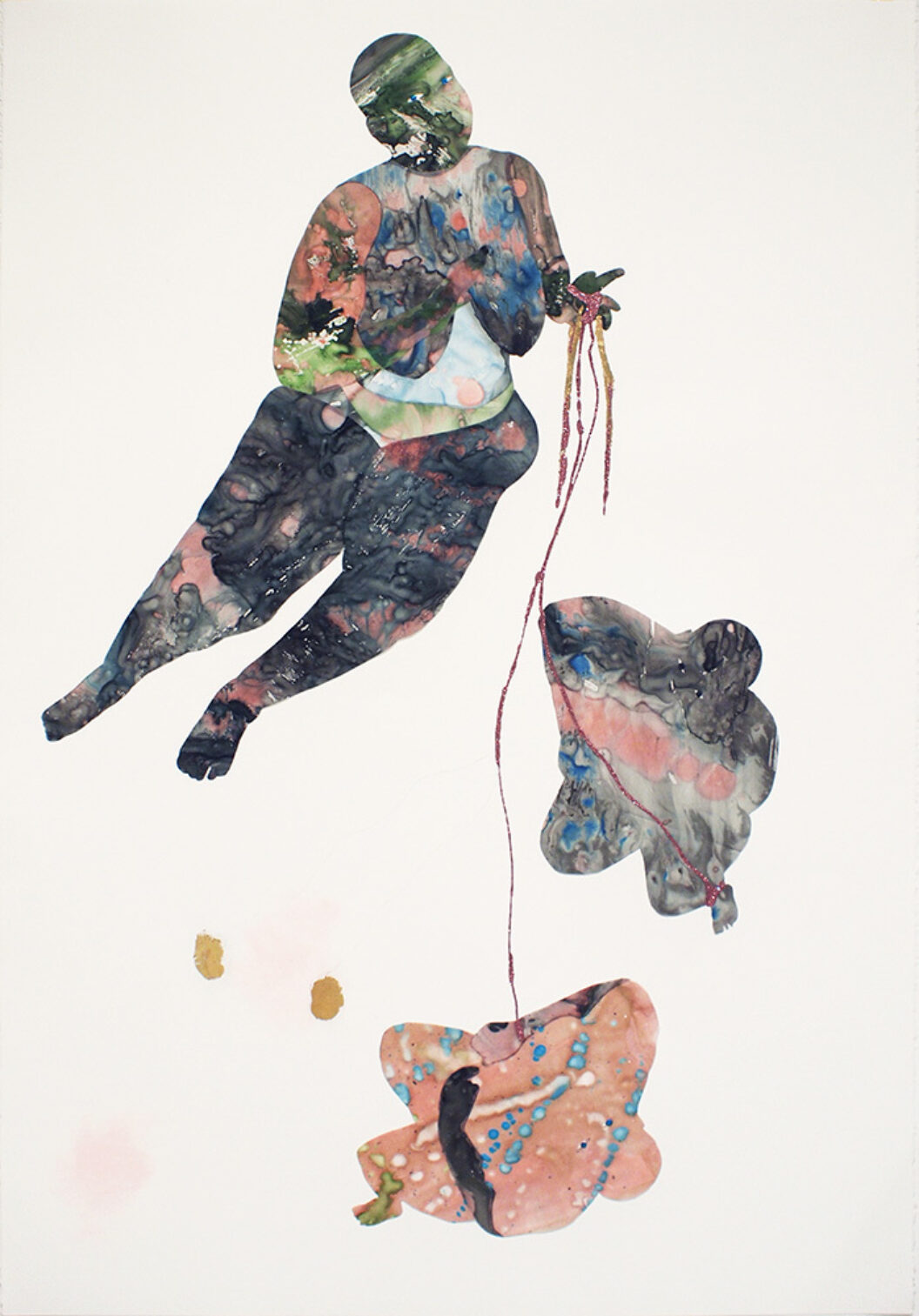 JD What are useful tools and resources (artists, writers, poets, scholars, everyday experiences, and so on) that have aided you in telling your own story through the lens of contemporary art?
FD I tend not to look at too much art, so I do a lot of reading and listening to podcasts so that I'm not working in a bubble. I read a lot of contemporary Nigerian writers, and with the podcasts I listen to conversations on genetic and biological research to get an understanding of how the human body works. I'm currently on a fellowship in Tulsa, Oklahoma, that has brought me in contact with visual and interdisciplinary artists, writers, etc., so it's been great to have conversations with them during my time here.
Florine Démosthène: Between Possibility and Actuality is on view at Mariane Ibrahim Gallery in Chicago until December 21.
Jareh Das researches, writes, and curates diverse visual arts projects centered on the contemporary. Between 2013–16, she worked as a PhD Research Curator at The Arts Catalyst London, which was part of an Arts Humanities Research Council-funded doctorate titled Curating Art and Science: New Methods and Sites of Production and Display, offered in partnership with Royal Holloway, University of London's Geography department. Das was awarded her doctorate in July 2018 for curatorial work and her thesis, Bearing Witness: On Pain in Performance Art.