Discover MFA Programs in Art and Writing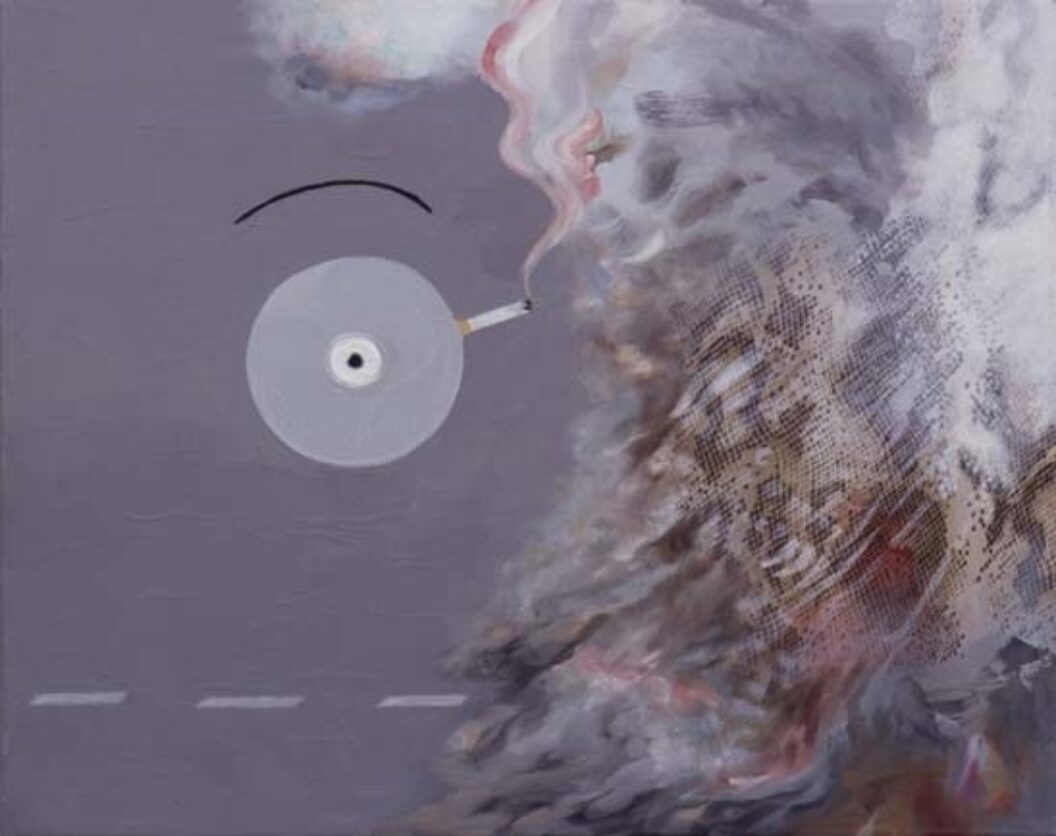 What's an artist's responsibility toward his or her motif? How to stretch or magnify a motif to the point of abstraction while maintaining its credibility? How to allow it to slide into seemingly casual deconstruction or tipsy slippage?
Looking at Monika Baer's drawings and her bare but lush paintings, I was reminded of how a motif's treatment depends on the artist's dual perspective of familiarity and detachment, which led me to think of the "first landscape," the one we encountered as children. We are forever driven by the urge to navigate that original (also conceptual-metaphorical) terrain and the indelible sensibility it spawned in us. It's a tricky love affair with a setting that molded us but which we are obliged to abandon in order to evolve.
Baer's paintings deal with the idea of landscape or stagescape, with articulation and deconstruction, and with narration. She paints each work as part of one ongoing project, like individual frames of a storyboard. There is a logical trajectory throughout her work in which transformation and journeys occur: in the '90s, Weisse Kakteen (White Cacti), a series of eventful landscapes, was followed by a set of "Mozart paintings" involving stagelike arrangements of Rococo figures before equally eventful backdrops. This is where things started flying around, blurring into abstraction, and oscillating between fact and slur—between aggressively rendered motifs and those that smear and slip across the arena or fall out of the realm of constraint.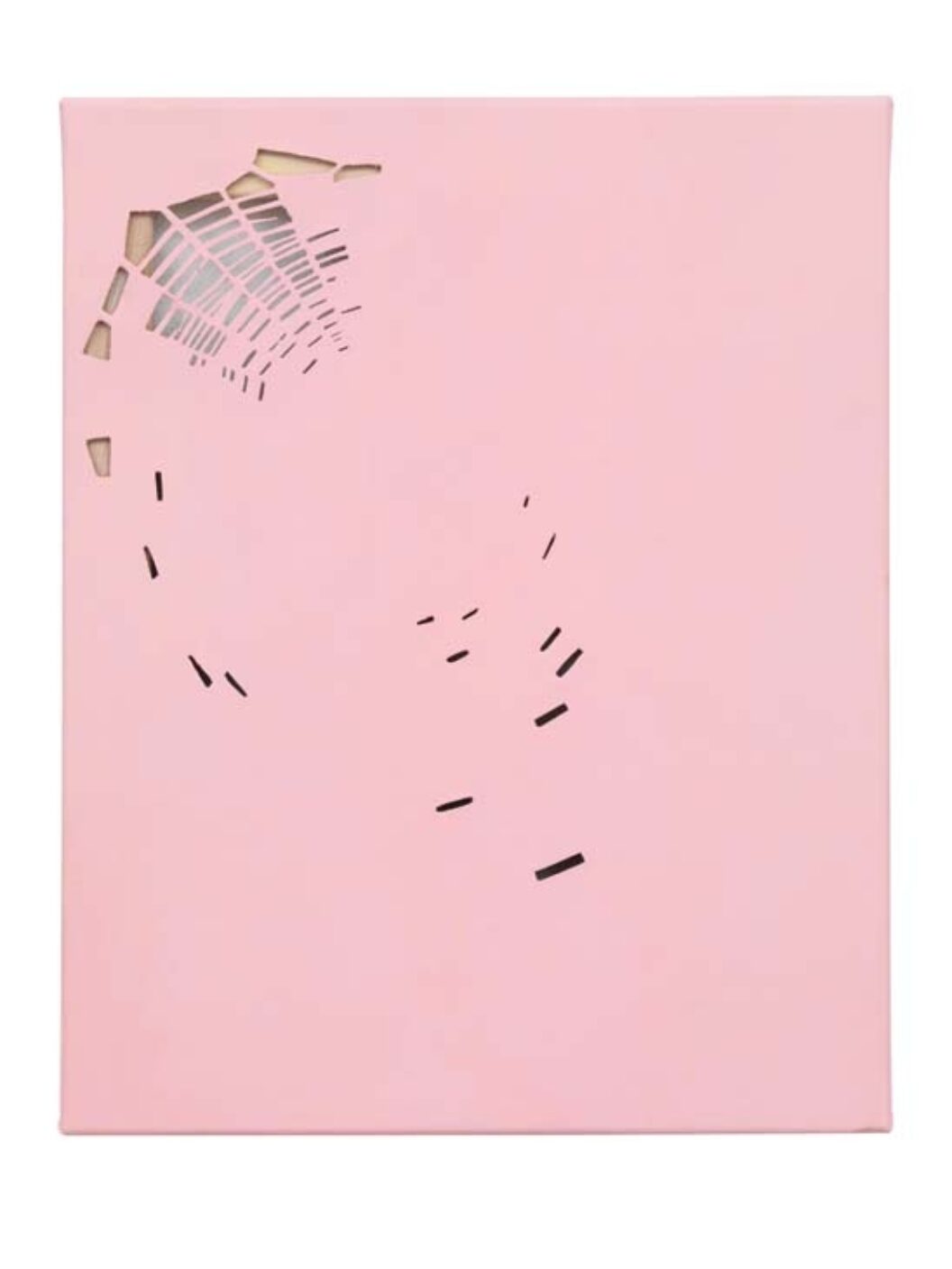 Kleine Spritztour (Joyride), one of my favorite works from this time, depicts a round object (Baer keeps a shape archive, so-called "carriers," serving as sliced salami, breasts, etc.) resembling a vinyl record, a breast seen from the front, or an eye smoking a cigarette, while traveling on a gray road toward a smoke storm of lace and painted blur. Kleine Spritztourdisplays (in Baer's words) an "assertive, in-your-face attention to detail" plus a skillful, wayward slackness. I like this candor and confidence. I like how her hand needs to move as swiftly as her mind, then has to stop, analyze, articulate, before going on another spree. At times, Baer's attention to detail takes on a sense of rebellious humor and cartoonlike simplicity, such as in Looking Back (2009) with its smears of paint blotting out hard brick walls, or in Bay View (2009), her series of dripping, squirting breasts, jutting out from actual seams that are hand sewn into blue-stained canvases.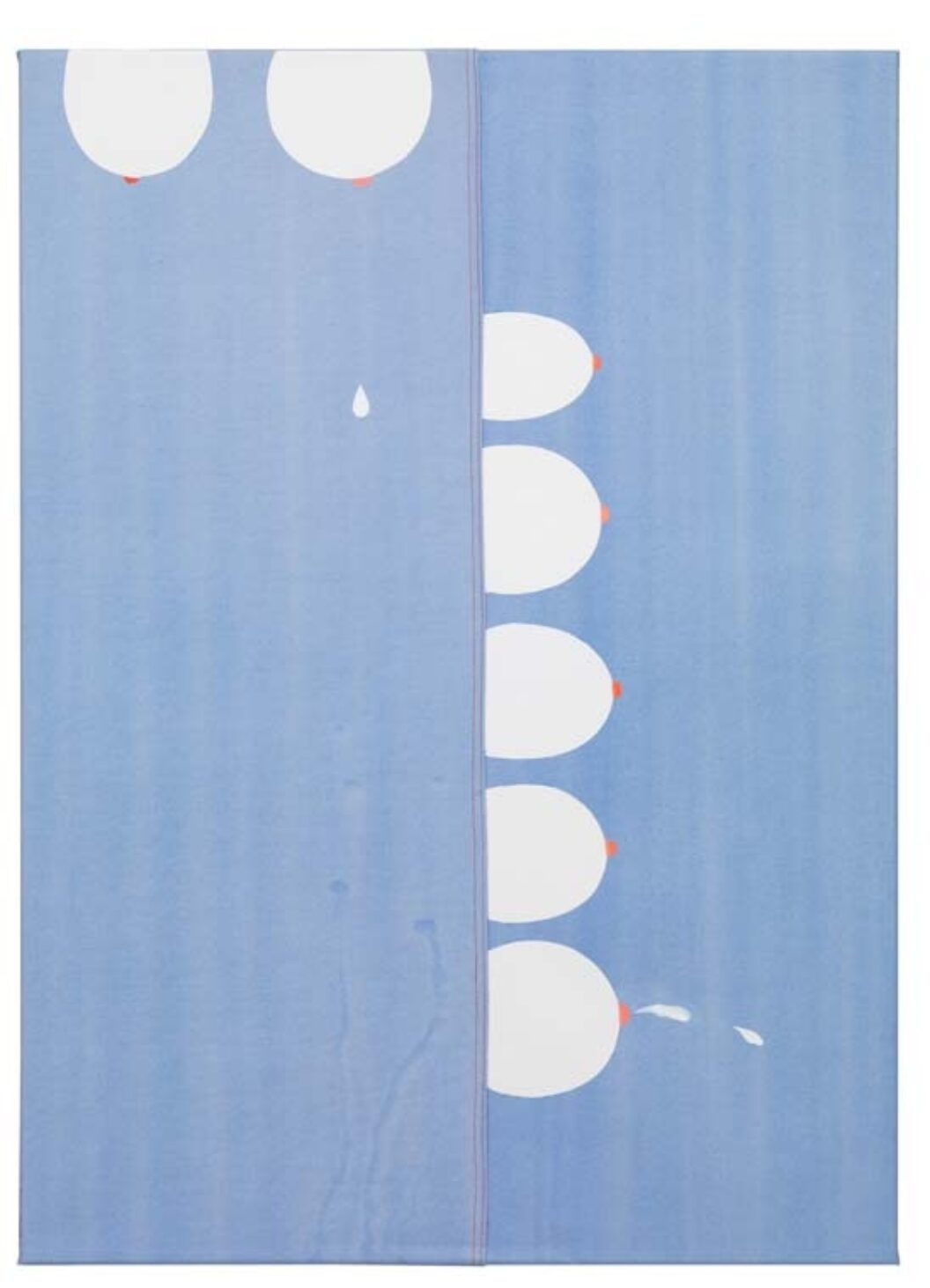 Baer came out of the Düsseldorf Art Academy in the 1980s, when painting was still in its so-called "dead" phase, nevertheless gaining notice with a knotty topography of testosterone and punk rock, imbued with polemics and filled with militaristic Santa Clauses, hard-ons, and pin-ups. It was a bad-boy, FUCK YOU! generation, barking at the bourgeois public upon which it so heavily depended. Baer also questioned whether painting could be a justified art form at all, yet she ultimately chose to confront the inner mechanisms and paradoxes of painting itself and to develop her methods to navigate her specific terrain. This is what I mean by responsibility to motif: the ability to remain true to one's notion of how to treat a motif and why. It can oscillate between hardline articulation and a strategic lack of it. This swing is fundamental to Baer's work. It keeps us on our toes, reminding us of the intriguing paradox of being seduced by detail or of being objective interpreters with enough access to hard facts and slurry tales.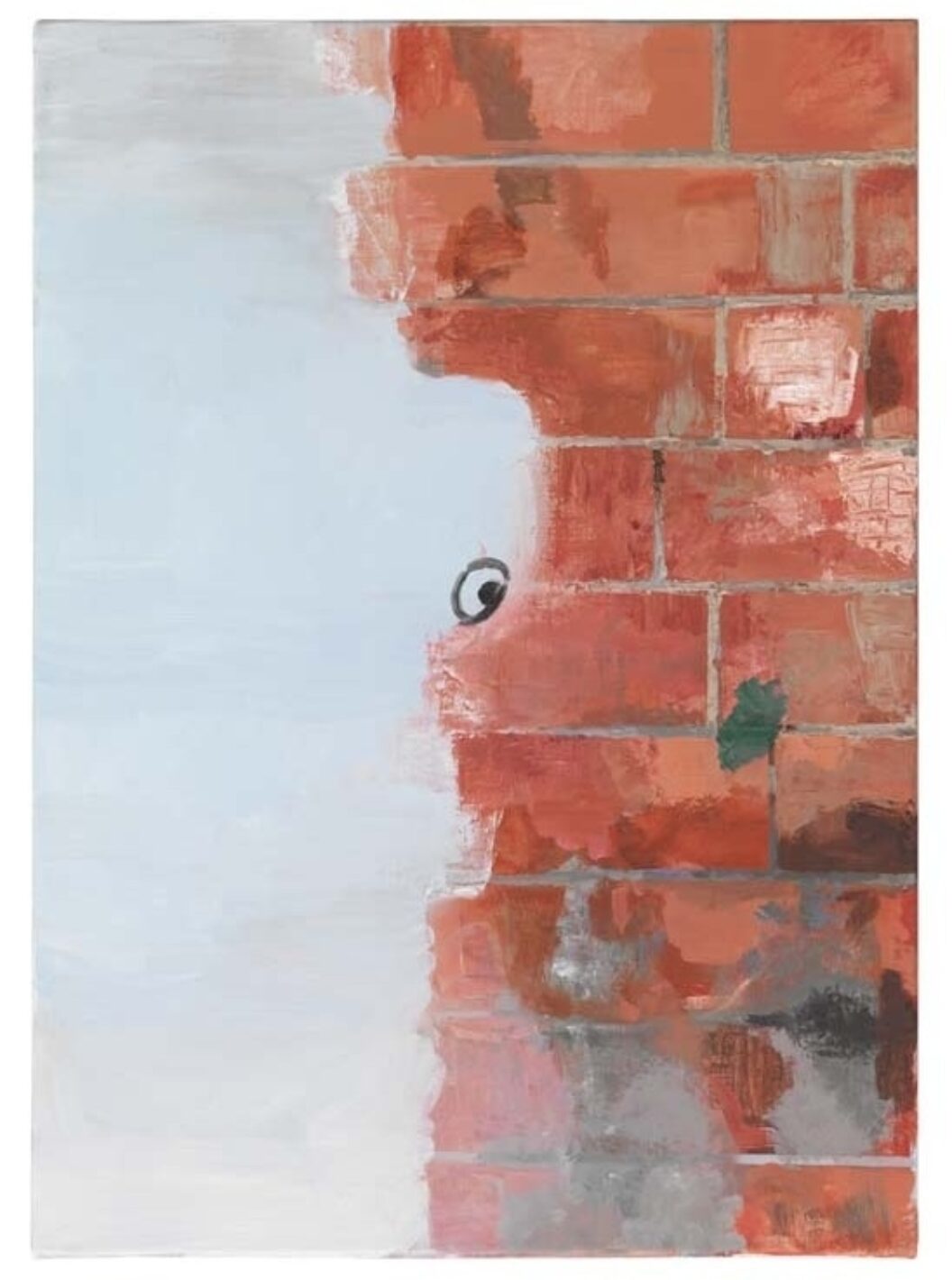 Laura Bruce is an American artist based in Berlin. Her drawings, videos, and sculptures are exhibited internationally. Recent and upcoming exhibitions include Lodz Biennale 2010; Galerie Fahnemann, Berlin; and Kunsthalle Mainz.
Originally published in
Featuring interviews with Charline Von Heyl, Fred Tomaselli, Mika Rottenberg, Thomas Hirschhorn, Adam Phillips, Charlie Smith, David Toop, and Jan Lauwers.